Let me take you back to a recent, one-night culinary journey.
By chance, I was invited to join a table for 12 one Saturday night, to do the tricky task of judging a group of chefs who created their original, full-course menus, after weeks – if not months – of experimenting with flavors and techniques.
I was one of three journalists at the table, along with colleagues Mindy Aguon and Norman Taruc. There was a young Navy couple and another couple who earned seats for being loyal customers to Executive Chef Miguel Moral at his Churrasco Steakhouse, two representatives of Amot Farm, businesswoman Ramona Jones, food and beverage distributor representative Hermie Queja, and local comedian and radio personality Chris Barnett.
Here's what I can tell you about the extent of my qualification to judge the work of this group of chefs and aspiring chefs: None.
My experience doing food reviews? Zero. As a hard-news journalist, this was my first foray into food territory.
I'm a fan, though, of Chef's Table, the Netflix series that follows chefs all over the world and documents their quest from the dream of owning or running a restaurant, the struggles and triumphs and their quest for the next big dish and their next big international recognition, preferably the coveted Michelin Star.
So a local take on and inspiration from Chef's Table? Why not?
I am also fascinated by what I think is a growing preference among our Guam youth to pursue culinary careers. In international competitions, our high school chefs in training have brought home top honors year after year for nearly a decade now. Our homegrown professional chefs have carved their distinct places in the food-and-beverage industries in Honolulu, Las Vegas, California, Washington and elsewhere.
While our construction and health care industries have had a tough time finding local, skilled workers, our dining industry has a vast pool of local, young talent who love what they do.
This chance to be at this one-dinner-a-year event that takes inspiration from the internationally known Chef's Table occurred after a meeting with acclaimed Guam and Los Angeles-based Executive Chef Miguel Moral, who is president of the Guam chapter of the American Culinary Federation Inc.
It started with a meeting
The culinary federation's Guam chapter and The Guam Daily Post are working on a partnership, so this invite started with meeting Chef Miguel and learning about his story.
Moral comes from an immigrant Filipino family with Spanish heritage. His last name, Moral, is an abbreviation from his ancestors' Del Moral family name from Spain.
His parents migrated to the United States, and to make a long story short about this chef, he had a colorful youth, got momentarily mixed with the wrong crowd, but later found his love of cooking.
Moral was trained under Jacques Pepin at the French Culinary Institute in New York. He did some apprenticeships in different French restaurants to learn more on the French technique.
So now that he has achieved a certain degree of success, Chef Miguel puts his chefs to a yearly challenge of coming up with an original, full-course menu and be judged for it. Some of the staff in his kitchen may not have the opportunity to learn from European experts, or afford formal culinary school, but the yearly challenge helps to raise their skills and broadens their horizon to always think of something new, Chef Miguel says.
Chef Miguel also is particularly intent on sharing with his staff the knowledge he learned because he's averse to his European mentors' style of keeping their recipes secret.
Experimenting helps to keep a chef's spirits up, when all hell breaks loose in the heat of the kitchen.
So there we were, seated at the table for 12, set in the glow of candles in glass jars, local flowers and pines, ready to judge, and eat and risk our palates to the unknown. This was an experiment, after all.
Taste, presentation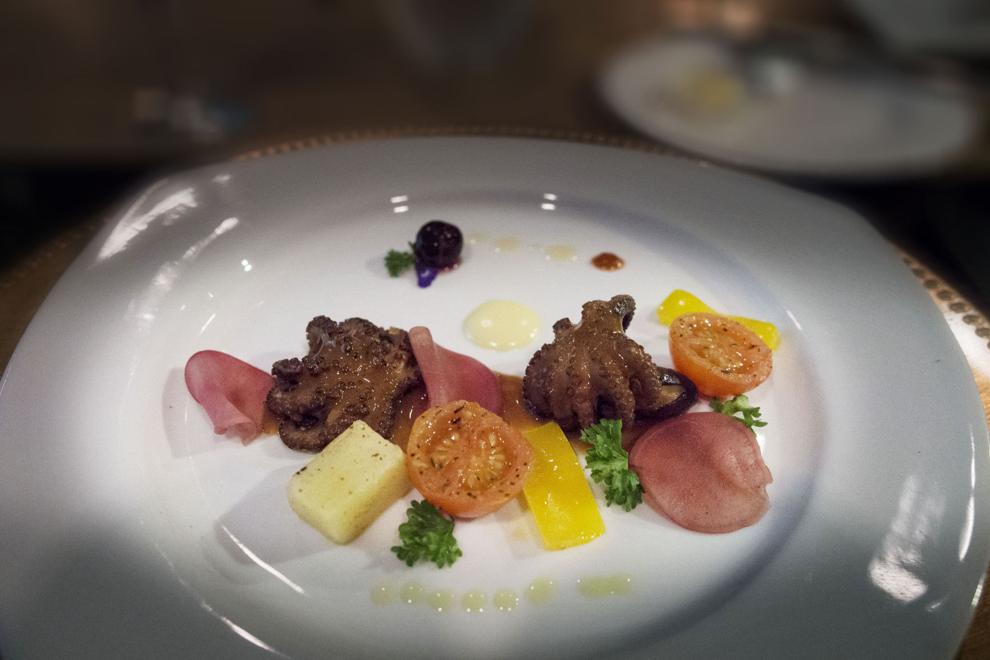 The appetizer: A pair of baby octopuses, their heads stuffed. Little dots of sauces and mini greens from Amot Farm came on a plate to please the eyes, but I wasn't sure if everyone was comfortable with tentacles and heads of baby octopuses as their appetizer. I love octopus, however, so this was a treat for me. One of the tiny sauce dots on the plate made a difference for the zing it provided from the famously fiercely hot boonie pepper.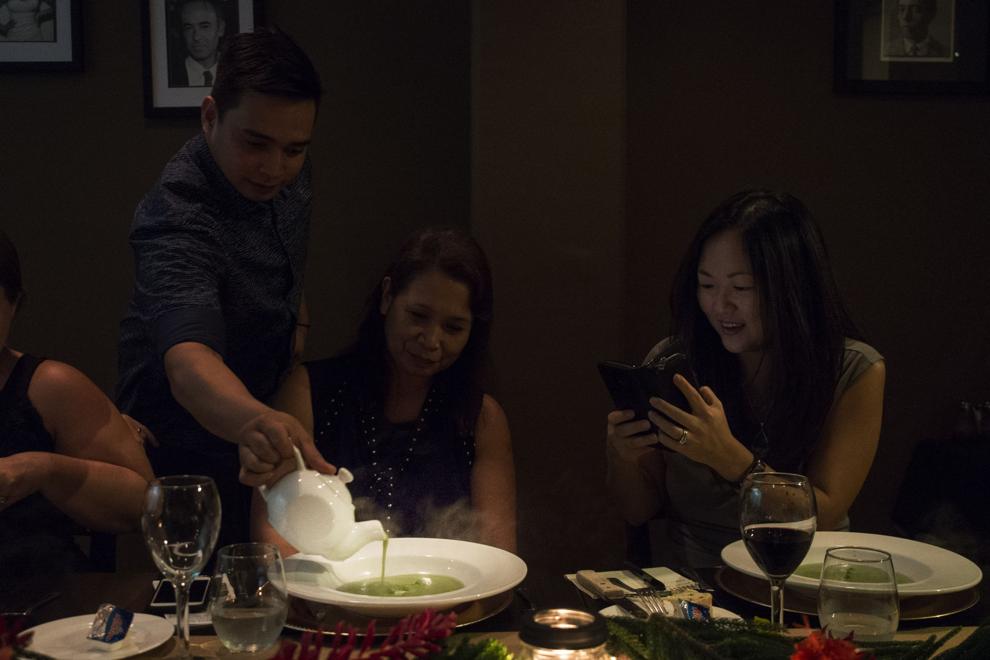 The soup. When the waitstaff opened a big, white ceramic dome on each guest's plate, the aroma of smoky wood wafted. This passed the tease test to the senses. There was a playful note to the soup's presentation because as the dome covering each guest's bowl was lifted, five lonely little green peas were the only things on the bowl. It turns out that after the aroma experience, they poured the pureed green peas gingerly on the bowl. The taste of green peas? Light and surprisingly yummy. It didn't need to be disguised by a heavy dollop of cream. Most everyone liked it. I loved it, but I'm not tough to please.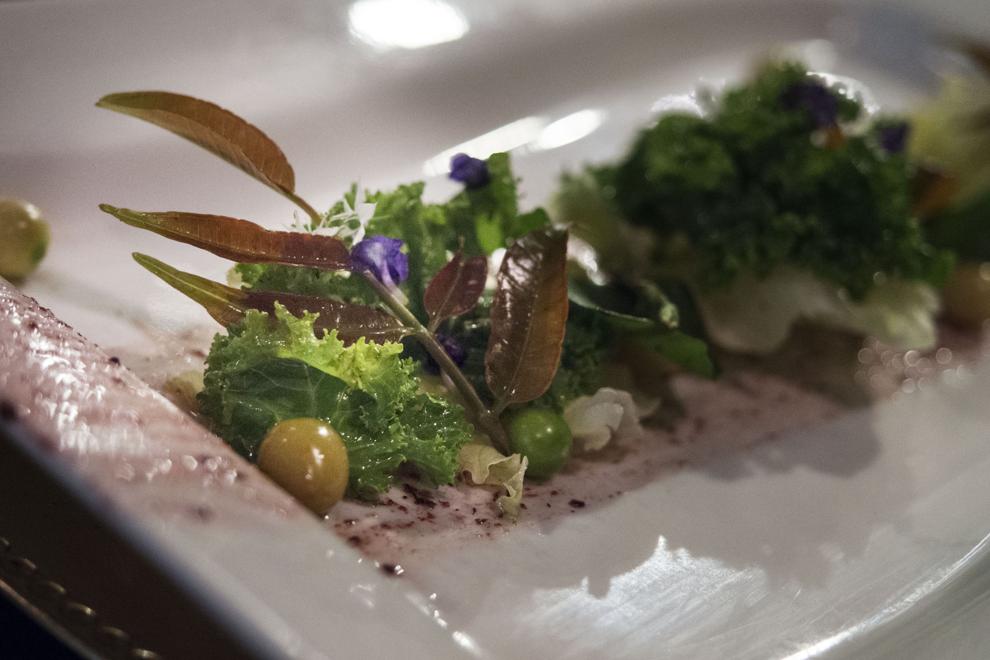 The salad. It was one of mostly everybody's favorites. I think it was because of the surprise factor. And the uniqueness. This course showed what Amot Farm can offer to Guam chefs and what local chefs can do without imported produce. I wasn't familiar with any of the tiny greens on the salad course, but it included a fresh sprout of a fern-looking plant that tastes like green mangoes and has the crunch to boot. There was a tangy, and a bit bitter, baby asparagus-looking green that you can see everywhere on Guam with tiny purple flowers. Who knew those were edible? This merry mix of crunchy local salad ingredients all came together with a sauce made of a wild berry that you see all over Guam. I used to have these berry vines crawl up on the fence in my yard, and I thought it was annoying, but now I know it's food! Many of the other judges loved the sauce-and-greens combination. It was a nice departure from your average salad-bar salad, for sure.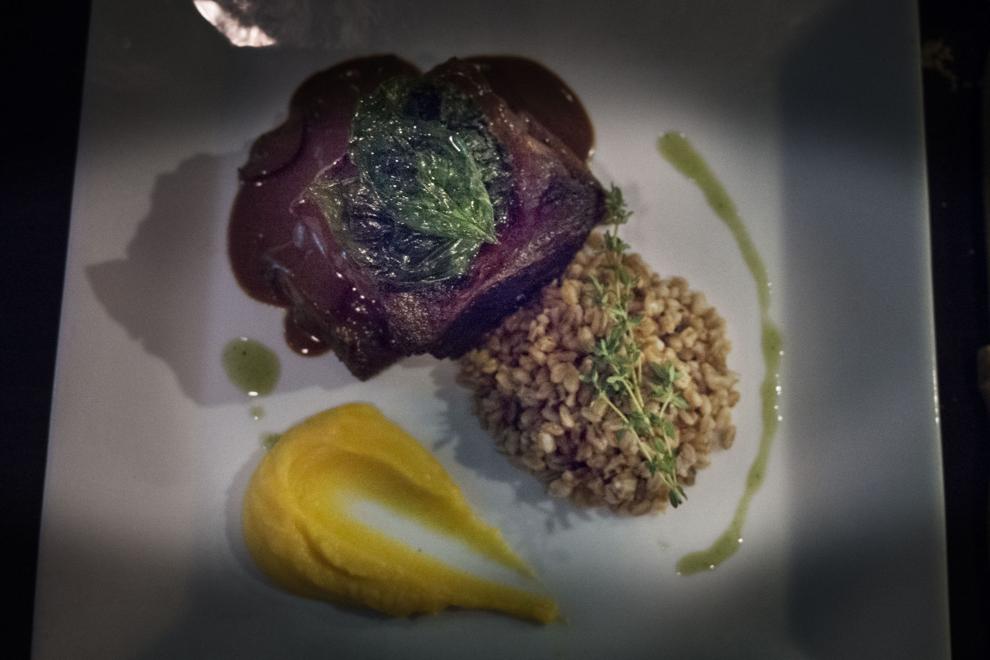 The main course. After the little green peas, the little salad greens and tiny baby octopus, the main course veered off from what at first was a parade of tiny things on a plate. The main course was a giant, bone-on beef rib, that was so tender and came with an intriguing sauce with locally grown basil. It was a playful and contrasting take on the thinly sliced beef ribs that we all race to hoard on our plates at backyard family parties.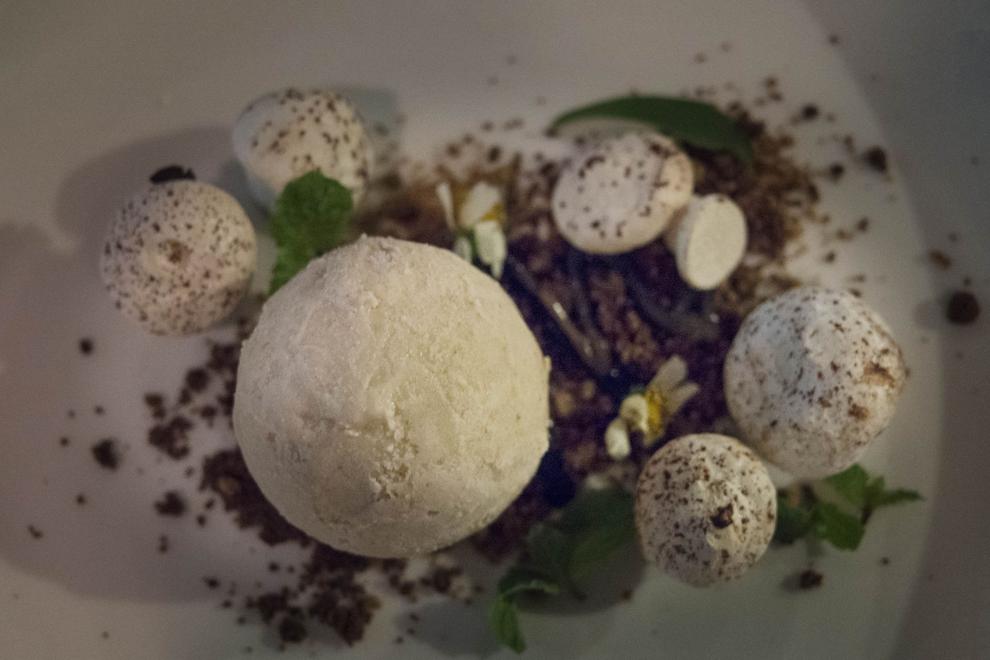 The dessert: a very light peanut butter ice scream, sprinkled with cocoa and tiny white wild flowers you see everywhere on Guam from a plant so common here, I thought this plant was pesky weed. This opened my eyes to things you can do with locally available produce you don't even have to garden because they're everywhere. But back to the ice cream. I can eat peanut butter straight from the jar, so I don't need to be convinced to eat it as an ice cream. This was divine. The presentation was also a tease. At first, I hesitated eating what was around the ice cream because they looked like button mushrooms with brown spots. Yikes! Thankfully, the mushroom shapes on the dessert were actually crunchy meringue, so that was a treat, not a trick.
Each course had a recommended pairing of wine and beer, but I don't take alcohol, so this is missing the wine pairing part of the review. Sorry, foodies, this review is only glass-half-full. I had sparkling water all the way and I don't feel I missed a thing.
In all, it was a heartening display of skill by some of our talented local chefs.
We need to give our island chefs more opportunities to shine and for the community to get to know better who's cooking behind the glossy look of some of our restaurants.
A word from the judges
My verdict? It was a night at a table that showed food prepared by people who are passionate in what they do.
But let's hear from some of the others at the table.
"The overall experience was so delightful," says Hermie Queja, of food-and-beverage distributor Micronesian Brokers Inc.
"Each of the chefs did an outstanding job of staying true to the 'rustic' theme. Of course, the chef who plated the salad … made excellent use of the veggies from Amot Farms."
Businesswoman Ramona Jones described it as a lovely evening.
"I felt very fortunate to be part of an event that was clearly the result of many, many hours of preparation and hard work."
Gallery: Chef's table at Churrasco