Thanks to technology, the news regarding COVID-19 has been constant, a steady stream of information that bombards all senses. The recent government edict on social isolation after the confirmation of our first COVID-19 cases has forced many families on island to hunker down and keep an eye on the manåmko' who are so much a part of our childhood.
For siblings Tony and Maria Taianao, running down the street to their grandparents' home is how they spent their childhood. The smell of fresh, home-cooked food and the unconditional love of their grandparents were the biggest draws for the rambunctious kids, who usually rolled in from school, various sporting events or village gatherings.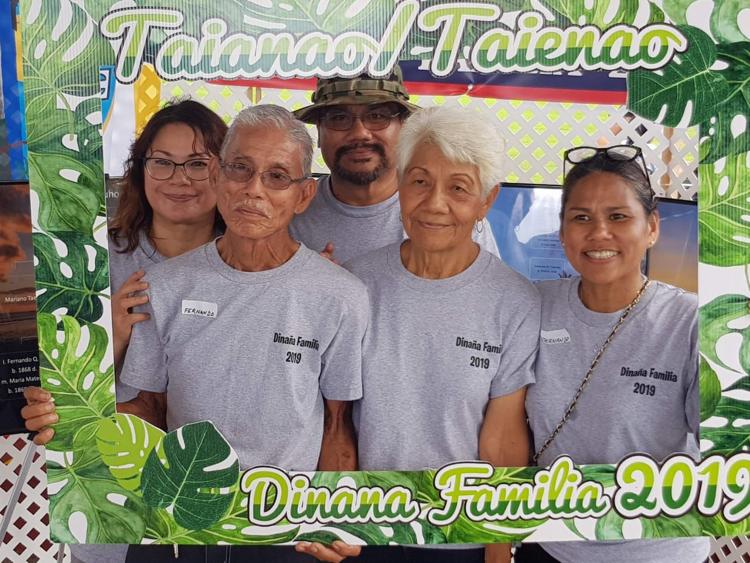 "Growing up with my grandparents, it was their house that we always went to when me, my sister and cousins had days off or after school," says Tony. "My grandma has always cooked and baked since ever since and loved doing this for everyone all the time."
If you were hungry and strolling in Agat, everybody always knew to stop by because Nåna, who is also named Maria Taianao, was guaranteed to "make them some awesome chow with a dessert to go," Tony says.
Growing up in such a close-knit family meant numerous trips to the ranch with his sister and cousins.
'She always knew how to make everything better'
While some ingredients were store-bought, his grandma and grandpa (Antonio Taianao) were old school.
"If they could grow it or raise it, my grandparents did that," Tony says. "Me, my sister and my cousins would be playing outside or watching TV, and we would hear our grandma call us to come be the 'taste testers.'"
Nåna, the family matriarch, has always been the center of the family for as long as he can remember, Tony says.
"I remember always having gatherings at my grandparents' house and she ran the inside and back kitchen and always had 'all hands on deck,'" he says. "Always showing us what to do and never got upset if we messed up. She always knew how to make everything better, like a grandma does."
His youth was filled with love and food, says Tony, who is now a teacher at Southern High School, proud of his grandparents and the role they played in molding him to become an adult. Tony was named after his grandfather, Antonio, and his sister was named for his grandmother, Maria – a testament to how close their family is to one another.
"She always showed so much love and so much care to everyone," he says. "She saw how much people loved her cooking and baked goods and she was just happy to make us happy ... and full.
Their very own Food Network
When the stay-at-home order came down, Tony and his sister Maria, who is a biology major at the University of Guam, realized their grandparents' health was priority and then realized their grandma wouldn't be happy to sit at home watching the Food Network all day.
"The social distancing is hard for everyone," Tony says.
He and his sister realized they had a golden opportunity to start their own version of the Food Network and make quality time with their grandparents.
Presented with the opportunity to cook for the people his grandma loves, Tony says her face "lit up" as she began reeling off a list of ingredients for empanada and the methods for grinding and toasting the rice.
"She talked about getting the fresh achote from her house. She was so excited," he says. "That's why we started that."
With the quarantine, the Taianaos now spend more time at home together.
"Since we had our empanada factory last night, my grandma is excited for our next project," he says. "She even picked a bunch of achote at her house for us to dry at my house if we need any for our future Food Network back-kitchen shows."
Together for every meal
While nobody wants to be quarantined, the Taianaos are optimistic and relying on family to get through everything.
"The biggest positive is that we get to spend a lot of time together. We are together for every meal," he says. "I get to shoot the breeze with Pop or compare cooking ideas and notes with my grandma."
The part that "kinda sucks" is that their other cousins can't come down because of the distancing protocols.
But, Tony says, he has already promised his grandma they will make up for lost time once the quarantine ends.
"We have always been close, but just spending more time together is always a plus and just very calming, despite the circumstances," he says, jokingly adding that he sometimes forgets why he's home on a Wednesday afternoon.
While they've just started, there are some other ideas already in the works. The recipe book is on the table, Tony says, and they're just starting to scroll through the pages.
"We have made estufao, chalakilis and empanadas so far," he says.
Pumpkin turnovers may be next.
Tony says he shoots the video and realizes these are priceless memories in the making, so he wants to do a good job at documenting the moment and the process.
'It's all worth it'
His grandma misses everyone else, he says, "but she understand the circumstances that we are under and that she's just happy to be safe, healthy and still cooking."
Tony says the quarantine and understanding the devastation that COVID-19 could bring to the island has allowed him and his sister to shift roles with their grandparents.
"Being responsible for our grandparents' health can be kind of overwhelming and stressful at times, but we always remember the love, the care and the support that they gave to everyone in our immediate and extended family and everyone else who came their way," he says. "They never complained one bit and always had smiles for miles."
It was tough at first, but now it's all good, he says, adding he and his sister wouldn't have it any other way.
"As long as my grandparents are safe, it's all worth it," he says, laughingly adding, "Hearing Pop tell his stories every day makes it easy as well."