There are few things sweeter than a good dessert. Friendships that span more than five decades certainly come close!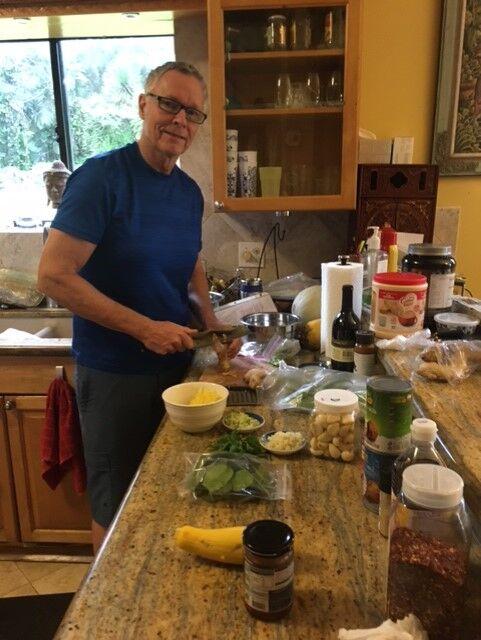 During my stateside visit, I've had the good fortune to meet with three of my oldest and closest high school friends. Robin and I met for a very long coffee break in Virginia. Chuck hosted us for a few days in Philadelphia, and Phil and his husband, Eric, had us over to their beautiful home in Santa Fe, New Mexico, for dinner. Last week, I highlighted Eric's queso fundido with chorizo, the appetizer for that evening.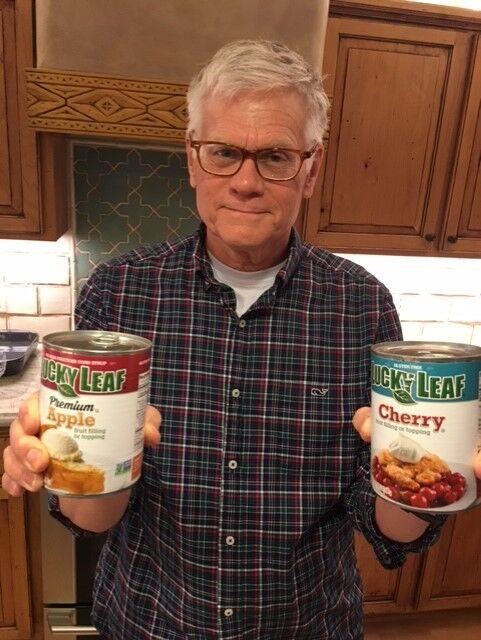 As we enjoyed dinner at Phil and Eric's house, Phil and I reminisced about some of our high school escapades in northern Virginia. He retold a story about a spur of the moment drive he, Chuck, our friend, Allen, and I took to Dulles International Airport outside of Washington, D.C. We were bored one evening so we decided to go for a stroll. I had an old Ford Anglia. If you saw the Harry Potter movie where he flies in a car – that tiny car was an Anglia. To put it kindly, the car was a hunk of junk. The only way I could start it was to get a group of friends to push it, then I'd pop the clutch. That's why I always had to have passengers with me!
When we arrived at the airport that evening we parked in the public pay lot. We then walked around the terminal, striking up random conversations with a variety of departing passengers. After about 45 minutes we decided to head home. Chuck, Allen and Phil prepared to push the car. Just before I jumped into the driver's seat, I reached into my pocket to get money for the parking fee. To my great chagrin, I realized that I did not have a cent on me! I asked the other three for some change. I nearly panicked when they all said that they hadn't brought any money with them. "What are we going to do?!" we thought.
Suddenly, it struck me. Inside the terminal was a decorative fountain that shot water high into the air. Many people would stop by, make a wish and throw a few coins into the fountain. We only needed 75 cents for the parking fee. I suggested that we make our way back to the fountain and try to retrieve a few coins. They all agreed that it was our only option. As I sat on the side of the fountain, I began to sweat profusely. My three friends sat around the fountain keeping watch for me. We all made eye contact and they gave me the go-ahead. I said a short prayer asking for forgiveness, and just as I began to dip my hand into the fountain, Allen stood up. I froze with my fingertips touching the water. Allen walked toward me and began to chuckle and plunged his hand into his pocket. As he laughed hysterically, he pulled out a handful of coins! Contrary to his earlier assertions, he had over $2 in change! If looks could kill, he would have been a dead man!
As he finished this story, Phil retreated to the kitchen and moments later presented the dessert for the evening: apple tortillas. I had never heard of such a dessert but thought it beautifully highlighted Santa Fe southwestern cuisine. He presented each of us with a plate containing a tortilla wrapped with apple pie filling and a generous scoop of vanilla ice cream. Just before I took my first bite, he admitted that the filling was canned. I tried to hide my disappointment, but broke into a gasp of praise as I took my first bite. It was truly scrumptious! I raised a glass of wine and offered a toast to the deliciousness of the dessert and to the sweetness of long-term friendships. Put any culinary hesitation to rest, and give this recipe a try!
Week 38: Apple Tortillas
(Serves 6 to 10)
Ingredients
1 tablespoon melted butter for the 8x8 baking dish
Apple tortillas
1 can (20 ounces) apple pie filling (or any pie filling you prefer)
6 seven-inch (or 10 four-inch) flour tortillas
1/3 teaspoon cinnamon
1/2 teaspoon vanilla extract
6 ounces cream cheese, room temperature
2 tablespoons butter, room temperature
2 tablespoons butter, melted
Syrup
1/3 cup white sugar
1/3 cup packed brown sugar
4 tablespoons butter
1/3 cup water
1/3 teaspoon cinnamon
1/2 teaspoon vanilla extract
Sprinkle topping
2 teaspoons white sugar
1/3 teaspoon cinnamon
Steps
1. Preheat oven to 350 degrees.
2. Spread the 1 tablespoon of melted butter over the inside of the 8x8 baking dish.
3. In a medium bowl, mix together the apple pie filling, cinnamon, cream cheese, 2 tablespoons of butter at room temperature and vanilla extract. Mix well.
4. Open up a tortilla on a flat surface and, depending on the size of the tortilla, spread about 1/4 to 1/3 cup of the apple pie filling onto the tortilla and roll it up. Place it seam side down into the baking dish. Repeat with each tortilla, placing them side-to-side in the pan.
5. Brush the 2 tablespoons of melted butter over the top of each tortilla.
6. In a medium sauce pan, mix all the syrup ingredients together. Bring to a boil at medium heat. Once it begins boiling, turn down to medium low and simmer for 3 minutes, stirring constantly.
7. Pour the syrup evenly over the tortillas. To more evenly distribute the syrup, you can dip a spoon into the syrup between the tortillas and continue spooning the syrup over the tortillas until all have been generously covered with the syrup.
8. Mix together the 2 teaspoons of white sugar and 1/3 teaspoon of cinnamon and sprinkle on the top of each tortilla.
9. Put the pan in the oven on the middle rack and bake for 20 minutes, until lightly browned.
10. Remove from the oven. If you wish, you can again dip a spoon into the syrup between the tortillas and spoon the syrup over the tortillas.
11. Allow to cool for 10 minutes and serve with vanilla ice cream and/or whipped cream.
Note: Phil's friend, Mark Shuttlesworth, gave Phil his version of the apple tortilla recipe. With apologies to Mark and Phil, I googled "apple tortilla recipes" and made adjustments based on various comments I read.