You can take a Guamanian out of Guam, but you can't take Guam out of a Guamanian! On June 3, Corman and I hit the road – or maybe I should say the air – and flew to Virginia to celebrate my sister Maureen's 74th birthday. This is the first time my family has gathered together in four years. With all the adults, and many of the children, vaccinated against COVID-19, we felt free to kiss and hug. It felt so good to be able to show our affection for each other. Life is finally returning to normal!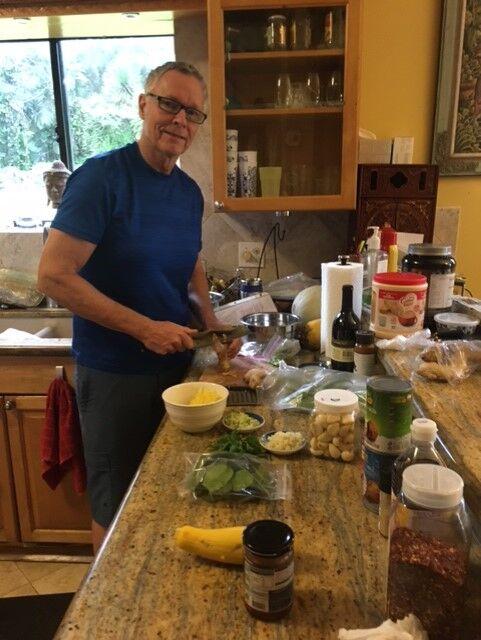 Somewhat foolishly, Corman and I had volunteered to provide most of the food for the party. Several weeks ago, and 9,000 miles away, this sounded like a great idea to us. However, we forgot to take a major challenge into consideration. Due to the fact that we were both suffering from a severe case of jet lag, this proved to be quite a challenge. Fortunately, our desire to please everyone overrode our exhaustion and we rose to the occasion and produced a feast – Guam style! (In all fairness, I have to note that Corman did about 90% of the work, while I provided many helpful suggestions).
In planning the menu for the party, we wanted to highlight CHamoru and Asian selections that are often featured in island celebrations. The menu included chicken adobo, barbecue chicken, bulgogi and beef kalbi, red rice, Asian chicken salad, crab salad, and today's featured recipe for baked sushi rice, a wonderful and flavorful side dish. I also made my chocolate eclair cake for my sister's birthday.
All of the food was well-received. For many of my family members, these flavors weren't new. Over the years Corman and I have introduced them to a variety of CHamoru, Filipino and Asian dishes. I've always been so gratified by the fact that my stateside family has embraced these new and exotic flavors and begged us to make these recipes again and again for our family's get-togethers. We are only too happy to oblige them.
One of the recipes they specifically requested was Corman's sushi rice dish. Sushi is a Japanese dish made from rice wrapped in nori (seaweed) sheets with different choices of meat, eggs and/or vegetables. Simply put, sushi bake is broken down-version of rolled sushi. Instead of rolling the rice around various fillings and wrapping with a sheet of dried seaweed, the different sushi ingredients are layered in a baking dish and baked.
Give it a try!
Week 34: Sushi Bake
Ingredients
9x13-inch baking tray
4 cups cooked rice (preferably Japanese rice or Calrose rice).
1 can tuna, preferably in oil
16 oz. chopped imitation crab meat
1 1/2 cups mayonnaise
1-2 tablespoons sriracha sauce, depending on your taste
1 cup furikake powder (any flavor), divided
1/2 cup of rice vinegar
Nori sheets
Instructions
Heat the oven to 400 degrees.
Thoroughly mix the cooked rice with the rice vinegar and 1/2 of the furikake powder and layer the rice evenly in the tray. (Save the other 1/2 of furikake for later use.)
Mix the mayonnaise with the sriracha and spread it on top of the rice evenly.
Drain the can of tuna, chop the imitation crab meat and equally distribute both on top of the rice.
Evenly sprinkle the remaining 1/2 cup of furikake on top of the tuna and crab meat.
Lightly press down the meat and the furikake so they stick to the mayonnaise.
Cut up enough nori sheets to produce 1/2 cup of finely chopped pieces and evenly sprinkle the pieces on top of all the meat and furikake.
Put the pan into the oven and bake for 10-15 minutes until lightly browned.
Notes
1. You do not have to use both the canned tuna and imitation crab meat. You may choose to use only one or the other. But if you only use one of these ingredients, you may want to double the amount.
2. You may eat the sushi rice by itself or you may wrap a scoop of the rice mixture into a small nori sheet.
3. You can also dip your sushi rice in soy sauce mixed with wasabi.
4. Furikake is basically a seasoning made out of seaweed mixed with sesame seeds and other rice seasonings. You can use any of the various varieties.
5. You can also pre-mix the mayo with the crab meat and the tuna and place the mixture on top of the rice instead of spreading the mayo on the rice by itself and then layering the tuna/crab meat on the top of the mayo.