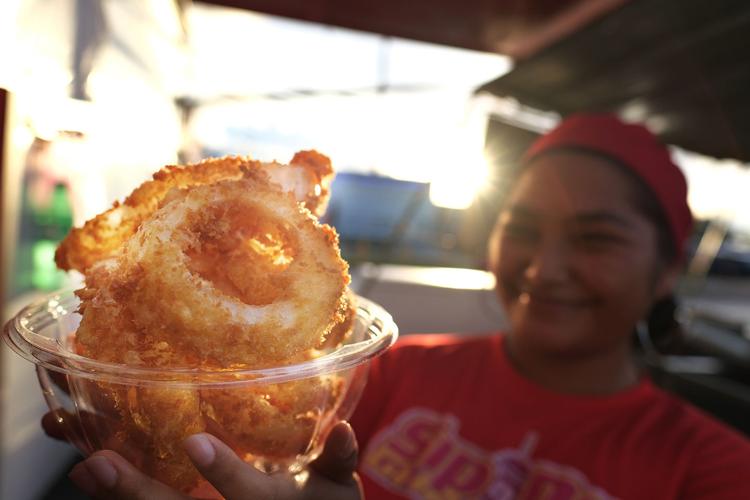 Some go to the annual Liberation Carnival for the rides, others to try their luck at the House of Cards or other games. Whatever your reason, indulging in some deep-fried, cheese-smothered, powdered-sugar-coated carnival food is a must.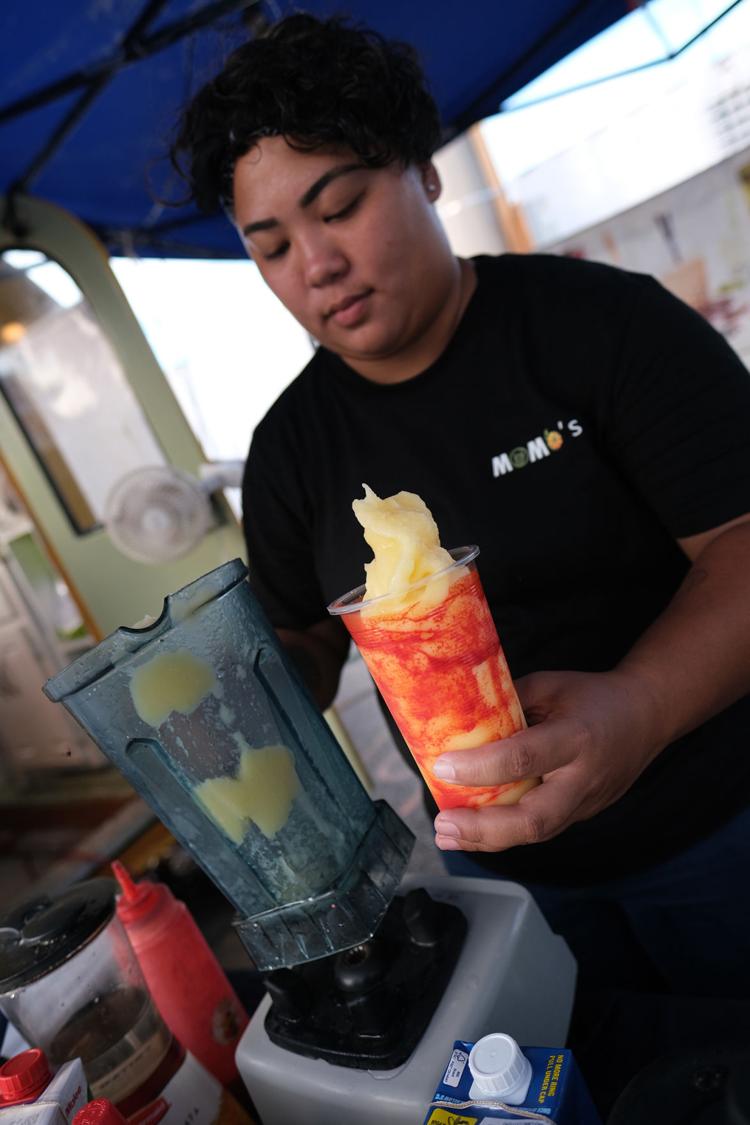 With all the tantalizing choices, it can be hard to pick just how to spend those "empty" calories. So, the Maila Ta Fan Boka crew recently took on the job of visiting the food stands of this year's Liberation Day Carnival to find the tastiest treats to grab this summer.
We decided to get a drink first at Momo's Cafe, to help wash down the fair food. Angel Cruz was behind the blender as she told us how they use fresh fruits in all their drinks.
"Our favorite flavors are Mango Lava, Mango Strawberry and Mango Banana," Cruz said. "The No. 1 top seller is the Cookies and Cream made with vanilla, ice, Oreos and a little secret ingredient."
When questioned about the "secret ingredient," Cruz's resolve stayed strong.
"I'm a little bit shy on telling our special ingredients," she said. Some secrets are apparently meant to be kept. Cruz said they can mix up two flavors. The mango lava made with blended mango and sweet and sour sauce was a refreshing mix of tangy and sweet.
For the fruit purists, Momo's Cafe sells a fresh mango cup for $6.
Keep cool on a hot summer night with a frozen drink – $5 for a small, $6 for medium and $7 for a large that's big enough to share.
Lyn's BBQ Stixx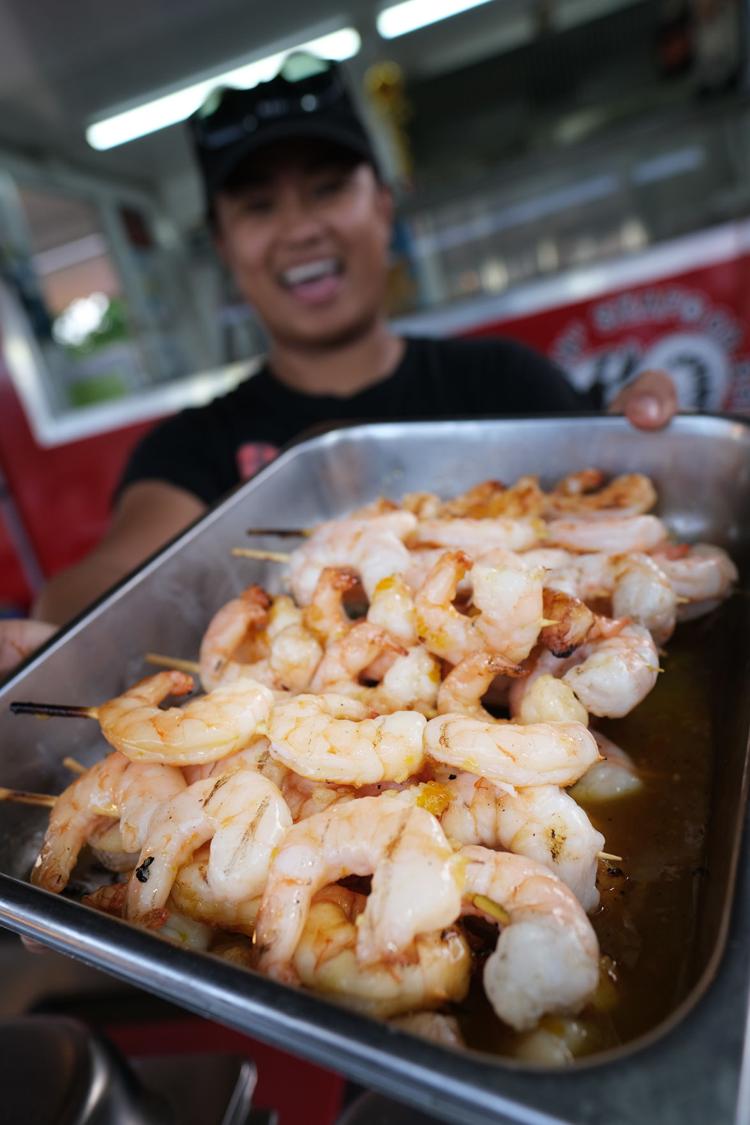 Diving further into things, we stopped by Lyn's BBQ Stixx, where manager Desiree Clemente and her crew serve up – you guessed it – barbecued meats on a stick. Customers can choose from shrimp, squid, chicken, pork or spare ribs.
The spare ribs are smoked for 20 minutes and then put on the grill for a "fast burn," Clemente said.
As for their sauce, "We use a finadene flavor, because that's what the locals like. We try not to make it too sweet," she said. And it seems to be working, feedback from customers has been positive, Clemente said.
"We give good service and they tell us our food is good, so we're really happy to sell them our food. That's what motivates us."
Sip and Dip Guam Street Food
Next up was Sip and Dip Guam Street Food, where owner Marisol Malumay said she wanted to bring customers what they might find at a sit-down establishment.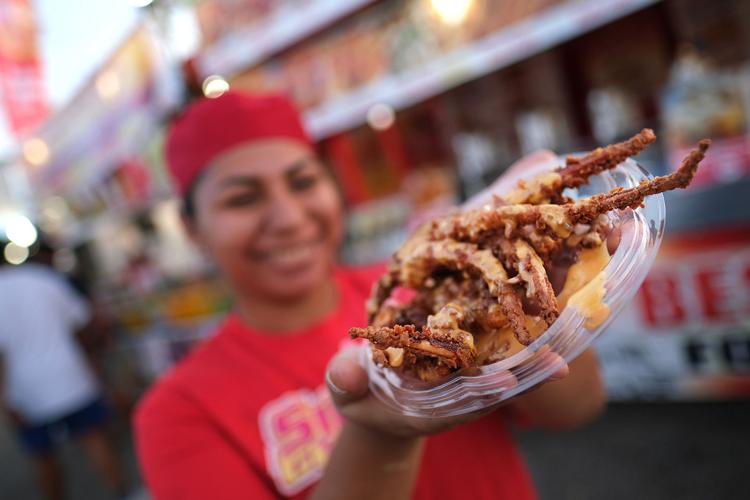 "All the food that you want to find in the restaurant, I brought it into the street," she said. "Those things you usually don't see on the streets, I have it here."
The choices are plenty at Sip and Dip. Chicken wings, crab cakes, loaded French fries topped with cheese and ranch, fried squid legs and mozzarella sticks with marinara sauce are served in heaping portions to help fuel your laps around the carnival grounds. The giant onion rings made with seasoned tempura rings and breadcrumbs are a must.
Tapsilog BBQ Express
For the more exotically inclined, brother-and-sister team Marilou and Mat Gatbonton serve authentic Filipino food at Tapsilog BBQ Express. Dried beef, fried egg and fried garlic rice is a favorite, they said.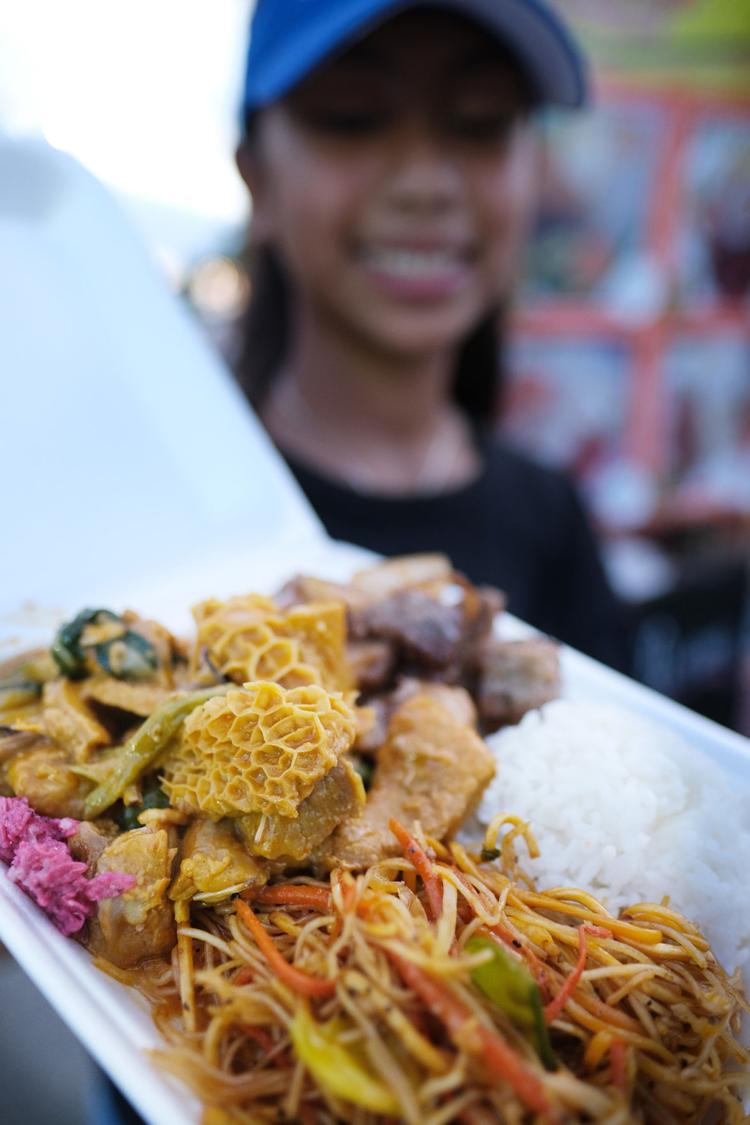 "In the Philippines, it's breakfast, but you can eat any time," Mat said. They also serve quail eggs, hot dog on a stick, pancit, pork and chicken adobo, pork lumpia and dinuguan, or meat made from pork blood.
Marilou said she enjoys working at the carnival and meeting different people and making friends
"We have regular customers that eat here every day," she said.
Try one choice for $7 or get two choices for $9.
Todu Mannge'
Just in time for dessert are the funnel cakes from Todu Mannge', a carnival staple. Owner Helen Cruz said she has been doing business at the carnival since the summer of 1992.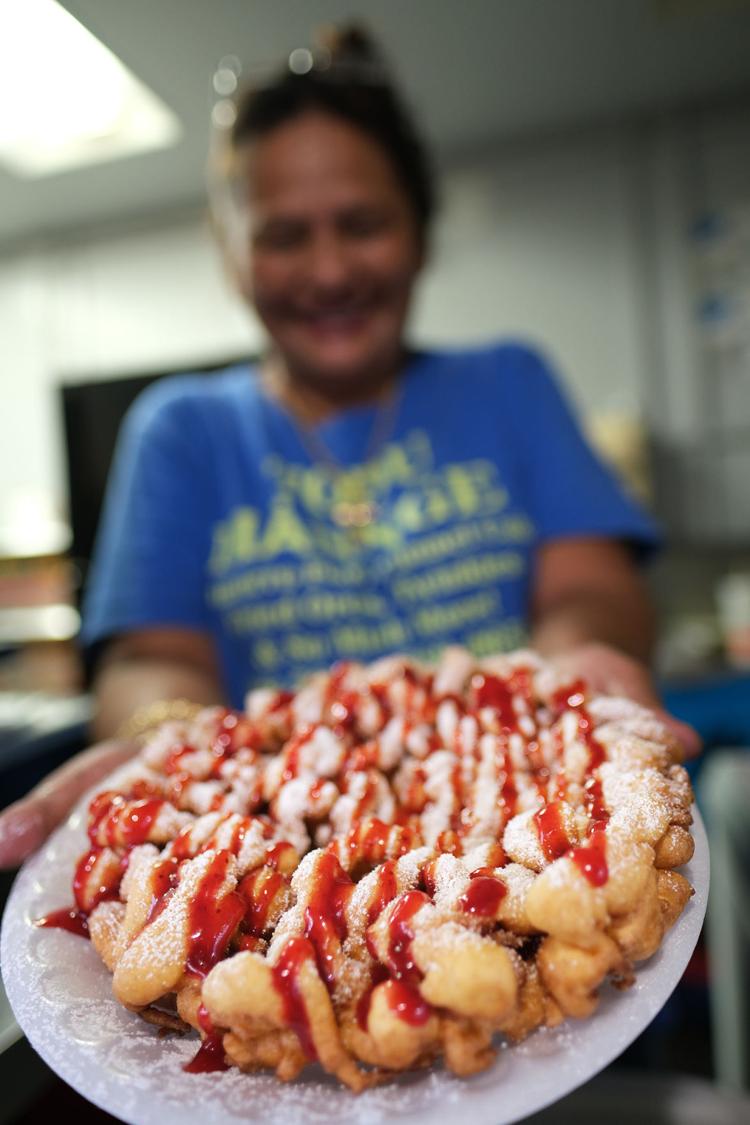 "It hasn't changed much," she said. And neither has her funnel cake batter, which she makes from scratch with flour, sugar and baking soda.
"It's better homemade," said Cruz, who tops the cake with powdered sugar and strawberry sauce upon request.
Corn dogs, cheeseburgers, fried Oreos and fried Twinkies are also on the menu.
"Business is great," Cruz said.
Before you leave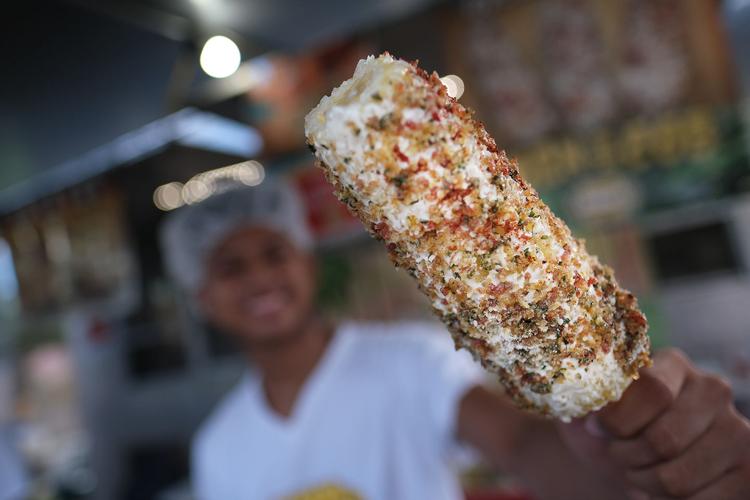 Grabbing something to go? Korned owner Amine Loyola serves loaded corn on the cob slathered in mayonnaise, rolled in bacon bits and sprinkled with cheese and special seasoning, and baked potatoes heaped with pulled pork.
And before you go, don't forget a shaved ice from Guam Snowie, where Corey White offers up 10 flavors including crowd favorites such as Tiger's Blood (strawberry and coconut), Watermelon and Cotton Candy Blue. Extra-extra-large costs $10, extra-large is $8, large is $7, medium is $6 and a small is $5.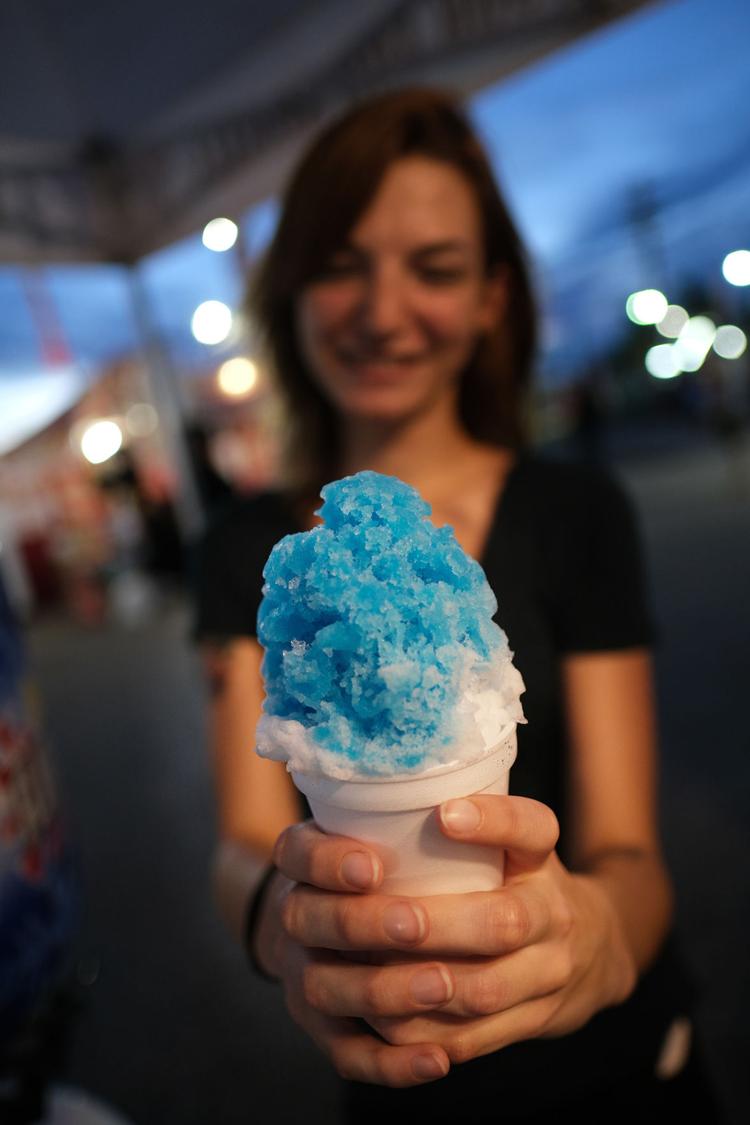 Great deals and hot meals can be found at the carnival this year, and it's a good bet you'll want to head back for more.