Gallery: Hansik meets Chinese cuisine at Westin
Korean cuisine fans, if you think you've had your fill of bulgogi, kalbi and other quintessential Korean dishes, think again. Taste at the Westin Resort Guam, many an islander's go-to buffet joint, has brought back the ever-popular Hansik + Korean-Chinese Cuisine menu.
You may be familiar with the Korean flavor profiles that have been a hit at your favorite hole-in-the-wall restaurant on island, but the hansik style of cooking is something refreshingly different.
As Executive Sous Chef Sean Jung tells The Guam Daily Post, the dishes he and special guests Executive Chef Park Kwui Taek, Chef Kim Cheong Geun and Yang Hoon Sil will prepare for the rest of the week are as authentically Korean as you can get. Chef Sean says that the hansik style is a traditional style of cooking that most Koreans first experience at home, prepared by family.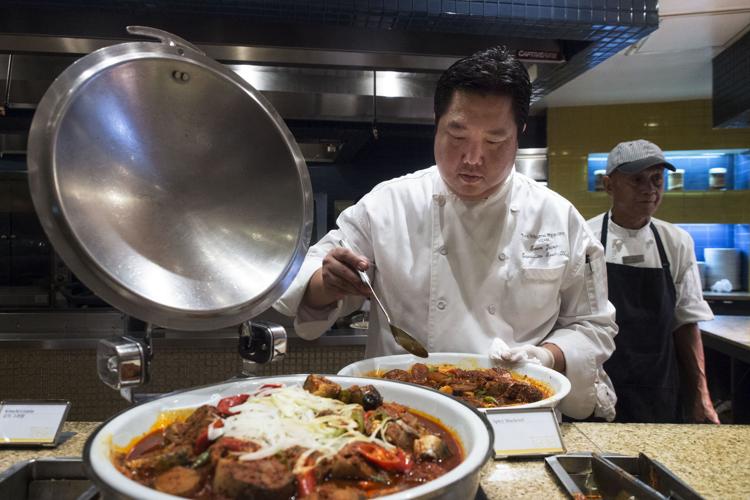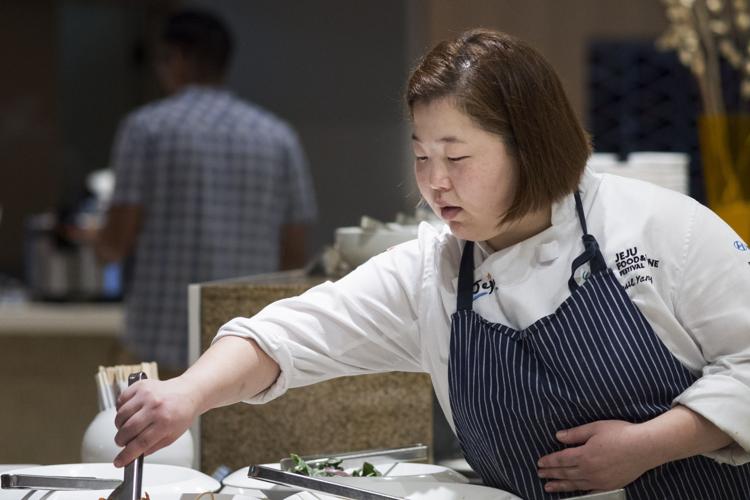 Just like Mom used to make
"(Hansik) is passed on from their mothers," Chef Sean says. "With any culture, you eat your mother's food and you tend to go through that route of eating what your mom makes, and craving what your mom makes. From there they developed their own style, getting the flavor profiles from how their mom cooked. As (guest chefs Park, Kim and Yang) progressed into their cooking they tend to go back to their basics."
Let's just say that if the hansik style of cooking is chefs Park, Kim and Yang's "basic," we're excited to see their advanced forms. The appetizers, entrées and soups we tasted wonderfully confused us. What we're trying to say is we don't have this kind of Korean food all the time, and it's nice to break away from the flavors we've become accustomed to. (Wait until we tell you what jellyfish tastes like. Hint: It's good!)
And hansik isn't even the only style of cooking being offered at Taste this week. You can also try out Korean versions of dishes made popular in China. Just like the rest of the world, Chinese cuisine has found a home in Korea, and has taken on the flavors and techniques of Korean cuisine.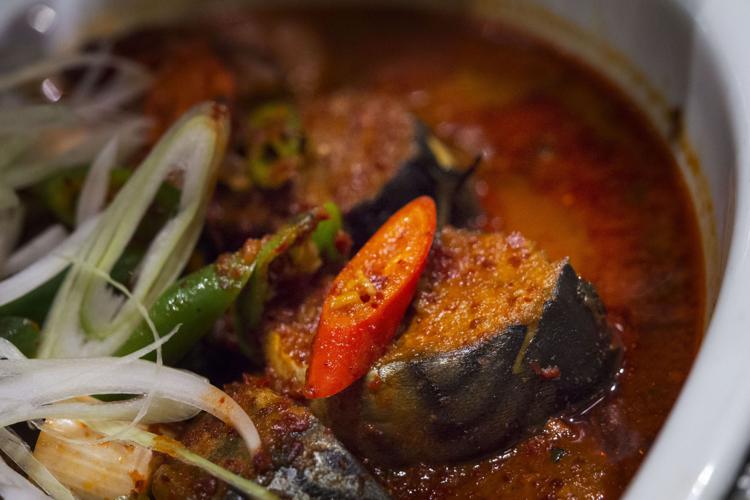 Enjoy big, bold flavors
Now, only a madman with a bottomless pit for a stomach could have eaten everything prepared at Taste that day, but rest assured, like a well-prepared appetizer tray, we're going to give you bite-sized highlights of the big, bold flavors you can enjoy with the Hansik + Korean-Chinese Cuisine menu.
Speaking of appetizers, that's where we started our meal for the day, whetting our appetite for the heavier entrées to come.
If the revolving menu happens to serve beef tartare on the day you visit, make sure to get your fair share of this rare beef dish. Beef kelaguen fans rejoice, the beef tartare has a similar texture to the CHamoru staple, except that each bite features bright Asian flavors. We noticed healthy notes of sesame oil blending well with a pleasant, teriyaki-like soy base. Overall the dish was a nice balance of sweet, beefy and salty flavors.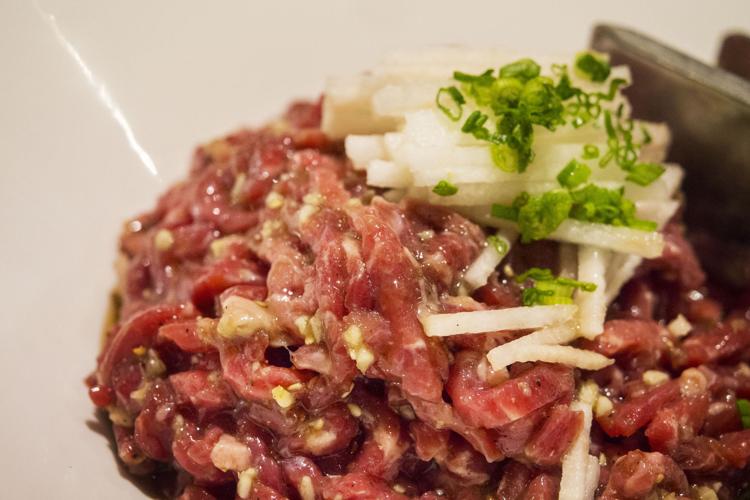 Wanting to experience the entire spectrum of beefy goodness, we moved onto the ginseng cold bulgogi salad. Chef Sean told the Post that the bulgogi is prepared in a traditional style before being flame-grilled prior to plating, then is tossed with fresh ginseng. Right away, that flame-grilled smokiness pops with each forkful of beef, and the ginseng, which has a noticeable earthy flavor, is a nice compliment to that. If you're into umami, you've got to have this side dish.
Remember when we said we ate jellyfish? Well: 1) It was absolutely fantastic; and 2) We didn't know we were eating it, because it's mixed in the seasoning of the smoked pork salad with mustard sauce. Do not shy away from this chance to expand your flavor horizons. The pork in this dish holds its smoke flavor nicely, so if you like ham hock and mongo beans you're going to be happy. The sauce itself is bright, refreshing and acidic, from the mixture of mustard and lemon. The jellyfish is a pleasant surprise on the palate. We can't say it had too much flavor, but its texture was pleasurably chewy and added to the enjoyment of the dish.
With appetizers out of the way the Post queued into the entrée line – first stop, braised beef rib with soy sauce. The beef here was fall-off-the-bone tender with a deep-set flavor that only comes from hours of slow cooking. There's something magical that happens when the gristle in a beefy rib breaks down and melts into the sweetened soy base. Really, it's just wonderful.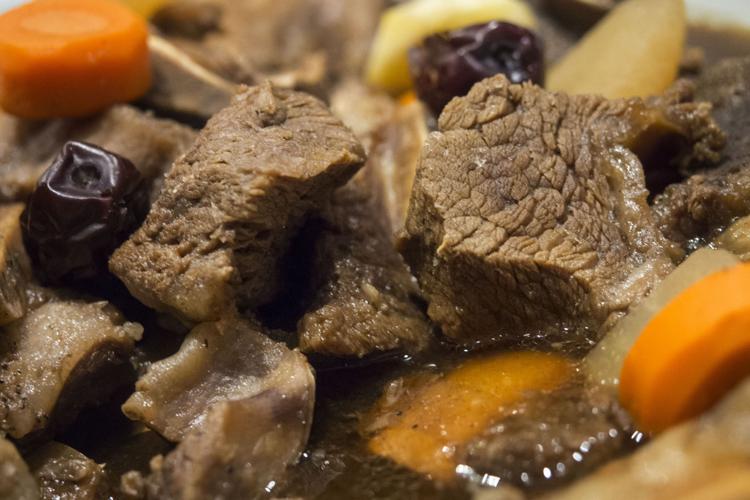 By the time we got through the ribs, we were already starting on our second plate of food at the buffet. We know, that's far too few plates for an all-you-can-eat restaurant, but we were pacing ourselves. We wanted to save room for one of Korea's most popular street dishes: chuncheon-style stir-fried spicy chicken. The chicken was cooked in a dried chile, soy sauce, vinegar and hoisin sauce marinade with a sweet potato thrown in for good measure. It's a nice break from all the pork and beef.
We next moved onto the ssam, which is almost like a salad you can eat in one bite. The dish is put together in the palm of one's hand, taking a slice of grilled pork or chicken, placing it in a perilla leaf, adding garlic and a touch of ssamjang sauce before wrapping the whole thing in a lettuce leaf. Embrace the bold flavors here! You want that raw garlic in your ssamjang sauce, because even though both are explosive with flavor, they blend magnificently against the hoppy perilla and savory grilled meat. If you're wondering what's in the ssamjang, it's typically a blend of chiles, fermented bean paste and many other ingredients. It's spicy, sweet, savory and hard to keep off your plate once you try it.
Chinese-influenced dishes
Of course we couldn't leave without first digging into the Chinese-influenced dishes being served at Taste. There were staples like honey walnut shrimp and fried rice being served, but the Post was more interested in the hot pots of noodles being freshly prepared. We decided on a nice bowl of champong, a spicy seafood noodle soup that Taste claims will "refresh your spirit." It's wonderfully light as a soup, with a pleasant brine that's reminiscent of the ocean. You can experience bites of prawn, squid and more with each spoonful, and there are even pieces of pork that blend well with the hot peppers.
At the end of the entrée portion, we were very close to taking our food baby back to the Post newsroom to take a nap at our desk. However, we got a whiff of something decadently sweet coming from the dessert table, and suddenly found the strength to renew our dedication to this food column. It turns out that Taste also features a live hotteok station, cooking up fresh batches of sugary, mixed-seed Korean pancakes for all who desire them. The hotteok is wonderfully chewy, but not in the way an American pancake is. It's more akin to a soft English muffin, but with a delightful buttery flavor. It's topped with cream cheese and mint, then filled with a caramelized almond paste. Oh my goodness – Cinnabon, eat your heart out. We're glad that it closed out our meal at Taste, and you will be, too, once you try it.
Head to Taste to taste everything we did and more. The menu rotates daily and features more than 50 dishes. Reservations can be made at 647-1020.