Tasting CHamoru donne' dinanche – or "hot pepper done right" – for the first time in 2010, Su'prim founder and owner, Derreck Cruz, followed his cooking passion to bring smiles to the faces of many through his unique pepper paste.
Donne' dinanche, the popular hot pepper paste added to complement different foods, has been made in many variations on Guam; however, Cruz has managed to create the condiment in such a way that it unexpectedly knocks the taste buds, but tempers itself just enough to leave the mouth watering for more.
Found anywhere from intimate home dinner tables, to family gatherings and restaurants, Su'prim donne' dinanche offers a creamy and hearty punch to the typical dinanche experience.
With a recipe that's been in the works for up to eight years, Cruz has infused select local peppers with local eggplant, mushrooms and annatto powder, on top of the usual "gisa," or sauté, of yellow onions and garlic married in a simmering bath of coconut milk.
Cruz's additional mix-ins remain top-secret, of course.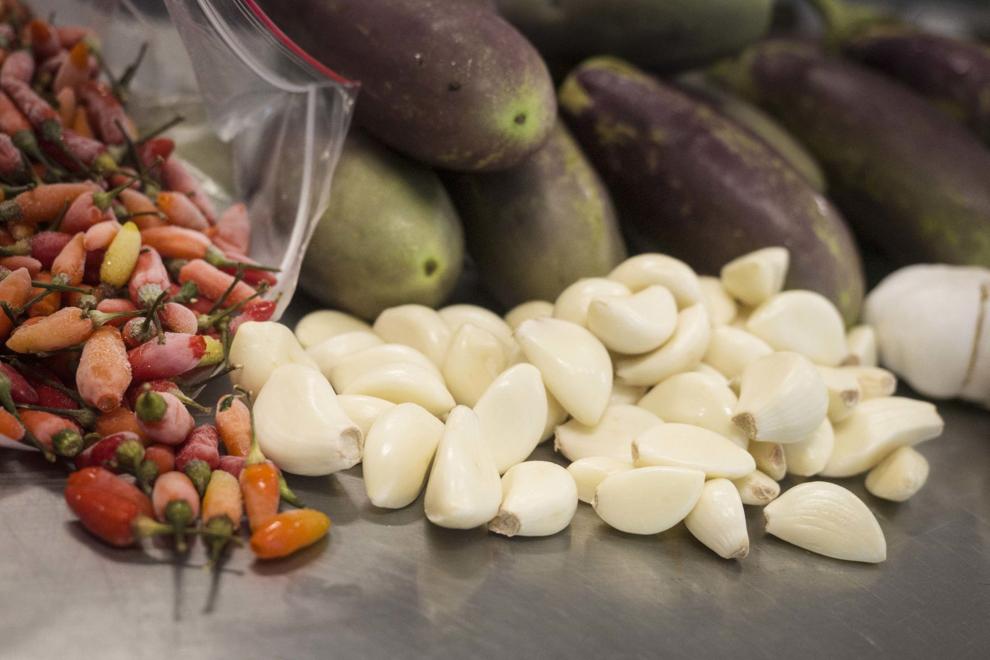 Undeniably tasty
After blazing up a large wok, Cruz tosses in the garlic, onions, eggplant and a tad bit of oil until each ingredient softens and releases its essential aromas. Then, having blended his peppers and coconut milk on the side, Cruz engulfs the ripe ingredients with the tangy coconut-pepper slurry. For a mild annatto – locally known as "achoti" – flavor and amplified color, Cruz tops the dinanche with his desired amount of the powder.
Leaving the flavors to mesh for a short while, the bubbling, aromatic pepper punch is ready to serve.
Cruz is a man of his word when he says the eggplants act as a vessel of texture, while producing a creaminess like no other. This physical sensation leaves a bed of pleasant "pika," or spiciness, on the tongue, and a lasting coconut aftertaste.
Even more so, the level of heat is tolerable and could be consumed throughout an entire entrée – and of course it's undeniably tasty.
Though Cruz first began to "chesa," or try, donne' dinanche with barbecued meat, he claimed it's a hit on the local favorite, chalikilis – a grainy annatto rice soup. Cruz highlights how the coconut cream spreads and infuses in the dish. The dinanche can also be enjoyed in "kådu," or stews, in poki, on top of rice, pickles and much more.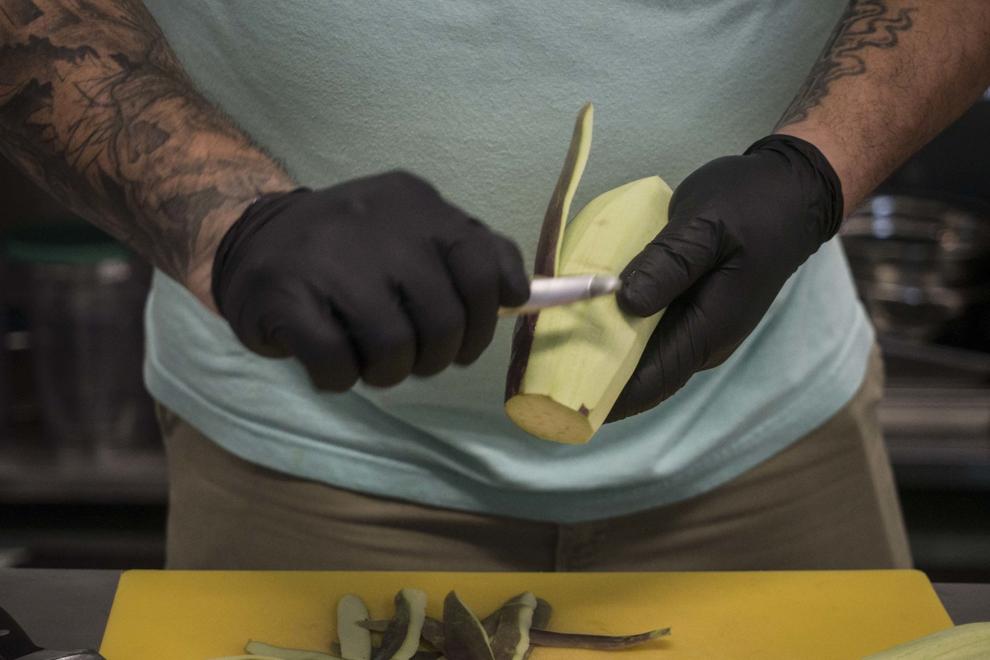 Cruz's donne' dinanche dreams became a reality when Su'prim was born in late 2016, after someone tried his dinanche and said they'd be willing to pay for its goodness. Despite this gesture, Cruz claimed his aim was never the money, but rather his love and passion for the culinary creation.
"It's just a lot of love translating into love," Cruz says. "I really like to see the smile on people's faces, especially when it comes out from just a small jar. ... I know that a lot of the love that I put into the dinanche pays off."
Pressure-canned and marked with a fierce-faced pepper man holding a cleaver in one hand, making a "hang-loose" sign with the other and a Guam-seal-stamped "karate kid" headband, the Su'prim brand is not only meaningful to Cruz, but is known to resonate with locals.
In practicing his love for cooking, Cruz has always found himself working with a cleaver. He also derived the brand name from a play on the word "supreme." Knowing that locals commonly greet each other with "'Sup, prim?" short for "What's up, prim" – and similar to "How are you, bro?" in English – Cruz kept the spelling as "Su'prim."
The brand's artwork was done by Cruz's good friend, local artist Sonny Chargualaf.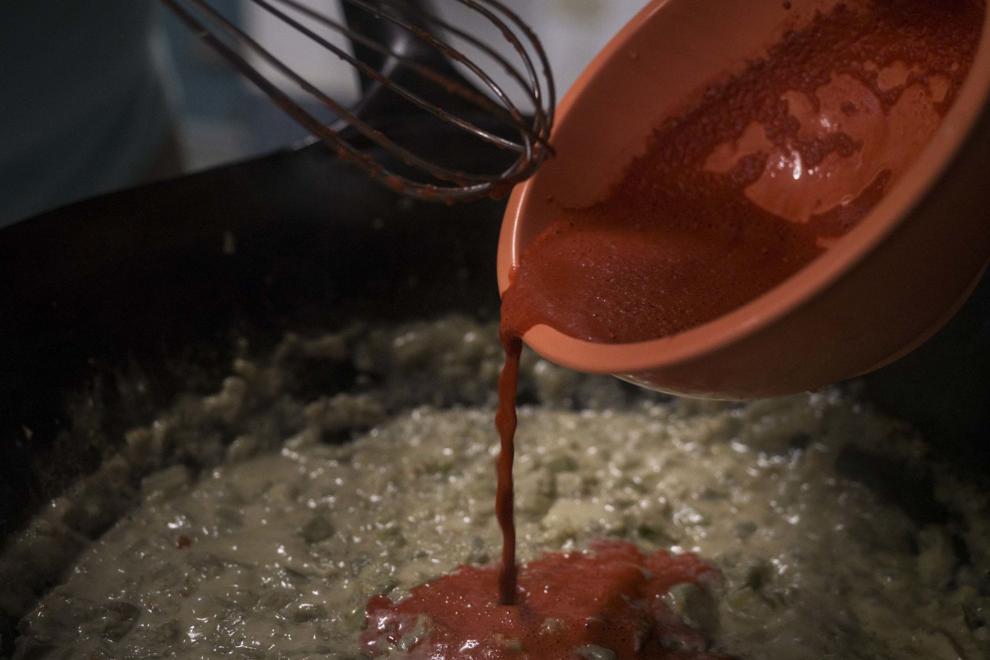 'That love and håfa adai spirit'
Cruz said his Su'prim dinanche can be found in all major Pay-Less Supermarkets, as well as the Håfaloha shaved ice shop, Da Local Grindhouse and Crossroads Express. The dinanche has also made its way across the United States, as Su'prim ships off island. Dinanche can also be purchased at Incredibowls in Mangilao.
"One of the things that we try to do, too, is we want to actually spread that love and håfa adai spirit," Cruz says.
Cruz is even considering producing a fina'denne'-friendly "pepper mash" in the future, made of strictly peppers.
Eight-ounce jars of Su'prim donne' dinanche are available for $10 and have a shelf life of up to a year.