Wow! To my amazement, I have already reached Week 52 of my 52-Week Recipe Challenge. It really doesn't seem possible. I started the challenge as a way to cope with the COVID-19 pandemic situation. Rather than just sitting around the house, bored, I wanted to entertain myself, and hopefully, others. I certainly entertained myself! For me, this has been a fun venture that allowed me to combine two of my favorite pastimes: cooking and writing. Hopefully, my weekly articles also brought you some fun and a little diversion from these trying times.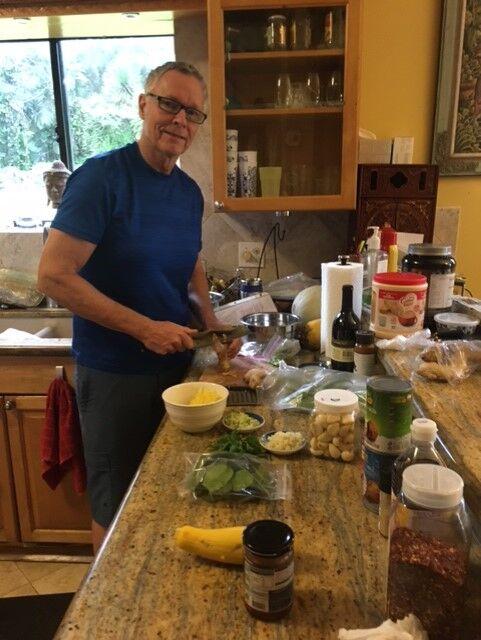 Remember, the challenge was for us home cooks to try to increase our recipe list by 10 recipes over the course of the year. To be candid, during the year I didn't keep a tally of my new recipes. So the other day I sat down and reviewed the 51 recipes I've featured so far to see which ones were new for me. I came up with the following list:
• Denny's-style French Toast (Week 5)
• Thai Meatballs (Week 16)
• Vegan Chili (Week 20)
• Thai Green Chicken Curry (Week 23)
• Mango Bars (Week 32)
• Queso Fundido with Chorizo (Week 37)
• Apple Tortillas (Week 38)
• Shrimp Linguine (Week 40)
• Lemon Bundt Cake (Week 41)
So I expanded my recipe list by nine. I might not have reached my goal of 10, but I am satisfied with what I accomplished. Most gratifying was the appreciation I received from family and friends who tried both my old and new recipes.
One of the greatest pleasures I get from cooking and baking is experiencing the way food brings pleasure and comfort to people. Food builds bridges and breaks barriers. In these trying times of political and social division, food can play an important role in reducing the level of animosity and bringing us back together. I saw this time and again during Corman and my summer travels across the states. We socialized with people of various ethnicities, ages, cultures and backgrounds. In many instances, lively and fun conversations were sparked by the common experience of eating together.
Quick and easy for the kids
Speaking of fun, Halloween is just around the corner. I was so disappointed that last Halloween my grandson, Koein, couldn't experience the adventure and fun of trick-or-treating. I have my fingers crossed that the pandemic situation has improved enough this Halloween to allow some form of devilish exploits for kids. Just in case, I want to be prepared to feed a gathering of people. The meal needs to be something that can be eaten quickly. Excited kids don't want to spend a lot of time eating dinner on Halloween night, but I don't want them being tempted with pounds of sugar items on an empty stomach! Hmmm. I know what I can make – Sloppy Joes!
They're quick and easy to make, and eat. I found a recipe a few years ago that is really delicious. I know that your ghosts, goblins and princesses will love these tasty delights.
Again, thank you readers for your patience and input. Please keep cooking and baking. Let's all eat, drink and be merry!
Sloppy Joes
Slightly modified from Spenser's Sloppy Joes recipe, courtesy of the Neelys.
Ingredients
1 tablespoon vegetable oil
1 green pepper, chopped
1 red pepper, chopped
2 garlic cloves, chopped
1 teaspoon salt
1/4 teaspoon pepper
2 pounds lean ground beef or turkey
1 (8-ounce) can tomato sauce
3 tablespoons tomato paste
1 cup barbecue sauce
1 tablespoon Worcestershire sauce
1 teaspoon Tabasco
4 hamburger buns, split
Extra barbecue sauce (optional topping)
Steps
1. Heat oil in a large skillet with straight sides. Add the bell peppers and garlic. Saute until tender, about 3 minutes.
2. Add the ground meat to the vegetables. Stir and cook about 8 minutes, until the meat is no longer pink and fully cooked.
3. Add tomato sauce, tomato paste, barbecue sauce, Worcestershire sauce, salt, pepper and Tabasco into the skillet. Stir until well-mixed.
4. Simmer until thickened, about 10 minutes. Serve on a hamburger bun with extra barbecue sauce, if desired.
I like to serve Garlic Roasted Potatoes (Week 12) with the Sloppy Joes. Sometimes we substitute hot dog rolls for hamburger buns and sometimes we serve the Sloppy Joes with hot dogs.