"One … two … three. Go!" And a sound similar to pigs gorging themselves with slop follows. It's like watching a train wreck: You don't want to stare, but you can't look away.
While it's a challenge fit for the gods, on Guam we're calling it Meskla Dos' big Big BIG Burger Challenge.
I was sitting quietly in peace at my desk when a colleague came to me, waving a photo of the burger challenge. My eyes widened to fit the size of the burger, which, by the way is bigger than big.
All at once, the quiet peace I had once enjoyed drowned in the distance as my mind moved into a winning mentality.
The challenge was a week old at the time, and 14 had tried – and failed – before the opportunity presented itself to me. At first, their loss, to me, aligned the symbolical stars in the road to success.
"I will be the first to win, even if it kills me," I said. The stars must have noted my arrogance. Fate must have whispered, "Well then, I guess we'll have to try."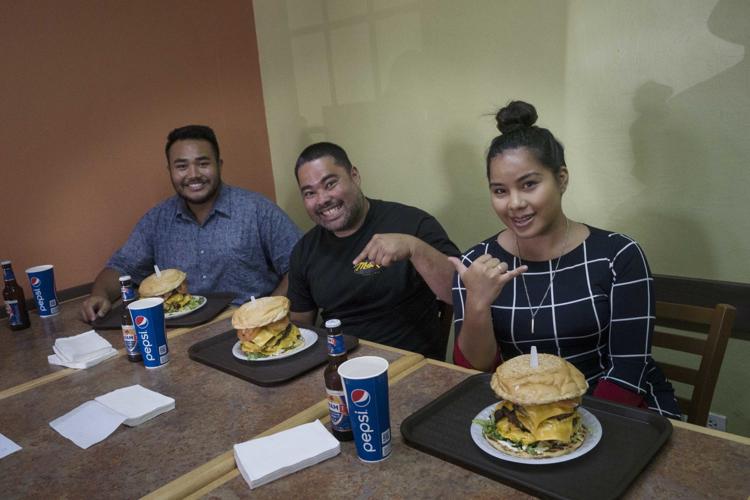 'Best burgers on Earth'
I met with Andy Fernandez, the manager of Meskla Dos, which has come to be known as one of the island's best burger joints. A quick survey of TripAdvisor reviews often coins their cuisine as the "best burgers on Earth." They're not kidding.
The Maga Lahi burger in particular is a crowd pleaser. It's a house-made, 16-ounce pure beef patty slowly grilled to perfection with three slices of cheese and topped with lettuce, onions, tomato and mayo. All that goodness sandwiched between two toasted, airy buns and an optional, special boonie pepper firecracker sauce.
"It's a big burger," Fernandez said, but "people finished that like it was nothing." It was too easy. They wanted a challenge.
The Upper Tumon restaurant's sister location, the original Meskla Chamoru Fusion Bistro in Hagåtña, is home to the Pika Challenge and Big Chili Dog Challenge.
While those challenges speak for themselves, Meskla Dos dominates the burger scene, and there's only one way to elevate a burger.
"We thought, about it," he said, with his staff. " 'Why don't we come up with one that's a big, big, big burger?' "
Thus, the creation of the madmen who work at Meskla Dos: three, 1 pound burger patties jam-packed in between buns bigger than your face, complete with tormenting cheese and vegetable toppings. In total, it's 3 pounds, or 48 ounces, of pure beef that's got a bone to pick with even the heftiest of men.
Without seeing the actual burger yet, I thought, 'Eh, 3 pounds doesn't sound like much." I searched the Internet for reference and found that a standard bag of apples or oranges weighs about the same. Ditto for a large bottle of wine or half-gallon of milk.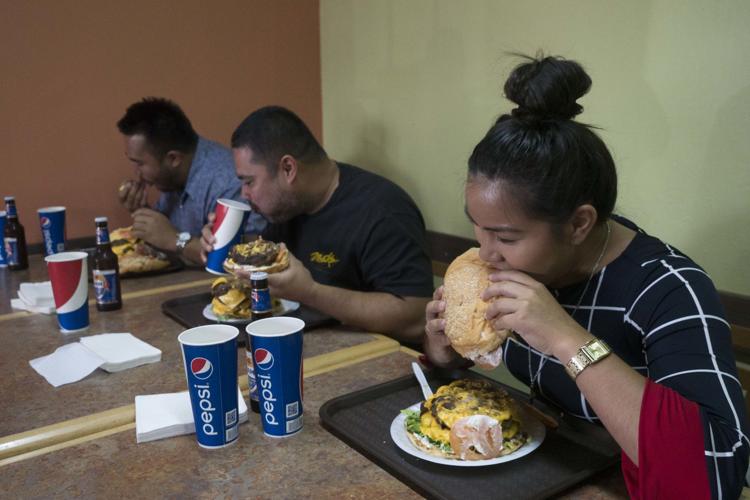 It can't be that tough ... right?
The rules are simple
The rules of the challenge are simple. Finish the whole burger without a single morsel of food left on the plate in 10 minutes. Water is provided.
If you're successful in slaying this beast of a burger, not only is your monstrous meal free, but you get a free Meskla Dos T-shirt, a Guam Beer and your photo on Meskla's Wall of Fame.
However, if this bad, bad burger forces you to bite the dust, you'll be required to fork over $35. But at least you still get a Guam Beer and a photo – on the Wall of Shame.
By the time The Guam Daily Post attempted the challenge, more than a dozen had tried their chances for the sake of fame and food fortune, but they lost and now hang their heads low on the Wall of Shame.
"Not me," I said.
Anyone who takes an upcoming competition seriously trains, and I did just that. I scoured YouTube, Google and social media for words of wisdom from those who have won these types of challenges in the past.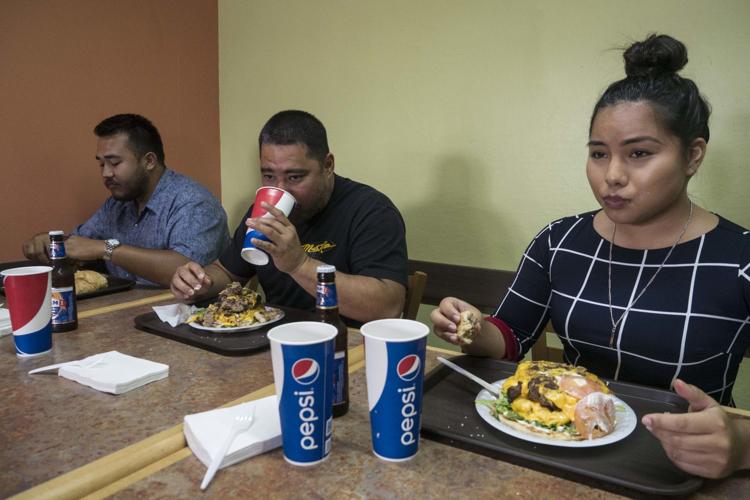 If you do the same, you'll notice a lot of common-sense tips like "break up your food" or simply, "eat fast." Word of advice: Skip the Internet and simply prepare yourself mentally, because nothing will prepare you for what's to come.
My date with destiny
The morning of the challenge, I skipped breakfast and tried to act like a big, scary burger-shaped cloud wasn't looming over my head.
When I got to the restaurant, the adrenaline kicked in. My date with a big, beefy, burger had come. Even the soothing smell of the restaurant's gourmet burgers wafting through the air couldn't quell my nerves. Then I saw it.
A trio of towering Maga Lahi burgers being carried out from the kitchen on separate trays, held high like royalty. Magalahi means "chief" in CHamoru, so they were royalty of a sort, and rightfully so.
I'm not joking when I say these three, 3-pound burgers had pulled a "catfish" – they didn't match their online photos at all. They were huge, like bigger than my face and bigger than my two manly hands could hold.
The confidence I had spent days building suddenly dwarfed. I knew I was doomed, but we carried on.
Joining me for the challenge were Andy and fellow Post reporter Alana Chargualaf. Sinking into our seats, the timer began and off we chewed!
With an audience present and cameras rolling, the pressure was on. It was bittersweet to have to eat such a delicious burger so fast. Although, even if not for the challenge, anyone would be quick to take another bite.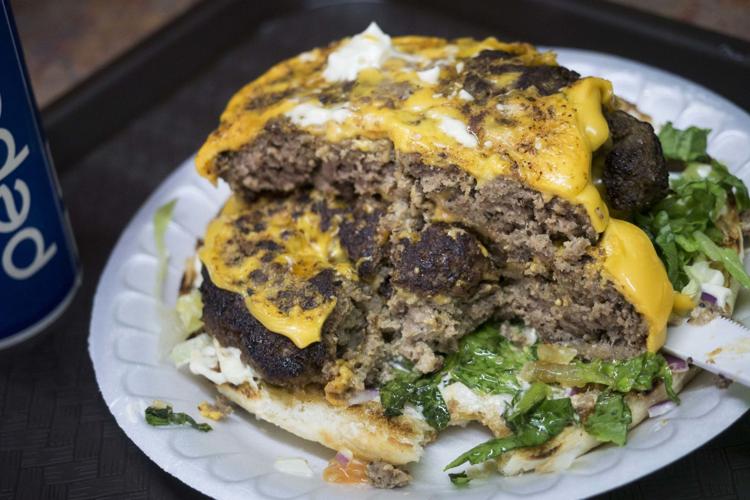 Defeat tastes surprisingly good
In the end, we all tasted defeat as the timer ran out, and it didn't taste that bad.
As confident, and even cocky, as I started, I wound up only eating one of the three patties. Andy finished about one and a half, and Alana, almost two. Go figure.
Despite the laughable loss, I walked away with my stomach and sanity intact. The savory meal, finished or not, is well worth the price.
If you think you can do better, think again. And if you still think so, visit Meskla Dos and try the big, Big, BIG Burger Challenge yourself.