No surprise here, but our favorite way of celebrating Mes CHamoru is chowing down on CHamoru food.
Tinaktak, gollai hågon suni, gollai appan lemai, kelaguen – you name a CHamoru dish and we'll agree it's worth celebrating all month long.
The CHamoru culture is one built on inafa'maolek, or creating harmony with as many people as possible. One way CHamorus like being harmonious is through dining, which is why if you ever visit our home kitchen, the first thing we do is offer you something to eat or drink.
At a different kind of kitchen – Café Kitchen at the Hyatt Regency Guam – Chefs de Cuisine Angelo Lacson and Brendan Makahi have prepared a special CHamoru lunch and dinner offering of their own.
"We're here to take care of you guys and show you guys great comfort and great food," Lacson said.
If you're unfamiliar with the way things work in the Tumon eatery, it's basically half an a la carte restaurant and half buffet restaurant. For one price, customers select an entre menu item to be cooked up fresh just for them, and that same price allows customers to enjoy the fresh bar that wraps around much of the restaurant.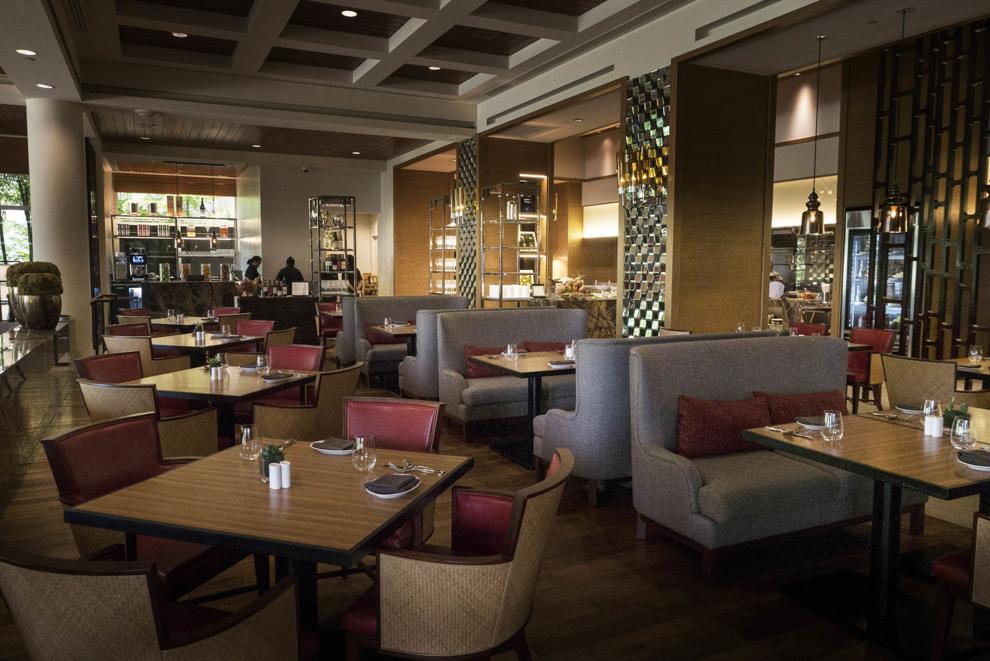 'This is your kitchen'
"Growing up, I remember when my grandma was still alive; it was very traditional to have a barbecue at the house and all the family comes together," Makahi says of the importance of food in the CHamoru culture.
"This restaurant is actually for families. Our motto here is, 'This is your kitchen,' and if we don't have it, we will provide it for you the best we can."
In addition to the numerous regular items on Café Kitchen's menu in March, you can also enjoy kådun pika, fried reef fish, a fiesta plate, a kådu bar, assorted kelaguen and buñelos aga', in addition to everything available on the fully loaded fresh bar.
By now, we know what you're thinking: How well does a hotel cook up CHamoru cuisine?
Let's put it this way: If you're in the mood for CHamoru food but can't make it to Nåna's kitchen, Café Kitchen will have you covered.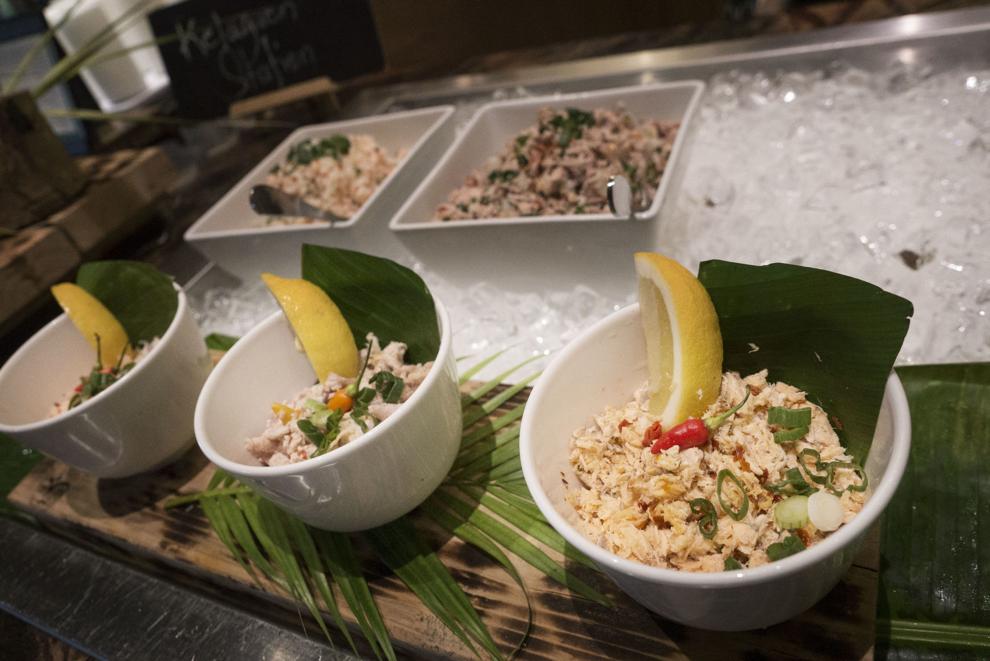 We first nibbled on some light portions of the three different types of kelaguen we found at the fresh bar. We believe our ancestors would approve of the månnge' chicken kelaguen. First grilled to perfection, with a light smokiness, Hyatt chefs add in island favorite ingredients coconut, lemon and, of course, hot pepper. We were quite partial to it, but the shrimp kelaguen and salmon kelaguen were delicious as well.
And because no self-respecting CHamoru would dare leave kelaguen lonely, we paired it up with corn and flour titiyas.
The kelaguen was a fantastic way to whet our appetite as we jumped into a dish swimming in delectable textures.
Cherry like Auntie Mary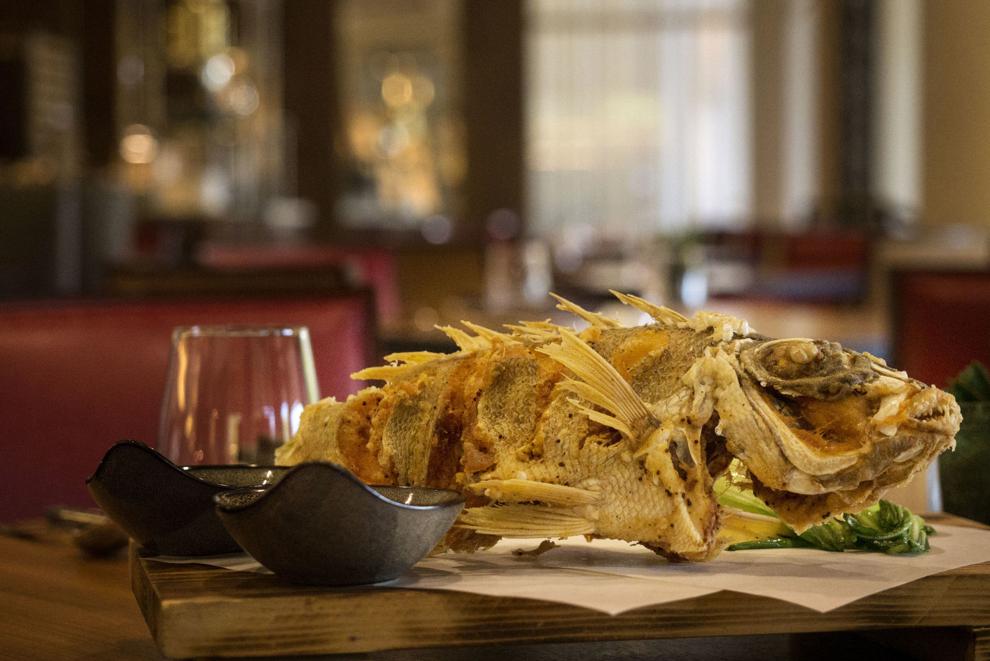 The fried reef fish was perfection. Lacson receives an order of fresh fish weekly, so if you want some of the treasures of the sea, you're never going to be disappointed at Café Kitchen during Mes CHamoru.
The parrot fish was fried to a crisp on the outside, yet flaky and light on the inside. Hyatt chefs didn't over-season our fish dish, which made it a pleasure to enjoy. Still, the temptation to dunk a few pieces into the finadene and dinanche was too great! We admit to some indulgence.
That dinanche is house-made by the way, with smoky peppers, roasted egg plant, achote water, coconut milk and a pleasing spiciness. It's not "tough-guy Uncle Joe" hot, but we say, "It's still cherry like Auntie Mary."
OK, you know us. We love good marinated short ribs, which is why we were very pleased to dig into the Fiesta Plate. That grilled short ribs is nothing short of otherworldly. Thank you, Chefs Lacson and Makahi, or whomever is in charge of preparing it. Hey, but even though we are in love with grilled, delicious beef, that doesn't mean the rest of the Fiesta Plate should be ignored. The tinåla kåtne is just as amazing. It's smoky and fatty, and tastes like the most delicious bacon you've ever had. And that chicken served alongside the other dishes holds its own, as well.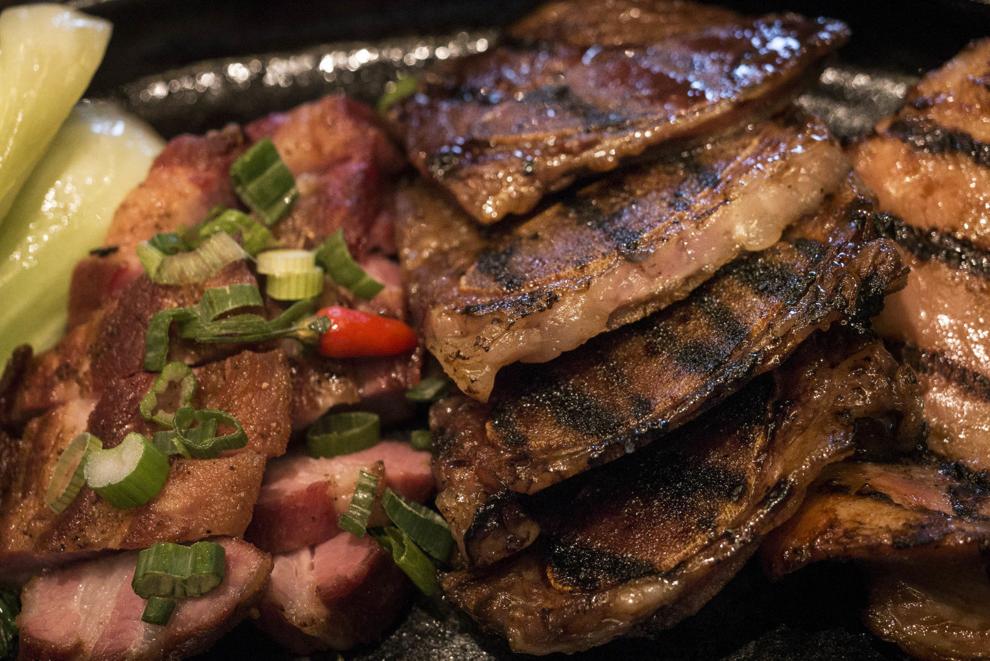 Amazingly, we still had room for the chicken kådun pika. Right off the bat, it was slightly pika, so it got that part right. Spice wasn't the only thing nice about this dish, however. Hyatt's take on the spicy chicken dish features the creaminess of coconut milk as well, to balance out the salty and pika flavors that go along with each pot. At Café Kitchen, the chicken kådun pika also is served with some green onions on the side. Toss those in for an interesting twist.
Report to the kådu station
At the end of our course, we couldn't leave until we tried the alluring kådu station. We had never seen kådu deconstructed before, and the way Chef Makahi described the cooking process made it too good to pass up.
Makahi says he slow-roasts large beef bones to extract their flavor, then boils them for hours until a decadent broth is produced. Its flavor is rich with beefy umami and as warm as your Nåna's hug after you fangingi her after church. And then it will put you to sleep, like a good kådu should. At the kådu station, you can mix in sliced beef, noodles, veggies or whatever your heart desires.
Save the best for last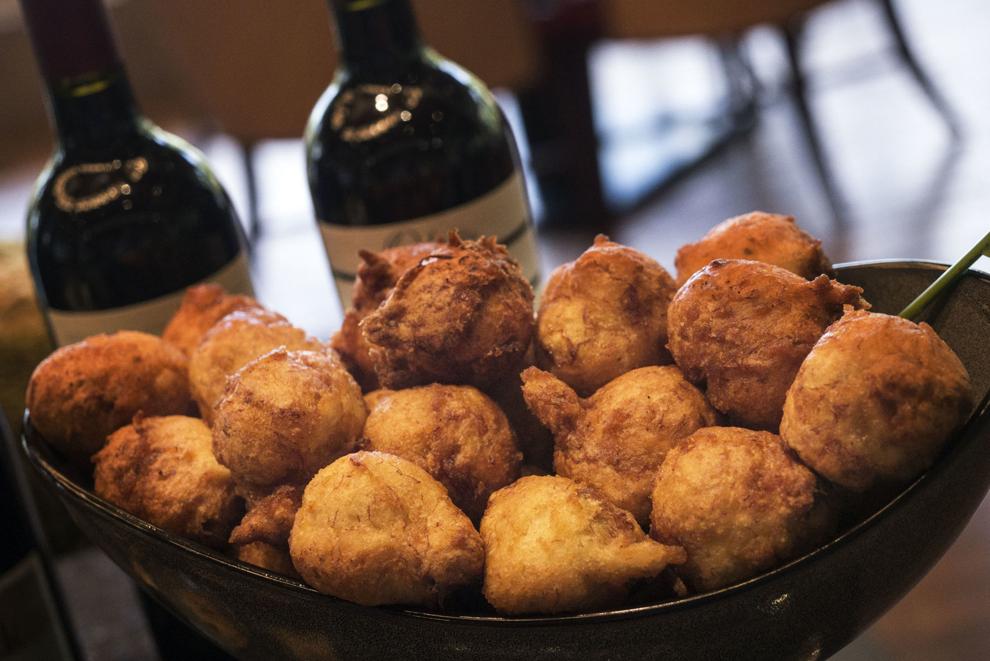 For dessert, we had some warm, doughy buñelos aga', aka local banana donuts. Goodness gracious – it was just like biting into mini banana bread. With a side of warmed syrup and the fantastic view of Tumon Bay, it was perfection.
This was a lunch so good we had to say "Biba!"