Nothing says love like home cooking!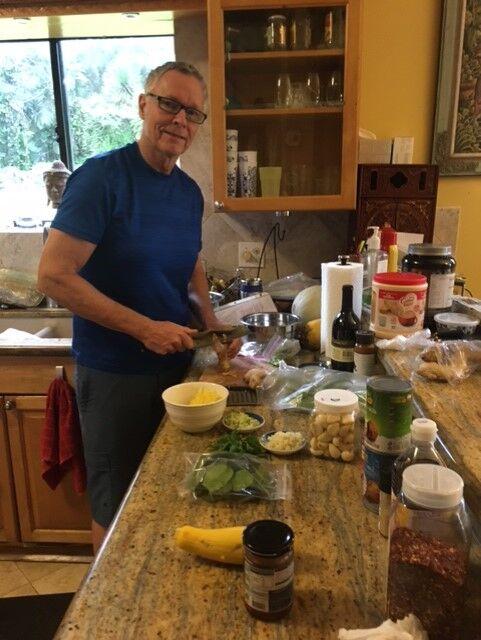 Think about the important role cooking plays in your life. Of course, there is the basic need to feed everyone three meals a day. But for most of us, cooking goes way beyond the basic need to simply feed others. We often use food to express our love and appreciation for our family members and for our friends. This desire to express love and appreciation through food makes cooking and baking fun and gives us a sense of accomplishment. When you focus on making someone happy through your baking or cooking, you find yourself pouring your heart and soul into your culinary creations. And, as an extra bonus, if everyone raves about how delicious the recipe is, you feel like you've hit a home run and the fans are cheering you on as you run the bases!
This past Sunday morning, I once again felt the strong connection between cooking and love. As most of you know, last Thursday was the first day of classes for all public school students. In my family, the excitement generated by the anticipation of school opening was heightened by the fact that it would be the first day of school for my grandson, Koein. He was starting kindergarten at Ordot Chalan Pago Elementary School. He was really excited about the prospect of attending school. I was a bit concerned that he'd be nervous on his first day, but, as I stepped out of my bedroom that morning, he greeted me with a bright smile and was already dressed in his new school shirt, new shorts and shoes, and he was wearing his new backpack! As I snapped a few photos, he kept calling his dad (my son, Keoni) to hurry up so he could go to school. He had absolutely no anxiety – he was ready to begin his academic career!
The three golden rules
As he climbed into his dad's car, I reminded him of the three golden rules: be safe, be respectful, and be responsible. I promised him that if he was good for his first two days of school, I would reward him by making him a special Sunday breakfast. He broke out into a bright smile and gave me a thumbs up! At the dinner table that evening, we asked him about how he liked his first day of school. He said that he had fun and that he liked his teacher, Mrs. Ancaya. She was very nice and friendly. He then went into some detail about a few of his new classmates. The next morning, he was again up bright and early and excited about going to school. That evening at dinner, he told us how much he had enjoyed his second day at Ordot Chalan Pago Elementary School.
When I asked him if he had followed the three golden rules, he assured me that he had. He then reminded me that I had promised to make him a special Sunday breakfast. He told me that he wanted waffles and eggs. So on Sunday morning I walked into the kitchen and started to assemble the necessary ingredients. Koein must have heard me because he dashed out of his bedroom, ran into the kitchen and asked me excitedly, "Pop-Pop, can I help you make breakfast?" I took a deep breath, smiled, and said, "Of course you can!" So together we prepared the waffle batter and spooned it into the waffle iron. As the waffles were cooking, I microwaved some bacon and prepared some sunny-side up eggs. Koein then told everyone it was time to eat. As we gathered around the kitchen table, we all raised a glass of orange juice and congratulated Koein on his first two days of school. He sipped his orange juice, set it down, then he gave us two thumbs up. He told us that he liked school and his breakfast. He then turned to me and said, "Thank you Pop-Pop for the breakfast. I love you." I melted faster than the butter!
Week 44: Belgian Waffles
(Recipe from Sabrina Snyder)
Serves 4-6
Ingredients
2 cups flour
4 teaspoons baking powder
1/2 teaspoon kosher salt
1/3 cup sugar
2 large eggs, separated
1/2 cup unsalted butter, melted
2 cups whole milk
1 tablespoon vanilla extract
Steps
1. Spray the waffle maker with oil.
2. Using a large bowl, sift the flour and baking powder, then add the salt and sugar, mixing well.
3. Place the egg whites in a small bowl and beat on high speed using a hand or stand mixer until the egg whites form into stiff peaks and stand straight up.
4. In another small bowl, whisk the egg yolks, butter, milk and vanilla together.
5. Whisk the butter mixture into the flour mixture just until combined then, very gently, fold in the egg whites. Do not stir!
6. Pour 1/3 cup servings into your waffle maker and cook as directed.
7. Serve the waffles with butter, maple syrup and whipped cream, if you like.