Home, not so sweet home. After eight weeks of hopscotching across the states, Corman and I arrived back in Guam last Friday evening. To put it lightly, we did not experience a smooth reentry. Our son, Keoni, and grandson, Koein, picked us up at the airport in Corman's car. I had actually anticipated that they'd pick us up in my car. When I asked Keoni why he wasn't driving my car, he paused for a moment, looked down and said hesitantly, "Well Pop, your car is dead, it won't start." I bit my lip then, using a meditation technique I recently learned, took a deep breath to keep my cool.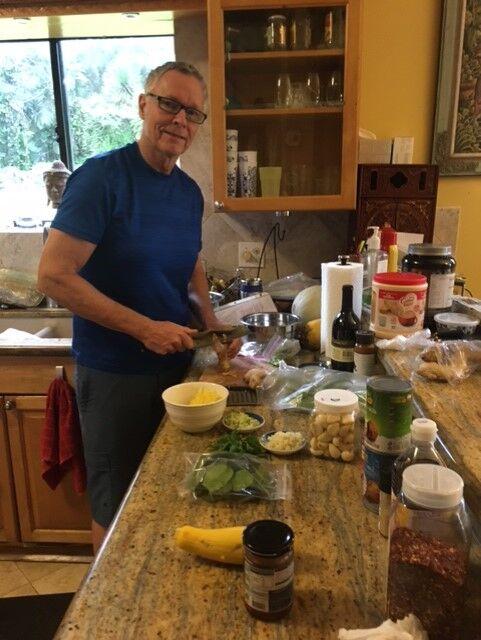 On the way home we stopped at Pizza Hut to pick up some pizzas for dinner. Our flight from Hawaii had been delayed for about 1 1/2 hours and it was almost 8 p.m. We didn't feel like cooking. Upon arrival at our house, we quickly unpacked and headed for the kitchen to eat. I opened the refrigerator to grab a beer. To my astonishment there was only one carton of milk and one bottle of ketchup in the refrigerator. I checked the freezer. It was completely empty. At the time we left for vacation both had been filled to capacity with various meats, fish, frozen vegetables and mangoes from our tree.
I looked at the boys seated at the table and asked what happened to all the food. Four sets of eyes looked down at the table. After a long pause, our son, Brian, finally said, "Oh, the refrigerator completely shut down while you were gone. All the food in the freezer thawed out and started dripping on the floor. The smell was horrible. We had to call the repairman to fix it." I then asked why they hadn't transferred the food to the nearly empty outside refrigerator and freezer before the food all spoiled. No one spoke up. I felt compelled to end the conversation on a sarcastic note: "I guess that means you also had to throw out all my imported beer that was in the refrigerator." Of course, no response. I took two deep breaths.
On Saturday morning I started opening mail that had been stacking up for the last two months. When I opened my Guam Waterworks Authority bill, I nearly had a heart attack. Our water bill had escalated from about $200 a month to over $1,600! The bill included a notice that I should check to see if there was a leak. I shut off all the water then walked outside to look at the meter. The dial was spinning like a race car wheel. I took three deep breaths.
Later that morning I drove to my office to review my cases. My jaw dropped when I opened the door. Files were piled up everywhere and many had stickies attached to them warning that urgent attention was needed. I took four deep breaths!
On Sunday morning I returned to my office to continue working on my files. I was aware that it was my night to make dinner. Corman and I take turns and he had made chicken estufao the night before. At one point I looked up at my clock. It was 5:20 p.m.! I panicked. We normally eat at about 7 p.m. and Sunday is when all seven of us eat dinner together. The pressure was on. What could I make quickly? I keep a computer file of recipes on my office computer. I quickly scanned them. I saw one for cheeseburger pie that looked like I could throw together fast. We had all the ingredients at the house. I quickly drove home and started my meal preparation.
As I was prepping, Corman walked in and told me that Alex was at work and Nelsen went to help a friend move into a new apartment so they wouldn't be home for dinner. While I was chopping onions Brian walked into the kitchen and announced that he was meeting friends at the mall to play pool and he'd grab dinner there. Five minutes later, Keoni stuck his head around the corner and said that he and his son, Koein, were leaving to have dinner at Corman's sister's house. As I slid the pie into the oven for baking, Corman's brother-in-law, Junior, knocked on the door. A relative from Palau had sent a cooler full of seafood and Junior was dropping off a dozen fresh crabs. Corman's face lit up and he said, "Bill, I hope you don't mind, but I really want to have the crabs for dinner." What could I say? Twenty minutes later I cut a slice of the cheeseburger pie and Corman and I sat down for dinner. I looked around the empty table and noted that after all my worrying about dinner, I alone was eating the cheeseburger pie. Had I known, I would have bought a sandwich at Subway on my way home. I took five deep breaths.
Before going to bed, I covered the cheeseburger pie with Saran Wrap and put it in the nearly empty refrigerator. I left a note on the table that read, "If anyone is hungry, there is a cheeseburger pie in the refrigerator. Help yourself!!" The next morning when I went to the kitchen, I opened the refrigerator and noticed only a slim piece of the pie remained. I couldn't help but smile and think to myself, "Well, maybe it was all worth it!"
Week 42: Cheeseburger Pot Pie
(Modified from the original Pillsbury Cheeseburger Pot Pie recipe.)
Serves 8
Ingredients
2 pounds ground lean beef or turkey
1 medium onion, chopped
3 cloves garlic, diced
1/2 teaspoon red pepper flakes
3/4 cup ketchup, or 1/2 cup ketchup and 1/4 cup barbecue sauce
2 tablespoons chopped pickles (optional)
1 teaspoon salt (more or less to taste)
1/4 teaspoon garlic powder
1 cup (4 ounces) shredded cheddar cheese
Double pie crust
1 tablespoon butter
1/4 teaspoon cayenne pepper
Steps
1. Preheat oven to 450 degrees.
2. In a 10-inch skillet, saute the chopped onions and diced garlic over medium heat and stir frequently until translucent – about 4 minutes.
3. Add the ground beef or turkey to the skillet and stir frequently until no longer pink – about 5 to 8 minutes.
4. Stir in red pepper flakes, ketchup, barbecue sauce (if using), chopped pickles, salt and garlic, and cook for 3 to 4 minutes, until thoroughly heated.
5. Arrange one pie crust in a 9-inch pie pan. Spoon hamburger/turkey mixture into the pie crust and level.
6. Sprinkle the shredded cheddar cheese evenly over the mixture.
7. Place the second pie crust over the hot mixture and flute the edges.
8. Melt the butter and add the cayenne pepper. Brush the butter mixture over the top pie crust, then cut slits in several places in the crust.
9. Bake 15 to 20 minutes, or until crust is golden brown. If need be, cover crust edges with strips of foil to prevent the edges from burning.
10. Remove from oven and let cool 5 minutes before serving. Serve with (s)mashed potatoes or rice.