Everyone knows red wine goes with steak and white wine with fish and chicken, right? But beyond wine, few are clued in about what food goes with the perfect Old Fashioned, or which beer goes best with a sizzling pork chop.
Unexpected pairings at Kitchen Lingo
One of those few is Guam's very own Lenny Fejeran, owner and front of house manager at Kitchen Lingo. Fejeran, with his own intimate understanding of Guam's palette – it's balanced, he says. Think kelaguen, with its perfect proportions of salt, lemon and fat – wants to share the secrets of the wider world of drink pairings.
Opened just four years ago, Kitchen Lingo has become a Hagåtña staple, with the waitlist for a seat in their cozy yet airy restaurant now two weeks out. Started by Fejeran, whose newest restaurant, Kådu, recently won best restaurant concept at the 2019 Excellence in Culinary Arts & Restaurants Awards, he and chef Lingo Quichocho have set out to reinvigorate Guam's cocktail scene, one classic at a time.
"I wanted to take a kitchen approach to making cocktails," Fejeran says. "Meaning us making our syrups in-house, making all our juices fresh. No premade margarita mixes, no premade syrups here. We do everything in the kitchen."
"As I dug deeper, I started to realize that a lot of the food – the stuff we use in the kitchen – were used in cocktails for hundreds of years, like classic cocktails, but they had just gotten lost," he says.
As Fejeran learned more about crafting the perfect cocktail, his chef's approach continued to result in revelations.
"Mixing cocktails is a lot like constructing a dish, because you gotta balance the salt, the sweet, the sour, the water, all of that, and, sometimes, you put two things together and it completely transforms it," he says.
His passion for cocktails and food led to a natural interest in figuring out how to fit the two together, and now Fejeran has invited The Guam Daily Post to learn about how to form the perfect pairings – both cocktails and beer – with Kitchen Lingo's handcrafted drinks and dishes.
No. 1: Smoked honey Penicillin + sourdough bread and smoked honey butter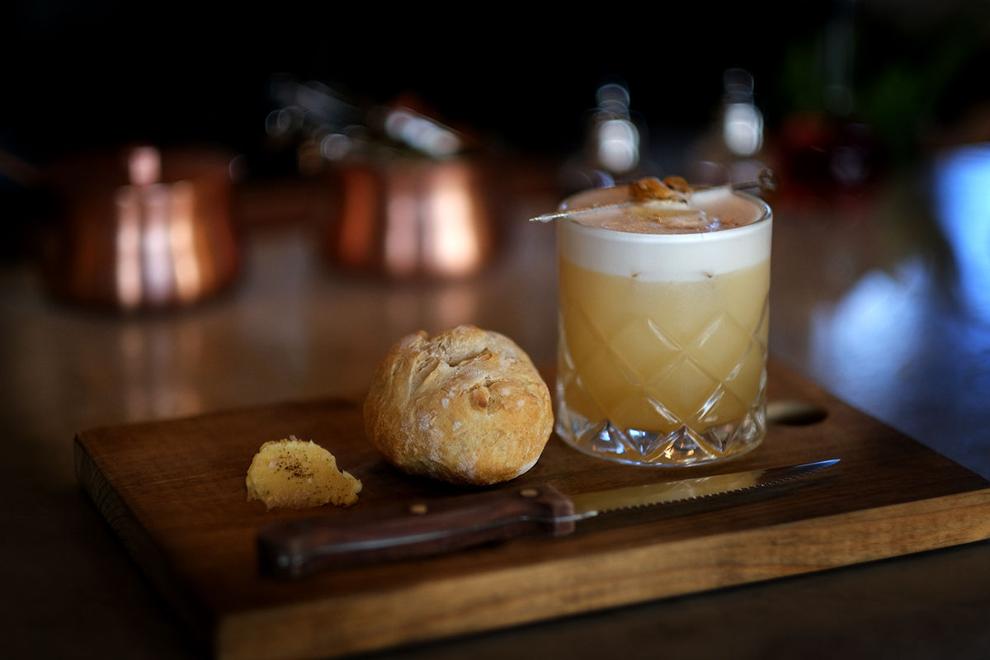 Fejeran's first pairing included a drink and dish that aren't on the menu (though they should be!) but which underscore just how easy it can be to pair your food and drink without needing a culinary degree to back it up.
"We're doing a Penicillin Sour with smoked honey from Hafa Adai Honey. ... So we're gonna pair that easily with something else that has smoked honey, like a smoked honey butter and a sourdough bread," Fejeran says. "We're using the same ingredient in both the drink and the dish ... and that's what helps to identify a great pairing."
The bright and tangy Penicillin Sour balanced out the soft, mild tang of the sourdough, with the smoked honey butter adding the perfect note of salt, sweet and smoke. And while ordering a loaf of bread to go with your Penicillin Sour may seem like a strange choice, its the sour that makes it work.
"So with the egg white making it a sour and really frothing it up," Fejeran adds, " ... we chose bread to go with it 'cause ... bread and eggs are almost a no-brainer. You know, they almost always pair well with each other."
No. 2: The Local + salmon main
Fejeran says one of the easiest ways to form a pairing yourself is to think about what you think tastes good together, and your own experiences with food.
"Think about things that you know you're familiar with that go well together," he says. "For example, a margarita. ... You know that lime usually you can use on a fish taco, something familiar, right? So if you had a fish taco, it's gonna naturally go well with a drink that has a lime in it. So you wanna pull from your own memories, your own experiences, and then match it up with what you feel goes well together."
But sometimes it's even more simple, like the combination of The Local, one of Kitchen Lingo's only original cocktails, and their salmon entree.
The Local is a vodka-based cocktail built with basil, cucumber, lemon and watermelon juice. The result is an herby drink with just a hint of sweet – the perfect refresher.
The salmon, with similar shades of pink and green, was made with roasted kabocha, cauliflower rice, celery root, garlic pumpkin seeds and, finally, cucumber – the ingredient that ties the drink and dish together.
"So just going back to that again," Fejeran says. "Keeping it that simple – do they have the same ingredients?"
No. 3: Modern Times Black House Stout + chocolate mousse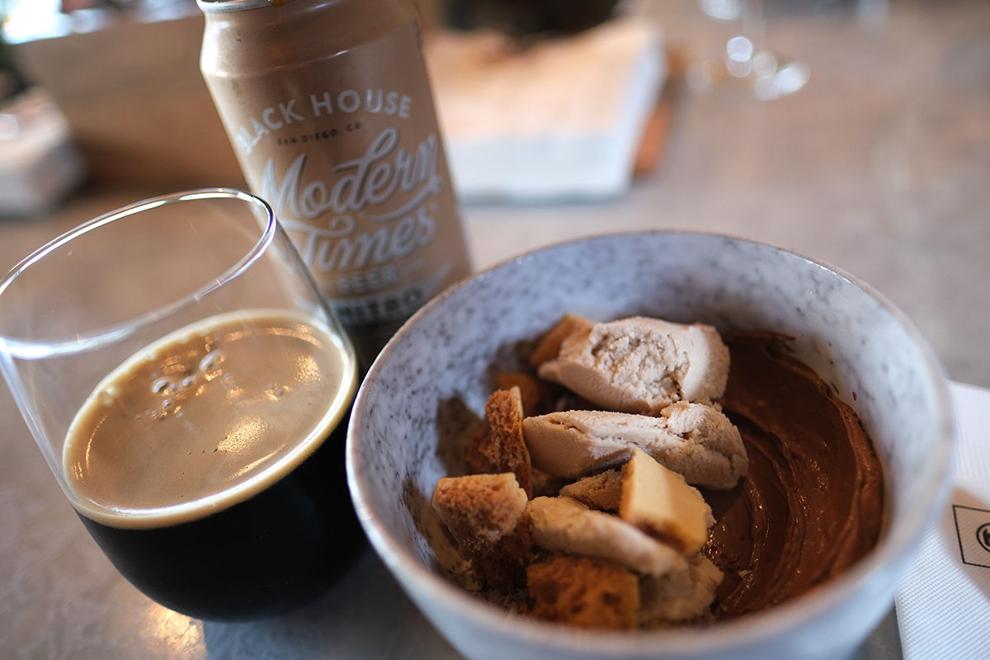 Fejeran's final pairing was perhaps the most surprising, as he paired dessert with ... beer?
"You're gonna see our chocolate mousse be paired with a coffee stout because that beer is brewed with chocolate, so it's just such a simple pairing that it's pretty obvious," Fejeran says, elaborating on whether cocktail and beer pairings follow the same logic as wine. (Answer: kind of. Across the board, light drinks typically go with lighter food and heavy drinks with heavier food.)
While surprising on paper, the pairing makes perfect sense as soon as you taste it, creating a rich, warm flavor as the Modern Times stout, brewed with coffee, coconut and cocoa, melded with the chocolate mousse, which – surprise, again! – is vegan, thanks to an almond milk mousse and coconut milk coffee ice cream.
Keep it simple, make it fun
Fejeran shared just three of his pairings, but it seems the possibilities are really endless.
"That's the fun part of pairing cocktails with food," Fejeran says. "Because you have all these different notes that you can marry."
Fejeran keeps mentioning "fun," so it seems that may be a key to good drink pairings too. Just as you would creating a new dish, you have to be willing to experiment, to try things out and not always get it right, and, ultimately, to go with your instinct.
"That's where I have fun with it," Fejeran says. "Taking that kitchen experience and putting it into a drink."