It's like walking into a cool, calm oasis.
Ding Tea, much like its owner and general manager, Ron Silvestre, has a laid-back vibe. The dulcet chimes of a xylophone or harp flow through the air, making it feel like you've walked into a "calm" video on YouTube.
You can smell some of the pastries, such as the mochi donuts, that are delivered daily, and there's a fruity scent that wafts through the air that comes from the bar with a highly guarded variety of fruits, gels and taro balls that can be mixed in with the teas.
The decorations are quiet, but they have an energy about them that tugged at me. One wall is painted black with the Ding Tea logo. Alongside the logo are the beginnings of a whimsical trail of butterflies, or maybe leaves, being chased by a little girl. Another wall has a paraphrased quote from American author and rabbi Chaim Potok: "Come, let us have some Ding Tea and continue to talk about happy things." (I actually thought it came from Lewis Carroll's "Alice's Adventures in Wonderland," but Google proved me wrong.)
Where it's quieter and calmer
Which brings us back around to the oasis in the middle of the often dusty, typically bustling and hectic Harmon. Ding Tea sits at the foot of the hill of Route 16 near the over-under pass at the intersection with the A.B. Won  Pat International Airport road. The road connects northern and central Guam, making it one of the island's most crowded thoroughfares.
"My work has me traveling quite often ... and at the airports I find myself gravitating to those areas where it's quieter and calmer," Silvestre says. "I wanted (Ding Tea) to be someplace calm like that ... where you can go and find some tranquility even in the midst of all this rushing around – almost like everyone is rushing to the next gate but there's that little rest area, or restaurant, or just that little space in the corner where everything is quiet ... and you can put your things down for a minute and just breathe."
At Ding Tea, when you do take that seat and breathe in the scents, you'll notice that it's different from a coffee house where the caffeine seems to zap right into you. True to its name, Ding Tea focuses on a variety of teas that primarily are based on Taiwan's tea-drinking culture.
Ding Tea was founded in 2004 by Xu Wei-xiang. Silvestre, whose family also owns and operates One Stop Auto Care, which is conveniently located next door, says he's familiar with the local coffee and tea houses.
"We wanted to bring something different," he says. "Taiwan is very well known for its teas and we wanted to bring that philosophy of tea drinking ... and the freshness of Ding Tea products that really focus on quality here to Guam."
Putting the 'tea' in variety
There are more than a dozen options of teas. There are the traditional tea flavors that most people are familiar with: Assam Black Tea, Jasmine Green Tea and Oolong Tea.
But there also are the Green/Black Tea mixes with your choice of Passion Fruit, Pineapple or even Kiwi. I tried the Honey Green Tea – I grew up drinking green tea thanks to my mom, and the honey flavor is something I learned to enjoy as an adult – and Ding Tea mixes the two flavors together for something that for me tastes like home with a touch of my adult life. Sorry, that's the only way I can explain the flavor.
There's also the Aloe Vera Kiwi Juice that reminds me of Sunday afternoons at the baseball field with some cool fruits in the cooler to help combat the heat.
But the yogurt-based mango tea was probably my favorite. The yogurt gave it a tangy flavor that you would find in the yogurt-based shakes made popular by local places such as Simply Food in Agana Heights. But this had the mango tea that cuts through the tangy along with just a hint of sweet that lifts the drink beyond a shake. It's #Nummy.
They do have a special cold coffee, one of the few coffee-based drinks on the menu – and it's not just the caffeine that knocks you off your feet. It has a creamy flavor topped with coffee that's mind-blowing.
What you won't find just yet are hot beverages.
"Right now we're focusing on cold teas," Silvestre says. "We wanted to focus for now on the categories of the green teas, the fruit teas, the yogurt-based teas and others – and as time goes by, we'll introduce the hot version as well as more toppings."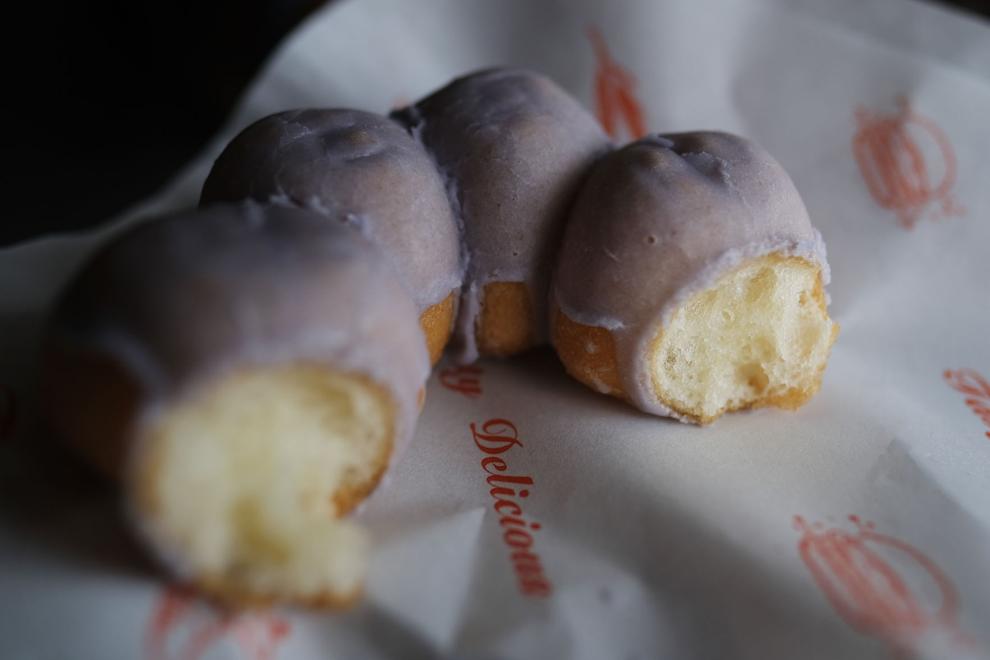 Mixing it up with mochi
And earlier I mentioned mochi donuts. Yes, they have mochi donuts in a variety of flavors, such as vanilla and taro.
"One of the things we want our customers to try are food items that are not so popular or readily available on Guam yet," Silvestre says. "One of the things we offer are mochi donuts – which are donuts made with Japanese mochi dough. So although it tastes like donuts, there's a chewiness that to us really matches the chewiness of the bobas as well."
He adds, "So when you bite into the donut and drink the tea, it's not just you tasting the flavors – you're actually participating in the experience of getting the flavors and mixing them together, which makes eating and drinking fun as well."