Forget sugar plums: This Christmas you'll be dreaming of the Dusit Thani Guam Resort's holiday showcase, a dazzling display of decadent desserts at Dusit Gourmet, the hotel's lobby cafe.
This year's holiday showcase is the hotel's most elaborate and impressive yet. Pastry chef Katie Lusk says during holidays past, they typically opted for more homey and approachable desserts.
This year, however, Lusk and her partner in crime, junior sous chef Marivic Capati, pulled out all the stops. And they started planning for the monthlong dessert showcase as far back as June.
Located on the Dusit Thani's ground floor, adjacent to the hotel's glittering Christmas tree, Dusit Gourmet will be serving up more than a dozen festive desserts through New Year's Eve. Lusk says their goal was simply to make the desserts as festive and "Christmasy" as possible, but with some island twists: Think tropical Yule logs filled with layers of yuzu, mango, passion fruit and coconut.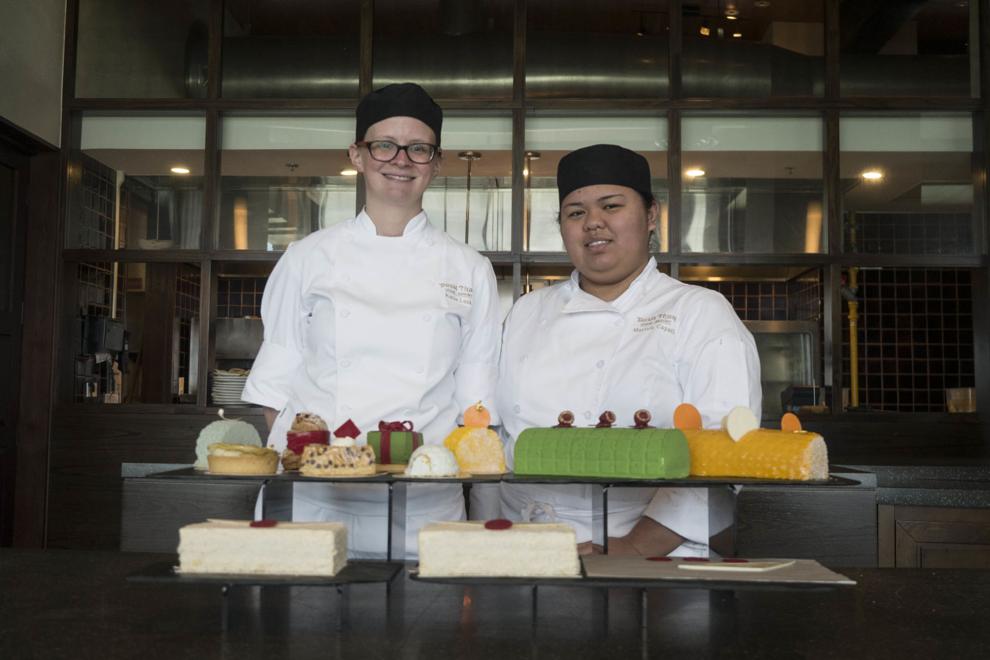 'Something modern but completely different'
"I'm from the Midwest," says Lusk, an Ohio native. "I'm used to snow and the cold weather, so here you can kind of forget it's the holiday season because it's always hot here, so I think for me I was trying to go for making it ... festive and just trying to do something modern but completely different than what everybody else is doing on the island."
For Capati, originally from the Philippines, a warm and green Christmas was the norm growing up, so tropical flavors were a must.
"For me, it's the tropical," says Capati, who was named Pastry Chef of the Year at the Excellence in Culinary Arts and Restaurant Awards, or ECARA, earlier this year. "The yuzu with the coconut jelly. ... It's more locally flavored."
The tropical flavors make for light, refreshing desserts – a dangerous and delicious combination, as a generous slice of tropical Yule log can easily be polished off solo. Take my word for it.
In addition to a dozen or so cakes and other petite pastries, Dusit Gourmet also has holiday cookies, including frosted gingerbread, and festive drinks such as the Grinch White Chocolate and Eggnog Latte. But it's the modern pastries that steal the show, with a sophisticated take on the childlike wonder that comes with the holiday season.
Impressive but approachable
While impressive, the bright colors and familiar flavors mean the high-end desserts are still approachable. In fact, the best word to describe the Yule logs – formally known as "buche de Noel" – and pastries would simply be "fun": A shiny yogurt igloo encases blueberry panna cotta, and the Dusit Signature dessert is tucked inside an ornament made from peppermint-infused chocolate, while each Yule log's perfect cocoa butter casing envelopes layers of color and flavor hidden inside.
"It's a lot more of a modern take and also we do a little whimsical – we've got the snowman and the present, the igloo. I think it's still very classy but I think it's still pretty approachable," Lusk says. "We did sophisticated flavors but also flavors people know."
Holiday sweets at Dusit Gourmet
From start to finish, one Yule log takes approximately two days until it reaches photo-ready perfection, Capati says. She noted that this year's desserts are more labor intensive than ever, which makes the logs' $25 price tag sound downright reasonable.
The Ferrero Rocher buche de Noel is a bit pricier, at $35 for one log, but is also the most popular by far, Lusk says. Named for the famous Italian confection, the Ferrero Rocher buche de Noel is a rich, hazelnut and chocolate mousse cake laced with the candy's signature crunch.
"It's a (wow) factor in and of itself, by itself," Lusk says of the Yule logs, "but then when you cut into it you can see all of the individual layers. ... We worked really hard to make sure all of the layers are there. ... People are like, 'Oh wow, it's not just a simple mousse inside.' "
There are three layers in it, Capati says, pointing to the bright Green Tea cake, which goes for $25 whole or $7 for a large slice.
"The top portion for this one is a matcha creme brulee, with a green tea sponge and raspberry jelly in the middle," Capati says. "And the outer layer is actually a matcha mousse also."
Finalizing the 'wow' factor
Each layer has to be able to set completely to form the delicate, precise layers that produce the "wow" factor Lusk was looking for. She says there was plenty of trial and error along the way.
"You want to make sure ... when you cut into it, that the layers are nice and even," Lusk says. "There's technique in making sure the design shows (and) the pattern shows on here. ... There's a lot of technique that goes into it, it's quite a process to do."
Lusk and Capati didn't skimp on ingredients, either, with chocolate and fruit flown in from France and the mainland United States.
"We're using all of the top quality chocolate, top quality fruit – everything is fresh and the highest of quality," Lusk says. "It's not a really simple chocolate that you can just buy at the grocery store, it's something special. You can taste the difference."