Song Ho Jin, owner and head chef of L.A. Korean BBQ & Tofu, is a former military service member who worked in television broadcasting and the construction industry and was a scuba master instructor. More recently, he added restaurateur to the list.
With his extensive portfolio you might call him a jack-of-all trades – but if the food he serves up at his cozy Tamuning restaurant is any indication – he is a master of his latest venture.
The restaurant's actual name is L.A. Tofu & Galbi – a name he came up with that reflects his professional cooking roots, which are grounded in Los Angeles, his specialty of homemade tofu, and his special galbi that has become the most ordered item on the menu.
As cool as the name is, most people refer to his gastronomic haven as L.A. Korean BBQ, he said. And sometimes they even add "& Tofu." He doesn't mind as long as people join him for a meal and enjoy his food.
The restaurant is tucked among the row of stores and restaurants along Chalan San Antonio in Tamuning. The easiest way to find it is to spot the Baltej Pavillion where the FHP eye clinic is located and then look across the street.
Song opened the restaurant in October 2018.
"We opened for the local community who loves Korean food," he said. And at this little restaurant with its wooden dividers and copper vents, it seems many locals have fallen a little in love with it.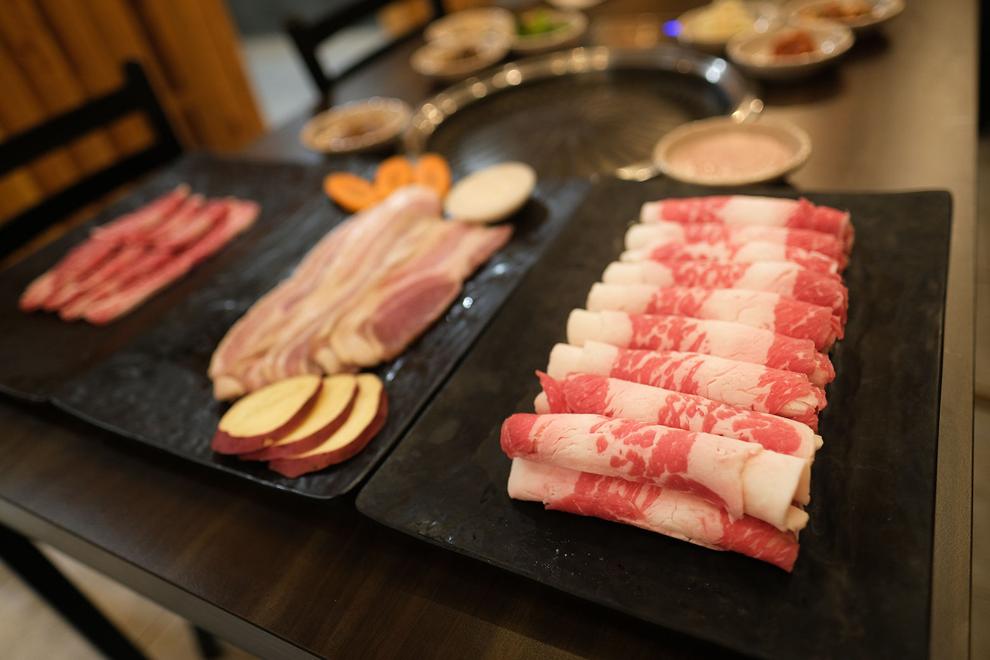 Valentine's menu 
In honor of that mutual love, he's created a special Valentine's Day menu that can be enjoyed by family, friends or lovers. There are three set menus, each complete with signature bean paste soup, black pork belly, beef sirloin and beef brisket. The special also includes dessert, in this case, a Coco Bingsu – an ultralight, powdery shaved ice in a bowl topped with condensed milk, cereal and other toppings including and the yummy perfection of chocolate sauce.
Be warned, you may not have room for all of that – especially if you indulge in one of the three sochu cocktails: the Warhead, the S.S. Haloe-Vera, and the Melona Madness.
The Haloe-Vera is smooth and lightly sweet, almost like a tea. The Melona Madness is a fruity melon drink but has a dab of milk making it lightly creamy and giving it an almost dessert-like flavor. However, It's the citrusy, lightly sour, and just enough sweet of the Warhead that I enjoyed the most. Unlike its same-named candy, this adult-only beverage, is not-too-sweet but definitely has a grapefruity twist of tart – not too much but just enough to make your lips start to pucker up.
But we're here for the food.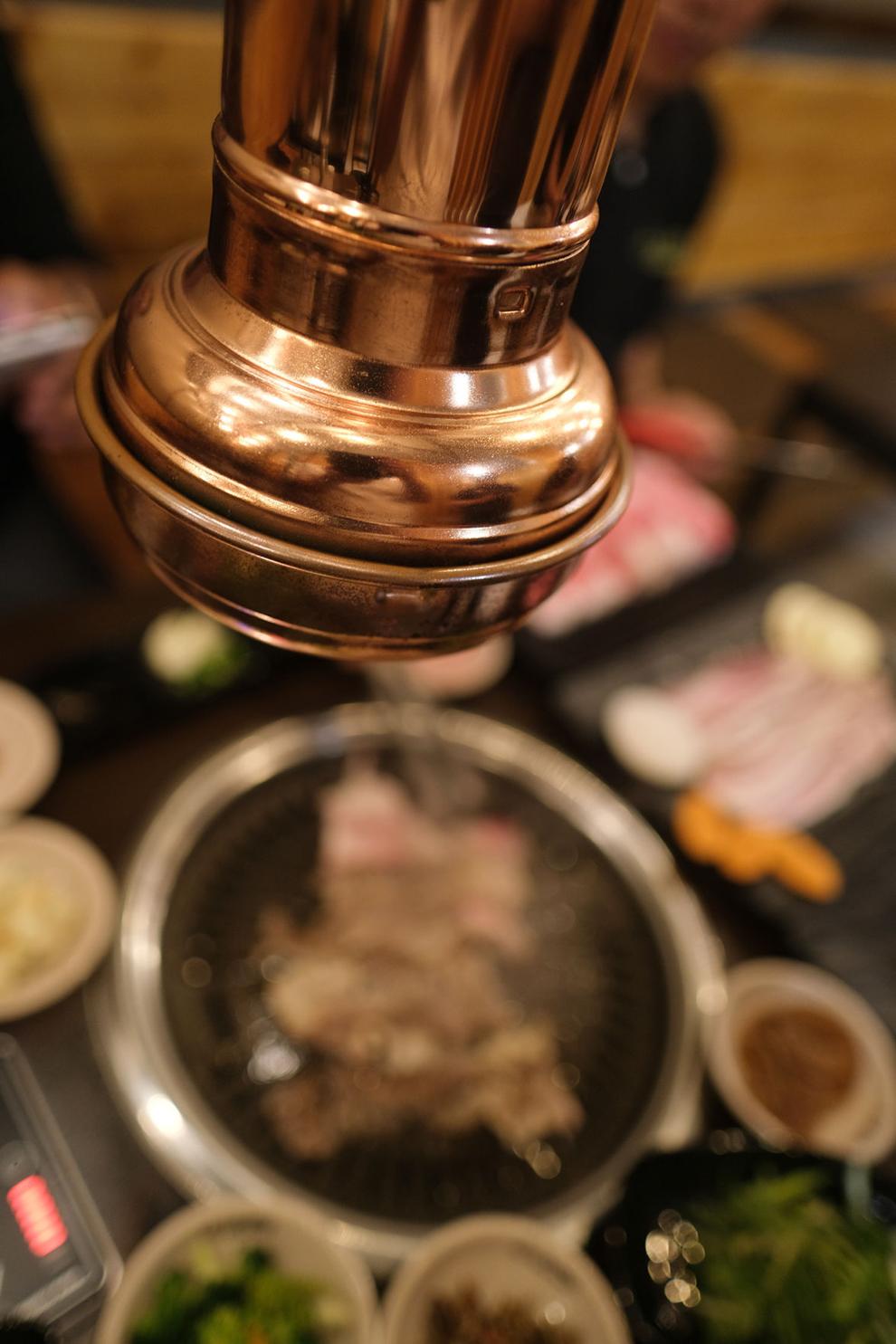 At L.A. Korean BBQ you can order the dishes ready-made or grill it for yourself in the fancy grill at the center of the table with a copper ventilation pipe above it to capture the smoke. We chose option two.
Song set the table up by pouring a little bit of water in an outer ring. What this does, he said, is it allows for a little bit of steam "to help soften the meat while you grill."
As the grill heated up, servers brought out the trays of banchan or side dishes, which include the typical compliment of Korean lettuce, red-leaf lettuce, house-made kimchi and lightly seasoned soybean sprouts in sesame seed oil, among others.
Song also serves a pajeori or green onion salad and a pickled radish sliced thin. The salad was unusual for me in that I've never had it but it's really good. He explained that the pa – green onion – sits in soy sauce first to help calm the oniony flavor before it's tossed in the jeori, or marinade, in which its served. He also serves up a sliced pickled radish – it tastes like daigo. The radish is thinly sliced into flat discs and you use them like the lettuce as a wrap for your meat and favorite banchan. As a wrap, the radish cuts right through the fattiness of the meat and brightens it but also sets up your palate for the hot pepper and garlic.
Now for the meats.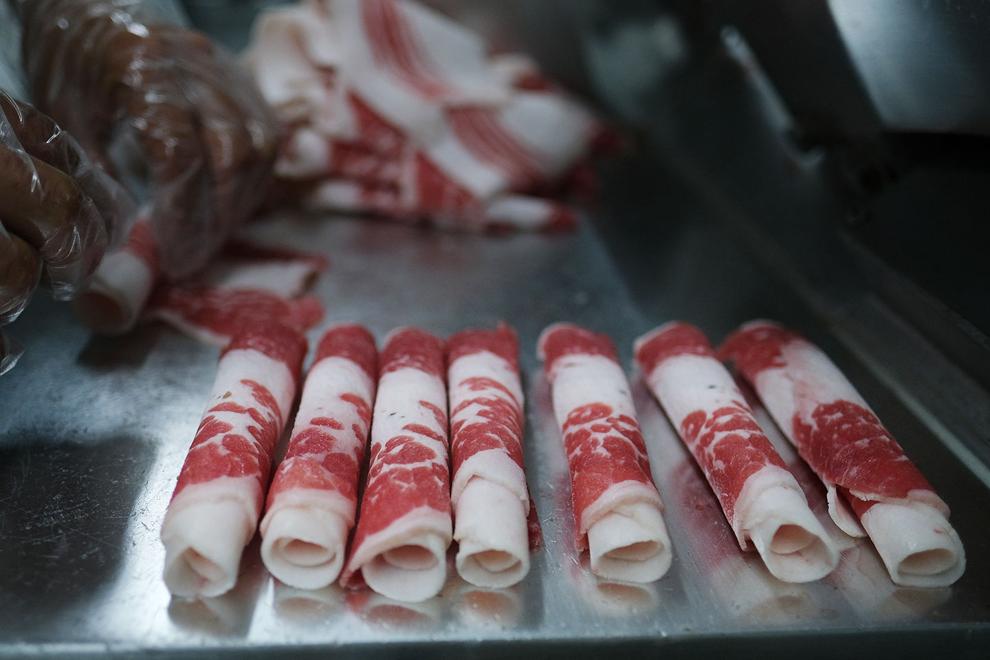 There are three types: pork belly, rib-eye and beef brisket. And if you're there to enjoy the Valentine's Day special – which actually lasts the entire month of February – there also will be shrimp.
The meats are cut thin enough to cook quickly but thick enough to retain their juiciness. And the steam that we talked about earlier? It really does work. As Song showed us his preferred method of eating, he cooked each meat one type at a time, carefully trimming some of the excess fat from the meats which I actually would have kept if left on my own. As the slice of meat cooks, he used the scissors to cut them into bite sizes.
Once the meat is done, he demonstrated. He grabbed a leaf of lettuce, placed the cooked beef brisket, which is his favorite, he said, and added a slice of garlic, Korean green pepper, the paste, then tucked the side of the lettuce leaf together to create a packet that he chucked in his mouth.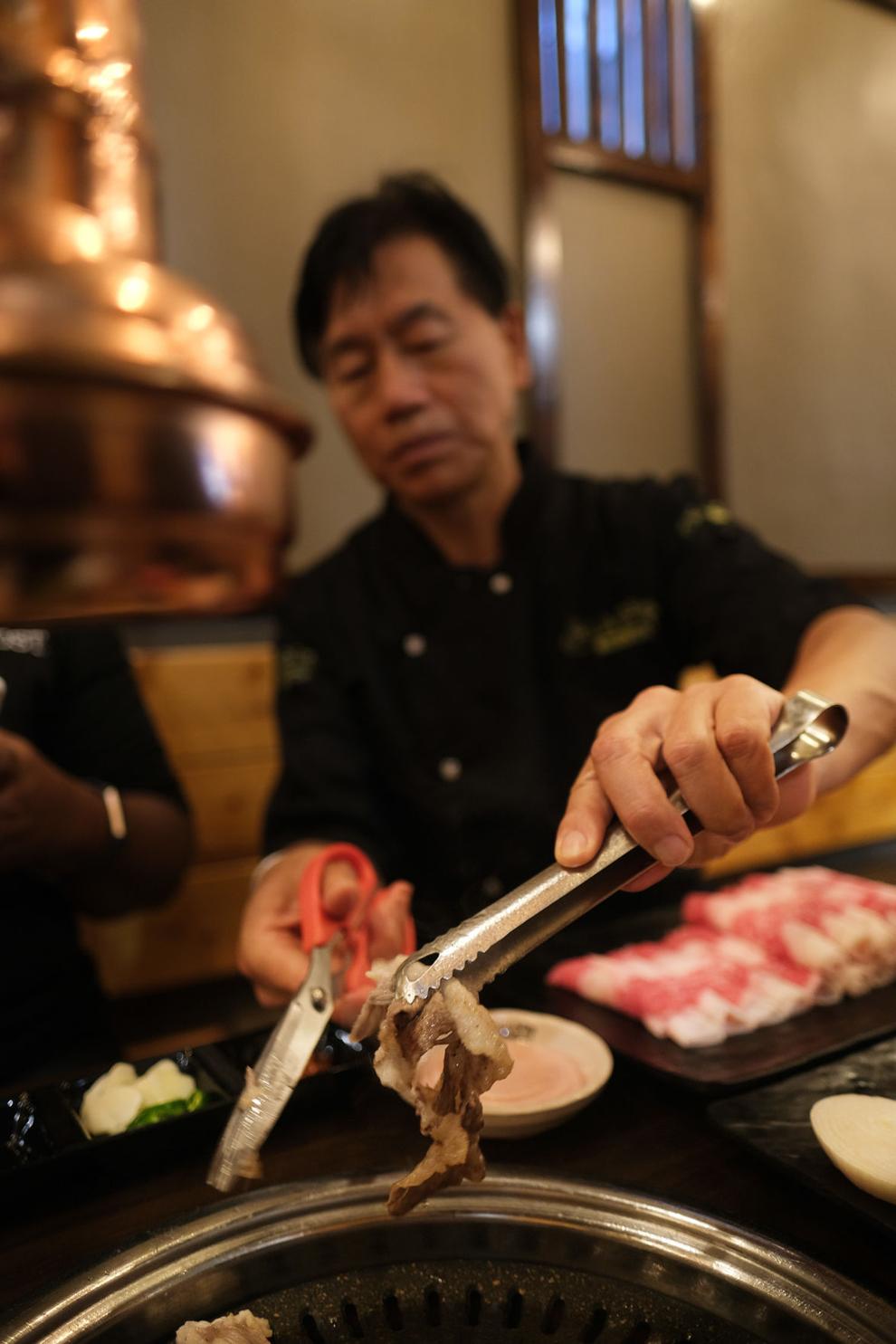 "Very good," he proclaims.
My turn.
My wrap was easy on the garlic but I added an extra slice of pepper (I like my food pika). I'm not so good at tucking in the lettuce leaf so my wrap looked more like a rolled taco or open-ended leafy burrito. Undaunted, I chucked the whole thing into my mouth - and immediately wish I had taken a bite to better enjoy the different flavors of the side dish. Even so, the meat fairly melts in your mouth and the taste of the kimchi, the pepper, the garlic, the little fried fish explode out of the lettuce wrap together to create a little Korean barbecue party in your mouth. Delicious.
Now, what's not on our table, yet, is the rice. That's because Song says traditionally, rice is eaten toward the end of the meal.
Here's a tip for all you keto-inclined people, or for those of you who are keto-curious, by the time you've had a few of the wraps (and you have to try the pickled radish as a wrap) you're so stuffed that there's no room for rice. Voila! You have a healthy low-carb meal.
But don't fret, rice lovers – you can ask for rice at the beginning of the meal, too. Here's another tip - if you ask for it, there's rice that's prepared in special pots, each serving is cooked individually.
"You don't see this in … a typical Korean household," Song said. "This is how they serve rice in the palace."
While Song treats every item that comes to your table with infinite care – fusing what he learned growing up in South Korea with what he learned at a culinary academy in California when he decided to take his interest in cooking to the next level — the rice tells the story of the unique and quality food he tries to bring to local Korean food enthusiasts.
This rice isn't precooked in the typical rice cooker that can be found in just about every house on Guam, throughout the Marianas, Micronesia and much of Asia.
"We use a hot stone pot," he said, noting that the stone was mined from underground and then carved into a pot shape.
"We cook the rice on the stove in that pot and we cook individually," he said, noting the mineral stone is supposed to have healing qualities.
Song said, as the rice cooks, the grains on the bottom and sides of the bowl "gets a little crunchy," which he said older Koreans had always said is "very good for the digestive system."
And it's not just the rice.
"Traditional Korean food is very healthy," he said, noting that he tries to serve his food with lots of vegetables and side dishes for a combination that satisfies but doesn't leave you feeling bloated.
"Very good for you," he said.
It may be healthy as Song describes. And it's also very delicious.