If you could take your taste buds on tour around the world, where are the first four places you'd stop? If you're in the mood for a good, juicy burger, your itinerary can begin and end at Guam's Hard Rock Cafe.
Without having to book a flight, the burger-and-beer cafe is inviting the community to tour not one, not two, but an exciting eight burgers that feature flavors from around the world.
The World Burger Tour, which has kicked off salivating summers since 2015, is back again to feature creative and cultured burgers from Singapore, Aruba, the United Arab Emirates and Jamaica. Ya mon!
Special recipes with secret ingredients individualize Hard Rock Cafe's more than 170 locations worldwide, according to regional executive chef Singh Kotwal, who's manned Guam's location for the past 18 years. He says the burger tour is an edible extravaganza to look forward to.
"If you go to Hard Rock, you listen to some good music, see a lot of memorabilia, and you have a good burger, cold beer and you're good," chef Singh says. "We have a lot to offer in one place."
The World Burger Tour gives beef fanatics a chance to try something new at their favorite Hard Rock Cafe, at least once a year. It's a unique way to travel around the world to taste flavors from a global melting pot without ever having to leave home.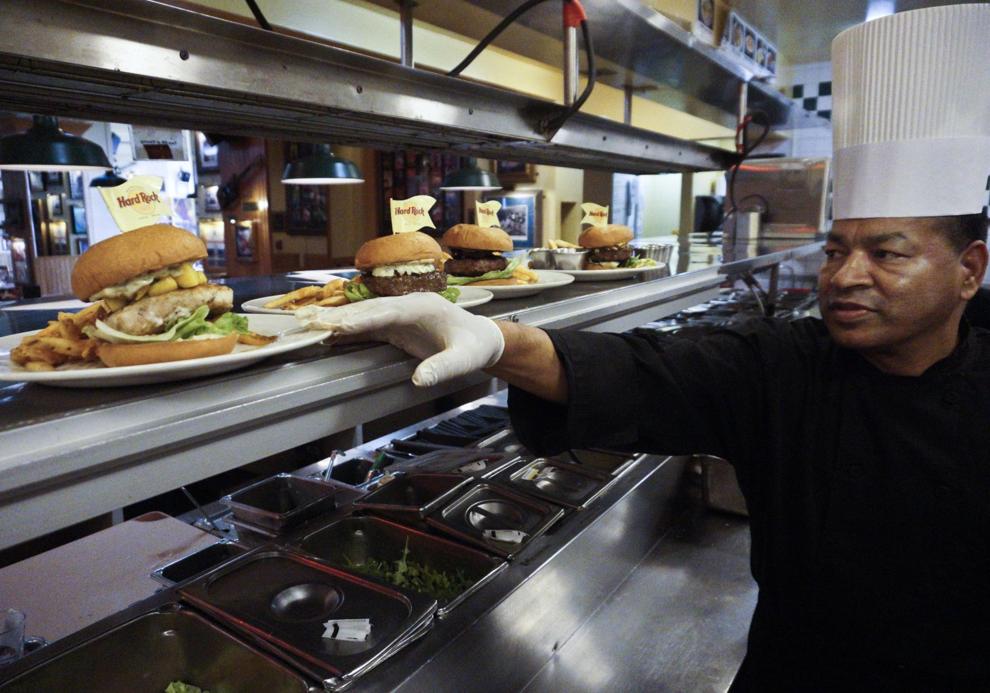 Around the world in 8 burgers
Chef Singh chose this year's international flavors for the local crowd, he says, despite being located in the heart of touristy Tumon. He encourages the community to try them all.
"Of course, we are a tourist business, but our focus now is to give the locals what they like," he says. "Let's give everybody chance. ... This is for the locals. We want them to come here and try."
The four burgers feature a grilled 10-ounce certified Angus beef patty, lettuce and tomato, and are served with savory, artisan French fries, and a complementary dipping sauce.
Here's what's on the menu this year:
• Satay Burger (Singapore) – Take a sweet and crunchy trip with a mouthwatering combination of Asian peanut sauce, cool cucumber planks, arugula and Sriracha mayonnaise on an all-beef patty between toasted buns.
• Mango-Mahi Burger (Noord, Aruba) – Freshly prepared mango salsa sits atop a mahi-mahi pan-seared to protection. The flavorful fish fillet is finished with tangy citrus mayo, crisp lettuce and vine-ripened tomato.
• Date Burger (Dubai, United Arab Emirates) – Enhanced by rich date chutney, a grilled beef patty prepares a steaming bed for diced, fresh dates and softened cream cheese, with crisp lettuce and vine-ripened tomato.
• Jamaican Jerk Burger (Montego Bay, Jamaica) – A smooth and spicy fusion of mango cream cheese and jerk mayo, banana peppers and arugula, served on an all-beef patty between buttered, toasted buns.
For the first time, Hard Rock Cafe Guam will feature a different set of four burgers for an additional month. The first round will switch burgers out mid-June, according to the chef. The next batch of burgers will roll out right after and be available until July 20.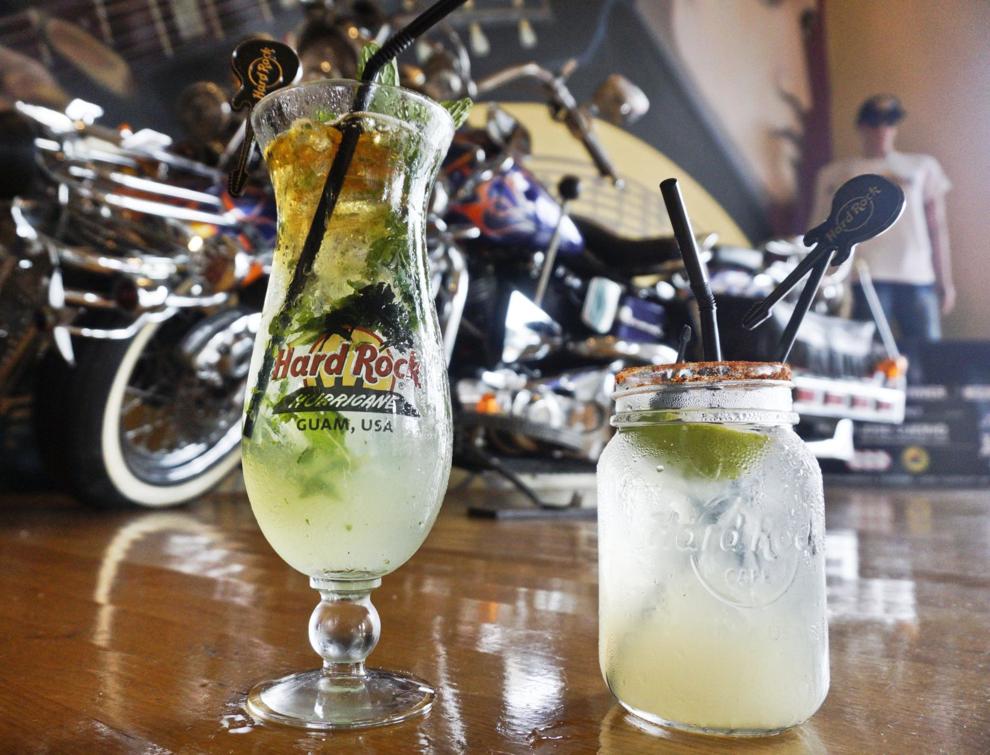 Selection of specialty cocktails
In addition to your food adventure across the world, Hard Rock Cafe Guam has added specialty cocktail pairings to match the exotic eats. There are also nonalcoholic options.
Here's what's on the specialty drink menu this year:
• Classic Caribbean Mojito – A classic favorite with a little extra jazz. Captain Morgan white rum, fresh mint, lime juice and sparkling soda, topped with Myer's Original dark rum floater and a sprinkle of powdered sugar.
• Mango Ginger Mojito – A fusion of Captain Morgan white rum and Myer's Original dark rum, combined with the fresh flavors of mango, lime and fresh mint, then topped with ginger beer.
• Rockin' Fresh Rita – Jose Cuervo Silver Tequila, fresh lime juice and agave nectar mixed and finished with a slightly spicy salt.
• Passion Fruit Mai Tai – A 1940s tiki classic invented in California. Captain Morgan original spiced rum, passion fruit and a blend of traditional tiki flavors.
• Southern Style Lemonade – A nonalcoholic, house-made lemonade shaken ice cold with fresh mint and watermelon.
• Passion Fruit Punch – A nonalcoholic, refreshing blend of orange juice, passion fruit and ginger ale.
'A chance to try something new'
The World Burger Tour, now a tradition for Hard Rock Cafe, stirs excitement in the kitchen, too, chef Singh says. With a new round of recipes each year, the cooking crew has the opportunity to play with their pallets by recreating international flavors finessed by culinary professionals worldwide.
After finding fresh ingredients that work well for the monthlong tours locally, Singh and his cooking crew get creative and enjoy the eclectic burger specialties not found on their standard, franchise menu.
"It gives us a chance to try something new, and gives our employees, who cook normal bacon cheeseburgers, a reason to think out of the box, and prepare and taste different food. It's good education for them."
Dubai's Date Burger, for example, is an interesting introduction for our tropical island, the chef shared. The palm fruit, said to be one of the sweetest, is a staple in the Middle East.
It's an uncommon and unique fruit to find, let alone use, in the middle of the Pacific Ocean, but that's just part of the World Burger Tour's charm. It's burgers like these that make the eating experience extraordinary.
"When you visualize taste and visualize ingredients, you see something unique," chef Singh says about the burger selection. "That's what we're focusing on."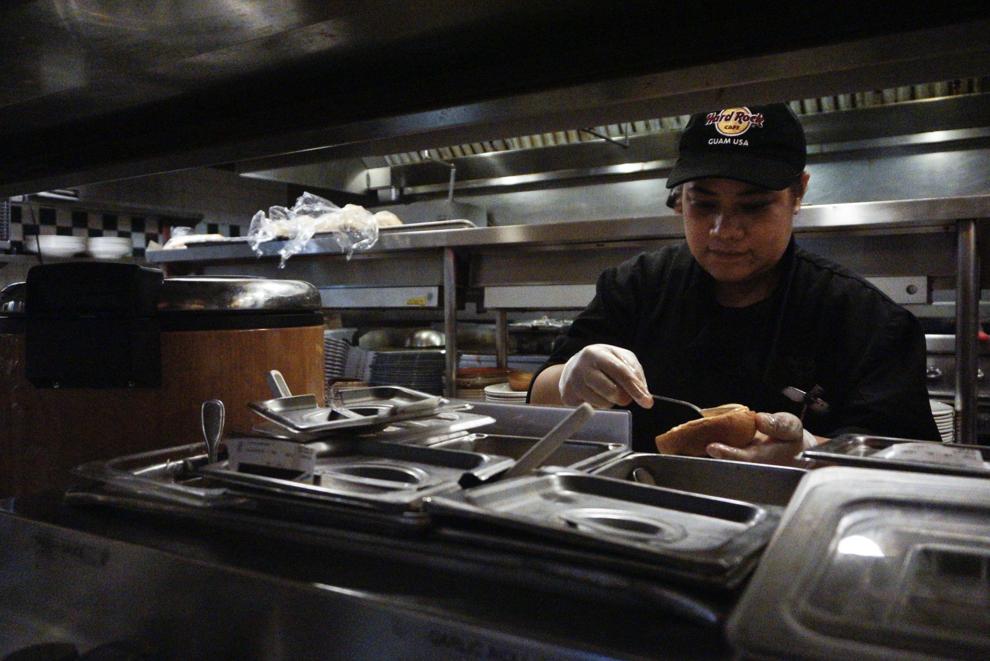 Bite into Guam's 'Legendary' burger
And if you're in the mood for something closer to home, you can leave your bags unpacked and still head to Hard Rock. They have Guam's very own "Legendary Chamorro Burger."
The specialty burger is a signature on Hard Rock Cafe Guam's menu, and is the island's contribution to the World Burger Tour. That means Hard Rock Cafe customers across the world just might be taking a bite of Guam right now.
The Legendary Chamorro Burger is a half–pound burger enhanced by selected spices, Tinian peppers, spicy Jack pepper cheese and other secret ingredients on a toasted bun – and served with Tabasco, of course.
"When we started our burger, we really focused on our identity," Singh says, adding that the burger is their second top seller, and was one of the first specialty burgers to be featured worldwide.
So, whether you're craving Singapore, Aruba, Dubai, Jamaica or even a taste of Guam, stroll down to our local Hard Rock Cafe and buy a one-way ticket to flavor paradise.