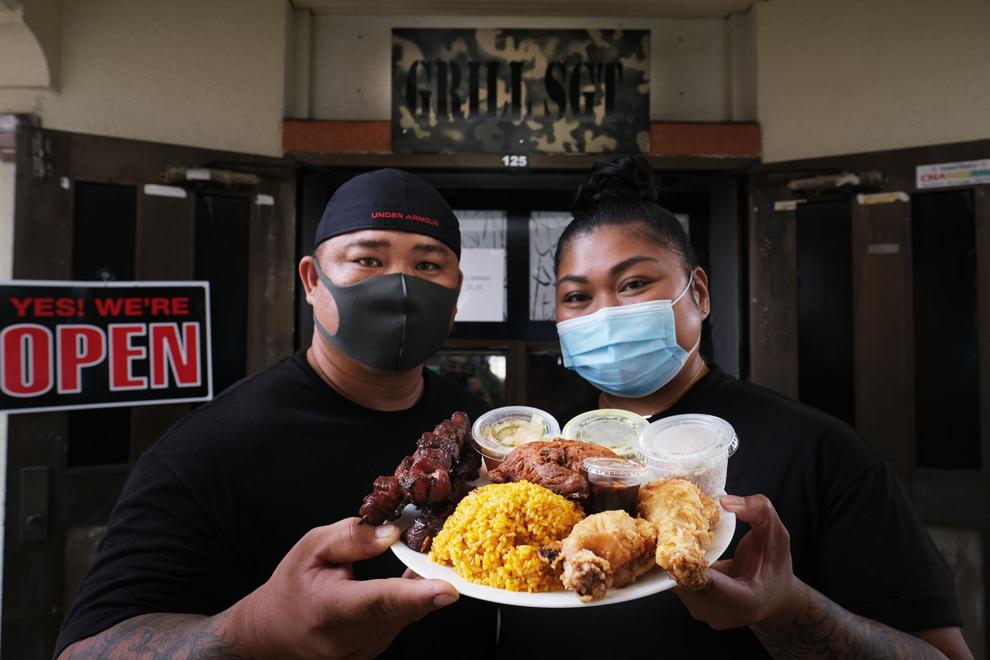 A love of family, island culture and country spurred Derrick and Clarissa Maniebo to launch Grill SGT, a family operation that throws down straight-up island comfort food from a small food stall in the Chamorro Village in Hagåtña.
The husband and wife team started "serving up the love" on Feb. 16 of this year, a tribute to Derrick's mom, and after a decade ruminating about the project.
"We have been talking about it for maybe 10 years – we dreamt about it, but we never acted on it," said Clarissa. "Timing is everything, and with the pandemic the family was together and we realized that we do this all the time, so it was time to put the dream in motion," she said.
Grill SGT officially got underway when the couple got the keys to the place in late 2020.
"We got into the stall late last year and we did some renovating and a lot of cleaning," Derrick said, adding, "We didn't really need to do a lot of test cooking to prep the menu, we already had so much experience preparing food, practicing our whole lives at big parties, fiestas and family functions."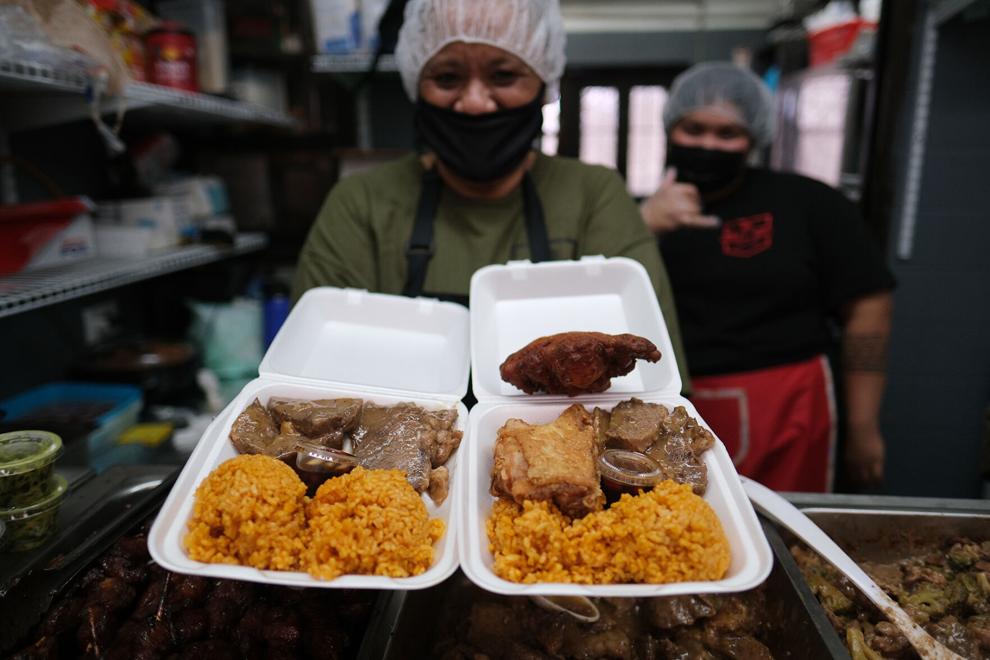 'The cooking always brought him home'
"I like to say that our food represents grandma's cooking. It goes way back, and a lot of family members brought different tastes to the table," said Derrick. When the normally effusive Maniebo started recalling memories of his cooking experiences while serving in Afghanistan, he became thoughtful, and then silent.
"The cooking always brought him home," added Clasissa. "Cooking helped them pass the time and help them get through the really rough days. It's much more than food and drink, it runs deep."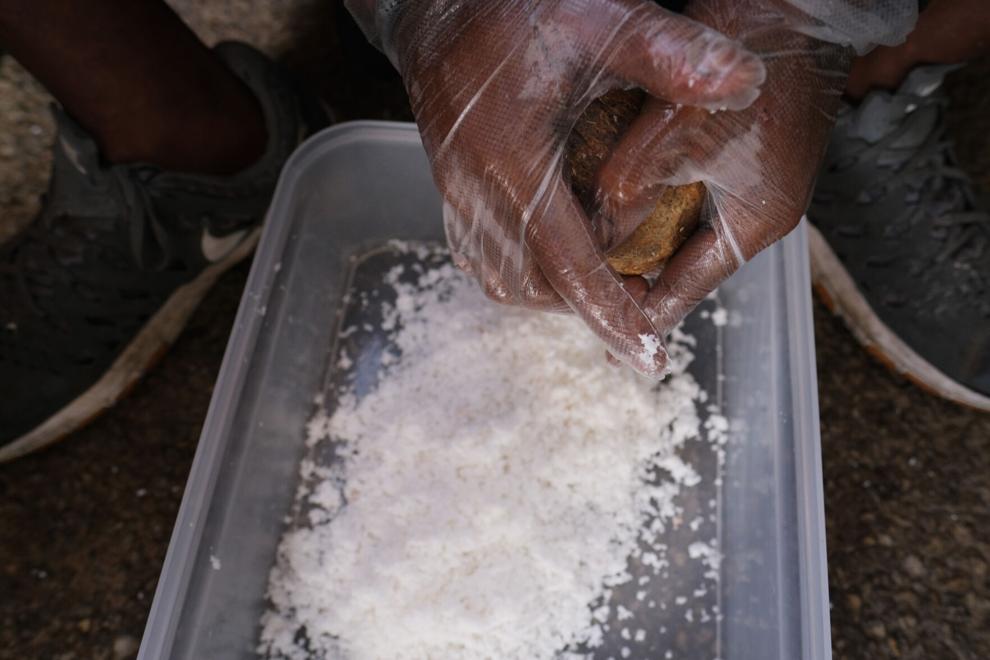 Derrick opens the kitchen Monday through Friday, arriving before the sun comes up.
"It's the military in me. I'm up at 4 a.m. and I'm here 4-ish," he said. Three cooks and a kitchen assistant help Derrick and Clarissa to get things on track every day. They are still using a kamyu, a traditional CHamoru tool, to grate the coconut for the kelaguen. But they have upgraded to a meat grinder, instead of hand chopping, to process the chicken for the dish.
"We are still cooking and hanging out until 10 p.m., or 11 p.m. every night," Derrick said, with a note of satisfaction.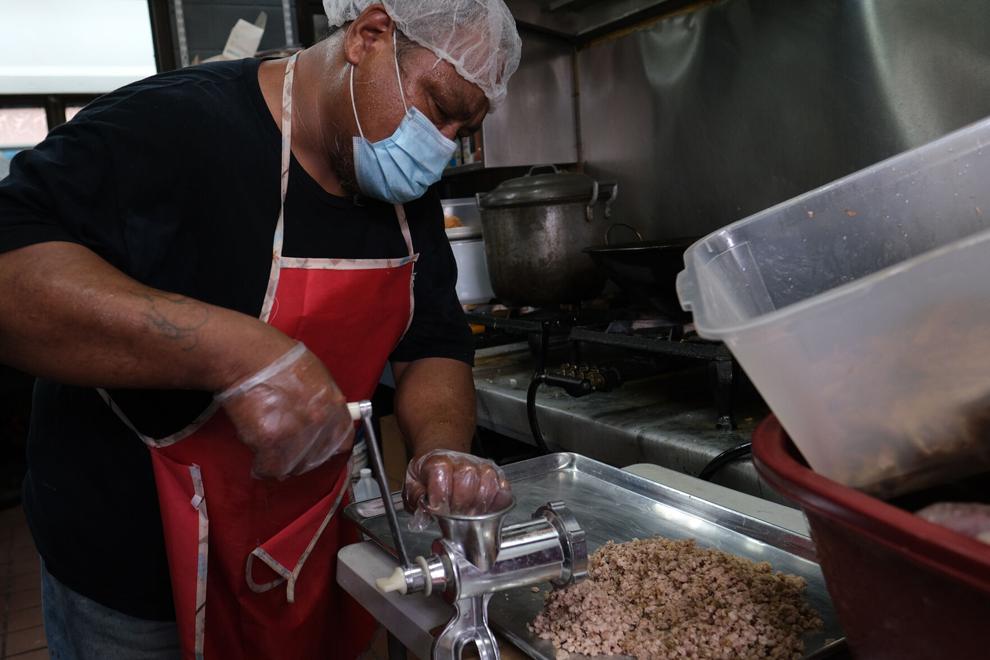 'We'll crank up the cha-cha ...'
Grill SGT changes up the menu, according to Derrick, maybe once or twice a week. But there are mainstays: red rice, fried chicken, crab patties, gollai hagun suni, shish kebab and pot roast. The Grill SGT preparation on gollai hagun suni, a traditional CHamoru vegetable dish, is made with taro leaves in coconut milk. When ingredients are available, a delicacy like kahit is prepared, local crab stuffed with coconut and then "simmered to sleep" in coconut milk. That may be served with motsiyas, a combination of ground chicken, mint and tomato leaves all together wrapped in pumpkin leaves. 
At the time of the interview, the restaurant had only been open for two weeks, but business was brisk with a steady flow of walk-up customers, a moderate line that moves quickly, and a small group of customers waiting for multiple plates to be assembled. The new business has also been getting a lot of action on social media with photos of overflowing plates of hearty food.
"We feel so blessed to have had great feedback, and of course we've had problems, but we were able to take care of the issues on the spot to keep things moving forward," said Clarissa. "We'll crank up the cha-cha if people want!"