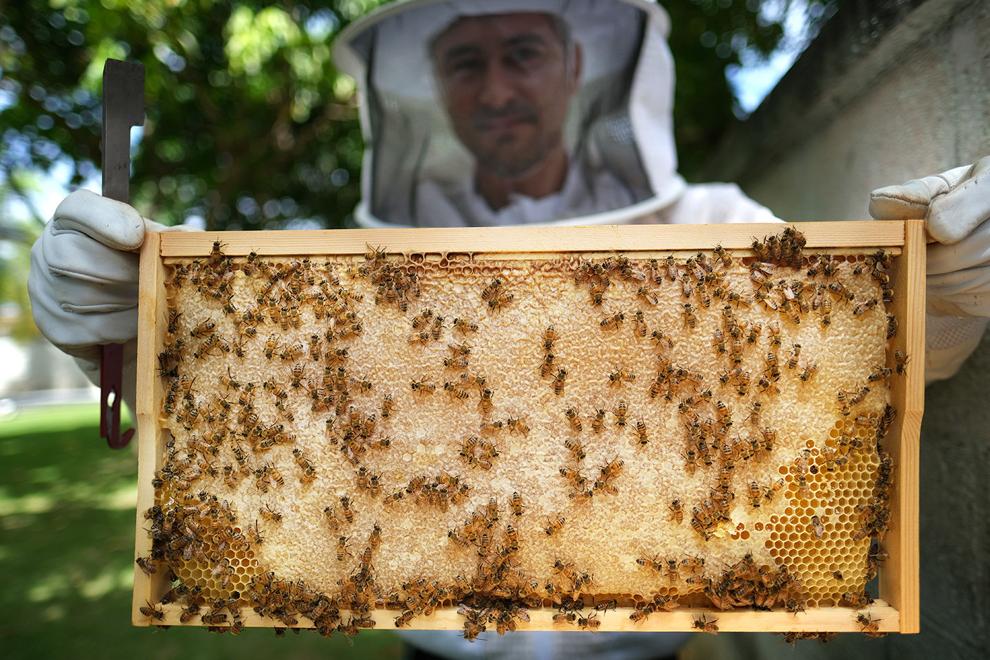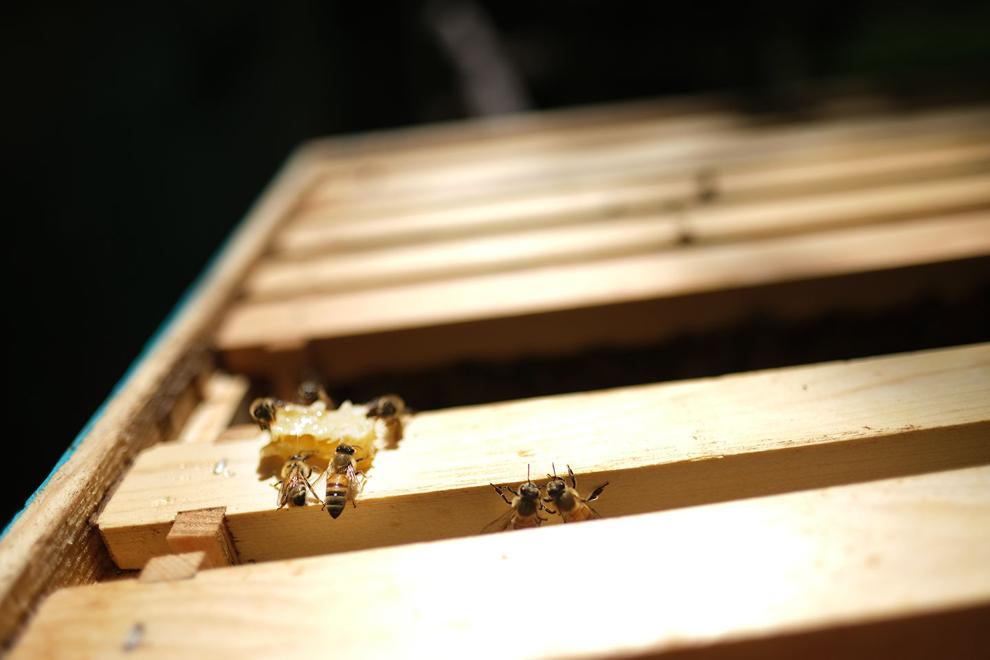 There's a buzz around the island, and it's not just the honeybees you're hearing.
Over the past year, one Guam beekeeper has brought honeybees into the center of Guam's food scene. Stop in Asiga for ice cream, ParisCo for pastries or Håfaloha for shave ice and you can't miss the gold and aqua containers of Hafa Adai Honey on their shelves (and in some of their products).
Owned by Micah Griffith, who's day job is running tourism wholesale company Griffith Pacific, Hafa Adai Honey seems to be popping up everywhere, from Antigu Brewing to Kitchen Lingo, and now, even the shelves of select Pay-Less Supermarkets.
Beekeeping, Griffith shared, is an expensive and time-consuming hobby – in fact, Griffith said any money they've made selling their honey just about covers the expense of producing it in the first place.
But it's a hobby that Guam bee enthusiasts, especially, are uniquely suited for.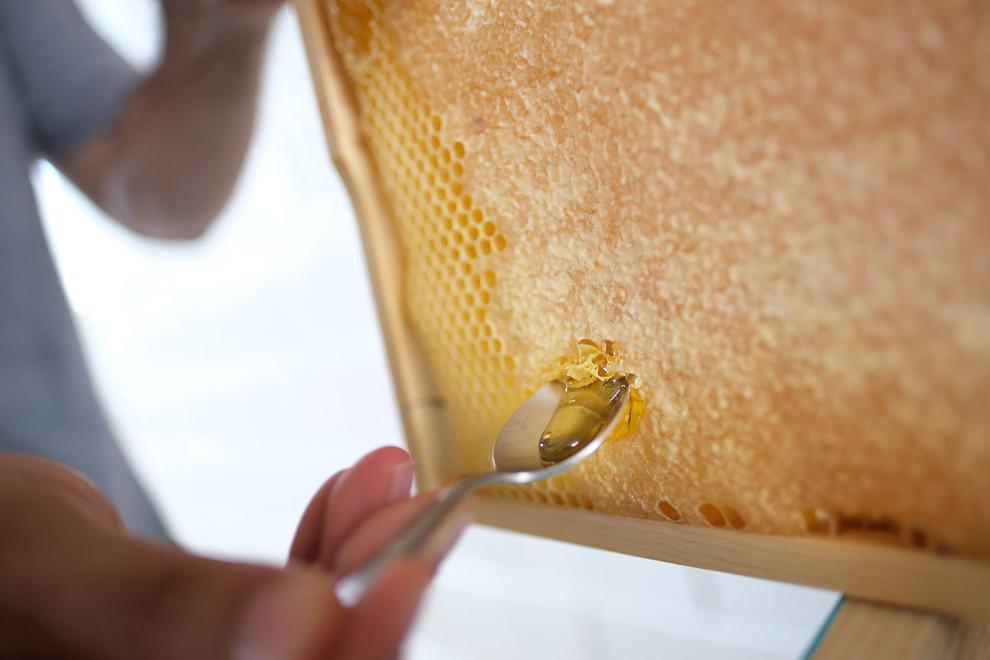 In the Asia Pacific region, Griffith said, U.S. Grade A honey is a hot commodity, recognized as the global gold standard, unmatched by honey produced in most other countries. At the same time, Guam bees are healthier than most, and Guam honey can be harvested twice as often as in the mainland U.S., where the cold months prevent a second harvest.
Griffith first began researching honey as a possible product for his wholesale business. A few Google searches and YouTube videos later, he was hooked.
"I didn't want to get into food products because shelf life and all that," Griffith said of his wholesale business. "I did a little more research and I found out that honey ... never expires. So I started importing the U.S. Grade A honey and then I tried to see about getting local honey, but there's just not enough production. ... I just started doing a lot of YouTubing, got really interested, and so I was like, oh, maybe I'll just start raising one hive, just as a hobby, and it just kind of grew from there."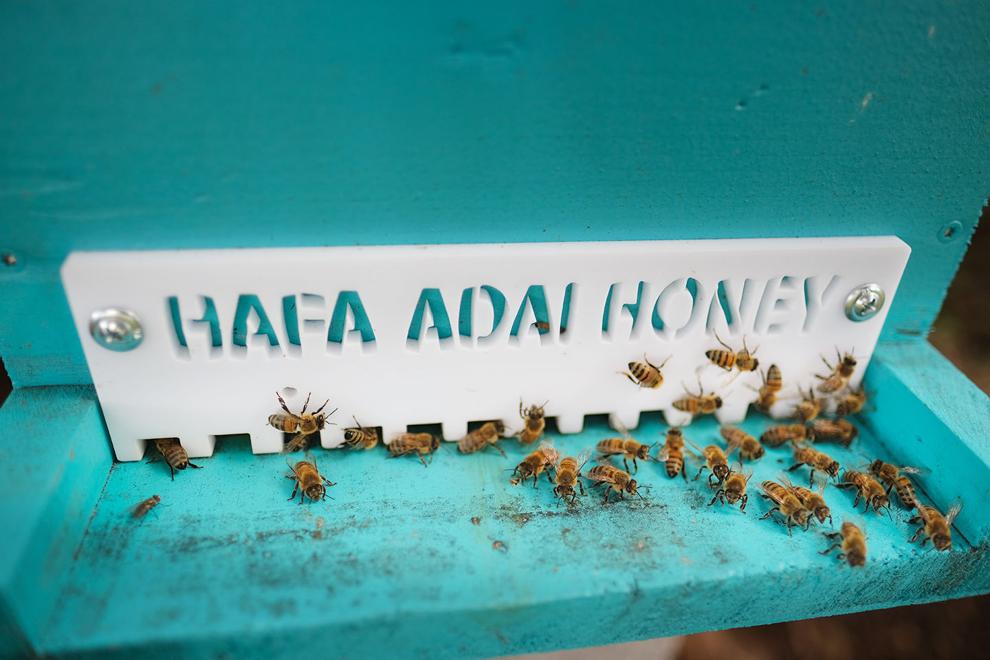 Griffith and his wife, Maybelline Griffith, now have 13 hives, 10 located in their own backyard and three in other locations around the island, including one used to make exclusive, single-origin honey for Asiga.
Homegrown apiarist 
One taste of the Griffiths' honey and a little lesson on how it's made is enough to turn anyone into an apiarist.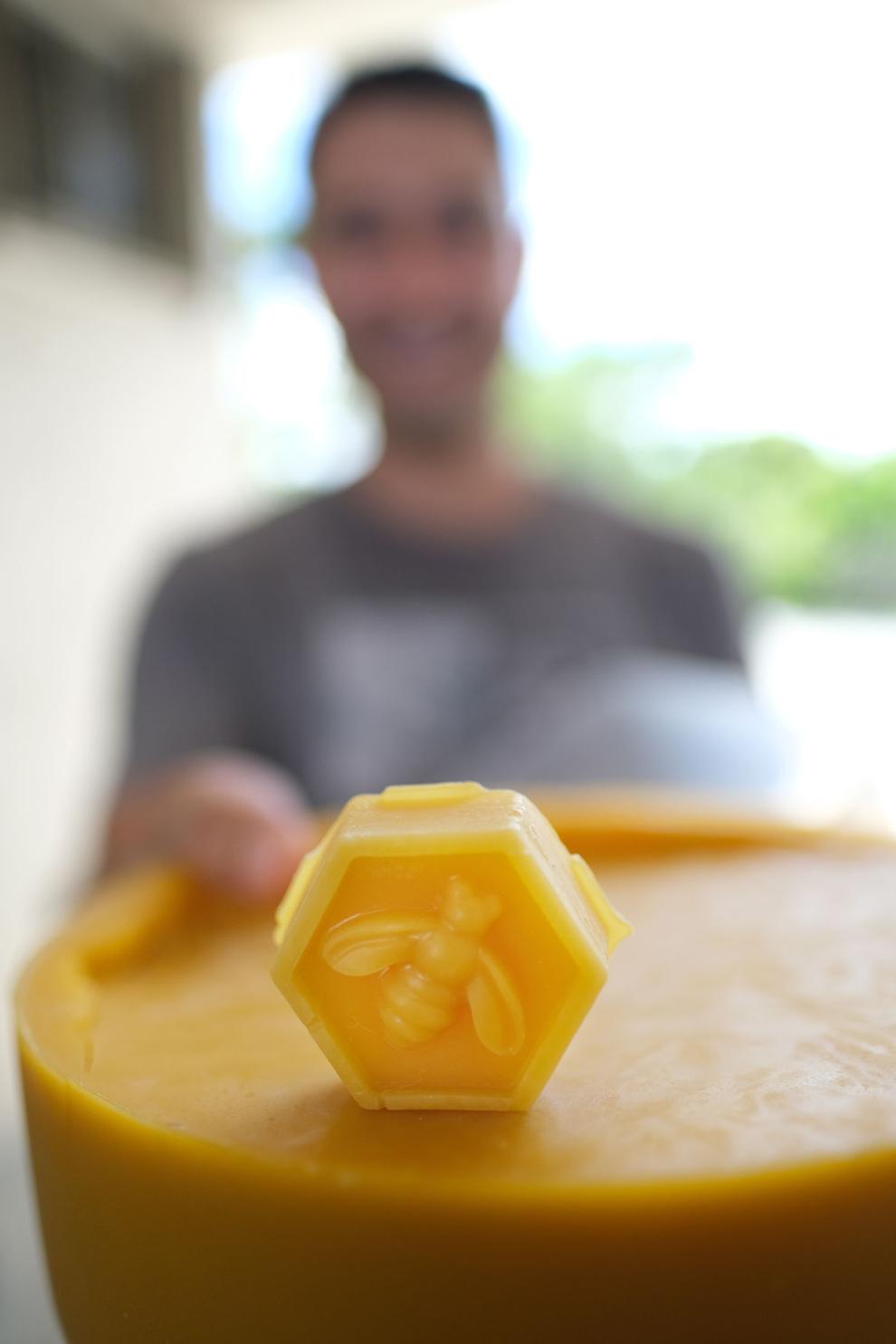 The Griffiths know the ins and outs of their hives: they can tell you exactly what each bee is doing and the different phases of hive development. Micah Griffith explained why honeybees sting (do not get in their flight path!) and when (rarely); Maybelline Griffith recounted the one time a bee chased her to her car (she had mistakenly stood in its flight path).
Their deep understanding and appreciation of how bee colonies work, along with their commitment to making sure their hives thrive, takes their hobby beyond mere food production. If anything, their relationship to their bees is akin to a farmer or, as Micah Griffith joked, "kind of like a proud parent."
When they're not tending to their own bees, Micah Griffith can often be found conducting bee "rescues" around the island – it's something he does for free, using his apiary expertise to relocate bees to farms, fellow beekeepers, or his own hives, and preventing them from becoming victims of pest control in the process.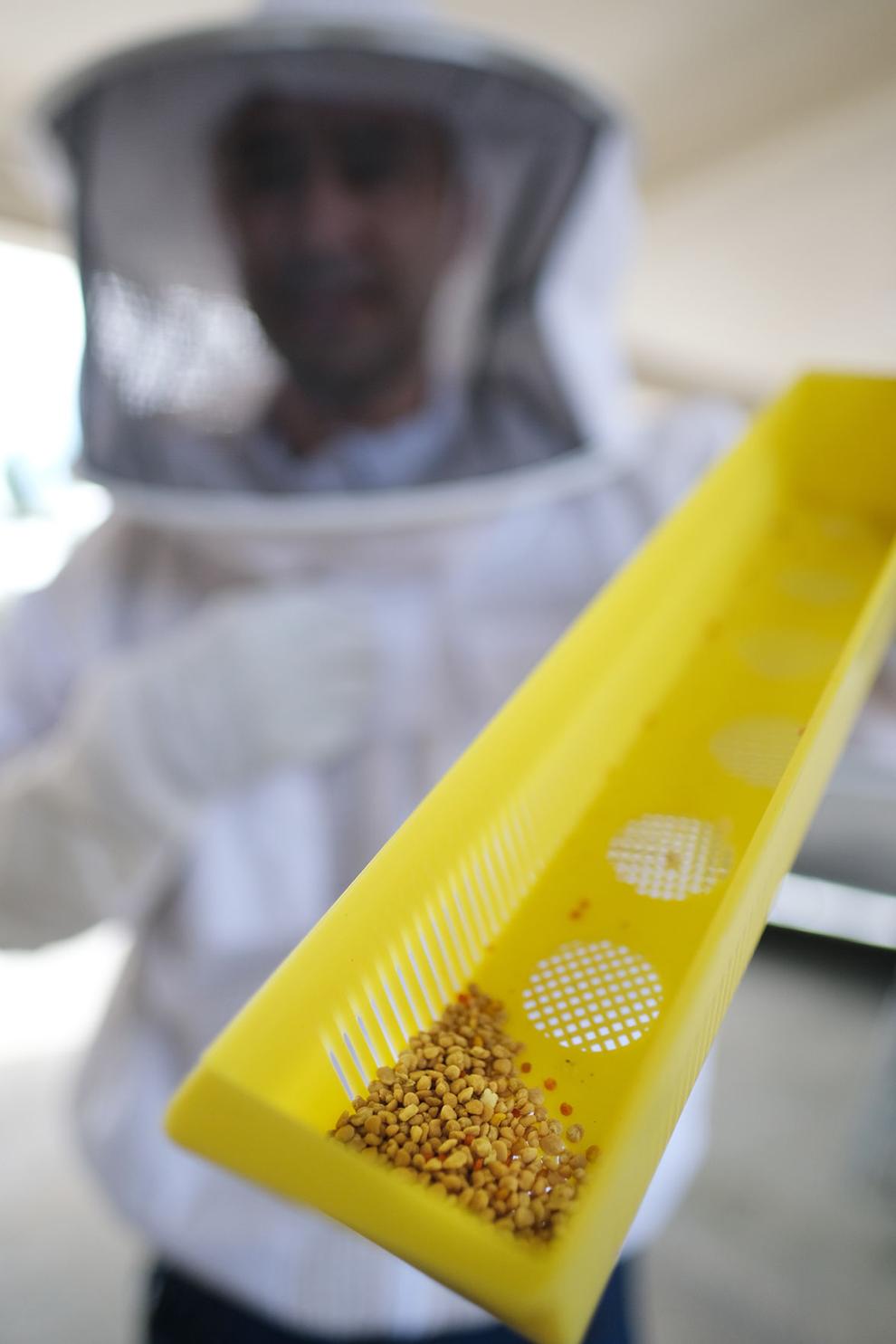 While Hafa Adai Honey is still a newcomer to the Guam honey game, Micah Griffith said beekeepers have been on island since the 1960s.
"Some of the ones have been doing it really long but people just never knew about it," he said. "I was over at Asiga, cause we actually have a hive on one of their properties and make honey for them. And this lady's like 'where's that from?' I'm like, 'oh, this is Guam honey.' And she's like, 'yeah but where's it from?' I'm like, 'no it's from Guam.' She's like, 'Guam doesn't have honey.'"
Rainbow of flavors
But enough about the bees. We're here for the honey.
"Of course I'm biased, 'cause I have Guam honey," Micah Griffith said, comparing local honey to its off-island counterpart. "But Guam honey tastes 100 times better."
He attributes that flavor in part to the health of Guam bees – though local bees are threatened by the invasive greater banded hornet, the island has been free of pests that plague honeybees in other part of the world for years.
"We actually have super healthy bees compared to the rest of the world," Micah Griffith said. Plus, "a lot of the bees have a very short period of time where they can make honey because of the weather - winter, things like that – whereas our bees are only constrained by rain. So they're actually making honey pretty much year round. But I think it's all of the different tropical plants that they have to get from – it tastes very different."
Light, sweet and floral, local honey tastes pretty different from the syrupy stuff you may be accustomed to keeping in your kitchen. The flavors of Hafa Adai Honey are more complex, bringing in notes of local flora like mansanita, or local Panama Cherry. Even between villages, the honeys you'll find on Guam are surprisingly different. And if you need some extra convincing of that fact, Hafa Adai Honey offers a Local Honey Flight, available at Hafaloha, which includes a small bottle from the home hives in Barrigada, one from Hafa Adai Honey hives in Tamuning, and one from friend and fellow apiarist Chris Rosario's Yigo hives.
Gallery: Artisan honey as an ingredient
The greatest distance between the hives is 12 miles, and the honey was all harvested at the same time.
"Even though all the honey came from the exact same time at different locations, there was a ... distinct, different flavor from each one and also even the color's different," Micah Griffith said. "We couldn't figure out, there was like a distinct flavor, and then (Rosario) pinpointed, it was probably mansanita, 'cause there was a lot of mansanita there. So just depending on what they're getting into really affects the flavor."
The Barrigada honey, with the lightest coloring, also has the mellowest flavors (is that banana, or am I imagining things?), with a subtle sweetness that's downright dangerous, simply because it's so easy to eat. Further north, Rosario's Yigo honey has a brighter taste, reminiscent of the citrus fruits that Guam's northernmost village is known for.
The Griffiths don't stop at just honey, making use of all their bees have to offer, selling beeswax to local artisans and bags of pollen, which has been touted as a superfood. Like honey, when eating pollen on top of yogurt or açaí bowls, a little goes a very long way.
Honey's perfect pairings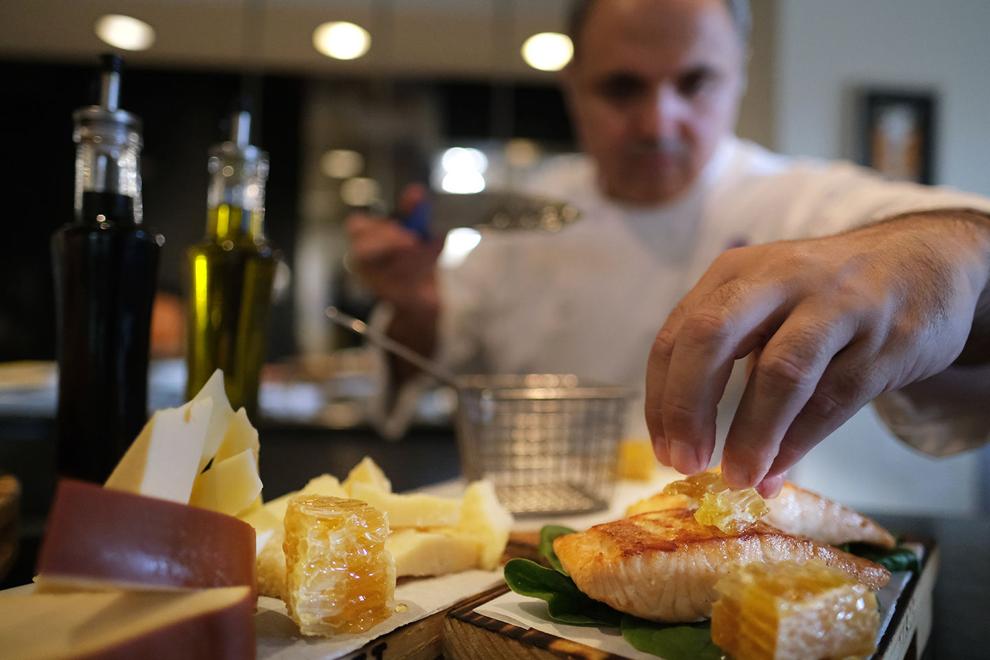 More recently, Hyatt Regency Guam Executive Chef Mirko Agostini showed The Guam Daily Post several dishes that pair perfectly with local honey.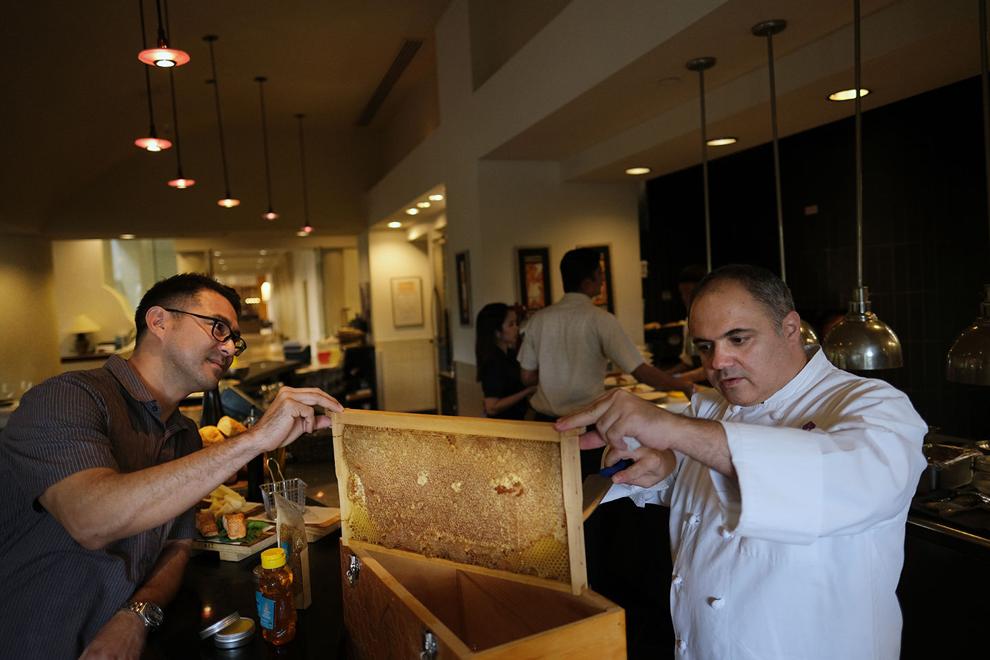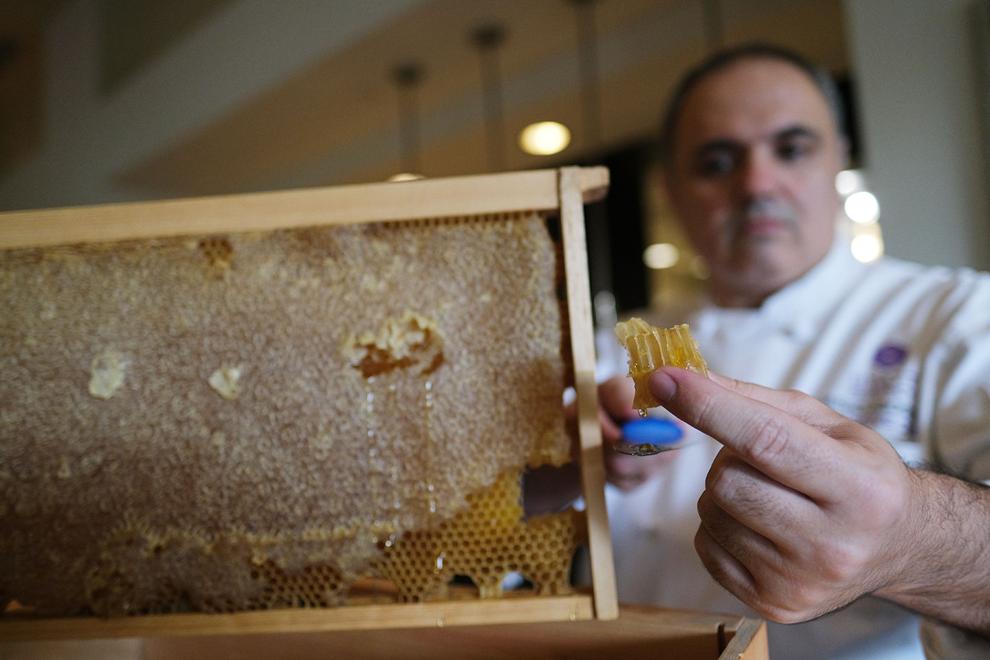 Agostini prepared a honey-drenched feast (most of which are not regular menu items), at the bar at Al Dente filled with fresh baked bread, cheese plates, fried chicken, salmon, quattro formaggi pizza and a huge slab of Hafa Adai Honey comb ready for harvest.
Agostini cut away bricks of the comb, drizzling honey over dishes and sides you could readily make at home. The key, of course, is to match the high-quality of the honey with equally high-quality dishes: if you're serving honey over bread, make sure it's baked fresh; if you're drizzling it over a brick of Parmesan, spring for the good stuff.
And yes, you read that right: honey goes with cheese. According to Agostini, an Italian native, pairing these two ingredients is a common tradition in his home country. For the uninitiated, the two flavors together is something of a revelation.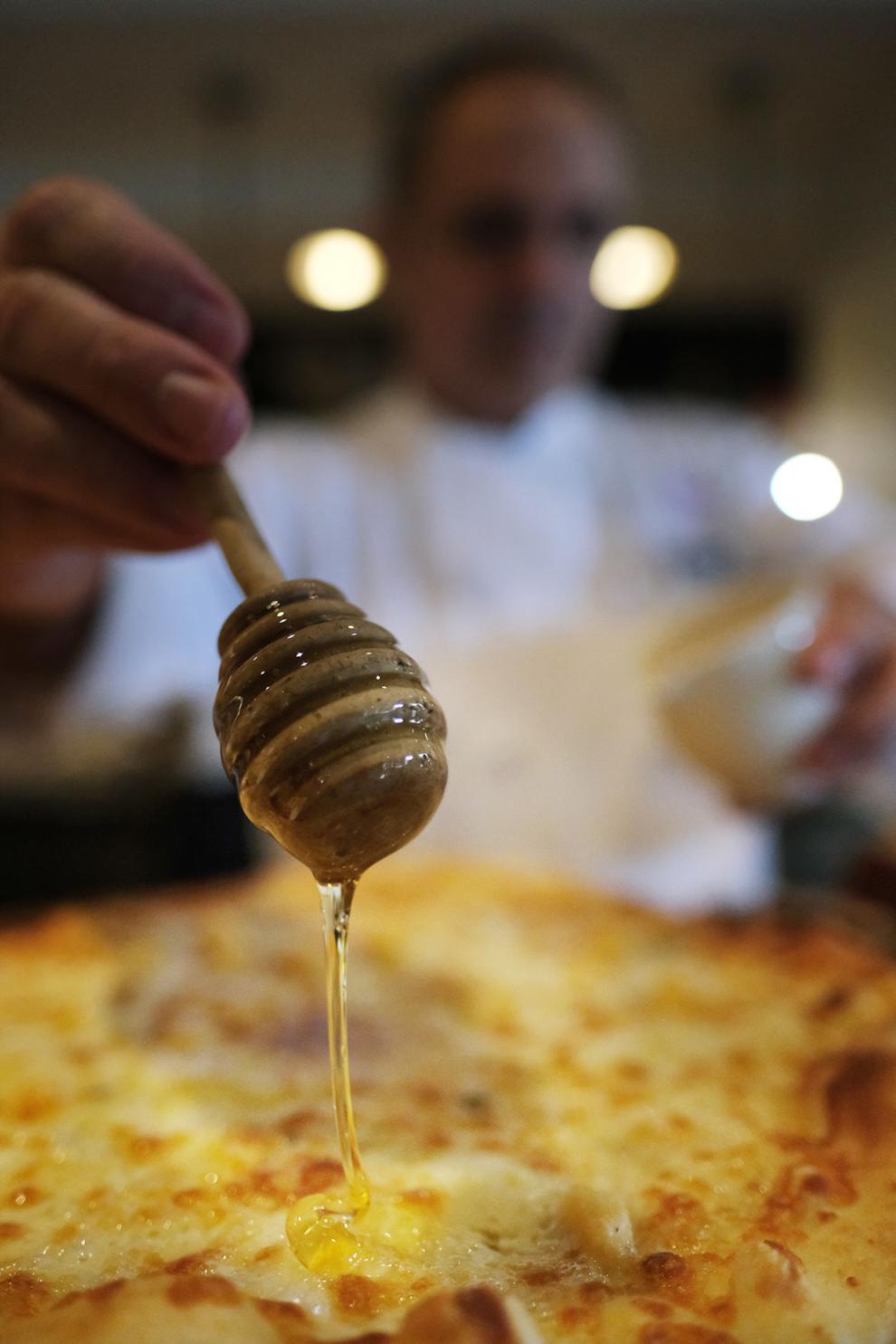 Honoring the purity of the product, Agostini declined to make any sort of honey infusions or other fanciful twists on the staple, instead letting it shine in its own right.
"Utilize the real product instead of manipulating it too much," he said. When you have high-level honey, he added, you don't need to mess with it. If you wanted to make a honey mustard sauce to go with fried chicken, for example, simply drizzle some quality mustard over the chicken, followed by a separate drizzle of honey.
Often forgotten in kitchen pantries, Hafa Adai Honey has put its namesake where it belongs: in the island's culinary spotlight. More than just a sweetener, supporting local honey means you're supporting the local bee population too, which in turn helps all local agriculture thrive. It's a simple, unfussy ingredient, but that's when it's at its best: pure and sweet, showcasing the best flavors and flora of Guam.