Don't panic, but Valentine's Day is less than a week away. If you're planning a hot date, maybe you should visit a place that's literally on fire, like we did.
At Shogun Teppanyaki restaurant, which calls the island's tourist district home, the friendly chefs who treat you to dinner and a show are ready to make sure that every date is a hot one.
"(Customers) should have a story when we're done, no matter where they go – Japan, Korea, etc.," says Richard Hale Jr. "There should be a good story for their experience here."
Teppanyaki follows in the Japanese tradition of serving food as fresh as possible, and Shogun is no different.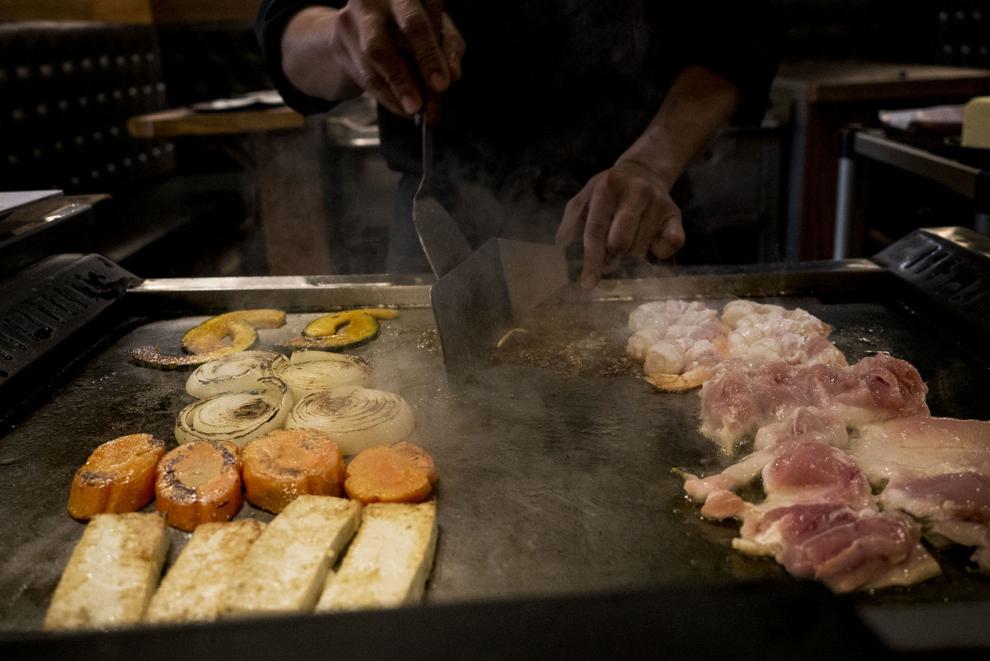 Sit back and enjoy the show
Food goes piping hot from chef to diner as soon as the food is prepared. And in between it's probably going to get lit on fire, which, aside from imparting some great charred texture and flavor, makes for a great photo op. No waiters here, as fans of the Japanese cooking method are well aware.
But probably the best aspect of teppanyaki is just how fun it is to sit back and watch as chefs flip and flare cooking utensils, food and whatever else they can get their hands on.
Hale, a nearly 20-year veteran teppanyaki chef, says Valentine's Day is going to be a busy one (make a reservation quick!) and expects that all of Shogun's showmen are going to be showing off big time on the 14th.
His aim is to make sure everyone leaves with a big smile on their face.
"If the customer's not happy, then I'm not happy," Hale says, adding that while he and all the other chefs have more chops and flips than a karate flick, they prioritize flavor. Rest assured, Shogun's teppanyaki dinner has no shortage of luxurious menu options that are big on just that. Be prepared for one fancy date.
We were enamored with the bacon-wrapped shrimp. Yes, everything tastes better with bacon, but it's the cooking method here that makes the difference. The high-heat sear and the subtle flavor of the shrimp bring out the best in the bacon.
The same goes with the certified Angus beef striploin steak, which was tender, succulent and decadently beefy.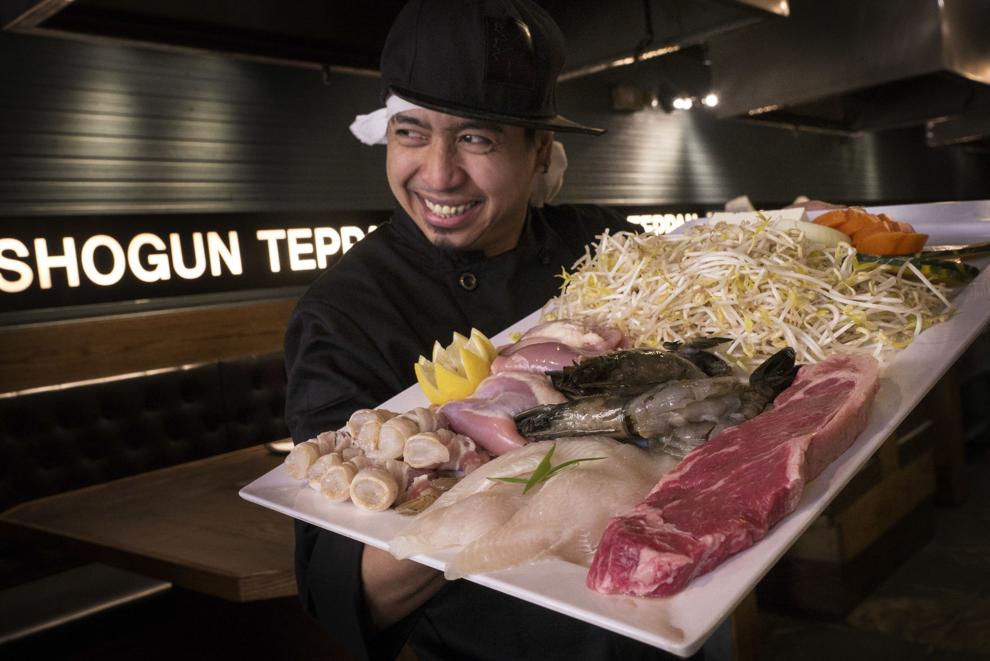 Appetizing options
Diners can choose from a range of set combinations, bringing together other great menu items like jumbo tiger prawns and lobster tail.
Each set includes miso soup, salad, grilled veggies and steamed rice, and of course individual menu items are available on the side – just in case you want extra bacon-wrapped shrimp (like we did).
Waiting for your meal while each delicious item sizzles away in front of you can be torture on an empty stomach but, like a kiss at the end of a good date, the wait can be worth it.
By the way, you can totally make your Shogun night a group thing. Hale says so many of the regulars who swing by Shogun come for big occasions and celebratory events. So your Valentine's Day could be a Galentine's Day with the girls or Palentine's Day with your bros.
Taste is tops
It's easy to see why the restaurant lends itself so well to dates of all kinds – its décor is modern, chic and comfortable.
But, like Hale says, at Shogun everyone knows who's the head honcho.
"No. 1 is the taste, no matter what. The taste is No. 1 for me."
Happy Valentine's Day!