Like most home cooks, I have a few favorite recipes that I like to keep to myself. These are recipes beloved by my family and friends alike, and the recipes that I am most frequently asked to prepare. I guess you could say these are my signature recipes. After giving the matter some thought, and in light of the fact that my 52-week recipe challenge is nearing an end, I've decided to share a few of these recipes with you. The first is Gina's Mississippi Mud Pie. This is decadent, but delicious!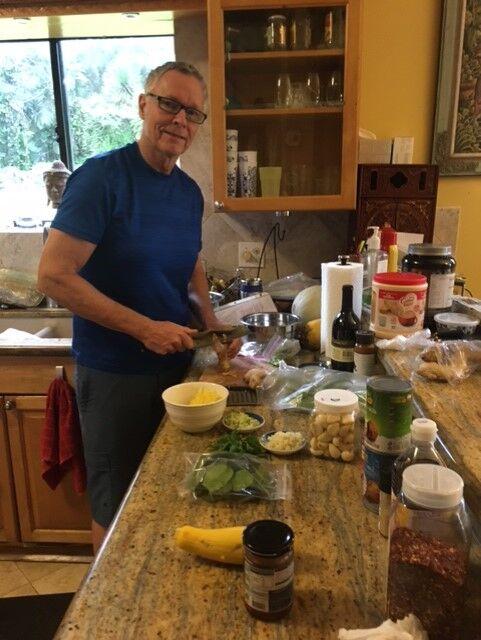 The story behind this recipe is a bit embarrassing.
For nearly 50 years I've been an exercise fanatic. For about 25 of those years, I ran and also swam laps at the Hagåtña swimming pool or at Ypao Beach. About 15 years ago, I woke up one morning and said to myself, "I'm bored with swimming and I want to do something different." So I signed up for a gym membership and have been a regular at Paradise Fitness since then.
At some point during my workout, I end up on the treadmill. There are three TVs hanging from the ceiling directly in front of treadmills, and usually these are tuned into three different channels – most frequently Fox News, CNN and the Food Network.
To avoid a spike in my blood pressure caused by listening to newscasts, I prefer to situate myself in front of the TV playing the Food Network. One day as I was running on the treadmill, the show "Down Home with the Neelys" came on. Gina and Pat Neely are known for their Southern comfort recipes. On that particular day, Gina was preparing her Mississippi Mud Pie.
As I sweated and burned off calories, I watched Gina bake a dessert that I knew was off the chart with calories. But wow, did it look delicious! As soon as I got back to my office, I googled the recipe and printed it. That weekend, I made the mud pie for the first time. I had to triple my distance on the treadmill for the next few weeks, but it was worth it!
Last week, my son, Keoni, who loves my Mississippi Mud Pie, asked me to make one for his girlfriend Brianna's family. I was very happy to do so – Brianna has been so generous and helpful to our family.
Over the years, I've modified this recipe. The original recipe, which you can easily find if you google "Gina's Mississippi Mud Pie," calls for a deep-dish chocolate pie crust. I have never been able to find a deep-dish pie crust on island. I can only find the regular-sized crust. So I increase the ingredients by one-half and make two pies. This is a good thing, because whenever I prepare this dessert one always mysteriously disappears. Of course, if you only want to make one pie, simply cut the ingredients by one-half. Because this pie is very rich, you can probably feed a dozen people with just one.
If you feel compelled to serve bigger pieces, be aware that Paradise Fitness is accepting new members and they have a lot of treadmills!
Week 47: Gina's Mississippi Mud Pie
Makes 2 pies
Ingredients
2 store-bought Oreo or Keebler chocolate pie crusts (I prefer the Oreo crust)
6 ounces semisweet chocolate, coarsely chopped*
6 ounces bittersweet chocolate, coarsely chopped**
3/4 cup unsalted butter
6 large eggs, room temperature
1 1/2 cups granulated sugar
1/3 cup light corn syrup
3/4 teaspoon salt
1 1/2 cups chopped pecans
1 1/2 cup heavy whipping cream
1/3 cup confectioners' sugar
1/3 teaspoon vanilla extract
Small piece of chocolate, shaved for garnishment
Steps
1. Preheat oven to 350 degrees F.
2. Melt the chocolate and butter in a double boiler. (I simply place the chocolate and butter into a small pan and put the small pan into a larger pan filled about halfway with boiling water.) Stir continuously until combined and smooth.
3. Using a stand mixer, beat the eggs, sugar, corn syrup and salt on medium-high speed until it lightens and doubles in volume, about 2-3 minutes.
4. Mix in the melted chocolate mixture and fold in the pecans. Pour the batter into the pie crusts and bake until the filing is just set, about 35-40 minutes. Don't overbake! It should be a bit gooey.
5. Remove pie from the oven and let cool. The pie will fall slightly. Once the pie is cool, refrigerate until well chilled, about 1 1/2 hours.
6. In a medium bowl add the heavy whipping cream, confectioners' sugar and vanilla extract and beat until soft peaks form. Top the chilled pie with the whipped cream. (If you feel like cheating, you can substitute home-made whipped cream with Cool Whip.) Garnish with shaved chocolate. Serve immediately.
*I normally use Hersey's semi-sweet chocolate chips. Don't use a discount brand of chocolate chips because they won't melt well.
**To be candid, I have never used the bittersweet chocolate. Instead, my secret ingredient is Toblerone Swiss chocolate bars. You can buy a six-bar box at Cost-U-Less. You'll use 1 whole bar plus 2/3 of another bar if you are making 2 pies.