Chances are, if you take regular trips into or out of Barrigada, you often pass by the $6 million Guam Premium Chocolate candy factory processing metric ton after metric ton of chocolate each month.
We were like a kid in a candy store during The Guam Daily Post's recent trip to the chocolate wonderland within the humble outer walls of the Patterson Enterprises building.
Inside, confectionary machines did everything, from melting chocolate, to drizzling chocolate, to cooling chocolate down for consumption.
It amounts to a staggering 200,000 pieces of chocolate produced every day and, if you're wondering, yes – that was $6 million very well spent.
According to owner George Patterson, Japanese visitors are eating up these pieces, taking them home by the boxload to give to friends and family.
"We started with the sun tan lotion business back in 1991," Patterson told the Post. "From then on it's been a progression with what the tourists wanted, and the No. 1 thing tourists take back to give as gifts was chocolate."
From challenge to opportunity
Although Patterson's company used to import Hawaiian and Chinese chocolates, he realized a change was needed after laws about using the word "Guam" on packaging became more stringent.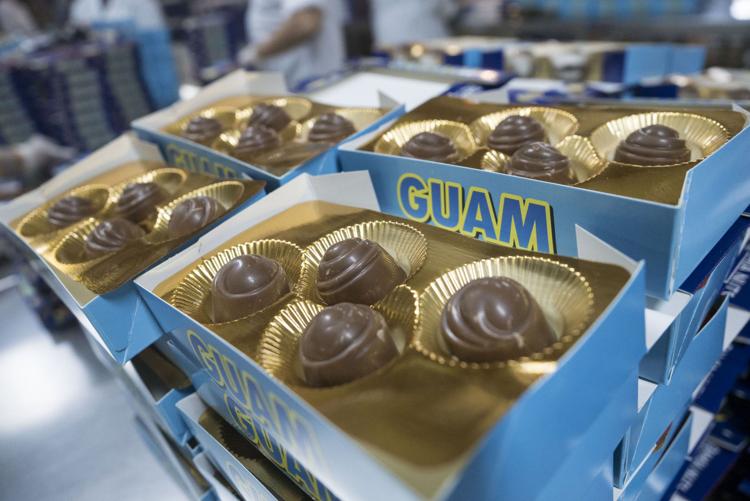 "The tourists wanted to take back a gift that they could show where they went for vacation," Patterson said, noting the impact our island's name has on product sales. His solution was to take a plunge into manufacturing chocolates on island, and since Aug. 7, 2014, he hasn't looked back.
We first sank our teeth into a treat the candy-making company discovered early in its history: the milk chocolate-covered asparagus biscuit.
The factory's fateful party
Back in 2014, when the Guam Premium Chocolate company was just getting started in a smaller capacity, it celebrated the opening of its factory during a party hosted at Patterson Enterprises. While there, they handed out milk chocolate-covered asparagus biscuits without giving thought to selling them as a product. Party guests, however, were sold on the treats and the company came out with a line of chocolate-covered asparagus biscuits that are to die for.
First off, the texture is a wonderful balance of creamy outer chocolate covering the crispy, snappy asparagus-shaped (shaped only! It tastes nothing like the vegetable) cookie. Patterson explained the company uses only Belgian chocolates in its manufacturing processes, and although it can take up to eight days to manufacture some confections in that way, he believes the wait is worth it.
We agree.
With the biscuits you're treated to a more robust chocolate flavor compared to most chocolates sold in the U.S. American-made, mass-produced chocolates sometimes use substitute ingredients in place of cocoa butter. But at Guam Premium Chocolate, its chocolate provider ships them chocolate made the authentic way – with all the cocoa butter and cocoa mass needed to give its products complex flavor profiles.
And even if the milk chocolate-covered asparagus biscuits were fantastic, we seemed to like the white chocolate biscuits just a little more. Although white chocolate has no actual cocoa mass in its ingredient list, we found that on an asparagus biscuit, it's an absolute joy. The magnificent snap from the cookie is definitely present in the white chocolate variety, with pleasant honey and vanilla notes in there as well.
The asparagus biscuit itself provides a slight nutty flavor from toasted sesame seeds, with just a slight saltiness to balance out the entire flavor profile. Although it isn't the biggest seller among the products Guam Premium Chocolate makes – that honor goes to its chocolate-covered macadamia nuts – it was the biggest seller in our hearts and mouths.
A taste of the top seller
We eventually did get our hands on the company's top-selling treats, and gave those a whirl (not really, we ate them one by one – we aren't savages). Macadamia nuts and chocolate go together like peanut butter and jelly, and Guam Premium Chocolate has all its flavor bases covered here.
Rich, decadent, cocoa flavor? Check. But what really impressed us was the silky-smoothness of its macadamia nut confections. Whereas the snap of the biscuit is the star of the asparagus-shaped confections we just talked about, here is where the Belgian chocolate really gets its chance to shine. That authentic cocoa butter is wonderful as it melts in your mouth.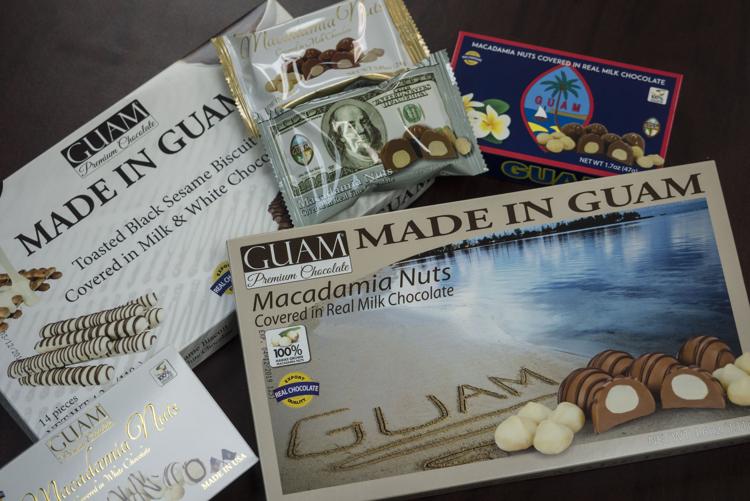 A variety of offerings
The Post made it to Patterson Enterprises on a day it was manufacturing its two top-selling products, but George Patterson informed us the company sells chocolate-covered krispies, mangoes and pineapples as well. Look for white, dark and milk chocolate varieties at retail vendors around the island.
Just make sure to save some white chocolate asparagus biscuits for us.