"I got breadfruit! Whoo!"
Lenny Fejeran walks into Kådu pushing a cart with boxes of vegetables.
I have to laugh. Being Palauan, I've heard people get excited over meduu – that's Palauan for lemmai, the CHamoru word for breadfruit – but not with the level of exuberance Fejeran had just displayed.
We're at Kådu House Guam in Mangilao, where Fejeran – who also is the man behind the Upper Tumon favorite Pika's Cafe, as well as the elevated local cocktail dining scene at Kitchen Lingo in Hagåtña – has come home.
Here, in the little carry-out restaurant tucked between a mini-mart and a vape store, at the corner of University Drive and Route 10, he cooks kådu and other local home-style dishes he grew up with. They're served on a to-go plate or in a family-size bucket you can take home to the kids or bring to your elderly grandma or auntie's house so they can enjoy a hot bowl of kådu without having to hustle for hours in the kitchen.
Kådu, by the way, is the CHamoru word for soup, and can encompass all ranges of proteins paired with your favorite vegetables.
'Back to the antigu style'
"It's about taking it back to the antigu style. We don't use ground beef for our tinaktak. We use shank, ox tail and tendon that's been cooked for four hours," he says. "Nobody has time. And that's the other part of it – we're not just selling good homemade cooking, we're selling time. Nobody has time. ... You're buying back time from me ... so you're feeding your family kådu ... the way you would have made it at home."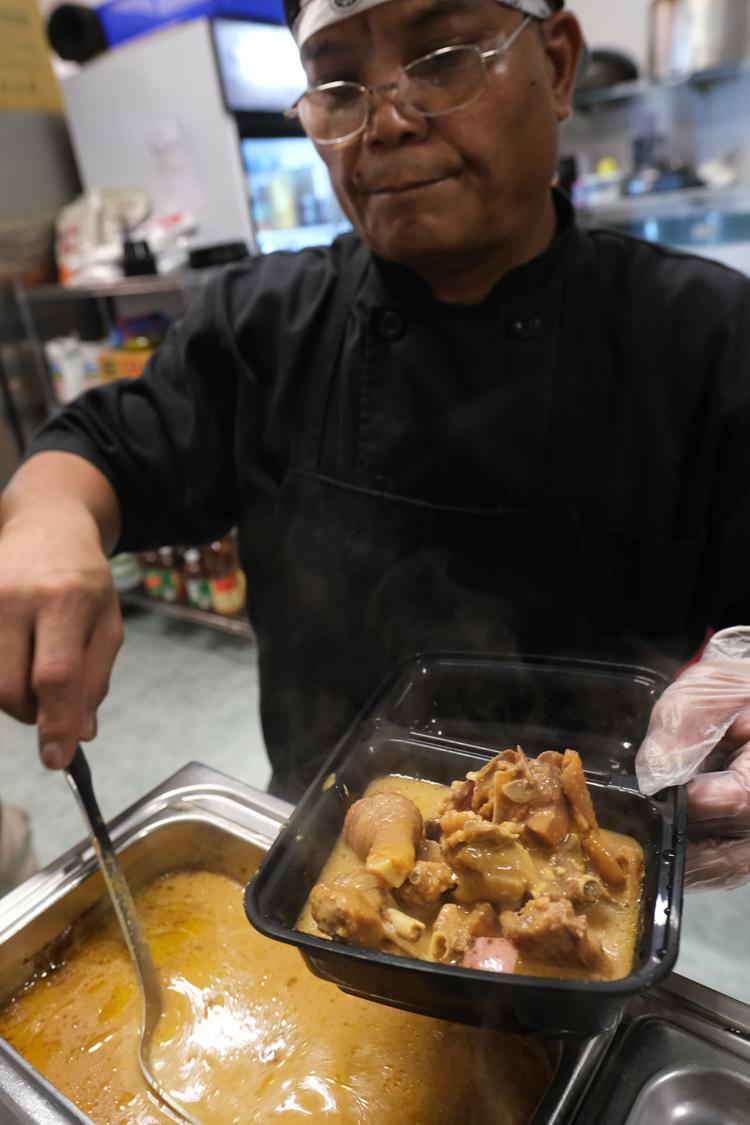 Kådun pika, the hot and spicy but yummy stewing chicken soup – yes, they use stewing chicken "'cause that's the way it's made," Fejeran says – sits on the stove for about an hour and a half before it's set on the side and allowed to cool.
Kådun katne, a favorite at the Mangilao restaurant, has an almost typical beef-base flavor but the meat is so soft – it's "manåmko' tender," Fejeran calls it.
The vegetables are cooked just right. The carrots aren't crunchy but still firm and not mushy, and lend their sweetness to the broth. The long beans have soaked in the broth. The cubed red potatoes almost melt in your mouth after swimming in the broth that it also helped to thicken just a bit. The cabbage is tender and sweet.
Together, this dish is more than the sum of its parts. It's home cooking at its finest, and for the many customers who walk in through the doors of Kådu, it's convenient.
"A lot of people know me as a sandwich guy, and I love it, I do," he says. "But soup is really my specialty. In the states, I've worked at soup restaurants. I learned their stuff and I take some of that skill and I apply it to my experience."
A story told through food, restaurants
That experience has taken him from California to Guam, where he started with the restaurant named after his beautiful wife, Pika.
"It's really like a story, right," he says. "With Pika's, the mindset there was me just coming back from the states and wanting to showcase my skills, but at the same time making it palatable for the local community and making it accessible for the military and tourists."
Fejeran adds, "You know on Guam, it's like, 'Oh that's a military spot.' Or, 'That's where locals eat.' I wanted to bring everybody together."
He says at Pika's, he didn't want to do home cooking.
"I didn't want to compete against what grandma and auntie were making at home. That's why I came up with the Tinaktak Burger. Nobody's gonna make a Tinaktak Burger at home," Fejeran says. "That and the CHamoru Benedict, those are dishes that are local, but not. Pika's was my whole 'California meets local' experience."
Kitchen Lingo was the next level, he says. With Chef Lingo Quichocho, the restaurant in the heart of Guam's capital city has been serving delicious food created with microscopic precision and care for more than five years now.
"Kitchen Lingo is the area that's like a breeding ground for future chefs, chef owners, entrepreneurs, managers and restaurateurs," Fejeran says.
It's where they hone in on Guam dining that's focused on the freshest vegetables to elevate dishes that are then paired with cocktails crafted with fresh-squeezed juices and house-made syrups.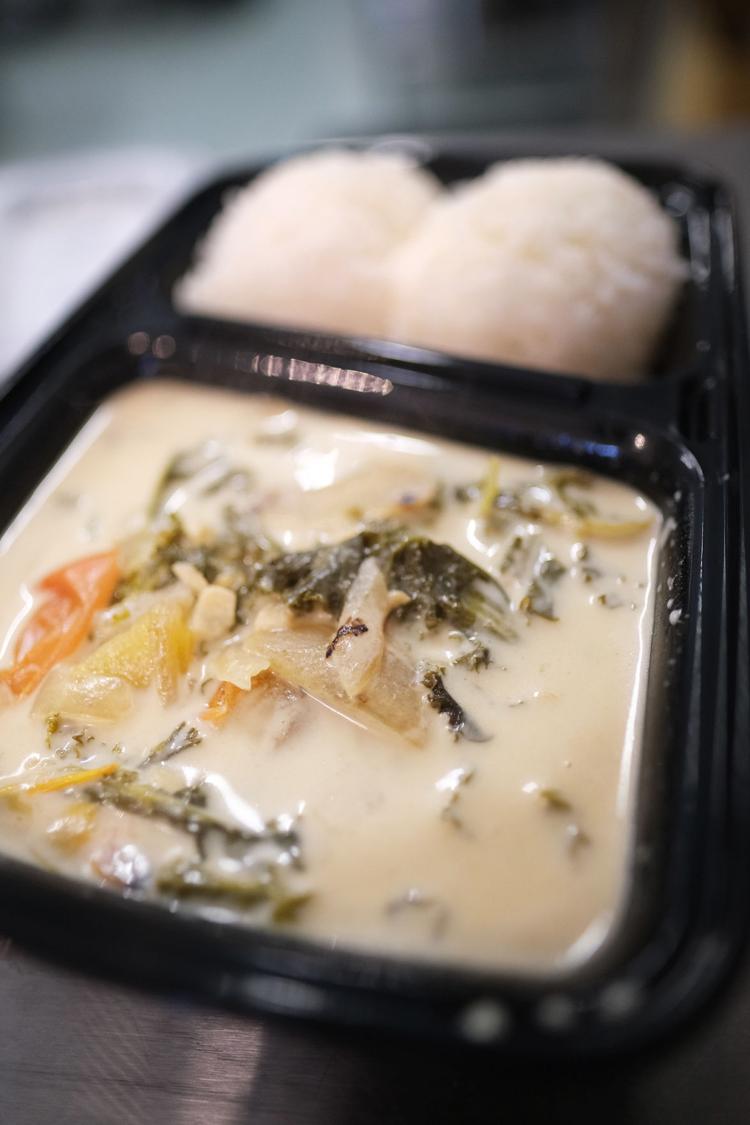 "High quality, showcasing the best of what Guam has to offer as far as culinary talent, hospitality and food. So that's Kitchen Lingo," he says.
"After that, man, I said, 'You know what? My heart is just calling.' It's like a family thing," he says. He clarifies his thought process at the time: "I wanted to be done."
"I didn't want to open up any more restaurants. In fact, I started telling all my friends I'm done with restaurants," he says.
"Restaurants suck. It's hard. You don't make money," he adds. "People don't understand you don't make money on restaurants as an owner until you hit a certain peak. You're gonna be putting money and putting money – and nobody wants to do that. You want to go to work and you want to get paid. So I didn't want to do restaurants."
"However," he adds, while throwing his arms wide as though pulling the restaurant to him. "This is part of what was in me that I had to do."
He says the common theme in restaurants is community.
Kådu, he says, was an ode to family and his own childhood.
"I realized that after I pick up my kids from school, I just want to feed them something good, but if they want kådu, I don't have time. If I wanted to feed them kådu I would have had to set up the crock pot the night before," he says. "Not many people have time for that. ... It means coming home from work with the mindset that you're going to be prepping and cutting the vegetables and the meat for up to two hours, so that in the morning I turn it on and let it sit all day so that when we come home we got kådu – that's the only way."
But not many people have the time or the energy to do that. And that, Fejeran says, is where Kådu comes in.
Collaborating
The hot meals aren't the only thing that draws people to Kådu, however. Fejeran's restaurant also sells other local goods, such as Micah Griffith's Hafa Adai Honey.
And if you ask nicely, the lady at the counter – or even Fejeran himself – might put some Denache' Hot Pepper Drizzle on your Smokey Burrito (a decadent serving of tinala katne, with some veggies and a little bit of rice all rolled into a soft burrito wrap).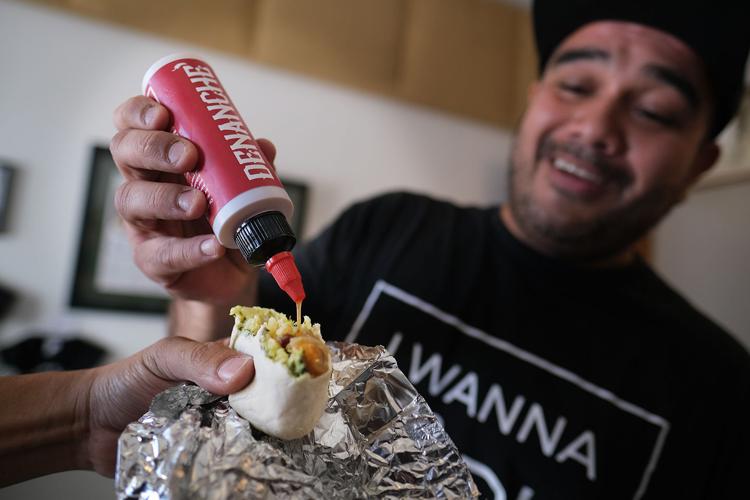 The hot sauce is the brainchild of Fejeran and Derek Cruz, owner of Su'prim Denanche.
It's just hot enough to wake up your tastebuds without burning your lips.
But if you do get a little big of burn, there's a freezer by the wall near the window full of fresh ice creams in glorious flavors – from mango to Thai Tea – from Sundays Guam, located near Rotten Apple in Tamuning.
"Working with others is something I like to do," Fejeran says. "Guam has so much talent and so many opportunities to serve great food. ... I don't know how not to work with other people, you know?"
'We celebrate being CHamoru every single day'
A sense of community and working together is, for Fejeran, a big part of the CHamoru experience and Kådu's story.
While March is Mes CHamoru, a time when students and the entire community focus on those traditions that make the indigenous culture unique, Fejeran says at Kådu the work they do is a daily acknowledgement of the food, the flavors and traditions that come with the culture.
"We celebrate being CHamoru every single day," he says. "That's what we're about. We're about that bringing that CHamoru-style home cooking, hospitality, that family love and care for others. That's the biggest thing, that genuine caring for others. People come here and say, 'I'm going to drop a bucket to my auntie's house.' 'I'm gonna bring some kådu to my nino's real quick ... and then I'm going to go home and feed my kids."
Summing up how he measures cooking at Kådu, and its relationship with the community and his CHamoru family roots, he says, "I always ask myself if my grandma would approve."