Let's face it, sometimes there is a lot of snobbery when it comes to cooking. We are often led to believe a recipe can't be good if it doesn't have a fancy name we can't pronounce or if it doesn't contain a number of ingredients we've never heard of before! I am a firm believer that with many recipes, simplicity is the best approach. This is especially true when it comes to fresh fish.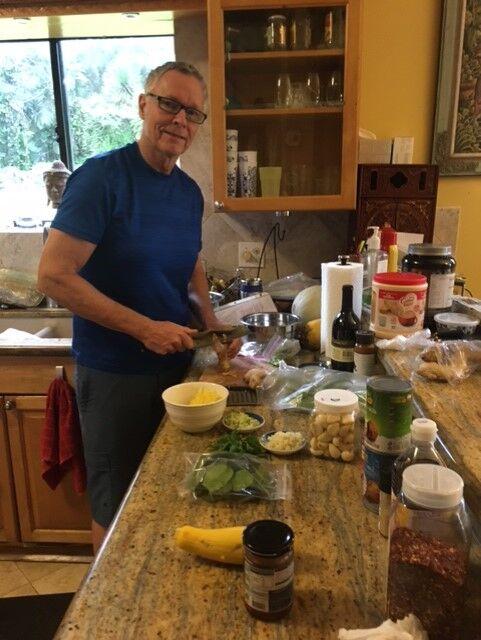 Our current location brings this principle to the forefront. This week Corman and I find ourselves in Seattle, Washington. If you are like me, when you think of Seattle, salmon comes instantly to mind. Salmon plays an important social, cultural and economic role in this part of the United States. Unfortunately, the salmon population is declining in the Northwest, raising concerns – and prices! The cheapest price we've seen this trip for fresh salmon is $9.99 per pound, and the most expensive is $34.99 for King Salmon.
When we were in Maine, we felt compelled to bite the bullet and we ate lobster several times despite the fact that the price had tripled since our last visit. After all, how often can you get really fresh Maine lobster? Now that we're in Seattle, how can we avoid a delicious salmon meal?! This is especially true considering our current residential location.
Right now we are staying with my old college friend, and former Guam resident, Melanie Reynolds. Melanie and I attended undergraduate college together in Flagstaff, Arizona, and both of us moved to Guam in August 1976. I taught at John F. Kennedy High School, while Melanie taught at Finegayan Elementary School. Melanie left Guam in 1979 to pursue her master's degree. After a number of jobs and moves, she is now settled in Seattle. Her condo is literally a stone's throw from the renowned Pike Place Market, which is a huge venue for fresh fruits and fishes, as well as a wide variety of other tourist goods and trinkets.
Yesterday morning we walked through the market. The fish market is a hoot. When someone orders a salmon, the vendor grabs the fish and literally throws it across the store to the fish cutter who, in a matter of seconds, expertly dismembers the fish, wraps it up and flings the finished product to the cashier who then rings up the sale. Huge crowds watch, gasp, clap and laugh as the well-orchestrated show unfolds. It is amusing! We gave into the gimmick and bought two pounds of the cheapest fresh salmon.
Last night I prepared the salmon for a group of friends using a recipe I found on the Barefoot Contessa, Ina Garten's website. I've made it many times on Guam. It is an easy recipe and the end result is delicious, as long as you religiously follow the directions. The timing as presented in the recipe is critical to the delicious results. So, put aside any bias you may have for simple recipes and enjoy the simplicity of this recipe.
Week 39: Baked Salmon
Serves 4
Ingredients
For the salmon
1 pound fresh salmon
2 tablespoons olive oil
Enough sea salt and fresh ground black pepper to sprinkle over the salmon
Fresh arugula to place on top of the cooked salmon
For the dressing
1/4 cup balsamic vinegar
1/2 cup olive oil
1 teaspoon honey
1 teaspoon Dijon mustard
1 shallot, minced
1 clove garlic, minced
Salt and ground pepper to taste
Steps
For the fish
Preheat oven to 425 degrees.
Cut the salmon into 4 equal 4-ounce pieces. Be sure to keep the skin on the salmon.
Generously sprinkle each side with sea salt and black pepper
Pour 2 tablespoons of olive oil into a large cast iron or heavy frying pan and heat to medium high heat. Once heated, place the salmon skin-side down on the frying pan and cook for exactly 2 minutes. Be sure to time it.
After exactly 2 minutes, flip the salmon over and immediately place the pan into the heated oven.
Again, using a timer, bake the salmon for 4-6 minutes, depending on the thickness of the fish, then remove from the oven. Don't overcook.
For the dressing
Put all the dressing ingredients in a small bottle with a lid. Close the lid and shake well.
Place a salmon fillet on a plate and cover it with arugula. Dribble the dressing on top.
Serve with rice or mashed potatoes.