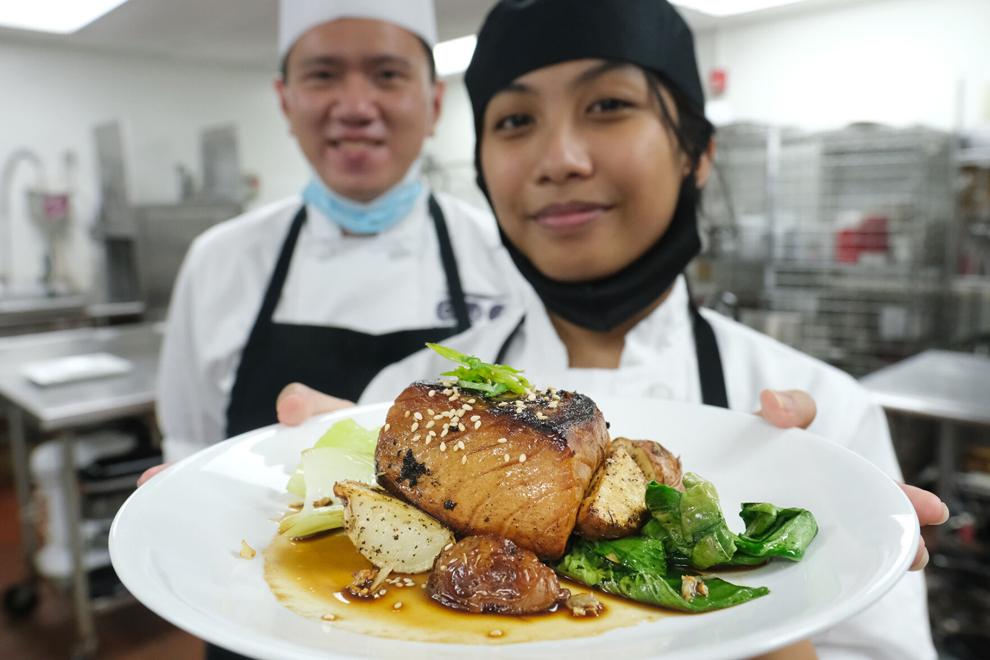 Editor's note: This is part of a series on the ProStart culinary program in Guam's high schools.
ProStart, the thriving culinary program developed for students at the high school level, is now providing culinary instruction to about 300 students at six Guam high schools.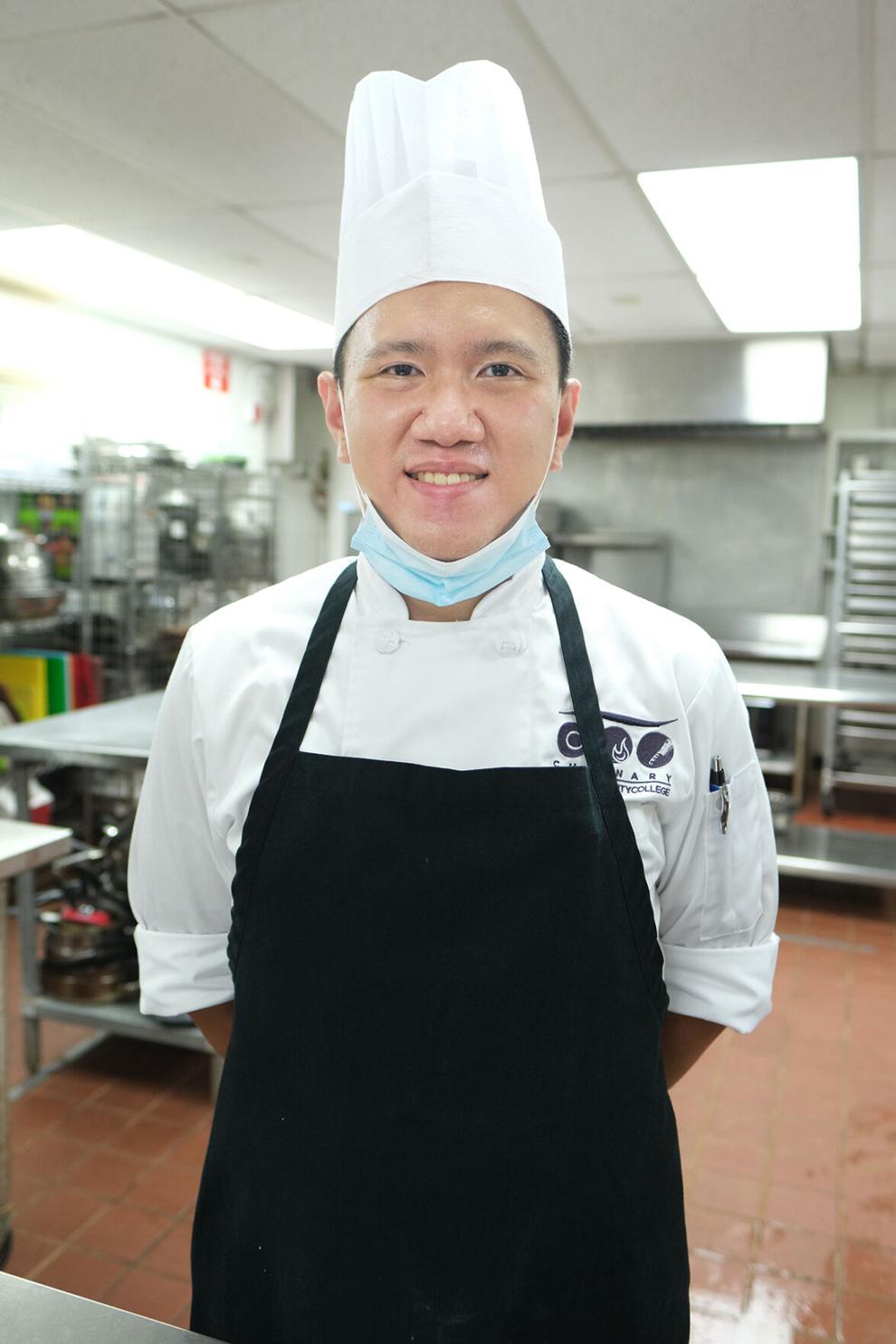 Chef Philip Callos is the ProStart instructor at Simon Sanchez High School.
"Our goal is to mentor our students so that they are prepared to enter into a career in an industrial kitchen, or advance to Guam Community College to further their culinary training – oftentimes they do both," said chef Philip.
"Right now we have about 60 students in the program, but we are working with Kaizha Gallardo today because she aspires to have a restaurant business in the future," he said.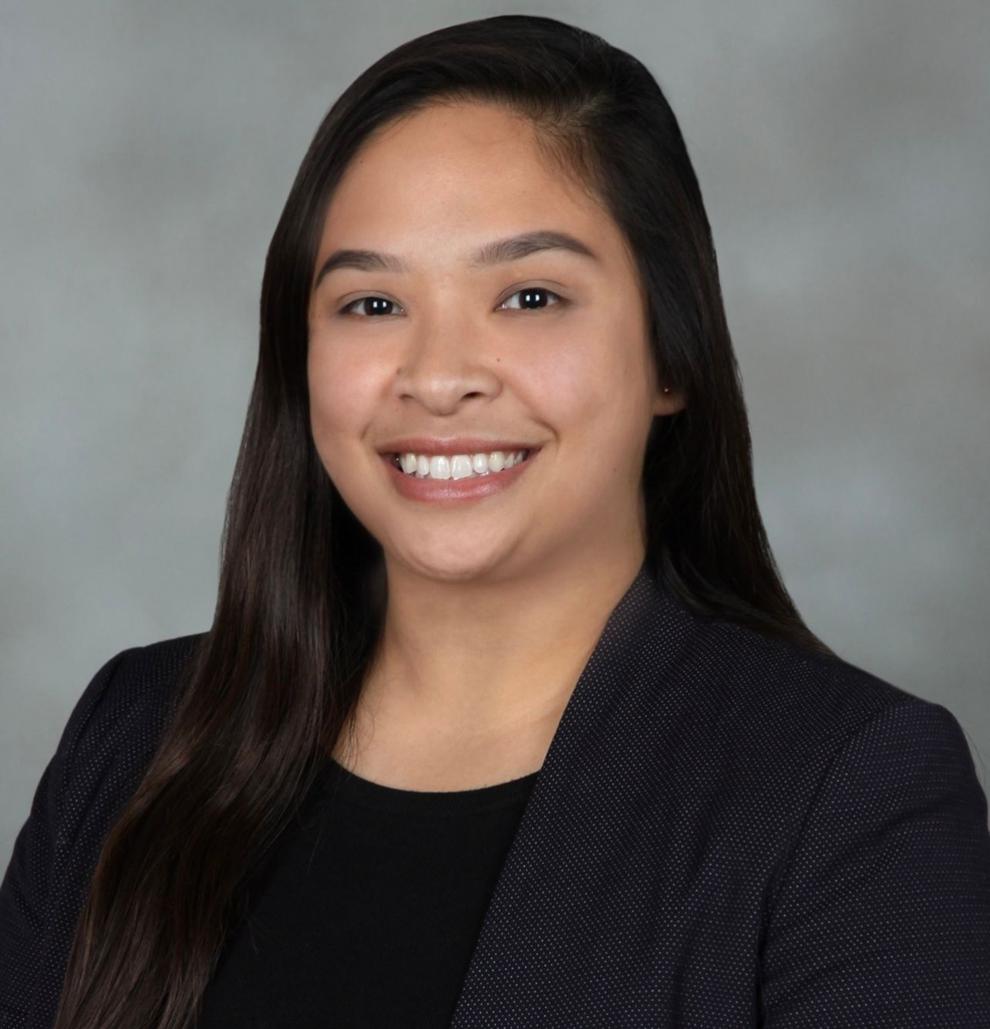 Chef Kennylyn Miranda is the chair of the Culinary Foodservice Department at Guam Community College, and it's her department that oversees the six ProStart programs at SSHS, John F. Kennedy High School, Okkodo High School, Tiyan High School, George Washington High School and Southern High School. 
"The ProStart program teaches students culinary skills and restaurant management foundational skills, as well as focusing on professionalism, communication and teamwork, which are critical skills in the food and beverage industry," she said. 
Miranda herself is a product of the ProStart and GCC culinary program, an alumna of the GW and Simon Sanchez High School ProStart programs.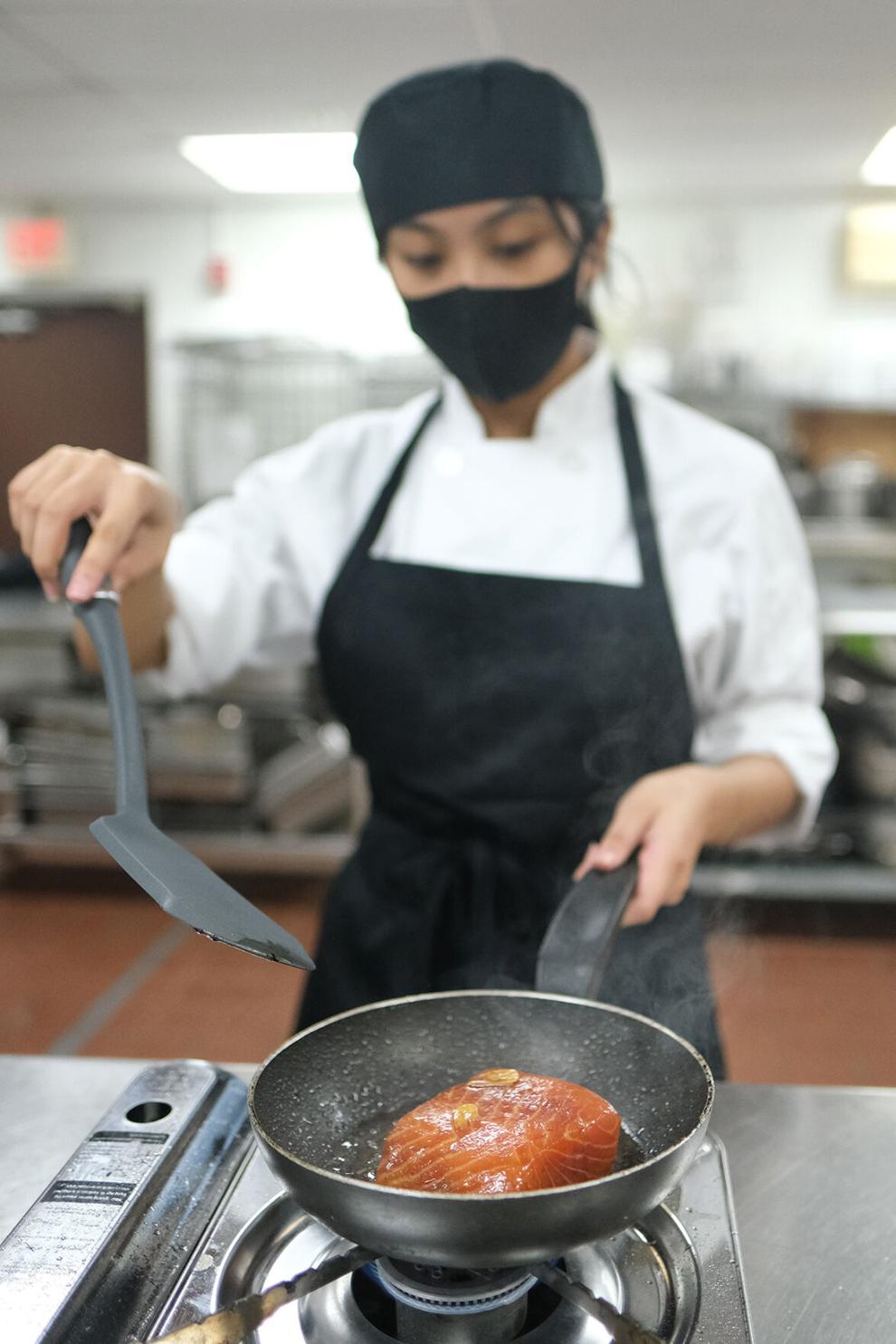 "These programs instill skills that our students take right into, not only the Guam hospitality workforce, but many advance to positions in the states and internationally, too," said Miranda. "You can learn how to survive in this industry, long term."
Kaizha Gallardo is a junior at SSHS, and is completing her second year in the ProStart program.
"I wanted to learn how to cook; I didn't know how before," Gallardo explained. "I plan on continuing on to the GCC culinary program, and if I continue on this path, I would like to open a cafe and bakery," she said. "I really like the hands-on part of the instruction; I like getting into the kitchen and improving my skills."
Finding the right balance
While each ProStart instructor has their own varying style of teaching, chef Philip tries to balance the classroom instruction and kitchen training evenly.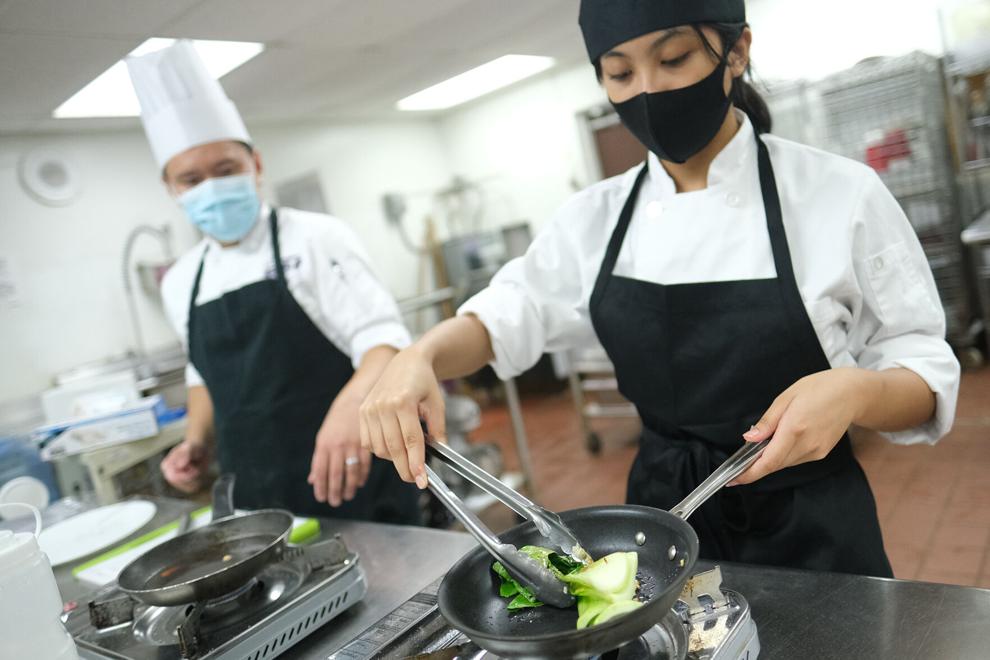 "I try to keep things around 50-50 with classroom and kitchen," he said. "Most of the students respond well when we develop the kitchen skills."
On this day, chef Philip has created a recipe of pan seared teriyaki salmon with herb crusted red potatoes and sauteed bok choy. Aside from the marinating time for the salmon, the dish comes together quickly, in less than 30 minutes from start to finish.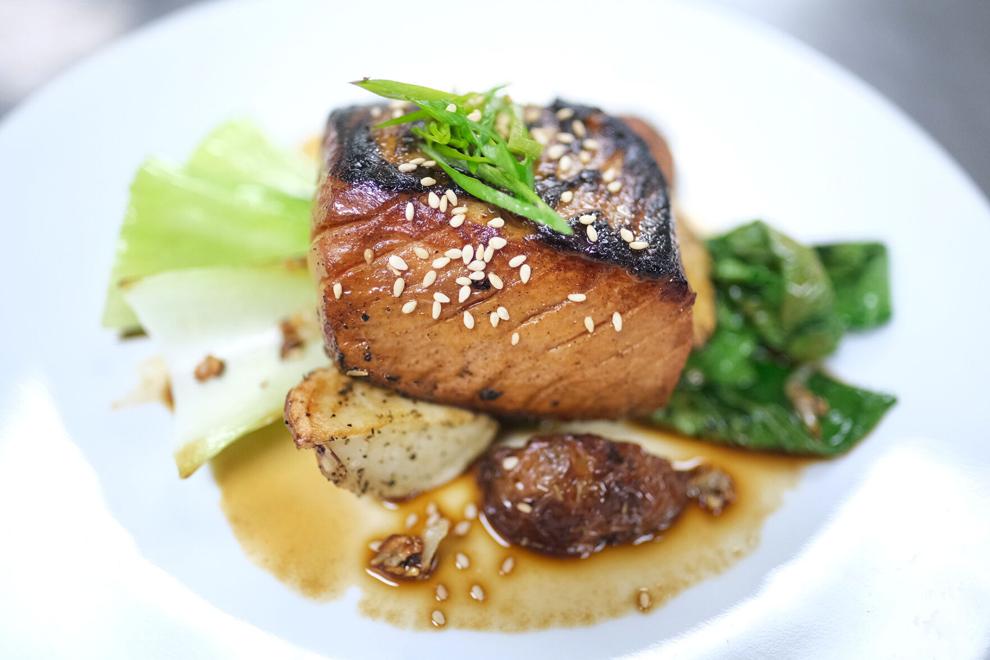 Pan Seared Teriyaki Salmon With Herb Crusted Red Potatoes and Sauteed Bok Choy
Serves 4
Ingredients 
Four 6-oz. fillets salmon
1/2 cup soy sauce
3 tablespoons rice wine vinegar
1/2 cup honey
10 slices ginger (1/2-inch thick, cut diagonally)
Garlic chips (6 cloves, sliced)
12-oz. bok choy
8 red potatoes
1 teaspoon sesame seeds
1/2 teaspoon salt
1 teaspoon ground black pepper
Canola or vegetable oil
Steps
1. Marinate the salmon by combining soy sauce, rice wine vinegar, honey, ginger and 4 cloves of the sliced garlic in a bowl or zip-top bag. Marinate for at least 4 hours. 
2. Preheat the oven to 350 degrees Fahrenheit.
3. Line a baking sheet with parchment or foil, and set aside. 
4. Cut the red potatoes into quarters and place in a bowl. Add salt, black pepper, thyme and 2 tablespoons of oil. Toss together until well-combined. Spread evenly onto the baking sheet and bake for 15-20 minutes or until golden brown.
5. While the potatoes are baking, prepare your bok choy and mince the remaining garlic. In a sauté pan over medium heat, add in 2 tablespoons of oil. Sauté the bokchoy first and then add the garlic. Set aside.
6. In another nonstick sauté pan, heat up 2 tablespoons of oil in low heat. Cook the salmon 3 minutes on each side or until caramelized and/or to desired doneness. Alternatively, you may also bake the salmon in the same pan as the potatoes.
7. To make the sauce, place the marinade in a medium sauce pan. Once it reaches full boil, let it boil for 1 to 2 minutes. Turn off the heat and add 4 tablespoons of water. Mix well.
8. Garnish your plate with sesame seed and green onions, if desired.