As I was reminded last week, life is not always fair. Wouldn't you think that if you invited some of your close friends over for a gourmet dinner, followed by a frolicking game of poker, they'd at least let you win?! Well, that certainly didn't happen with my group of "friends." After stuffing themselves with Thai green curry chicken, papaya salad, homemade dinner rolls and a killer mango pie, and quenching their thirst with fine wine and craft beer, they cleaned my clock and left me for a pauper! As I've learned from my law practice over the years, justice is not always served!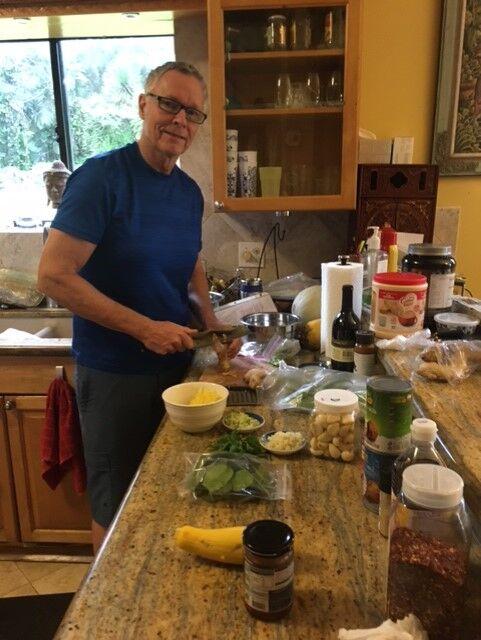 Maybe I should have seen this coming. Ever the optimist, I was hopeful that I could make the mango pie with my own mangoes. After all, I have two large mango trees in my yard. Some of the branches are teeming with colonies of fattening fruit. Every morning I make a mad dash out my front door hoping that I'll find some ripe mangoes under my trees. But, alas, no luck. Then, on the morning of our dinner and card game get-together, I looked out my kitchen window as I was washing dishes and thought I spied a mango lying on the ground below the mango tree in my back yard. I quickly ran outside in hopes of claiming the first ripe mango of the season. I was elated when I saw that I was correct – it was a ripe mango! I ran over to it and snatched it up into my hand. Yuck! As I turned it over, the orange flesh was easily visible, the fruit ripped open by some marauding chicken. I muttered an expletive as I threw the fruit into the jungle.
Fortunately, my friend Fumiko Harada once again came to my rescue. I called to see if she might have a fresh batch of mangoes. She said that she had just picked some and invited me over to her house to get them. With time running short for Corman and me to prepare dinner, I headed over immediately. When I got home, I peeled and sliced the mangoes and made one of my favorite desserts, mango pie.
Around 6:30 p.m., our fully vaccinated dinner guests began to arrive. This was the first time we had gotten together to share a meal and play cards since January 2020! In many ways the evening was magical! We all laughed so much our sides were aching. You could just sense the relief we all felt to once again be able to socialize together. We first ate dinner, then started the card game. To put things in perspective, this was not a high-stakes card game. Each person trades $5 in cash for a batch of chips each worth 5, 10 or 25 cents. Bids can't exceed a quarter. We take turns dealing, and the dealer decides which card game we play.
When the card game ended, Roberta Abaday, our unofficial accountant, calculated the wins and losses for each of us. I was the night's biggest loser. I started with $5 and ended up with only $1.35. In stark contrast, my husband Corman, was the biggest winner, racking up a whopping total of $11.70! Everyone greeted my defeat with a warm round of applause. I felt so devastated and deflated.
What could I possibly do to restore my festive mood? The answer became obvious – serve the dessert! In retaliation, I considered only cutting myself a piece of the mango pie, but I relented, and gave everyone their personal slice of heaven! The mango pie, topped with vanilla ice cream, was a resounding hit! Everyone raved about the pie, and their rave reviews lifted my spirits. Instead of licking my wounds, I licked the remaining bit of mango from my spoon with a bright smile on my face!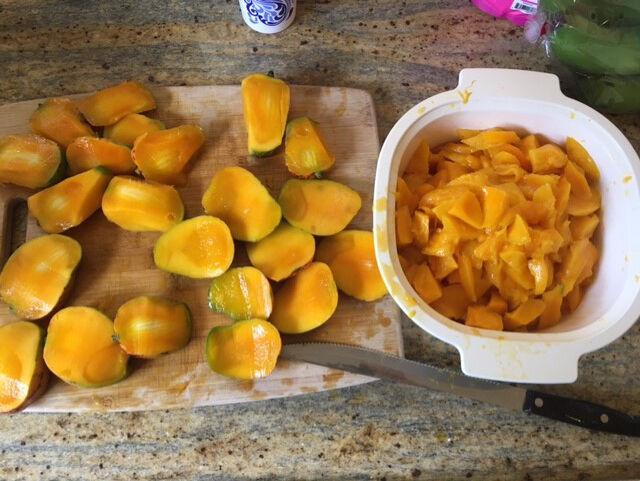 Week 29: Mango Pie
Ingredients
For the pie
1 homemade, or ready-made, 9-inch double pie crust
4 cups peeled and sliced mangoes
1/2 cup white sugar
3 tablespoons cornstarch
2 teaspoons lemon juice
1 teaspoon ground cinnamon
1/2 teaspoon vanilla extract
1 egg
1 teaspoon of water
1 tablespoon cold butter, cut into small chunks
For the topping (optional)
1 tablespoons sugar
1/4 teaspoon ground cinnamon
Whipped cream and/or ice cream for topping (optional, but delicious!)
Instructions
1. Preheat oven to 400 degrees.
2. Line a 9-inch pie pan with half of the pie pastry crust and set aside.
3. Peel and slice the mangoes and place them in a medium bowl.
4. Add the sugar, cornstarch, lemon juice, cinnamon and vanilla to the mangoes and mix well until the sugar has dissolved.
5. Transfer mango mixture into the prepared pie pan.
6. Dot the mixture with the butter, then cover with the top crust. Pinch the edges of the top and bottom crusts together to seal.
7. Whisk the egg and 1 teaspoon of water together and brush the top of the pie with the egg-water mixture.
8. Cut several vents on the top crust.
9. Mix the 1 tablespoon of sugar and 1/4 teaspoon of cinnamon together and sprinkle on top of pie.
10. Bake in preheated 400 degrees for about 45 minutes, until the crust is golden brown and the juices are bubbling
11. Cool and serve with whipped cream and/or ice cream.