Nothing unites us like food! Good food breaks down cultural, language and age barriers.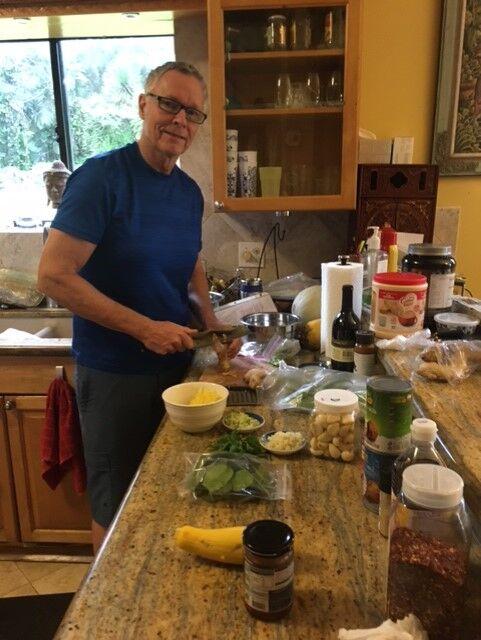 Guam has perfected the preparation and presentation of food for large gatherings. No one does it better! But because of the pandemic situation, we haven't been able to gather in large groups and celebrate special occasions until a couple of weeks ago, when Gov. Lou Leon Guerrero relaxed COVID-19 restrictions to allow gatherings of 25 people or fewer.
The timing was perfect for our family. We wanted to celebrate the fifth birthday of our grandson, Koein. He is a Leap Year Baby. He was born on Feb. 29, 2016. (This brings up an entirely different subject – when do you celebrate the birthday of a Leap Year Baby when it isn't a leap year?!) We wanted him to celebrate not only with his immediate family but also with some of his aunties, uncles, cousins and friends.
We set the celebration date for Saturday, Feb. 27. We could tell that everyone was anxious to get out and party because no one we invited turned us down! Of course, it was very helpful that all of us manåmko' had been fully vaccinated. It was definitely time to get our groove on!
Guests started to arrive around 5 p.m. The kids immediately headed for the jumper we had rented for the evening. After a few minutes, they all exited the jumper and ran into our house to play in Koein's bedroom. I sent up a silent prayer that they would not destroy the artwork and antiques I've collected over the years and proudly display in the house. Fortunately, the older kids were able to keep the younger ones in line and my house survived the rampage.
The mad dash between these two attractions continued the entire evening.
Dancing and dining
The kids had a blast, and so did we adults! We cranked up the music and danced like it was Dec. 31, 1999! We were making up for lost time. I almost threw my back out of joint when I was challenged by my Palauan relatives to see how low I could go when dancing. I felt compelled to prove that even we old haoles can go low on the dance floor. I was a bit humiliated when my son, Keoni, had to lift me off the floor when I couldn't get myself back up. So much for aging gracefully!
Although we loved all the entertainment, the food was definitely the highlight of the evening! We had ordered a variety of catered food, and our guests added to the growing stockpile of much-missed delicacies. None of us had seen that much food in a year! For the past several weeks, my immediate family had been dieting. However, none of us could resist from overindulging in the vast array of food favorites. We know that the party was a success and that everyone loved the food because by the end of the evening, there were no leftovers! Everyone departed the party with armfuls of balutaned (bagged) goodies!
Usually, I prepare the birthday cake for family members' birthdays. But Koein's nina and auntie, Krystal Berondo, wanted to bring the cake for him. So I decided to bake one of Koein's favorite desserts: Chocolate Chip Pan Cookie Cake. The finished dessert looks like a brownie, but tastes like a chocolate chip cookie. It is so good and easy to make.
My son, Brian, and nephew, Tabsul, later told me they really enjoyed it. That's probably because I hadn't made a dessert in several weeks due to our dieting. I later learned both had hidden away some pieces for a midnight snack. I mentally high-fived myself for preparing a winning dessert. Give it a try!
Week 21: Chocolate Chip Pan Cookie Cake
Ingredients
2 1/2 cups all-purpose flour, spooned and leveled
1 teaspoon baking soda
1 teaspoon salt
1 cup butter, softened
3/4 cup granulated sugar
3/4 cup packed brown sugar
1 teaspoon vanilla extract
2 large eggs at room temperature
12 ounces chocolate chips
1 cup walnuts or pecans, or other preferred nuts (optional)
3/4 cup shredded coconut (optional)
Steps
1. Grease a 9" x 13" baking ban.
2. Preheat oven to 350 degrees.
3. Combine flour, baking soda and salt in a small bowl.
4. Using a stand or hand mixer, beat the butter, granulated sugar, brown sugar and vanilla extract in a large mixing bowl.
5. Add eggs one at a time, beating well after each addition.
6. Gradually beat in the flour mixture.
7. Stir in chocolate chips, nuts and shredded coconut.
8. Bake for 30-32 minutes in preheated oven, or until golden brown. Cool in pan on a wire rack, then cut into bars.
*This recipe came directly from the Nestle's Chocolate Chip bag.