One fact I am reminded of again and again on Guam is that food and friendship often go hand-in-hand. We are a multicultural island. Because of this, many differences exist among the various cultures. These differences range from skin color and languages spoken, to how we approach life and how we work and socialize with others. To a greater degree than most places on this planet, despite our many differences, we on Guam get along well. Don't get me wrong, we aren't perfect. But, all in all, we do a wonderful job in breaking down barriers and building bridges.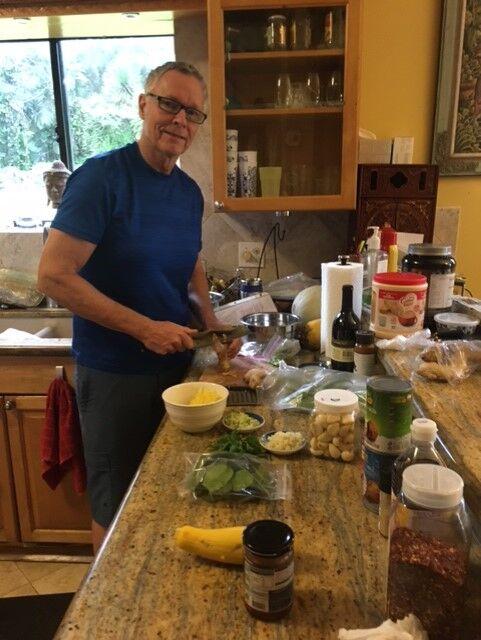 From my perspective, the cornerstone to our success in bringing the cultures together is food. Seriously! This became very apparent to me from the very first day I stepped foot on this island. I arrived here on Aug. 20, 1976, at 4 a.m. Four hours later, I started my first day at the Guam Department of Education when I attended orientation for all the public school teachers. During a break we were treated to a huge variety of food piled high on several tables. I had never seen anything like that before in my life! Not only was I amazed by the quantity of food, I was blown away by the variety of appetizers, main dishes and desserts. I didn't recognize many of the choices, but they tasted wonderful! I was in gastronomical nirvana. I was also struck by how nice everyone was to each other. Many people came up to me and introduced themselves and guided me through the vast variety of taste treats.
Over the months and years that followed, I was invited to countless parties, special ceremonies and religious observations. Without an exception, food was always the centerpiece of every event. Greetings and lively conversations were sparked while waiting in line and serving up the endless variety of food choices. An important lesson I've learned on Guam is that food sparks friendships!
A beautiful Guam tradition
One of my dearest Guam friends is Fumiko Harada, a longtime Japanese teacher at St. John's School. Our friendship goes back over 30 years and it was sparked by food.
One night back in the early 1990s, our mutual friends Peter Blas and John Blaszak hosted a potluck party at their house. Fumiko, who I met for the first time that evening, brought what would become one of her signature specialties: a do-it-yourself sushi assortment or, as I affectionately call it, Japanese tacos. She laid a variety of ingredients on a platter including shrimp, cooked and raw tuna, diced cucumbers, Japanese radishes and fermented beans. I had no idea what to do with these exotic ingredients. She demonstrated. She chose some of the ingredients, placed them on a nori wrapper, rolled them up and dipped them in a mixture of soy sauce and wasabi. I then gave it a try. I was hooked with my first bite! Ever since then, I've asked her time and time again to make this specialty.
As I later found out that evening, Fumiko has quite a sweet tooth and loves desserts. This was very serendipitous because that night I made one of my dessert specialties, mini-molten chocolate cakes. For Fumiko, it was love at first bite and helped cement our friendship. Our mutual appreciation for the other's cooking skills sparked a friendship that continues strong three decades later.
In the name of friendship, I'd like to share my molten chocolate cakes recipe with you. To pay it forward, invite friends, family and perhaps a new acquaintance over to partake in the experience, and share the recipe with them.
Let's continue to expand our friendships through our food! It's such a beautiful Guam tradition!
Molten Chocolate Cakes
Ingredients
1 stick (4 ounces) unsalted butter
6 ounces quality bittersweet chocolate (In a pinch I use Nestle's chocolate chips)
2 eggs at room temperature
2 egg yolks at room temperature
1/4 cup sugar
Pinch of salt
2 tablespoons all-purpose flour
Steps
1. Preheat oven to 450 degrees.
2. Butter and lightly flour four 6-ounce ramekins. (I bought mine at Ross. Although I've never tried it, I think you could use ceramic coffee cups instead). Tap out the excess flour. Set the ramekins on a baking sheet.
3. In a double boiler, over simmering water, melt the butter with the chocolate. Keep stirring until it is fully melted. (I place a small pot inside a larger one that is filled with boiling water).
4. In a medium bowl, beat the eggs with the egg yolks, sugar and salt at high speed until thickened and pale.
5. Whisk the chocolate until smooth. Quickly fold the chocolate into the egg mixture along with the flour. Spoon batter into the prepared ramekins and bake for 12 minutes, or until the sides of the cakes are firm but centers are soft.
6. Let cakes cool in ramekins for 1 minute, then cover each with an inverted dessert plate. Carefully turn each one over, let stand for 10 seconds and then unmold by gently tapping on the ramekin. (Sometimes I serve them in the ramekins) Serve immediately with ice cream and/or whipped cream.