At the risk of upsetting some of my readers, I'm extending my mango mania for one more week. This was not planned. I fully intended on featuring a main-dish recipe this week, but a set of four events led me to change my mind. First, just as my personal stock of mangoes was running low, my old friend, Roque Eustaquio, dropped by my house and gave me two large bags of mangoes. I wasn't sure if I should thank him or curse him. After all, my fingers were finally beginning to heal from the hours of peeling scores of mangoes. The thought of having to peel and chop two more bags of the fruit was a bit depressing.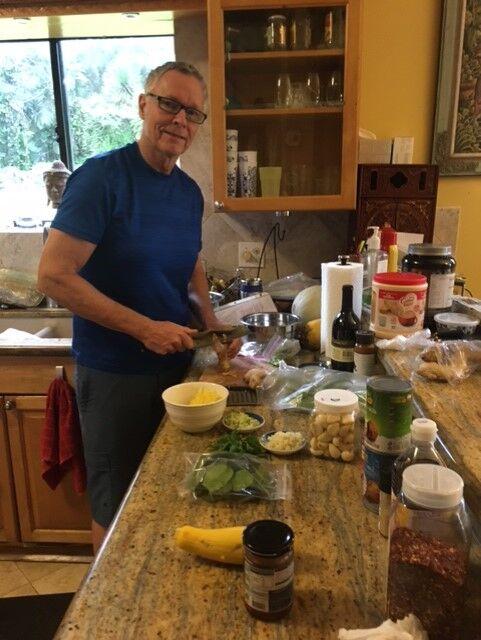 Second, the next morning Mindy Aguon, the editor-in-chief of The Guam Daily Post, forwarded an email to me from a reader, Lisa Torres, from Yona. Responding to last week's article, Lisa wrote, "Hi Bill, I feel your pain on the mangoes. I'm just happy it's not as many as last season!" She then gave me a recipe for mango bars.
Third, later in the afternoon, my accountant, Stan Wilson, dropped by my office and gave me two Philippine caribou mangoes from his tree. He told me that after seeing a photo of my local mangoes he felt sorry for me because I didn't have a better quality of tree. He instructed me to plant the seeds after I ate the fruit. He also gave me a recipe for mango jam.
With these two new recipes in hand, I felt pressure to print another mango recipe for my column. But before I recommend a recipe, I first like to make the recipe myself. To do so, I was again reminded that I needed to peel Roque's mangoes. I wasn't looking forward to that.
The fourth event was a prime example of divine intervention. Out of the blue an old friend that I have not heard from in several years sent me a video that changed the course of events. The friend was Zelma Summers. She and her late husband, Larry, were longtime Guam teachers. We met during my teaching years in the late 1970s. There was no text included with the video. Zelma simply attached a video on how to prepare mangoes.
Understand that I have been cutting up mangoes and baking with them for the past 40 years. I have always used my self-taught method for cleaning them. I slice the mangoes on both sides of the seed, and score the fruit into cubes with a knife. I then pry the fruit loose from the peel by inserting my thumbnails between the fruit and the peel and forcing the fruit to separate from the peel. It is a slow and tedious process that mushes the fruit and eventually causes my thumbs to ache.
Zelma's video started out in a similar fashion. A young lady sliced the mangoes on either side of the seed. She then scored the mangoes into cubes just as I did. What came next was a game changer! Instead of using her thumbnails, she used a spoon to separate the fruit from the peel. Why hadn't I thought of that years ago?! I tried that method the next day and within a third of the time it would normally take me to clean two bags of mangoes, I was done! Thank you, Zelma! See, you can teach an old dog a new trick!
In celebration of my new mango processing technique, I'm including two mango recipes for the price of one. Trust me, this is my last tango with a mango for this season!
Week 32: Lisa's Mango Bar
Ingredients
For the crust
1 cup flour
1/4 cup sugar
1/2 cup butter – cup up and softened
1/8 teaspoon of salt*
Filling
4 cups chopped mangoes
6 tablespoons sugar
1/2 teaspoon of cinnamon
1/2 teaspoon of lemon juice or calamansi
4 1/2 teaspoons cornstarch
4 1/2 teaspoons of water
Topping
1 cup rolled oats
1/4 cup sugar
2 tablespoons flour
1/3 cup butter softened
1/4 teaspoon of salt*
Steps
1. Heat oven to 350 degrees. Grease a 9-inch square pan.
2. For the crust, mix all the ingredients together with a fork until soft dough forms.
3. Pat dough into bottom of pan.
4. Bake 7-10 minutes.
5. In a small bowl combine the cornstarch and water, and set aside. Mix the mangoes, sugar, cinnamon and lemon juice into a medium saucepan. Add the cornstarch and water mixture to the mangoes and stir. Cook on medium-low heat for 5-7 minutes, stirring constantly until thickened.
6. Pour mango mixture over the cooked crust and spread evenly over the pan.
7. For the topping, combine all the ingredients using a fork or pastry blender. Sprinkle over the filling.
8. Bake 40-45 minutes, until lightly brown.**
9. Serve warm with ice-cream and/or whipped cream.
*Lisa's recipe didn't call for salt, but I decided to add a bit. It's up to you!
**I baked mine for about 45 minutes, then put the broiler on for about 2 minutes to brown the top. Keep a close eye on the pan to prevent burning.
Bonus recipe: Stan Wilson's Mango Jam
Ingredients
5 cups of diced fresh mangoes
1 cup sugar (adjust more or less to taste, based on how ripe mangoes are)
1/2 cup fresh lemon juice
1 tablespoon lemon zest
1 teaspoon ground Tinian peppers in a jar (optional)
You'll also need canning mason jars – you pick the size and appropriate number
Steps
1. Mix all the ingredients in a heavy bottom medium sauce pan and cook on medium low heat and boil for about 20 minutes, stirring constantly.
2. Meanwhile, sterilize the mason jars. On YouTube I watched Jamie Oliver's video "How to Sterilize Jars." It is critical to do it right!
3. Put cooked mango jam into sterilized mason jars, leaving 1/2 inch space at top of jar.
4. Lightly tighten the lids and boil for 10 minutes in large pot full of water. (The air will exit the jars as they boil). (I watched Lowe's YouTube video "How to Can Jam and Jelly.")
5. Remove jars from boiling water and tighten lids. The top should "click" as jars cool indicating a good seal.
6. Store the jars in a cool dry place. Once a jar is opened, keep it refrigerated.
(I haven't tried Stan's recipe yet, but I know Stan's a great cook so I'm sure it is delicious.)