This week I'm featuring a peach of a recipe. OK, I can hear the groans from here, but this really is a very tasty dessert!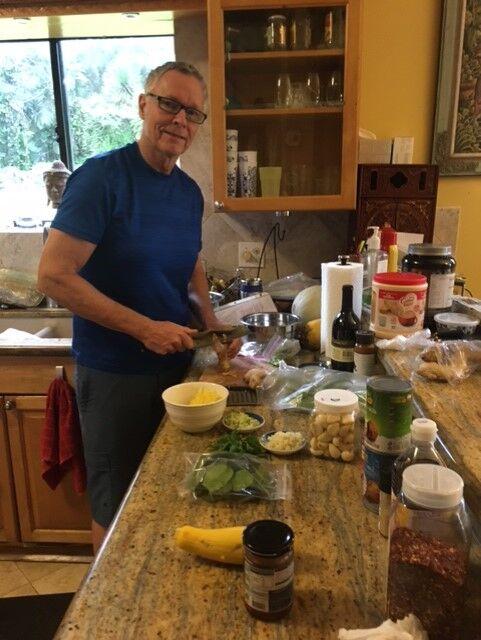 This recipe brings back childhood memories and highlights the enjoyment I get out of trying to make something new. When I was young, my family lived in Virginia. As you may know, the South is famous for growing delicious peaches. As a kid, peaches were my favorite fruit. (Now, mangoes rival peaches!) From late summer into early fall I couldn't get enough of them. I literally ate peaches for breakfast, lunch and dinner. The end of the peach season brought me bitter disappointment.
Over the past 45 years, I've bought some peaches in Guam. Usually, they suck! They are dry and don't have much flavor. Of course, there have been a few exceptions. Once in a great while I'll find some very flavorful peaches. What a blissful moment that is! The Sunday before last, I stopped by Cost-U-Less to pick up a few groceries.
As I walked through the fruit and vegetable section, I noticed they were selling two-pound bags of peaches. Recalling the tasteless peaches I'd purchased in past years, I quickly walked by them. A few moments later, I found myself looking over my shoulder and eyeing the peaches once more. Impulsively, I walked back to the display and looked more closely at the bags of peaches. They actually looked pretty good. After studying them for a few moments, I grabbed one of the bags and put it into my cart.
When I got home, I opened the bag and closely scrutinized the peaches. They were still a bit hard but otherwise looked healthy. Unable to contain myself, I sliced a piece off one of the fruits. To my surprise, it actually had a good taste. I knew that I should let them ripen for a couple more days, but I was in the mood to bake and some friends were coming over for dinner, so I decided I'd make something with the peaches.
I googled "fresh peach recipes." Of course, dozens of recipes popped up. I wanted something that I could prepare relatively quickly. A peach cobbler recipe caught my eye. It was on Lauren Allen's website, Tastes Better From Scratch, and had an overall rating of 4.91 out of 1,380 votes. I will only try a recipe with a rating of at least 4.5. As always, I read through several reviews. The vast majority were very favorable. Most really liked the texture of the topping. The most common criticism was that the recipe was a bit too sweet.
I was hooked! I really enjoy trying new recipes, since it makes cooking and baking an adventure and helps stimulate creativity. My father had felt the same way and I think his enthusiasm for his kitchen exploits spilled over to me.
For this particular recipe, you start by peeling, coring and slicing the peaches. You then place the pieces into a saucepan and add some sugar and salt. I was worried because the peaches weren't quite ripe, so the slices didn't produce much juice. To compensate for this, after I mixed in the sugar and salt, I let the mixture sit for about two hours. By then, there was quite a bit of juice in the pan and I continued with the rest of the recipe.
The end result looked delicious. Later that evening, as my family and friends began to sample the peach cobbler, I knew I had hit a home run! Everyone broke out into bright smiles and high-fived me, while telling me how delicious it was. With all this enthusiasm, how could I turn them down when they asked for seconds?!
Week 46: Peach Cobbler
(Makes about 8-10 servings)
Ingredients
For the peaches
2 pounds fresh peaches (about 6), peeled, cored and sliced. Should be about 4 cups.
3/4 cup granulated sugar
1/4 teaspoon salt
For the batter
6 tablespoons butter
1 cup all-purpose flour
1 cup granulated sugar*
2 teaspoons baking powder
1/4 teaspoon salt
3/4 cup of milk
Ground cinnamon
Steps
1. Add the sliced peaches, sugar and salt to a saucepan and stir to combine. If the peaches are not really ripe, let them sit for a couple of hours for juice to form.
2. Cook on medium heat for 2-3 minutes, until sugar is dissolved. This will help to bring out more juice from the peaches. Remove from heat.
3. Preheat oven to 350 degrees F.
4. Melt the butter and pour it into a 9x13-inch baking dish.
5. In a medium bowl mix together the flour, sugar, baking powder and salt. Stir in the milk, just until combined. Pour the mixture into the baking dish over the melted butter and smooth into an even layer.
6. Spoon the peaches and juice evenly over the batter. Sprinkle cinnamon generously over the top.
7. Bake at 350 degrees for about 38-40 minutes. Serve warm, with a scoop of ice cream, if desired.
*Based on the comments from the reviews I read, I only added a little over a half cup of sugar into the batter. It just depends on how sweet you like your desserts.