Certainly, many of us are familiar with the saying, "You are what you eat." This usually has a cautionary meaning. That is, be careful what you eat. You'll pay the price for eating fatty foods or desserts loaded with sugar. On the other hand, you'll be rewarded for eating healthy foods, high in proteins and low in fats. But as Corman and I continue our journey across the U.S., another saying comes to mind: "You eat what you are." Leaving aside for a moment a judgment on the nutritional value of regional recipes, I'm struck by the impact that the dual influences of where we live and where we came from have on what we eat.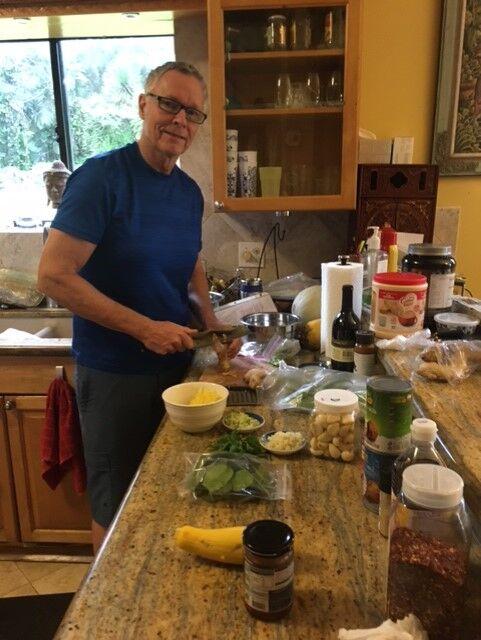 As we travel from one state to another, I google "What are the favorite foods of" then type in the particular state we are visiting. For instance, when I typed "What are the favorite foods of Virginia," the first stop on our trip, the search results included ham, blue crabs, fried chicken, apples, peanuts, corn and oysters. These foods reflect the fact that Virginia borders the Atlantic Ocean and therefore has a diversity of wonderful seafood. Also, the state's temperate climate is perfect for agricultural crops such as peanuts, corn and apples, among many other crops. Hog and chicken farms also abound in the state.
Naturally, over the centuries, Virginia residents have eaten what was available to them and adapted recipes that highlight these ingredients. As is true in any location, cultural influences play a major role in the development of these recipes. The early Virginia white settlers were most often of European descent, while Black Americans usually were from Africa. Even today, hundreds of years after the first wave of Europeans and Africans arrived in Virginia, the most popular recipes strongly reflect these rich heritages.
This was again evident in our next stop: Maine, my home state. Maine is well-known for lobsters, clams, blueberries, potatoes and baked beans. The recipes that incorporate these ingredients have been influenced by the cultural background of the early European settlers, mostly from France, and the indigenous Indian populations. Consequently, during our weeklong stay in Maine, Corman and I enjoyed a variety of recipes that incorporated all these ingredients including whole lobsters, lobster bisque, clam chowder and blueberry pie. Yummy!
A fabulous dinner with friends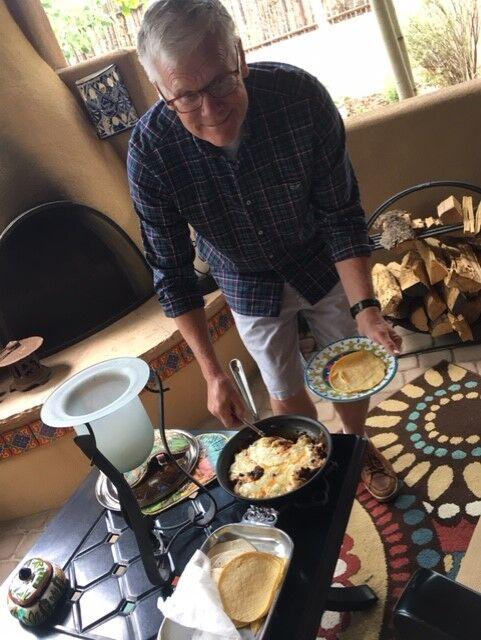 We now find ourselves in Santa Fe, New Mexico, visiting my sister, Kathy, my old high school friend, Phil Telford, and his husband, Eric Pratt. New Mexico's primary crops are pinto beans, chili peppers, corn and pinon nuts. Cattle ranches and hog farms are also abundant. The early inhabitants included multiple indigenous tribes and later, Spanish and Mexican settlers. These factors have merged together and resulted in spicy recipes that incorporate these plants and animals. Popular recipes include tacos, chile relleno and huevos rancheros, among many others.
One evening, Phil and Eric and another visiting old high school friend, Chuck Knoles, hosted us for a fabulous Southwest dinner that included chips with guacamole, spiced pinto beans, Mexican rice and chicken tacos. Eric also made an appetizer – queso fundido with chorizo.
As I've stated in the past, I usually don't eat red meat. However, in the interest of culinary research, I tried his appetizer. I must admit, it was wonderful! For this reason, and because I think most Guamanians will identify with the rich flavors, I decided to highlight Eric's recipe this week. For me, it celebrates New Mexico's rich history. It also provided the five of us with a great background to celebrate our friendships that extend back more than five decades.
Week 37: Queso Fundido with Chorizo
(Serves 8-10)
Ingredients
1 1/2 tablespoons vegetable oil
1 onion, chopped
2 cloves garlic, minced
16 ounces of Mexican chorizo, chopped into small pieces
16 ounces of Pepper Jack cheese, grated
12 4-inch flour or corn tortillas, or a 16-ounce bag of tortilla chips
2 tablespoons mild dried chili flakes*
1 1/2 cups roasted salsa (optional)
Steps
1. Preheat oven to 350 degrees.
2. Place a skillet over medium heat and add oil. Add chopped chorizos, onion and garlic into the pan, stirring frequently to cook evenly and to avoid sticking on the bottom. Cook for about 6-7 minutes.
3. Once cooked, remove the excess fat from the skillet.
4. Place the chorizo mix in an oven-proof dish with a lid.
5. Place the grated cheese over the chorizo, cover with the lid and bake for about 10-12 minutes, or until the cheese is melted and bubbling. Don't overcook or it will have a chewy texture. This dish can be served as an appetizer or a main dish. If serving as an appetizer, you can simply dip tortilla chips into the chorizo mix, or you can scoop the chorizo mix into 4-inch flour tortillas and roll them up. If serving as a main dish, use 7-inch flour tortillas. If you wish, you can top them with salsa, although I didn't find this necessary.
*Be careful here. Eric used mild chili flakes with this recipe. It resulted in a moderately hot dish. If you use hotter chili flakes, you may want to reduce the amount you use.