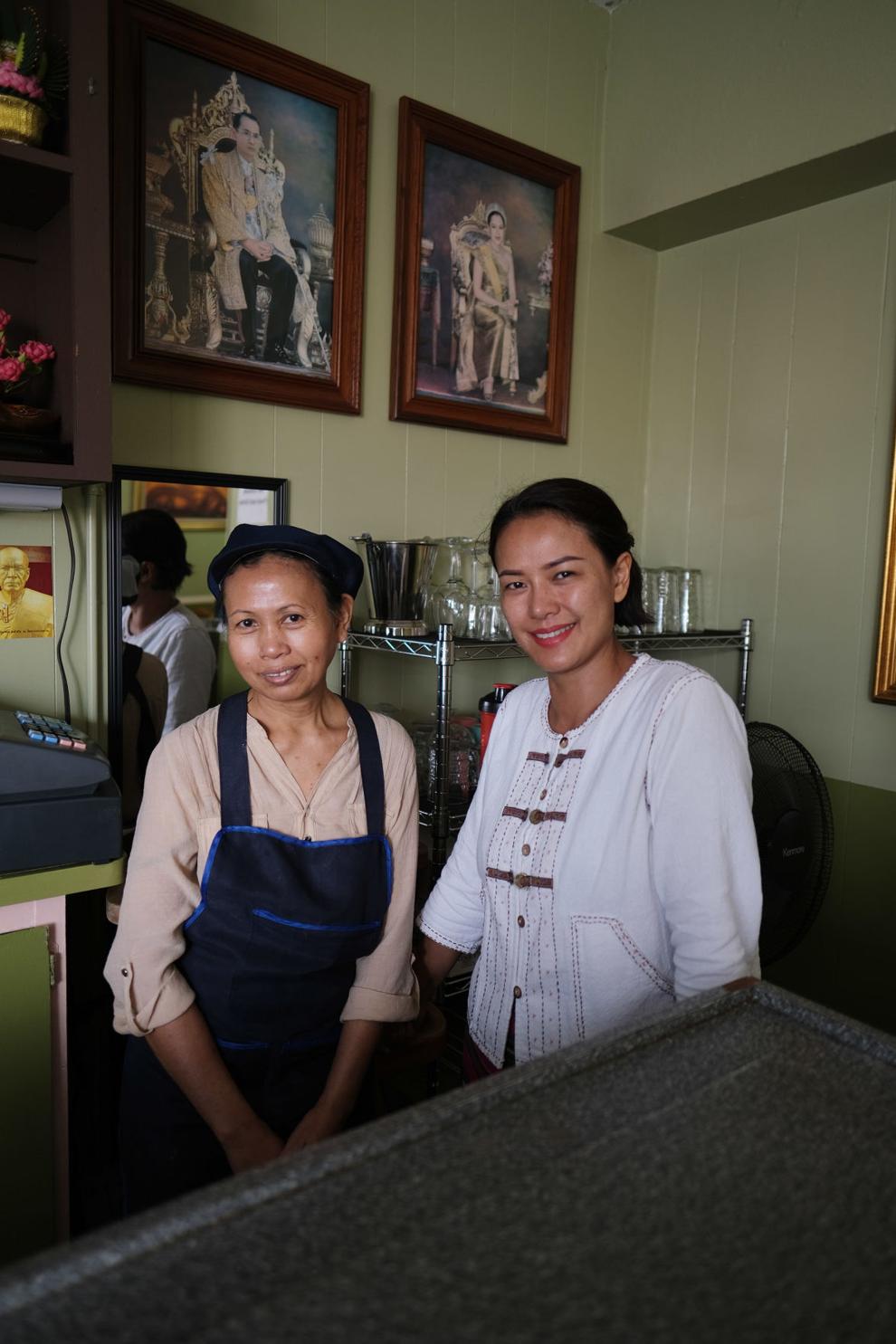 The current king of Thailand's name is quite a mouthful: Maha Vajiralongkorn Bodindradebayavarangkun. He became the ruler of the country in 2016 when his father King Bhumibol Adulyadej died. A portrait of Adulyadej and his wife, Sirikit, the current queen of Thailand, hangs on the wall of Thai Thai restaurant. Like in most, if not all, Thai restaurants, a portrait of the king and queen is displayed as a sign of respect, and also luck. Also like in most Thai restaurants, several majestic elephants adorn the walls, another symbol of luck and peace.
Luck that has followed sisters and co-owners Marin "Noi" Waechter and Dara "Da" Tanoue. While the restaurant has been open only a few weeks, the two are not new to the business. Both owned and operated Thai restaurants in the past on Guam, but they wanted to open something cozier that they can run together – just the two of them.
While elephants and portraits of Thai royalty are not unique to Thai Thai, the restaurant features certain dishes that are.
"Da has a special fresh lumpia. The whole island knows about her lumpia. We have a couple dishes that other Thai restaurants don't have," Waechter says. "And also the pancake, we are the only one that have it."
The mussel pancake, thin and soft with crispy edges, is served on a bed of bean sprouts and a side of freshly made chili sauce. It is, if you prefer, a meal in itself but Waechter says it is traditionally served with another Thai staple. "Everywhere in Thailand that has pad thai will have that mussel pancake too," she says.
Patrons also seek out Thai Thai for their pork wrap: rice paper and lettuce enveloping seasoned pork, finely minced mushroom and carrots with a sweet and sour lemon chili sauce.
Thai Thai: fresh ingredients, clean cooking, more
'Like I make it at home'
Tanoue says she draws from recipes created in her own kitchen when choosing what goes on the menu.
"I make it like I make it at home," Tanoue says.
The response from customers is fulfilling, she says.
"I love people who enjoy to eat the Thai food and they say, 'Oh, it tastes good!' It makes me happy. I like to make something different for everyone to try," Tanoue says.
Her sister says the feedback creates a cycle of creativity.
"We enjoy see people enjoy our food. They are happy when they eat our food. ... Makes us happy and want to cook more," Waechter says.
Healthy and flavorful
An important component in their dishes is fresh herbs and spices. Waechter says it is "really important" in order to get the authentic flavors.
"We have the fresh basil that Thai people grow and sell it to us. We have it fresh every day," Waechter says.
Keeping it healthy is also important to the sisters. The restaurant skips the deep fryer and instead uses a food dehydrator and an air fryer. The dried beef appetizer, lean seasoned beef dehydrated for several hours and served with hot sauce, is a great example of the mix of the healthy and flavorful coming into sync.
Tanuoe says she likes to cook and serve what she likes to eat and, "I like to eat healthy food," she says.
New dishes alongside the classics
At Thai Thai, diners can find dishes that are new to them and also the classics such as tomyum soup, Thai fried rice and panang curry, all reasonably priced and served in a quaint and homey setting where customers immediately feel at home.
And don't leave without trying their homemade coconut ice cream, served with sticky rice and topped with peanuts. The perfect complement to top off a delicious meal.
Treat yourself like a king or queen, and visit Thai Thai in Tamuning.