After spending a wonderful week with my sisters, Maureen and Carolyn, and their families in Manassas, Virginia, Corman and I now find ourselves in Pittsburgh, Pennsylvania. Go Steelers! We are visiting my old high school and college buddy, Chuck Knoles. Chuck, who is now retired, was the head swimming coach for many years at the University of Pittsburgh.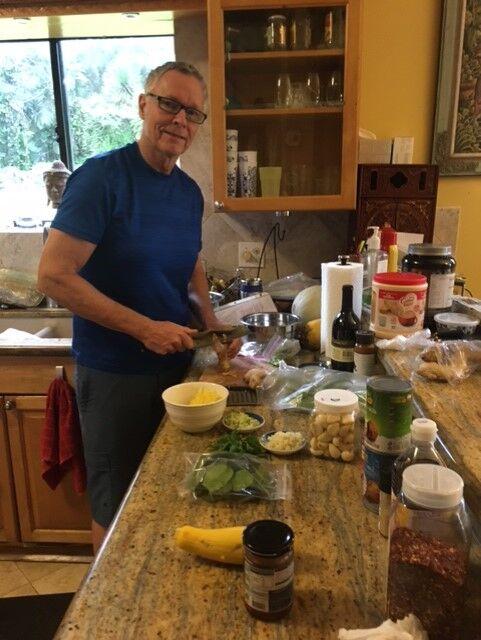 Chuck wanted to welcome us to his vibrant city by hosting a dinner at his house. He invited a dozen of his best friends to join us for a feast. One friend, Josh Kurnot, volunteered to take charge of the menu. He suggested a menu that included dry-brined barbecue chicken, mushroom rice, Asian salad (thanks Amy) and an assortment of roasted vegetables. Josh told me that he learned many of his cooking skills from his grandmother, who took him under her culinary wing when he was 6 or 7. She taught him well! In stark contrast to me, he is extremely organized in his meal planning and preparation. He seamlessly moved from one task to another without leaving a mountain of dirty pots, pans and utensils in his wake. I felt a bit embarrassed and intimidated as I watched him. I wondered why I always have such a huge mess in the kitchen when cooking or baking.
When Josh told me that he wanted to prepare mushroom rice, I flinched for a moment. I'd never heard of mushroom rice before. Like most Guam families, at our house the rice selection is usually limited to white or red rice. He was taking me out of my culinary comfort zone. This took me back to one of my earliest childhood memories. One night when I was about 6 years old, my mother announced that we were having chicken-broccoli casserole for dinner. I threw a fit. I wanted the baked chicken dinner she usually prepared. My mother patiently let me vent, then calmly looked me in the eye and told me that I needed to learn that "variety is the spice of life." She encouraged me to be more accepting of new recipes – to at least give them a try. This was kind of a heavy message for a 6-year old, but she repeated it many times over the years until I reached the point where I was willing to try any new recipe she wanted to introduce to our family.
With this childhood lesson solidly ingrained in my brain, I embraced Josh's suggestion that we serve mushroom rice. As we all gathered around the dining room table to begin our feast, I took a forkful of the rice. As I chewed the rice, I instantly savored the rich flavors. I looked over to Corman, who was also sampling the rice. We locked eyes and both of us smiled broadly. The rice was delicious! As we continued to attack the rice, I had to acknowledge that, as usual, my mother was right – variety is the spice of life!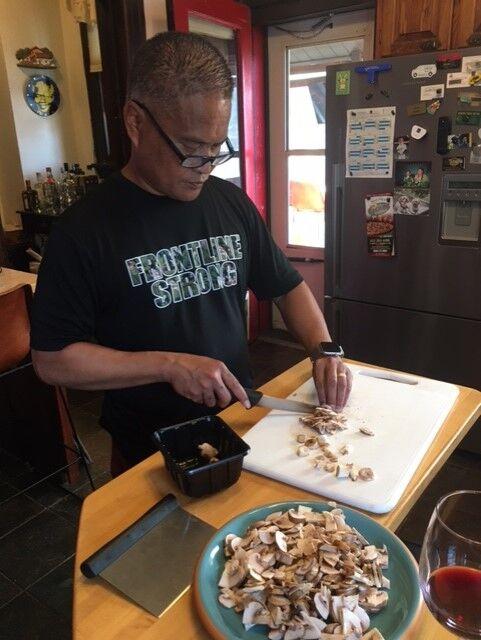 Josh, like Corman, doesn't measure many of the ingredients. He relies on his natural instincts. Since I don't have this natural skill, I relied on a recipe I found at recipetineats.com to guide me on measurements.
Spice up your life and give this recipe a try!
Week 35: Mushroom Rice
(Serves 8)
Ingredients
3 cups of Jasmine, Basmati or Calrose rice
1 medium-sized onion, diced
2 garlic cloves, finely diced
1 cup of white wine (sauvignon blanc preferred)
16 ounces fresh mushrooms, sliced but not too thin.*
Sea salt and black pepper to taste
4 to 6 tablespoons ghee or butter, divided
3 tablespoons olive oil or vegetable oil, divided
3 1/2 cups vegetable or chicken broth
Instructions
Wash and drain the rice and put it aside.
Heat 2 tablespoons of olive oil in a large pot. Add the mushrooms and cook for about 5 minutes, until golden. Season with salt (1/2 teaspoon) and pepper (1/3 teaspoon) then remove and set aside.
Heat 2 tablespoons of ghee or butter and 1 tablespoon of olive oil in the same large pot on medium-high heat.
Pour the onions and garlic into the pot and cook for 5 minutes or until browned. Stir from time to time.
Add 1 cup of white wine and continue to sauté the onions and mushrooms for about 15 to 20 minutes. Then add 2 more tablespoons of butter or ghee and a couple cranks of pepper to the onions and garlic and continue to cook until the wine is reduced down and the onions and garlic are dark brown, soft and caramelized. Remove them from the pot and allow to rest. Keep the brown pieces in the bottom of the pot.
Add the rice and a splash of broth to the pot. Mix so the brown pieces left on the bottom of the pot mix into the liquid. Then, add the remaining broth and put on the lid. Cook the rice until done, about 15 minutes. Remove the pot from the stove. Remove the lid and add the sautéed mushrooms and blend into rice.
Just before you serve the rice, to minimize the stickiness, add and fold the caramelized onions and garlic into the rice. If desired, add salt and pepper to taste.
*You may use dry mushrooms, however you have to rehydrate the mushrooms by boiling them or soaking them in hot water. Do not throw away the water used for rehydrating the mushrooms. You will use it to cook the rice rather than the broth.