Here to take your taste buds on a journey through the East with their annual, month-long Culinary Arts Buffet are chef Paul Kerner and his talented Guam Community College culinary students.
Last week, the crew featured a tantalizing spread of traditional Chinese delectables to satisfy a three-course experience, all to the cordial accompaniment of Chinese instrumentals in GCC's multipurpose auditorium.
Rows and rows of tables and chairs had been placed about the auditorium to serve a total of 150 guests. According to chef Kerner, the previous buffets had been such a hit that the class had to raise their guest expectancy and wow the crowd.
Gracing the Chinese menu were the staple egg drop soup, a zesty spicy Chinese cucumber salad with sesame dressing, white rice infused with black sesame, a seafood Chinese egg noodle stir fry and juicy steamed bok choy.
Further down the table was a striking orange pork, a delicate yet mouthwatering Cantonese steamed fish and the famous kung pao chicken.
Then, to top off the delicious ensemble, were red bean-filled steamed buns, a subtle coconut tapioca and a dainty almond fruit jelly, all to wash down with some oolong tea with an optional sugar syrup.
'Hit all the elements'
Not only did the students execute presentable dishes in a timely manner, but they created flavors and textures that favorably compare with the dishes one would enjoy at a Chinese restaurant. Not to mention the few vibrant Chinese lanterns floating beyond the buffet table.
Kerner expected the student-chefs to present iconic cultural dishes, but at an even greater level while appealing to the senses in terms of temperature, aroma and overall visual appeal, as diners first tend to "eat with their eyes," but more importantly, heart.
"They're putting their whole heart into it. I'm amazed with them," Kerner says. "I'm so proud. They're so serious. They're coming in on nonclass days to prepare foods."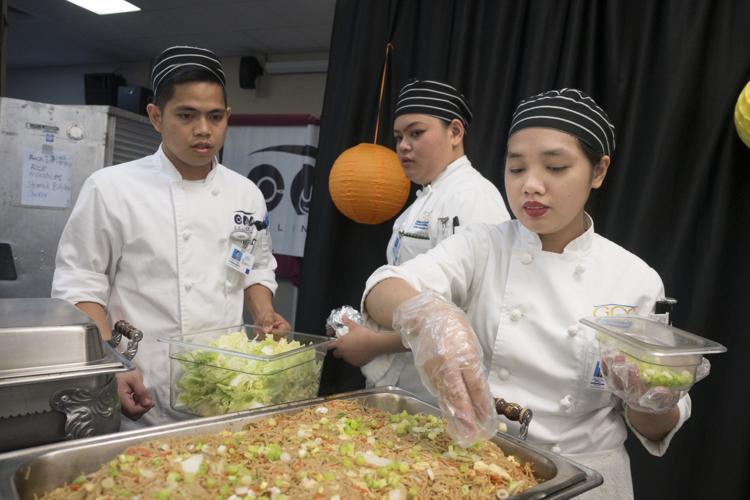 Kerner believes buffet guests will have a very pleasant and relaxed experience, considering the great food and inviting atmosphere. He encouraged the students to "hit all the elements."
Before the substantial reveal, the kitchen was a balance of rigor and temperance as the student-chefs executed what would count as an exam.
Food to remember
They earnestly withstood the pressures found in a real-world hotel and food service environment, including setup, breakdown, time constraints, a specific budget and, importantly, leadership skills – which, to Kerner, means delegating without yelling. It was less Hell's Kitchen and more Zen Kitchen.
"They are confident that they could execute a banquet or buffet," says Kerner. "Of course, they can walk into any place – they'll have all the skills that they could actually step into a five-star hotel."
A student-chef with Team China, Arjonel Gabiola De Chavez was focused not only on applying class skills, but approaching the feat as an "experiment."
"We know it tastes good, but we want to make it taste better so it's a 'boom' to the customer," he says. "We try to be more creative. I would say it's food to remember."
De Chavez hopes the guests return to enjoy their dishes, adding, "Our main goal here is to satisfy the customer."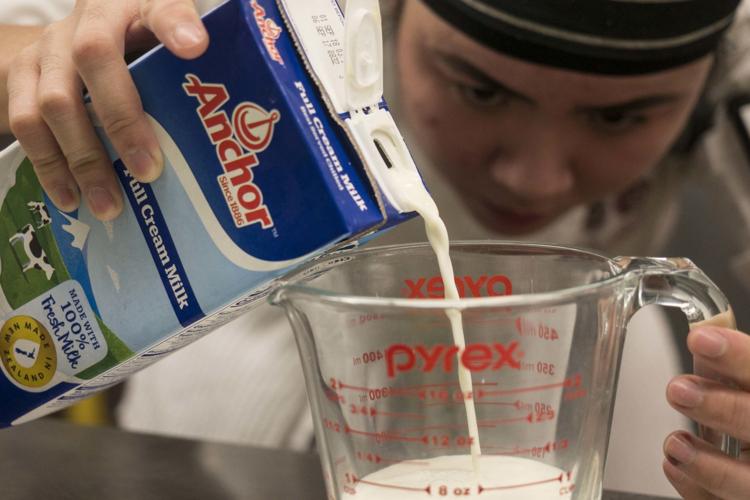 In a word, fellow student chef Joshua Nolan Campos describes the food as "tasty," while trying to stay true to Chinese culinary traditions. He continued to emphasize how limited the team was in terms of ingredients, yet they seemed to have pulled it off effortlessly.
"We're trying to get as close to traditional as we can. We're working with limited ingredients and limited budget for GCC, trying to make it the best we could with what we have," Campos says. "Come down and support GCC."
Hard work well worth it
Though the culinary business is famously challenging and stressful, Kerner said the feat is rewarding at the end of the day, as chefs gain satisfaction and fulfillment in cooking for others and watching them enjoy.
"Many students change their path to culinary because, in culinary, it's self-expression where the culinarian can exercise their creativity," Kerner adds.
Kerner says he's seen many students rise to become chefs and pastry chefs since he's been a part of the GCC culinary program. He feels that Guam's own are very fortunate to boast their unique culinary talents.
"The talent here on Guam is amazing!" he exclaims. "What I have observed here is the students are hungry to learn this craft."
Students "usually are hired before they graduate," he says.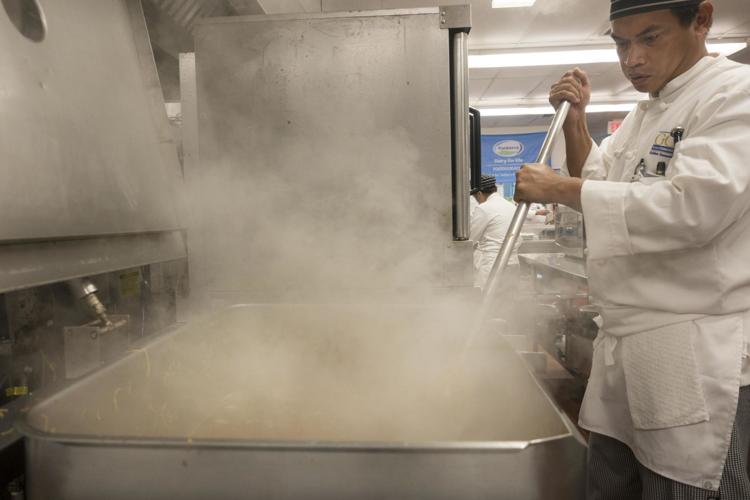 "Biba! Hire local!"
Pacific and Asian inspirations
A perk of Kerner's Pacific and Asian Cuisine course, the students welcome the public to dine in and indulge in a generous spread of Pacific and Asian-inspired appetizers, soups, main courses, desserts and drinks every Thursday through the end of April. The buffet is in its 16th year.
Prior to the Chinese buffet, the students prepared Hawaiian and Japanese offerings. The class looks forward to preparing a Korean menu this week, followed by Thai and Vietnamese next week.
Campos says the proceeds go toward helping the students and paving the way to a culinary future for each student.
The buffets will continue from 11 a.m. to 12:30 p.m. April 19 and 26 in the GCC Multipurpose Auditorium for just $10.
A takeout dinner is also being sold from 4 to 5:30 p.m. in the GCC kitchen behind the auditorium for the same price, so maila ta fan boka – "come and eat!"