Last Saturday, my day began as each day had for the past two weeks. I got up early, quickly put on a pair of shorts, grabbed a plastic bag and bolted out the front door to beat the chickens to my fallen mangoes. Oddly, a subversive thought came to mind. Wouldn't it be great if the chickens had already beaten me to the fruit so that my harvest would be quite modest and I wouldn't have to spend hours cutting up the mangoes? A few weeks ago, such a thought would have been blasphemous. How can you possibly have too many mangoes?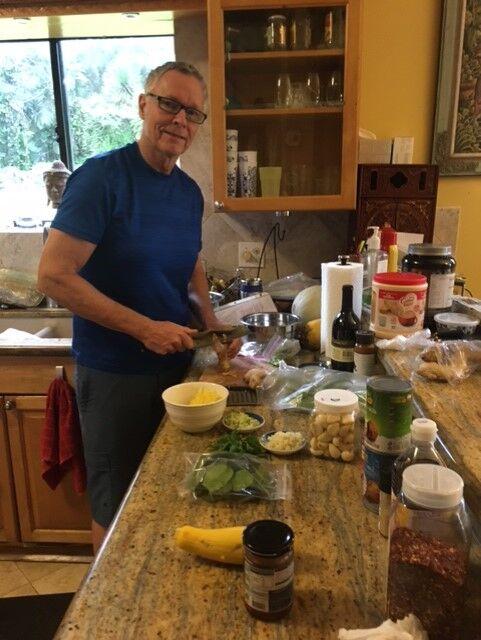 Suddenly, an old saying came to mind. Maybe I'm having too much of a good thing! After all, the bags of mangoes were piling up on my kitchen counter and clogging my refrigerator and freezer. I've already chopped up and frozen enough mangoes to last for months. I keep asking friends it they'd like some mangoes, but they decline the offer, telling me they either have their own mango trees, or friends and relatives have already dropped off pounds of the fruit to them.
My negative mindset was reinforced as I surveyed my lawn. In an apparent conspiracy to make my life miserable, the chickens had hardly touched the fallen orbs. Dozens of pristine mangoes lay patiently on the ground awaiting rescue from their feathered executioners. I gritted my teeth and begrudgingly picked them up and dropped them into my plastic sack. There goes my weekend, I thought to myself. Forget the planned beach outing. I'll be in the kitchen for hours dissecting this darn fruit.
Then reality hit: I had to hurry and bake a mango cobbler for my next recipe column. Clutching a full bag of mangoes in each hand, I headed back into the house and plopped the bags onto my kitchen counter. I took out the cutting board and spent the next 90 minutes prepping four cups of mango fruit.
Just as I was about to begin making the cobbler, my 5-year-old grandson, Koein, appeared out of nowhere and asked me, ever so sweetly, "Pop Pop, can I help you bake?" I like to encourage him to be helpful, but my hyper-active grandson can't sit still for five seconds. He pulled up a chair to the counter, stood on it so he could reach the counter and looked at me imploringly. What was a grandfather to do?
Mustering as much patience as I could, I had Koein help me measure the various ingredients. He scooped up a cup of flour from its storage container. As he lifted the cup, he caught the edge on the side of container, tipping the cup over and sending a cascade of white powder all over the kitchen floor. I closed my eyes, bit my lip and took a deep breath. "Stay calm," I muttered to myself. "After all, he's only trying to help." As I opened my eyes, I saw Koein suddenly plunge the measuring cup back into the flour container. In a repeat performance, he once again caught the edge and a second deluge of flour made its way to the floor.
Don't get me wrong – I love my grandson. But, as I eyed him, then looked at the bags of uncut mangoes, I thought to myself, "What have I done wrong?" This is the first time in my life that in one day I've experienced a double dose of too much of a good thing!
Week 31: Mango Cobbler
(From the Platings + Pairings website.)
Ingredients
For the fruit
4 cups diced mangoes
2/3 cup white sugar
4 tablespoons butter
1/2 cup all-purpose flour
1 tablespoon cornstarch
1 teaspoon vanilla extract
1/2 teaspoon kosher salt
For the cobbler
1 cup all-purpose flour
3/4 cup old fashioned rolled oats
1/2 cup sugar
1/2 teaspoon cardamom
1 stick (8 tablespoons) cold butter, cut into small cubes
Steps
1. Preheat oven to 375 degrees.
2. In a 10-inch cast-iron skillet, add mango, sugar, butter, flour, cornstarch, vanilla and salt. Cook on stovetop over medium heat, stirring regularly, until bubbly and thickened.
3. In a stand mixer with paddle attachment, add 1 cup flour, oats, sugar, cardamom and salt. Add the cold cubes of butter and mix until mixture holds together in course clumps, adding a splash of water, if needed.
4. When the fruit is ready, drop large tablespoons of dough on top of warm fruit. Place into preheated oven and bake for 35-40 minutes, until the edges are bubbling and the top is golden brown.
5. Serve warm as is, or topped with whipped cream and/or ice cream.