If you want steaks so large they're cut with a band saw, from cows that are probably more pampered than any person you know, head to Alfredo's Steakhouse at the Dusit Thani Guam Resort.
The Dusit Thani's top-tier steakhouse has transitioned from an already upscale Italian lunch-and-dinner combo to an even more lavish steakhouse open for dinner only.
"Italian is safe, but you do have a lot of Italian restaurants here on island," says manager Calvin Salemi, who has been with the steakhouse for a year. "(Executive Chef Bradley Montgomery) saw the team that we had here and saw the opportunity to create something more extensive ... (to) bring a higher level quality of products."
On any night, the team can include three to five kitchen staff and five to eight front-of-house staff.
Although guests' belts might feel tighter after a meal at Alfredo's, they won't feel stuffed in the expansive dining room, which opens into a wall of windows overlooking Tumon Bay. Opening at 5 p.m. every day, you can always catch the sunset.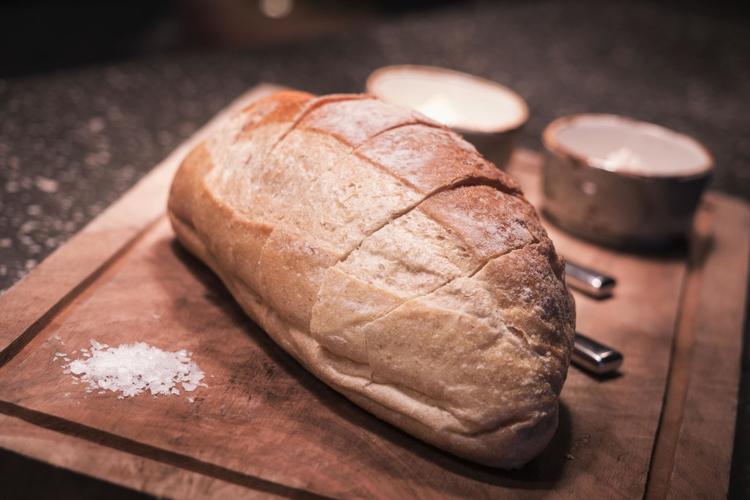 The restaurant's simple yet luxurious menu is reflected throughout the restaurant, with its sparse, linen-clad tabletops surrounded by handsome leather chairs.
On Monday, Chef de Cuisine Dylan Saad prepared a massive spread featuring some of the restaurant's best dishes: an ornate $225 seafood tower for six, crowned with a steamed lobster atop 1 pound of octopus, 1 pound of king crab, a dozen oysters and jumbo prawns; a delicate dish of foie gras, garnished with honeycomb, snap pea and hazelnut; and an off-menu porterhouse that Saad "(runs) across our band saw ... if I'm feeling fun."
Saad and his front-of-house counterpart, Salemi, who calls Saad the food-savvy yin to his service-oriented yang, said above all the steakhouse strives for excellence, and not just among island restaurants.
"To say, 'Oh, it's on Guam,' I think sometimes it can mean we have a disadvantage just because of our location," says Salemi, a veteran of Paris and New York steakhouses. "It's not the case here. You get the quality of product that's on par, if not even better. People definitely feel that the second they take their first bites."
Into the kitchen
Saad is something of a fresh-ingredient fanatic, so it's a good thing Montgomery devised a unique air-flown program, delivering ingredients twice weekly from California.
"It's something that no other hotel does," he says. "Even our herbs, everything is California-grade, minus two days," giving Alfredo's the opportunity "to bring in things that nobody can get their hands on."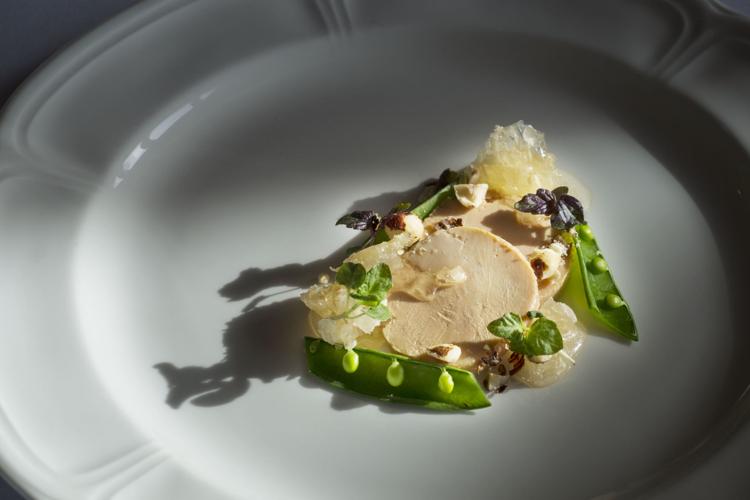 This includes Hudson Valley foie gras, which Saad says is the cream of the crop. Unlike most foie gras dishes, usually paired with cherry, raspberry and beef flavors, Saad says, he chose to "brighten it up with a nice honeycomb."
Saad – who grew up in Guam's hospitality industry (his father was an executive at the SandCastle, Dusit Thani's next-door neighbor) and started his tenure in the kitchen at age 15 – said the Alfredo's menu draws inspiration from where they are and what guests want.
"We're on the beach, and it's Guam and it's hot, so that's kind of the idea behind the bacon dish, because bacon seems like such a backyard barbecue (staple)," he said, noting that their kitchen stocks Wisconsin-sourced Nueske's bacon, which they marinate in maple and soy.
Salemi echoed this, saying, "You work for your money – when you go out, it's gonna stick with you. We're very much aware of that here."
The menu also features a summery heirloom tomato salad, again inspired by the island's hot weather, paired with gorgonzola, wild greens and red wine vinaigrette.
For its steak offerings, Alfredo's keeps things simple.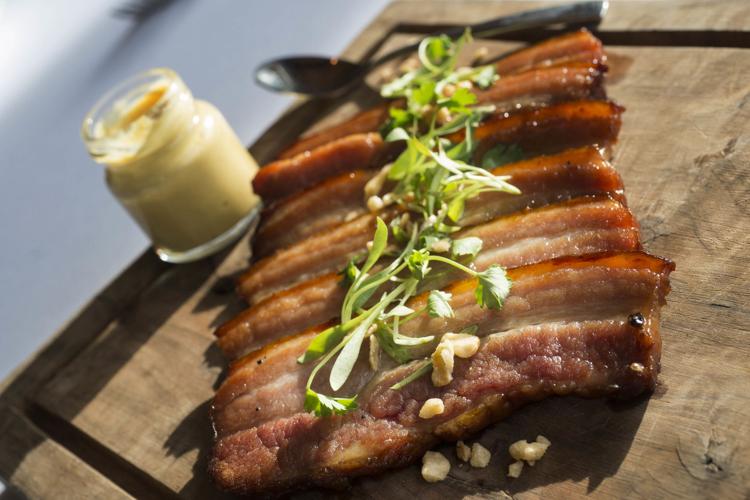 "We have a nice seasoning that we put on there and we let those ingredients shine out," Saad says.
Remember those pampered cows? That would be the purebred, Japanese wagyu, which Saad says is "nothing like beef."
"You put it in your mouth and it just melts – it dissolves."
A 12-ounce tenderloin filet goes for $336, which explains why the restaurant displays its wagyu certification front and center. You can even find out what the cow's name was.
Desserts are a bit more modestly priced, but still have a wow factor: the apple tarte tatin looks like an edible, abstract sculpture, surrounded by a halo of spun sugar flecked with 24 karat gold. Despite appearances, Pastry Chef Katie Lusk said it was a breeze to put together.
Setting a high bar
At this point, it almost goes without saying: Alfredo's aims to be the best of the best.
Says Saad: "We don't lower our standards because of the fact that we're in the middle of an ocean."
Thanks to the air-flown program, Saad said the menu can truly benefit from its creators' diverse backgrounds, with chefs who have worked everywhere from Texas to Thailand.
Saad says Montgomery often stressed the importance of "honest" ingredients.
"It's chilled beef, not frozen beef. Frozen beef is cheating the system – beef's never supposed to be frozen because it changes the makeup of the proteins."
But this philosophy doesn't stop at the kitchen door.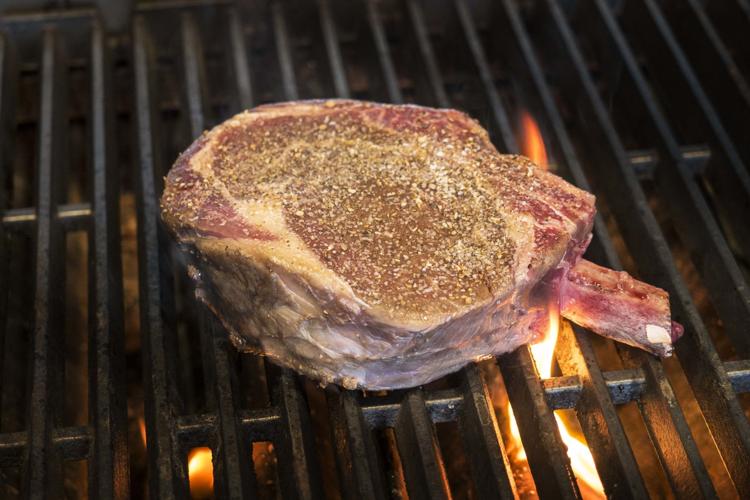 Saad recalls when a guest got butter on their shirt after ordering the shrimp scampi. Although it wasn't anyone's fault, the restaurant had the guest drop off their shirt later, so it could be dry-cleaned.
Creating a unique experience
Salemi shares Saad's high standards.
"It's the business of creating memories," Salemi says. "While we may get 50 guests a day, the challenge we try and overcome is creating 50 unique experiences."
This sounds like a tall order, but he has a point.
"If it's your anniversary or something," he says, "you're gonna remember it the whole year."
Saad echoes Salemi's sentiments.
"If they had a better experience anywhere else, then we're not working as hard as we need to."
However, Saad and Salemi's drive for excellence isn't just for the sake of beating the competition.
"It's not about being better than everyone," Saad says. "It's about bringing a product to Guam that we believe in.