Michelle's Coffee Shop is truly a family affair.
Owned and operated by a brother-sister duo and run by a dedicated staff, many of whom have been working there since Michelle's opened 15 years ago, co-owner and namesake Michelle Kosloski is ready to welcome with open arms each and every customer who walks through the door.
"I love my customers," Kosloski says. "When I go anywhere, 'Hi Michelle!' It's like everybody know me."
Kosloski got her start in the restaurant business in 1992, when she got a job as a waitress at a Saipan restaurant. From there she began working her way up the ladder, eventually working as a restaurant manager and then a general manager.
Make room for Michelle's in Yigo
Meanwhile, Kosloski's brother, Andy Xia, was learning his way around the kitchen, too. Starting out as a kitchen helper and dishwasher when he first came to Guam in 1995, Kosloski says his employer noticed his hard work and decided to train him as a cook. His hard work continued to pay off, as Xia soon went from line cook to chef.
After a decade in the Saipan food-and-beverage industry, Kosloski followed her brother to Guam, where she continued working in restaurants. But not long after arriving in the early 2000s, Shirley Lai – who Kosloski refers to as "Mama Shirley" – offered her and her brother the opportunity to buy her restaurant in Mangilao.
Kosloski and Xia jumped at the chance and now, 15 years later, they own not one but two Michelle's Coffee Shop & Restaurants, located in Mangilao near the University of Guam and in Yigo along Marine Corps Drive.
A 'large selection' restaurant
Kosloski says Michelle's is a "large selection" restaurant. That's a bit of an understatement. They don't know exactly how many items they offer on the menu, but after 100, they stop counting, Kosloski says with a laugh.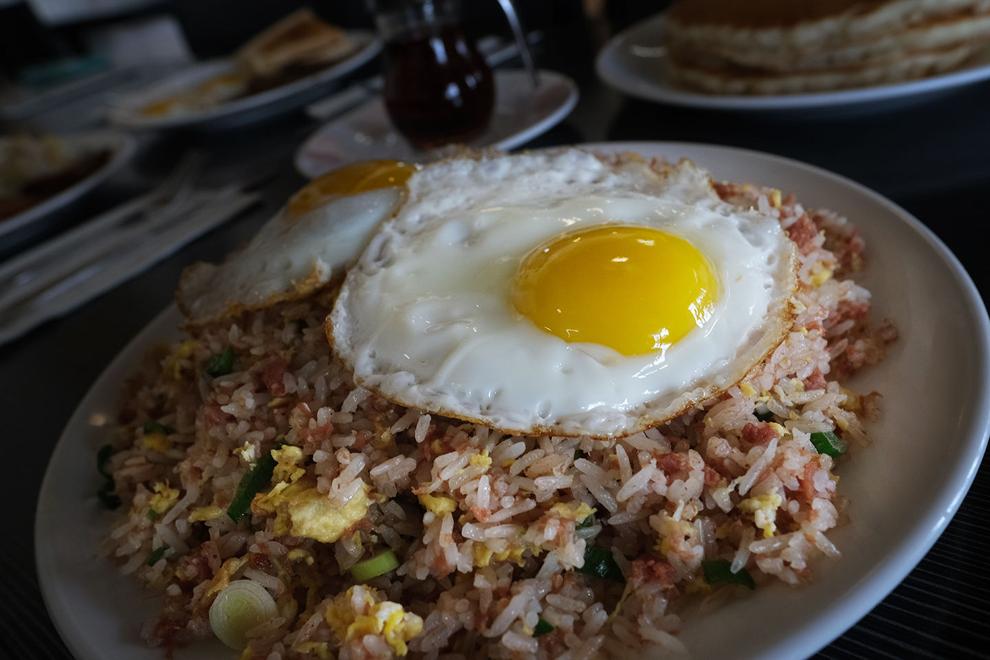 Open nearly all day long, Michelle's serves what Kosloski describes as Chinese-American fusion with a local twist for breakfast, lunch and dinner. Between the yakisoba, combination plates and endless styles of fried rice, there really is a dish for everyone in the family.
In a matter of minutes, Xia's tiny kitchen staff whipped up 13 dishes, each of which could reasonably feed two people (but let's be real – we're not sharing). A long table quickly filled up with the Honey Walnut Shrimp with Salt and Pepper Pork Chop, the shop's most popular combo dish; fried rice and sunny side up eggs; a huge stack of pancakes; shrimp yakisoba and combination stir fry. And that wasn't even half the dishes.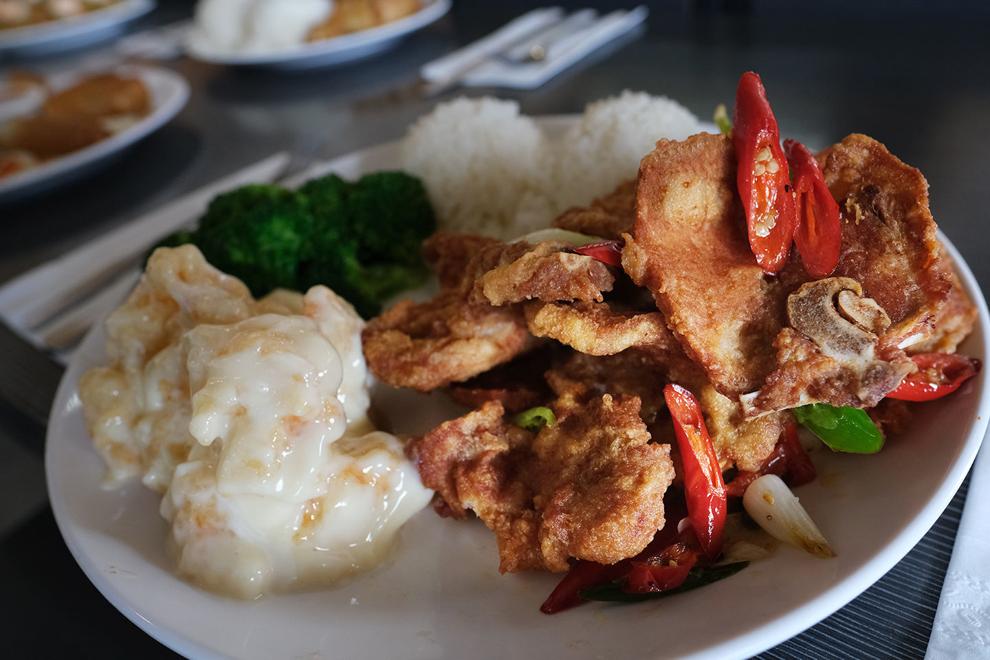 "The honey walnut shrimp ... we make it lightly breaded butter and crispy, crunchy fry and we sauce it with mayonnaise. You call it honey walnut shrimp, because we put a honey taste with a lot of lemon and carnation milk to make the sauce more (smooth) and not too sweet. But it's a little sweet and when you bite it, it's a little crunchy," Kosloski says of one of their customers' favorite dishes.
"When they order, food come fast," Kosloski says. "Good service, of course. The food made fresh, made by order. ... And we're really fast cooking, if you see the stir frying inside. Only like three minutes for cooking."
Passion for cooking, customers
While Kosloski certainly loves food, her true passion is working out front and interacting with customers.
"We love food," she says. "We love working in the restaurant. Me, it's more like serving side. (My brother's) more like cooking. So when we started, we're good combination, I overlook the service, he overlook the kitchen."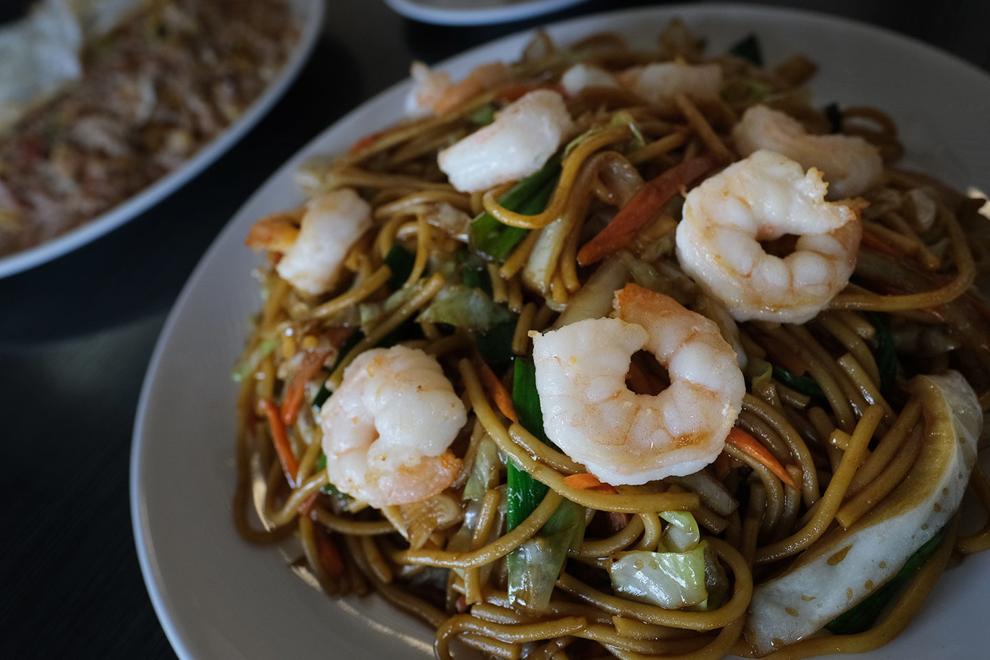 But over the past 15 years, they've had plenty of time to learn from each other.
"Then, by everyday doing that, he start teaching me how to cook, I start teaching him how to be in the front and stuff. ... So now we both do everything," Kosloski says.
Fast fare
Still, owning a restaurant isn't without its challenges. Over the years, Kosloski and Xia have built up a regular crowd at their original Mangilao location. Then five years ago, they set up shop in Yigo, anticipating an influx of customers thanks to the eventual military buildup. Years later, they're still waiting. But Kosloski and her dedicated staff have still managed to drum up a steady, loyal clientele.
For island residents living in Dededo and even central Guam, it may be time to pay Yigo a visit. Pile your family into the car and head up Route 1 until you hit the little diner with a big heart (look across the street from the old McDonald's location at the Mobil gas station), and fill your table with Kosloski and Xia's fast but lovingly prepared fare.