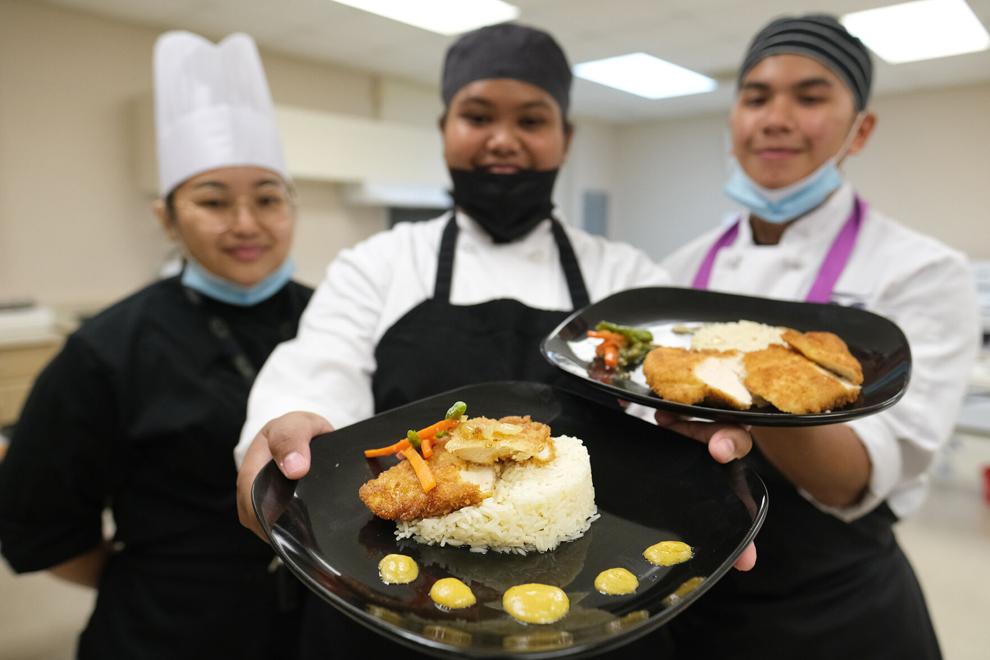 Editor's note: This is part of a series on the ProStart culinary program in Guam's high schools.
Nineteen students in the ProStart culinary program at Tiyan High School put their kitchen skills on display for their final exam in May, the end of the school year.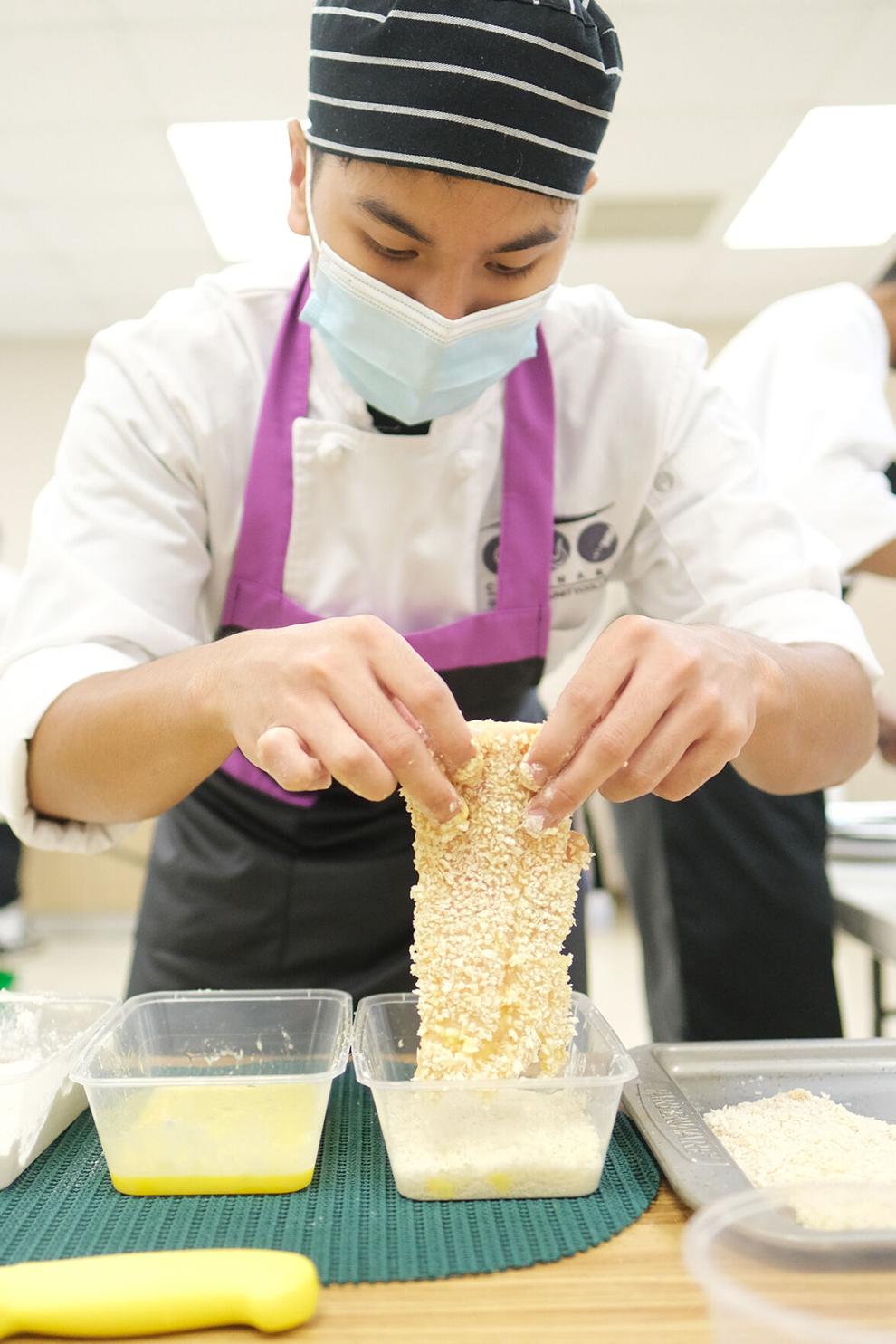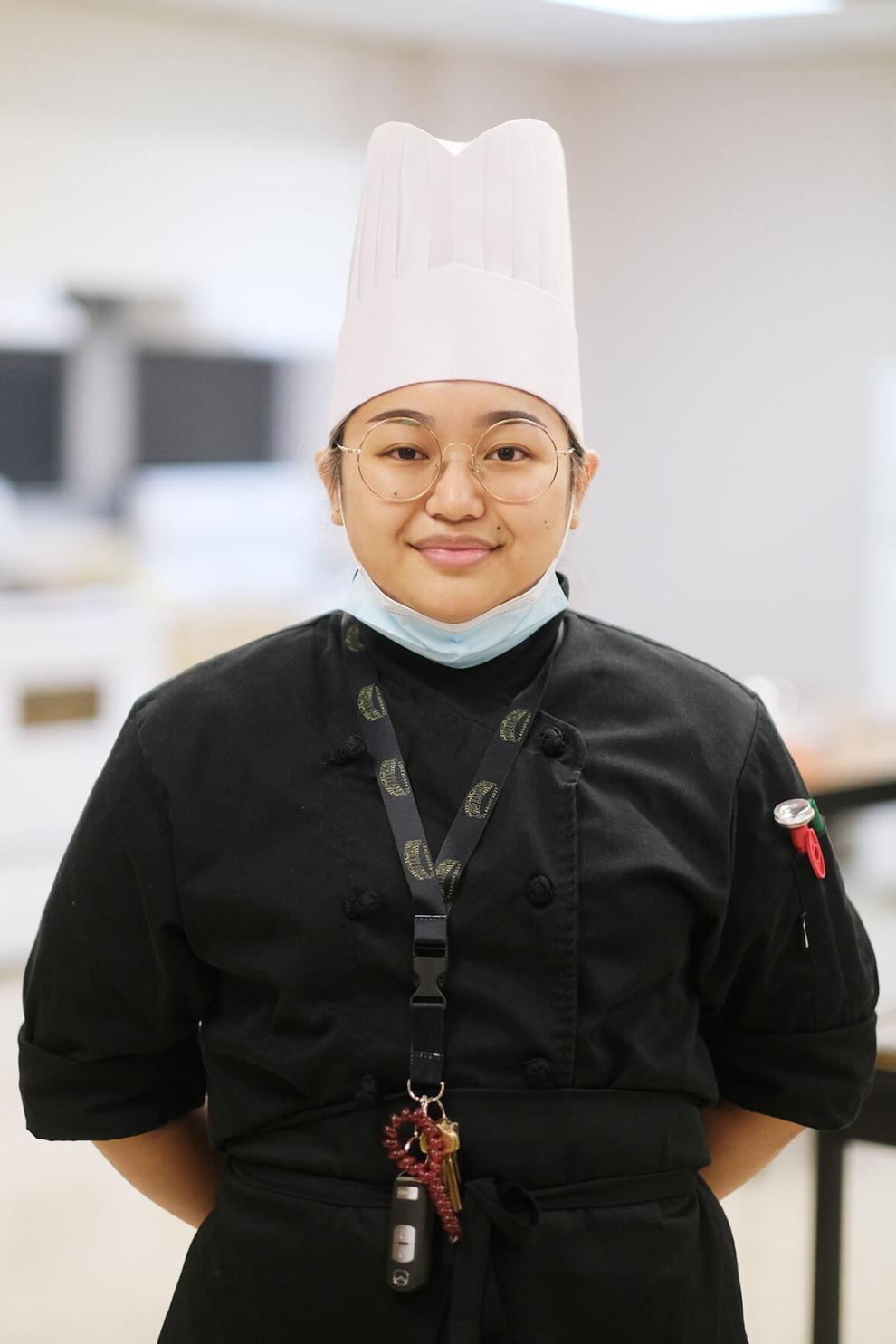 Tiyan's is the newest of the ProStart programs, having been around for a couple of years. Natsumi Kuranami, the high school's ProStart instructor, started working the program at beginning of the COVID-19 pandemic. According to Kuranami, there are are 59 students currently enrolled in the Tiyan High ProStart program.
"Our program provides the foundational skills for the students to use in further culinary training or even if they start in the industry. You cannot live without food, so working in the kitchen is a life necessity," said chef Natsumi.
"I observe that the younger generation is consuming a lot of store-bought or microwave or fast food, so I'm trying to impart nutrition and healthy eating into their minds," she added.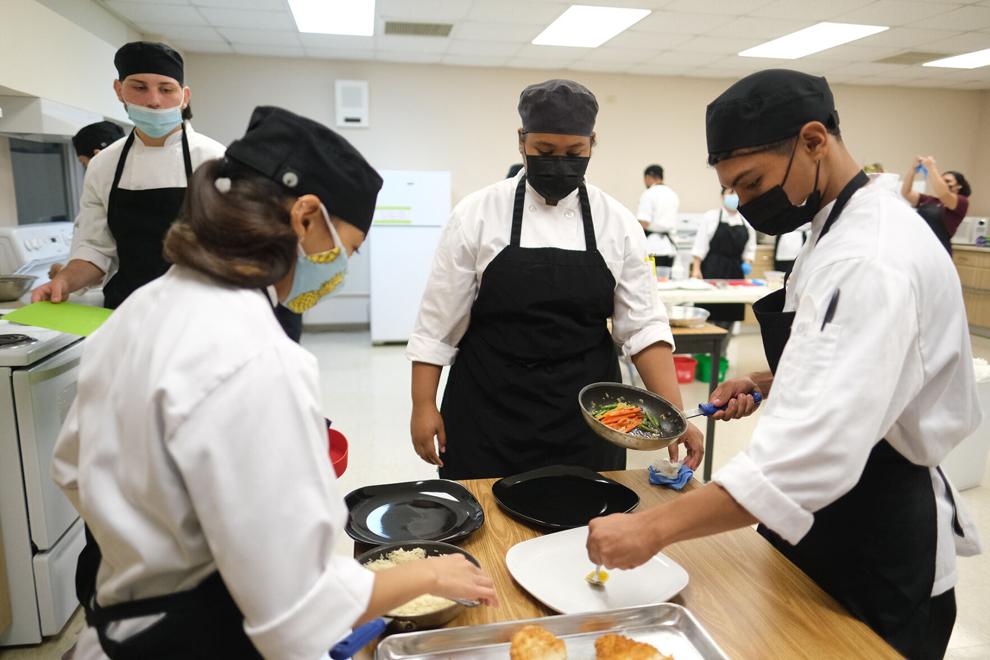 "We not only emphasize the basics, like food safety and sanitation, but also fundamental career-development skills, like resume writing and exploring the different facets in the industry."
Chef Natsumi explained that the ProStart program is a gateway to the Guam Community College culinary program.
"It's very satisfying to see students engaged with the program, because I see my younger self in them, as I'm a ProStart graduate myself," she said.
The final exam consists of preparing a standardized menu so that students can display a certain standard of proficiency in food safety, cooking techniques and plating and presentation, just to name a few. In this exam, the protein was panko fried chicken breast, the starch was rice pilaf and the side dish was honey glazed vegetables. According to chef Natsumi, she made very similar items for her ProStart exam.
'More than just cooking'
In their second year with the program, Noel Ericsson and Chloe Osima, both juniors at Tiyan High, reflected on their ProStart experience.
"The program has taught me me that the cooking life is more than just cooking, it's about organization, team work and efficiency," said Ericsson. "From what this program has offered me, I think culinary is something I can take pretty far, I'm very interested in the work."
Said Osima, "This program has given me a lot of knowledge in the kitchen, and now I have practice in cooking techniques. Ever since I was little I wanted to try culinary, so I was very happy when I learned there was a ProStart program at Tiyan High."
Panko Fried Chicken Breasts
3 6-oz. servings
Final cooking temperature: 165 degrees
Cooking time: 20 minutes
Ingredients
3 boneless chicken breasts
1/2 cup panko
1 cup flour
2 eggs
1 1/2 teaspoons kosher salt
1/2 teaspoon pepper
2 cups oil for frying
Steps
1. Preheat the oven to 250 F.
2. Clean and remove all fat from the chicken breasts and butterfly the breasts. Season both sides of the breasts with salt and pepper.
3. Lightly beat egg in a shallow bowl.
4. Coat the chicken breasts into the flour then dip the chicken breasts in egg. Coat the chicken breasts in panko, pressing chicken into the crumbs until fully coated. Arrange in a single layer on a plate.
5. Heat oil in a large skillet over medium-high heat. Add chicken and cook until golden brown, about 2 to 3 minutes per side. Arrange chicken onto a sheet pan.
6. Place the sheet pan with the chicken breasts in the oven and cook till the chicken breasts are at an internal temperature of 165 F, about 10 to 15 minutes.
7. Remove from the oven and serve with rice pilaf, honey glazed vegetables and veloute sauce.
Rice Pilaf
3 half-cup servings
Cooking time: 25 minutes
Ingredients
1 cup jasmine rice
4 cups chicken stock
1/3 cup cup diced onion
1 tablespoons minced garlic
1 tablespoons butter
Salt to taste
Steps
1. Warm the butter in the saucepan over medium heat. Add the garlic and sweat the onion (cook until the onion is translucent and soft).
2. Add the rice to the pan and stir to coat with butter. Continue to cook, stirring often, until the tips of the rice turn translucent and the rice smells fragrant and toasted.
3. Pour the stock into the saucepan and increase the heat to medium-high. Bring to a boil.
4. As soon as the stock comes to a boil, reduce the heat to low and cover the pot. Cook without lifting the lid for 15 minutes. At the end, check that the rice is tender and has absorbed all the liquid. If not, cover and cook for another few minutes, adding a few tablespoons of stock if needed.
5. Remove the pan from heat and let it sit, covered, for another 5 minutes.
6. Remove the lid and fluff the pilaf. Taste and season with salt if needed. Transfer to a serving bowl and serve.
Honey Glazed Vegetables
3 half-cup servings
Cooking time: 10 minutes
Ingredients
1/2 tablespoons minced garlic
1/4 cup small diced onions
3/4 cups green beans
3/4 cups carrot, batonnet cut
3 tablespoons honey
1 1/2 tablespoons oil
Salt and pepper to taste
Steps
1. In a saucepan over medium heat, heat oil. Add onions and garlic and cook until aromatic.
2. Add carrots and green beans and saute until slightly tender.
3. Stir in honey and season with salt and pepper.
4. Saute until caramelized and glazed.
Beef Veloute
3 3-tablespoon servings
Cooking time: 10 minutes
Ingredients
3 tablespoons flour
3 tablespoons butter
2 cups beef stock
Salt and pepper to taste
Steps
1. Melt the butter over medium-low heat. Add the flour and whisk until fully incorporated. Cook the roux until it turns a blond color.
2. Slowly add the stock, a bit at a time. Whisk and let it come back to a gentle boil each time before adding more stock. Add the stock until you reach a silky-smooth consistency.
3. Once done, season with salt and pepper to taste. The sauce may thicken slightly as it cools, so if you're not planning to use it right away, you may need to loosen it up with a bit more hot stock before using.