Sometimes cooking can be a labor of love and a bit of a drain to the pocketbook. Then again, sometimes the work and expense are worth it!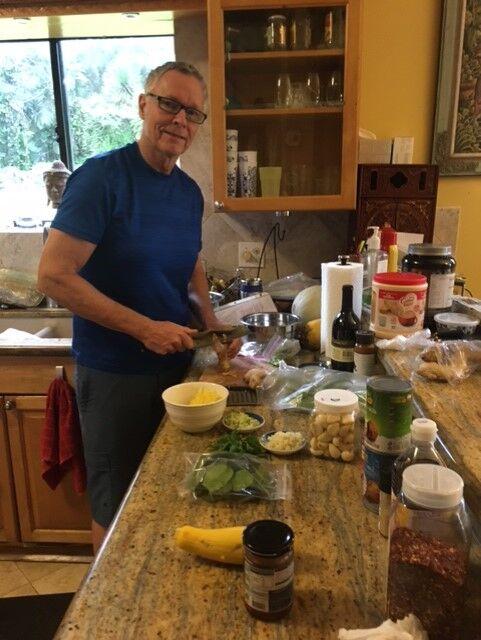 This week, I feature one of my favorite dinner recipes – lasagna. Because this recipe takes longer that many of my other recipes, I usually make lasagna on a weekend and save it for special occasions. Last Saturday, my son, Keoni, asked if he could invite his girlfriend, Brianna, and her cousin, Camy, over for dinner. Without a moment of hesitation, I answered: "Yes!" Brianna and Camy are both extremely warm, charming, generous and funny. Corman and I love their company.
I gave the matter some thought, then I asked Keoni if lasagna would be a good dinner choice. His face broke out into a broad smile, and he said "Yes!" The deal was sealed. I drove to Cost-U-Less and bought the ingredients.
The basic recipe I use is by John Chandler, called "World's Best Lasagna." I found it online at AllRecipes.com. Over the years I've modified it somewhat, so the recipe I give you today differs a bit from the original one. As usual, I substitute ground turkey for the ground beef. To be candid, no one I've served this meal to has ever noticed the substitution because the flavors blend together so well. My recipe includes more onions, garlic and cheese than the original. I also like a little spice in my lasagna, so I add some red pepper flakes.
A perfect complement to this meal is either No-Knead Bread, featured as my Week 4 recipe, or Breadsticks, my Week 18 recipe. I love to dip bread into the sauce and savor the rich flavors. Of course, a side salad is a great addition as well. For dessert I made my Chocolate Eclair Cake, which was my Week 1 recipe. If you haven't tried it yet, please do. It really is a crowd pleaser!
Our Saturday dinner went really well. As always, we laughed our way through most of the meal. I really enjoy dinner get-togethers. It's a time to relax and engage in some lively conversation. Brianna and Camy were delightful dinner companions and we look forward to our next communal dinner. Hmmm ... what should I make next time?
Week 49: Lasagna
Adapted from the AllRecipes.com recipe for "World's Best Lasagna."
Serves 10
Ingredients
1 pound ground turkey or lean ground beef
12 ounces sweet Italian sausage
3/4 cup minced onions
3 cloves garlic
1 (28-ounce) can crushed tomatoes
1 (12-ounce) can of tomato paste
1 (15-ounce) can of tomato sauce
1/2 cup water
2 tablespoons white sugar
1 1/2 teaspoons dried basil leaves
1/2 teaspoon fennel seeds
1 teaspoon Italian seasoning
1 tablespoon salt
1/2 teaspoon ground black pepper
4 tablespoons chopped fresh parsley
1/2 teaspoon red pepper flakes (optional)
12 lasagna noodles
16 ounces ricotta cheese
1 egg
1/2 teaspoon salt
1 pound mozzarella cheese, sliced
1 cup grated Parmesan cheese
Steps
1. In a Dutch oven, or large pot, cook the ground meat and sausage, onion and garlic over medium heat until well-browned. (If you didn't use lean meat, you may have to drain the oil.) Stir in the crushed tomatoes, tomato paste, tomato sauce and water. Season with sugar, basil, fennel seeds, Italian seasoning, 1 tablespoon of salt, pepper and red pepper flakes, and 2 tablespoons of parsley. Bring to a boil, then turn stove to simmer and cook covered for about 1 1/2 hours, stirring occasionally.
2. Bring a large pot of lightly salted water to a boil. Cook lasagna noodles for 8-10 minutes. Drain noodles and rinse with cold water. In a medium bowl, combine the ricotta cheese and the egg, remaining 2 tablespoons of parsley and 1/2 teaspoon of salt.
3. Preheat oven to 375 degrees F.
4. To assemble, spread 1 3/4 cups of meat sauce onto the bottom of a 9 x 13-inch baking dish. Arrange 6 noodles lengthwise over the meat sauce. Spread with one-half of the ricotta cheese mixture. Top with a third of the mozzarella cheese slices. Spoon 1 1/2 cup of meat sauce over mozzarella and sprinkle with 1/3 cup of Parmesan cheese. Arrange the remaining 6 noodles over the meat sauce and repeat the layering – add the other half of ricotta cheese mixture, 1/3 of the mozzarella cheese slices and remaining meat sauce. Top with remaining mozzarella cheese slices and Parmesan cheese.
5. Cover pan with foil, but before you do, spray the foil with cooking spray so it won't stick to the cheese.
6. Bake in preheated oven for 25 minutes. Remove foil, and bake an additional 25 minutes. Cool for 15 minutes before serving.
Notes
I usually serve this with a loaf of my No-Knead Bread or Breadsticks.
It's a good idea to cook a few extra noodles, because sometimes some will catch on the bottom of the pot and break apart.