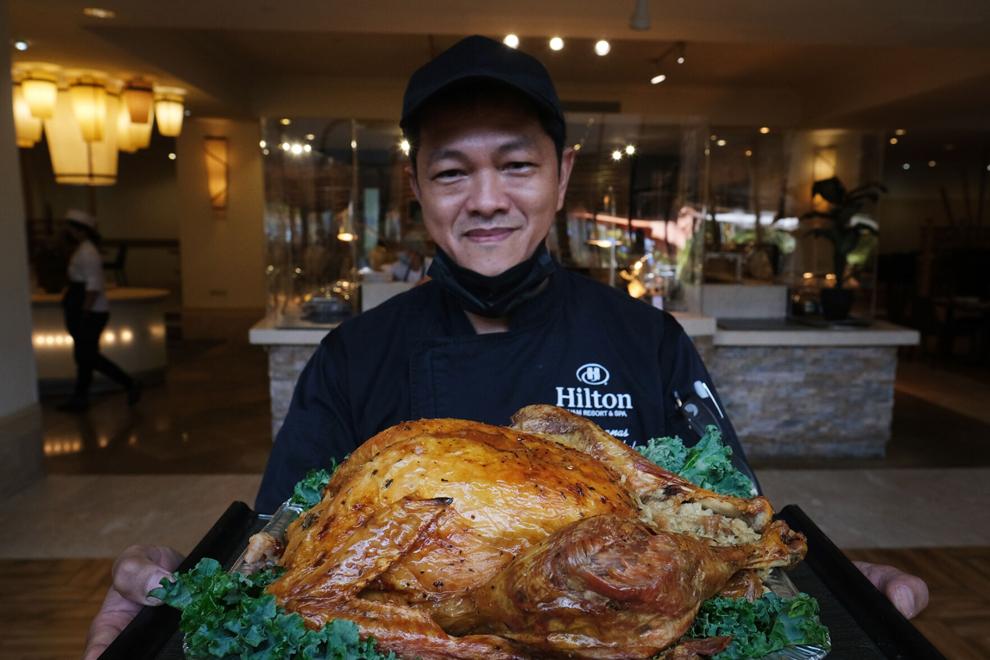 Executive chef Joel Aranas has roasted hundreds, if not thousands, of turkeys and roasts in his long career as a chef. Here he offers some tips on perfecting the roast on your Thanksgiving turkey. 
Brine. "The first thing we do is brine the turkey," explains chef Joel. "We brine 14 lb. to 16 lb. birds for about six hours." Our brining solution consists of salt, peppercorn, bayleaves, and half cold and half hot water. Pat the turkey dry before you apply the spice rub, with a little oil. 
Spice rub. "We then give it a rosemary and spice rub before it goes into the oven," he said. The bird then roasts in a 350 degree oven for about three hours, for a desired internal temperature of 165 degrees. "Watch the temperature closely," chef Joel advises. "You want to pull it out a little before it gets to 165 – it's still cooking after it comes out of the oven."
Baste. "There are a lot of techniques to use, and a lot of spice combinations, but basting is a traditional technique used in roasting to aid in keeping the meat moist during the cooking process," he said. Spoon the accumulated liquids from the bottom of the roasting pan over the bird periodically throughout the roasting process.