We're all looking for some cheap thrills, aren't we?
Theme parks like Disneyland and Universal Studios are just too far away. Traveling is nice, but likely to break the bank. Movies and other forms of entertainment are fun, but fleeting.
What is there to do for a thrill-seeker just looking to have a good time in Guam?
Well, one adventure that is completely free and only requires reasonably good physical shape is hiking! More so, hiking to spots where you can acquire those sought-after thrills as summer slips out of our hands in the coming weeks.
With dozens of hiking destinations around Guam, there's lots to see and do. If you're specifically looking for a cheap thrill, take a leap into chilling waters from some of the island's exciting hiking spots.
With thrilling opportunities to leap anywhere between 4 and 40 feet, check out some spots to escape the summer heat and cool those energetic heels.
Click the bullet points for hike directions, maps and more info: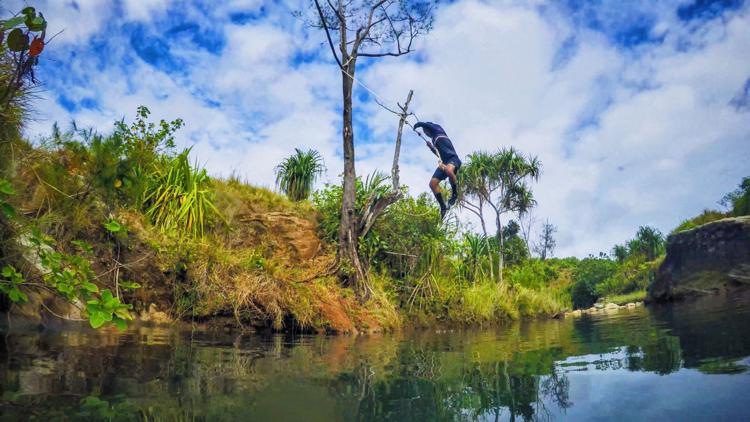 This central swimming hole is hands down the best place for jumping thrills and one of the island's best hiking destinations in general.
Relax in any of the several miniature swimming pools located along the Ylig River junction. Sunbathe on either of the two slanted rock platforms, perfect for catching some sun. Go for a refreshing dip in the main swimming hole.
To top it all off, swing from a rope into the waters below. The rope is attached to one of the old trees by the rocky platform. Climb behind the tree with the rope tightly gripped in hand and Tarzan-swing away!
On the opposite side of the rope swing is a parallel rock platform, which is another great launching spot. Swim over to the other side and walk to the top of the mound. From here, take care to push yourself forward to avoid any rocks directly below. Here, the drop-off is about 12 feet.
---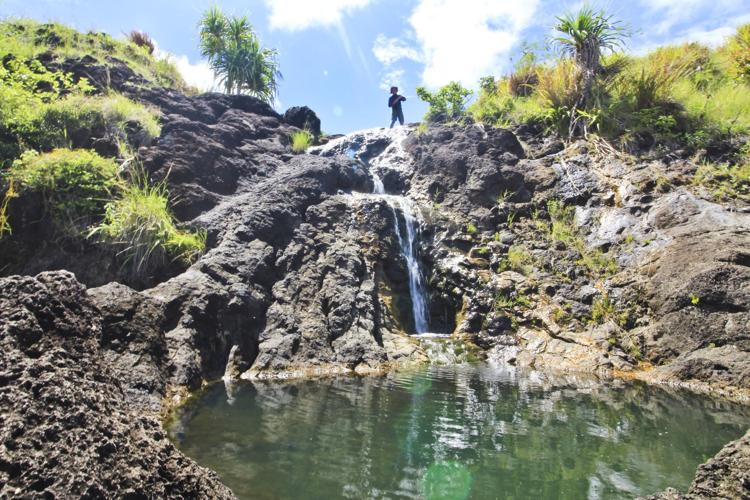 This Merizo gem provides a series of small freshwater pools cascading from the Pigua River. History has it that Spanish-era Catholic priests used these pools to bathe, in once upon a time.
A short and breezy 10-minute hike, this spot is an excellent getaway from the hustle and bustle of life.
Once you arrive at the pools, the main body of water below you is another perfect place to plunge into!
Settle your belongings nearby and look over the small-ish pool for the obvious rocks jutting out. It goes without saying that you should probably avoid jumping over those rocks – but you know, just in case you weren't thinking.
With precision and poise, take the 10 foot leap into the pool to satisfy your inner adventurer.
Afterward, go for another jump! Perhaps take several leaps from different angles? Have fun!
---
One of the island's more familiar hikes, Pågat has a lot to offer in one place. From a deep, freshwater cave pool and ancient CHamoru artifacts to a wondrous geological rock arch and other cool coastline features, Pågat has it all!
Aside from the cave, culture and coastline, one of the lesser-known features at Pågat is its rock arch. This geological wonder is a sight for sore eyes and a thrilling place to jump from!
Note that you should not jump into the waters here during bad weather or rough tides. Located along the island's northeast coastline, the waters here are generally dangerous and can be deadly in harsh conditions.
However, in good weather, it's probably the most thrilling place on the list!
From about 30 or 40 feet high, hikers can wisely decide to leap off the top of the rock arch into Pacific Ocean waters below. Use the nearby reef table (lamasa) to climb back up to the arch.
---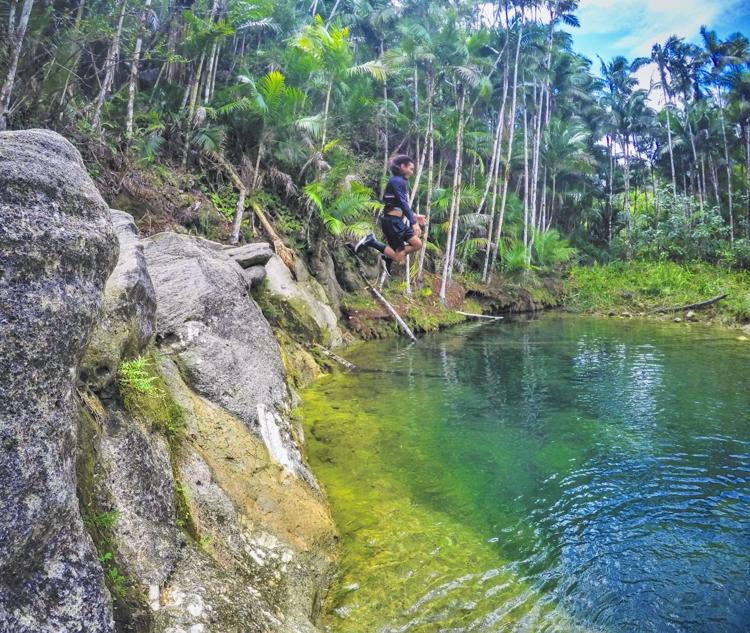 San Carlos Falls is awesome, but the nearby swimming hole is a little bit better – just saying! With emerald green waters and a palm tree background, this oasis is a great getaway, and has thrilling options if you seek them.
Located just around the river bend from the waterfall, San Carlos Swim Hole is also great for swimming. Compared to most of Guam's freshwater hiking destinations, if you bring a snorkeling mask to the swimming hole, you can actually see numerous schools of fish zooming by.
Better yet, if hikers climb the small hill to the left of the pool's rock ledge, you can take a running start to jump from about 10 feet into the waters below.
There aren't any submerged boulders to be worrisome about here, so feel free to leap anywhere and everywhere.
---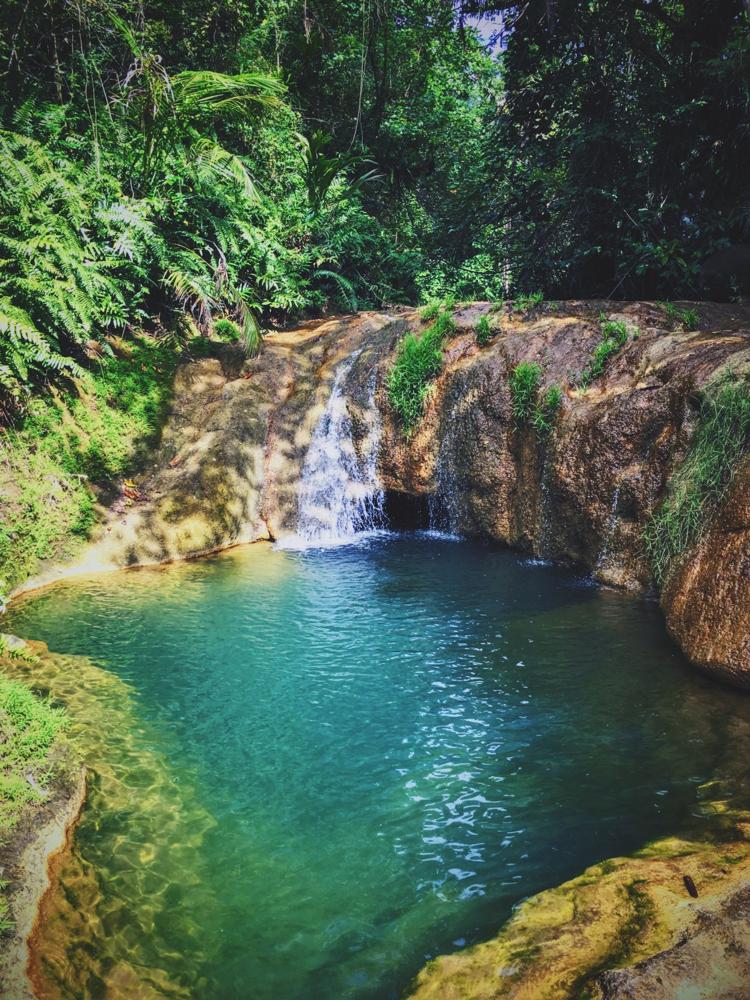 What's better than a valley filled with waterfalls? A valley filled with waterfalls that you can jump into, that's what.
Located in Inarajan, these short, easy hikes provide a lot of opportunities for fun and exploration.
Start off at Malojloj Falls, one of the bigger waterfalls along the hike, hidden in a tropical bamboo grove.
Climb the small hill next to the waterfall to reach the top. From here, take the time to explore the many small pools with literally hundreds of guppies and tadpoles. It might be icky, but it sure is interesting.
Afterward, jump off the waterfall! From the top, it's about a 20-foot drop into the deep waters below.
If you're not feeling the height here, travel down to Waterfall Valley where you have more options. In the secluded valley, the last two waterfalls along the river can be leaped into from about 5 to 10 feet.
---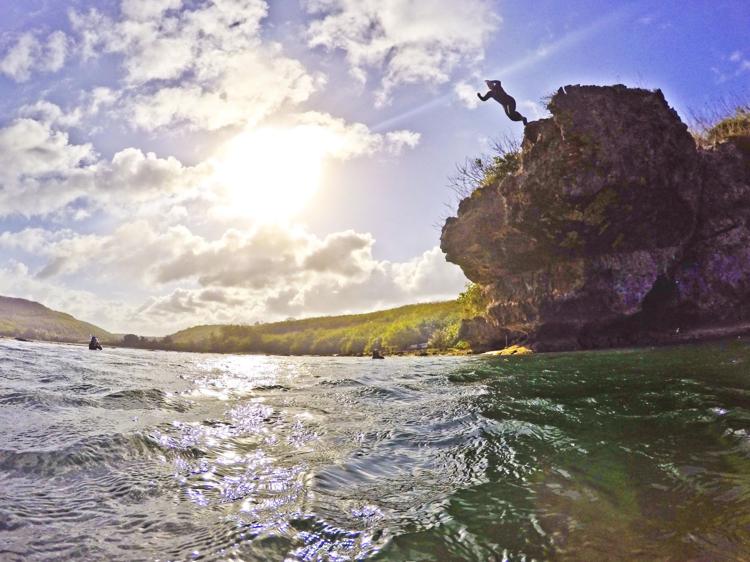 While there aren't any actual turtles swimming around (sad face), Turtle Cove is another one of the best places to spring from.
A few local families are usually seen barbecuing the weekend away here with sights of fisherman doing their thing along the distant reef.
The waters at the cove are also great for snorkeling with a variety of sea life to see. Exploring the coastline beyond the cove and before Taga'chang Beach is another adventure, too.
As far as what we came here for, find the rocky, unnoticeable "staircase" at the end of Turtle Cove. Carefully traverse the sharp rocks to reach the top of the turtle's nose.
From here, hikers can leap from a height of about 15 feet into the cool waters below.
With the wind likely blowing and a small, rocky platform set before you, it always feels like there's just a little more tension and fear when jumping here.
Well, you asked for thrills, right?
---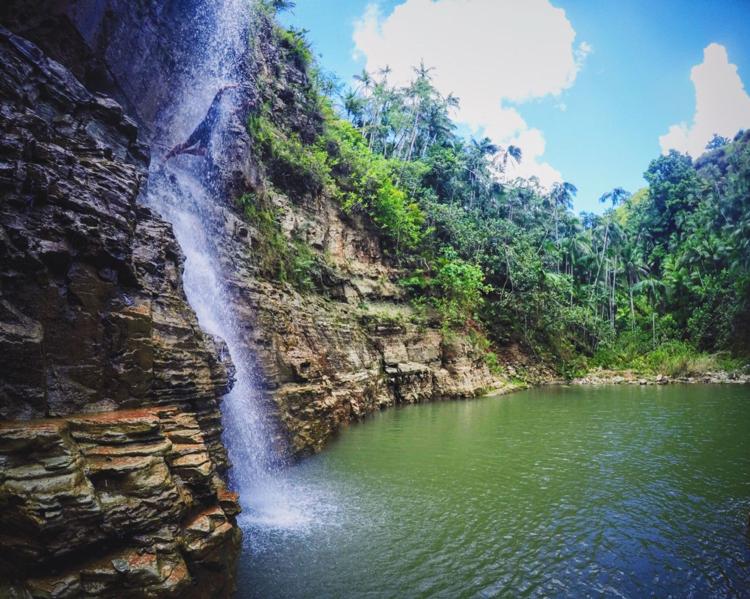 One of the island's most popular hikes, the most popular things to do here, is jump!
Located in a deep river valley in the outskirts of the Leo Palace Resort, Sigua Falls is not your average hike. With spots of mud, steep climbs with a rope and hill after dreadful hill, this hiking destination's badge is earned through hard work.
For jumping opportunities, carefully climb the small rock ledges to the left of the waterfall.
There are about two different ledges hikers can leap off. The bottom tier is about 10 feet from the water, while the other is about 20 feet high.
Pick a ledge based off your comfort level and plunge directly into the center of the pool, specifically. The outer edges of the pool below are shallow and could cause injury, so be sure to aim for the center, which is more than deep enough.