Culture for a cause
Nafanlåla' talu i åcho' atupat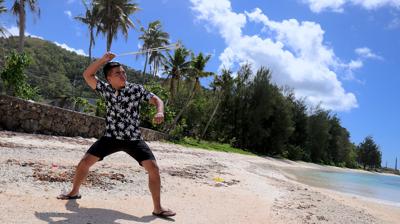 When you're whirling a slingstone about a foot above your head, the key is to release your grip just after passing your chest, pushing the stone forward.
That's one piece of advice from local slinger Matthew Reyes, 24, who like the ancient art of slinging stones, is pushing passion straight past his heart into the future of CHamoru culture.
Reyes, originally from Merizo, is the brains behind "Sling Guam," a local slingstone-inspired cultural campaign and side shop, but it wasn't until a year ago that he discovered the ancient art and connected with it on a personal level.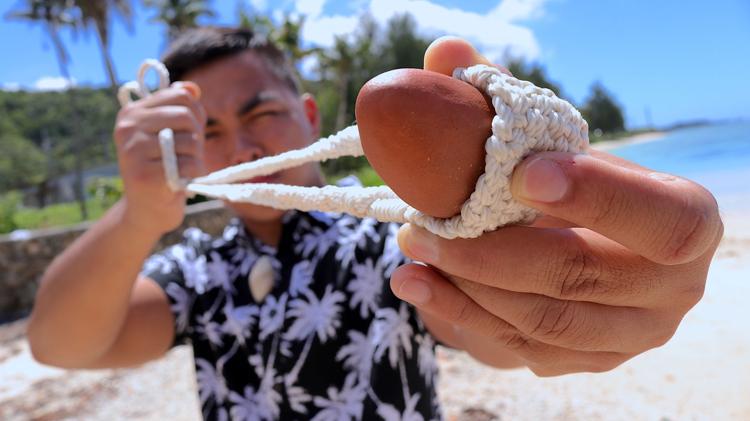 Reviving an ancient art
Days after the island kicked off Mes CHamoru in March 2017, a cultural movement slowly started along the beaches of touristy Tumon Bay. One by one, Reyes and his friends were drawn to their older coworker, Ben "Guellu" Rosario, who has been slinging stones for more than 20 years.
"You'll see Guellu slinging on the beach by himself, and it turned into two or three more people. All of the boys we worked with started slinging on the beach, a whole little army slinging," Reyes recalls.
Guellu, an older CHamoru man originally from Rota, eventually taught his awe-inspired onlookers the ancient art. His apprentices included Tony Piaulig and Roman Dela Cruz.
"These guys are trying to change the game," Reyes said, which sparked an inner fire in him, as well. On March 3, 2017, Piaulig, who grew up slinging back home in Palowat, Chuuk, passed the art on to him, too.
In a replicated ancient CHamoru village, located at the Lina'la' Park in Tumon, Reyes made his first sling, and with its accompanying stone, called "åcho' atupat" in CHamoru, fired away – unaware that he was also propelling himself into a future he now envisions for Guam's younger generation.
"In my mind, I was like 'Why isn't anyone promoting this part of the culture?' It's crazy that our ancestors did this," he said, deciding that he would be that "anyone."
"I was like 'Tony, dude, we've got to give this to the locals. This is us. How can we not?' I've been a part of CHamoru dances, weaving, but no one's doing this."
From then on, Matt would lock himself in his room, making dozens of slings in his free time.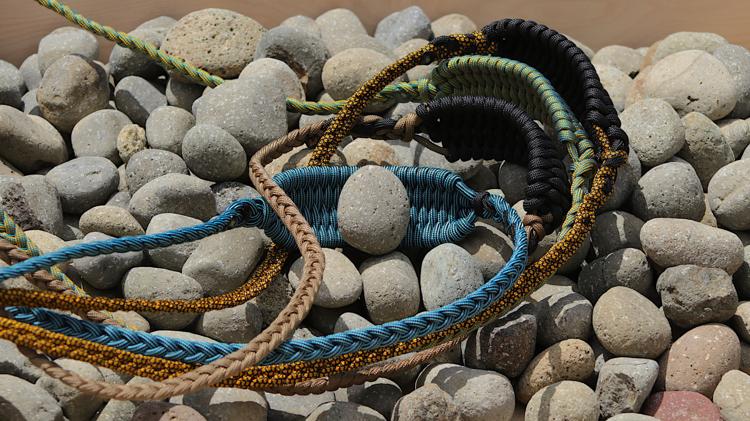 Then and now
While the ancient CHamoru slings utilized the island's pandanus leaves or coconut fiber, Reyes modernized his slings for the practical present, using parachute cords, or paracord, since it's easier to braid and mass-produced.
He still finds ways to incorporate CHamoru culture into the slings, styling them in prints to match the colors of the hilitai (monitor lizard), coral reef and other island icons.
For the stones, which anyone can pick along the shores of southern Guam – more specifically in Umatac or Agat – Reyes uses a dark, fine-grained volcanic rock known as basalt.
The ancient CHamorus also used basalt rocks in their practice, but would sometimes fashion them out of clay, which was then hardened in a heated oven.
While the basalt rocks are usually found in a variety of shapes and sizes, Reyes advises to pick "golf ball-shaped and sized" stones for the best results.
In the ancient days, the åcho' atupat would be chipped and abraded into its signature oval shape. Nowadays, carvers still do the same, laboriously grinding the stones into their aerodynamic form.
After refining the slings and stones, the ancient CHamorus used them mainly as weapons of war, and in some instances, to hunt birds.
According to Guampedia, one Spanish missionary living on the island in the late 17th century chronicled the impressive prowess of CHamoru warriors, who would sling stones with such force, they were thought to be fired from a gun.
The Spanish document stated, "Should it make an impact upon a more delicate part, like the heart, or the head, the man is flattened on the spot."
Today, however, slinging stones has transformed into a recreational activity, where practitioners pay homage to Guam's ancestors and CHamoru culture.
While Reyes and his predecessors' introduction to the art started out as a passionate hobby, it slowly snowballed into something greater.
Teaching the community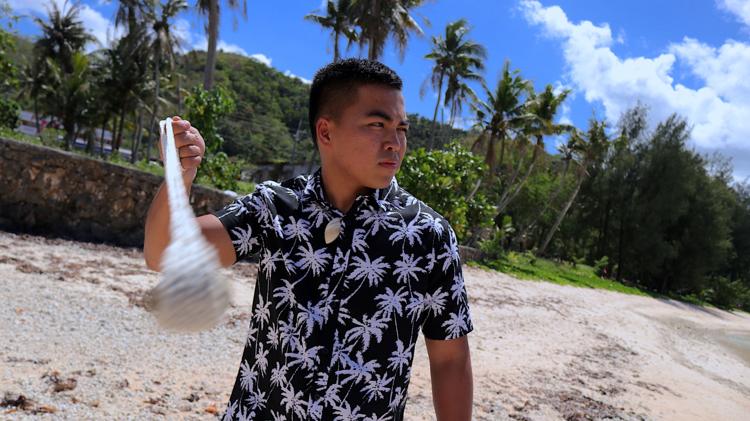 A new generation of stone slingers emerged, each one sharing the art and practice with others who are interested.
Among the usual festivities during Mes CHamoru, like dancing, singing, chanting, weaving, coconut grinding, talaya throwing and tuba drinking - slinging stones is slowly reclaiming a place in modern CHamoru society, and that's a win for the next generation of Guam.
"The rewarding part is actually sharing the culture," Reyes said. "Explaining to tourists, military families, even some locals, that this is what inspired the shape on our flag."
If you didn't know, the official seal and flag of Guam incorporates the shape of the sling stone into their design, and Guam is the only political entity in the world with it.
That information, along with a brief history of the sling stone, is what Reyes shares with bright-eyed customers and curious visitors when he sets up shop at the Chamorro Village every Wednesday night.
There he sells his handmade slings and offers free slinging lessons in his "sling cage," much like a batting cage, just to teach the community.
"You don't even need to buy a sling or purchase anything. You want to learn? We'll teach," he happily said.
Guam's next generation
While the art and materials are being spread, those who started the fire are keeping it stoked, joining thousands across the world in annual competitions and cultural gatherings.
A three-man team from Guam, including Dela Cruz, Piaulig and Rosario, journeyed to Mallorca, Spain, last March to represent the island by participating in the IV Encuentro Internacional Dia de les Illes Balears, the world's largest sling stone competition, bringing about 20 countries with sling stone practices together.
Just a week ago, the same guys, along with Brandi Jae Aguon and Josiah Perez, recently competed again.
As for Reyes, their apprentice who's making his mark, he never thought in a million years he'd be doing this, but he's happy he is. The 24-year-old slinger encourages Guam's next generation to find their passion and build.
"You're going to find out what you're meant to do. Try not to let society tell you what to do. Try not to let your parents tell you what to do," he said.
"None of this would have ever been possible if I never listened to myself. For me, it was about the culture."