There's been a lot of talk about the problems plastic bags create for our natural resources, but just how affected are we? To the average eye, not a lot – but if you're looking for the telltale signs, you don't have to look far. You just might have to take a hike.
If you scour the shores of Tumon Bay, and any touristy spot on island, odds are you'll find pieces of trash here and there.
Venture farther away to more local hot spots, like Tanguisson Beach in Dededo or Taga'chang Beach in Yona, and you shouldn't have a problem finding garbage patches and illegally dumped items scattered around.
Would you believe it if I told you that barely scratches the surface?
Out of sight, not out of mind
The trash you see along the island's more iconic beaches, and even the ones a little less traveled, is but a drop in the bucket compared to what washes up and lies undisturbed on our remote coastlines.
I'm talking about the trash and other pollutants that float freely onto the shores of mainly southern Guam, and stay there.
The southern coasts are literally littered with garbage. It's not necessarily us who cause this, but we definitely contribute to it. As residents of the island, we have a stake in it.
The photos you see show plastic waste piling onto the shores of Paicpouc Cove and Matåla Beach along the Asiga coastline, between Talofofo and Inarajan bays.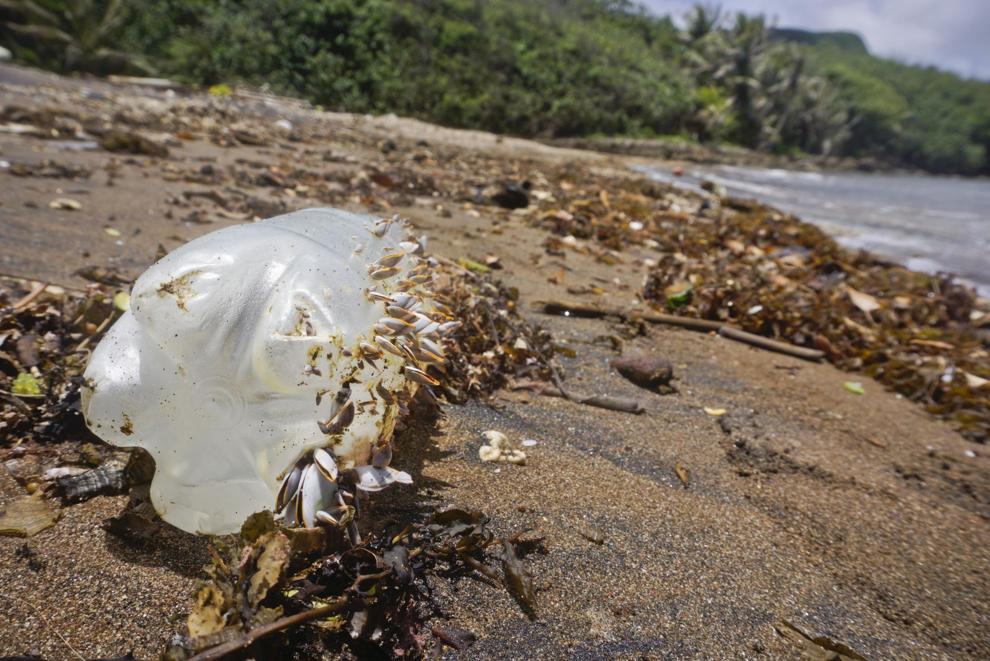 This is an incredibly isolated area you'd have to hike or off-road to reach. It's just one example of how single-use plastic plagues our island.
While I've never really cared to photograph the washed-up trash I see blanketing remote beaches, I hiked the Asiga coast just weeks ago, and was more blown away by the beds of garbage than its black sand beach.
Trashed treks
What should be trash-free, soft, sandy shoreline, was a trash hoarder's heaven – a disgusting display of mankind's malign morality.
Broken chair pieces, old machine parts, torn tires and even a mound of slippers covered the coast, but nothing held a candle to the plastic pollution that crowded the beach.
From big plastic bottles and plastic containers galore, to puny plastic shards and plastic film wrapping the shore, it's no wonder plastic is a top target for environmentalists.
It's everywhere, including an extremely isolated area on an already isolated island in the middle of the Pacific Ocean. The Asiga coast isn't the only example of trash buildup, either.
If you walk the more accessible shores of Inarajan, past Bear Rock, you will surely stumble upon washed-up waste. Farther south, a seaside sojourn between Umatac and Toguan Bay will also reveal a rocky, trashed trail.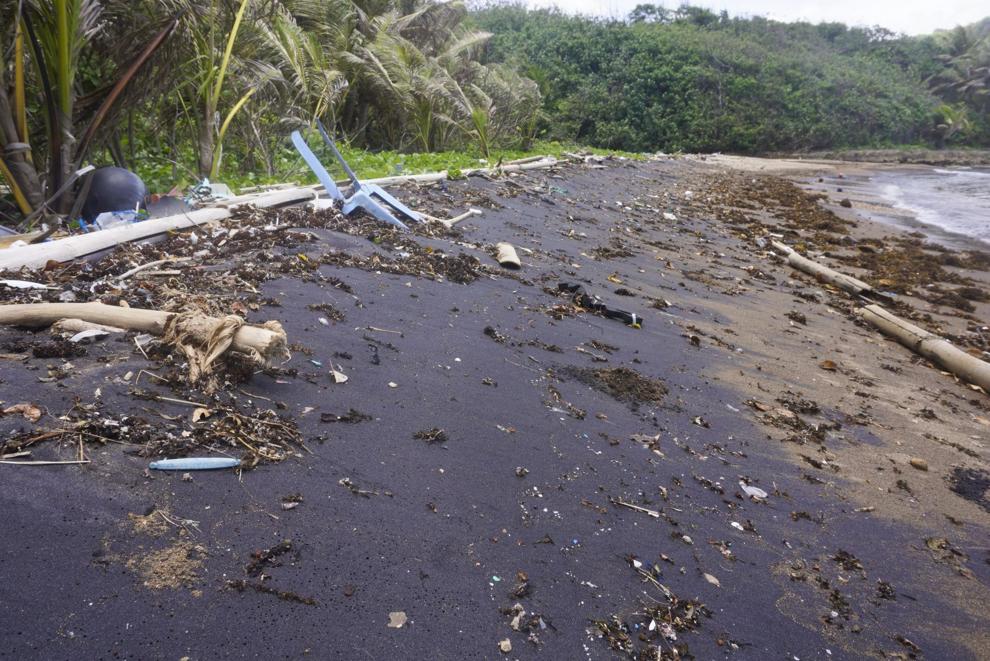 For a more familiar trashed trek, the beautiful beaches by Sella and Cetti Bay, which are part of the protected and preserved Territorial Seashore Park, are also part of plastic's pernicious path.
These lesser-known locales – not regularly traveled, let alone cleaned up – become home to the plastic waste that wades in from around the world.
They serve as prime examples of how our small, humble island is awfully affected by single-use plastic products.
It's time we talk about the plastic elephant in the room.
A heavy environmental toll
According to the Plastic Oceans Foundation, a California-based nonprofit, the world produces 300 millions tons of plastic yearly. Half of those plastics are single-use items, which means we use them once because they're cheap or convenient, then we ditch them to God knows where.
Except, we do know where a fraction of it ends up. More than 8 millions tons of plastic waste finds its way into the ocean every year, the organization states.
A fraction of that becomes an eyesore along our beaches, and worse, threatens the life of marine animals across the deep blue sea.
No one should have to post photos of ducks entangled in plastic six-pack rings, or sea turtles with plastic bags trapping their heads, for you to care. The news of plastic waste clogging our oceans isn't new, so neither should your awareness be.
And since you're living on an island, it's even more imperative for you to take action because plastic pollution not only impacts our waters and marine life, but also our main economic driver and, more importantly, our health.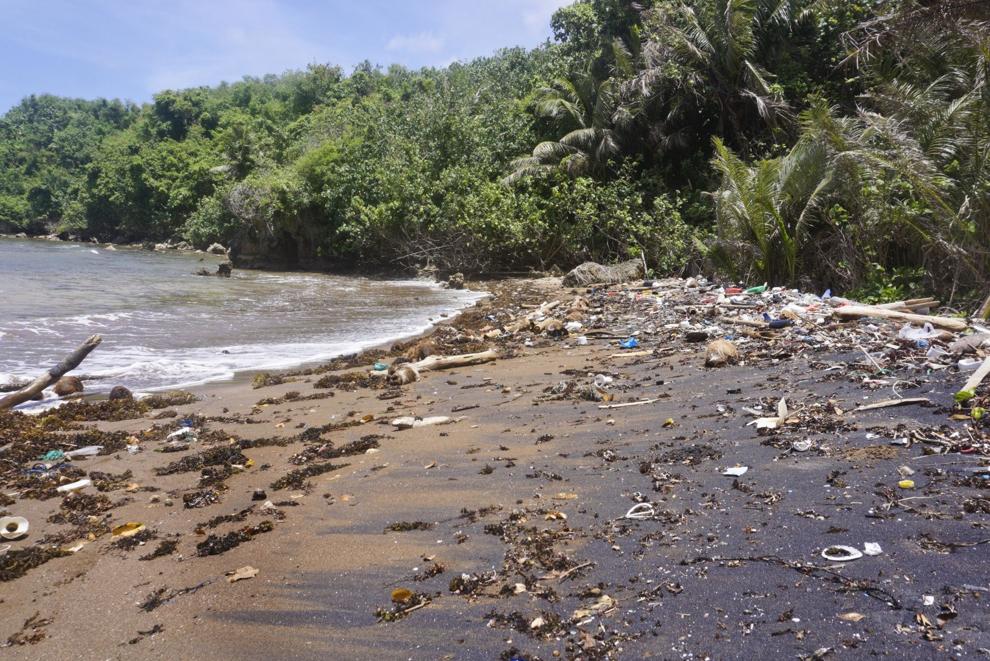 It's a haunting human addiction we need to face head on, and we can look to a couple of states and our sister islands for guidance.
Banning the bags
The states of Hawaii and California are leading the nation's ban against plastics. In 2016, California became the first state to ban single-use plastic bags at large retail stores, also requiring a 10 cent minimum charge for recycled paper bags, reusable plastic bags and compostable bags.
Hawaii, in 2017, enacted legislation that bans stores from providing any plastic bags by 2020. Starting this July, non-exempt businesses in Hawaii will be required to charge customers a minimum of 15 cents per plastic bag for groceries and other merchandise.
Elsewhere in the region, Taiwan recently imposed one of the furthest-reaching bans on plastic in the world. The island nation's leaders signed into law a blanket ban that would prohibit single-use plastic bags, straws and cups completely by 2030.
Closer to home, Palau passed a law in 2017 that bans retailers from providing plastic bags to customers. The Commonwealth of the Northern Mariana Islands, too, passed a bill in the House of Representatives that fines shops for offering plastic bags.
Guam's time is now, and we can't turn a blind eye to our environment, especially since it has catered to a thriving civilization on island for centuries. As one local resident who cleans Ypao Beach regularly said, we are the caretakers of this land. It's time we include the surrounding waters.
What's right for the region
Sen. Régine Biscoe Lee recently authored Bill 268-34, the "Choose to Reuse: Munga Ma Ayek I Plastek" measure, and introduced Bill 242-34 on behalf of the Guam Youth Congress.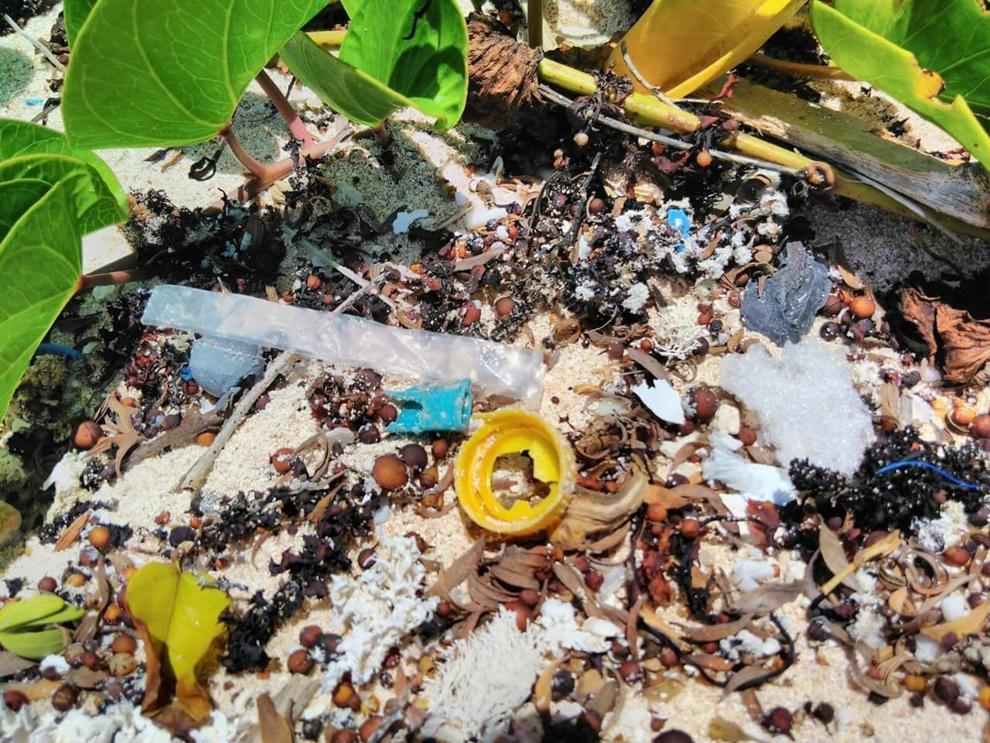 Both bills aim to reduce the use of disposable, single-use, plastic bags by giving businesses the option to charge a 10 cent fee. The bills also would require all plastic bags to be biodegradable or compostable, with a complete ban on plastic bags in five years.
This piece of legislation is our steppingstone to doing what is right in our region, our cut of the world. It's our chance to keep the globe green and blue, and our home a humble paradise not plagued by plastic pollution.
With the proliferation of plastic products, we've developed a "disposable" lifestyle we just can't afford to live anymore, especially if we care about the world we'll be living in decades down the line.
This plastic menace, which is unnecessary and unsustainable, will affect our fisheries, marine life, tourism and recreation for thousands of years. It affects me, and it affects you.
Fakmåta! Wake up and realize that one day, we might be swimming in a purely plastic sea.