In a cool, seaside cavern found in southern Sumay lies our very own fountain of youth, where adventure is an endless opportunity, and free spirits dance across a deep-blue horizon.
All this awesomeness lies in what is locally known as Tarzan Cave, a large coastal cavern located on Naval Base Guam, where snorkeling and diving are superior to several other spots, and a taste of thrill is found at the end of a rope swing.
As one of the island's hidden gems, the cave is mostly visited for its lengthy rope swing, which dangles about 75 feet from an overhanging cliff edge.
Depending on where you choose to launch, the brave and lionhearted can lunge into the open sea ahead from heights between 10 and 50 feet.
After a bout of swift rope swinging, hikers can take a quick siesta in the shade while a cool breeze rolls in.
Shielded from the outside world, with the open ocean your only view, it's easy to imagine life as a castaway here. You probably wouldn't mind being stranded in this paradise.
While it won't take too much of a hike to get here, for the outdoor adventure and natural splendor Tarzan Cave touts, it's carved a place as one of our Spots on the Rock.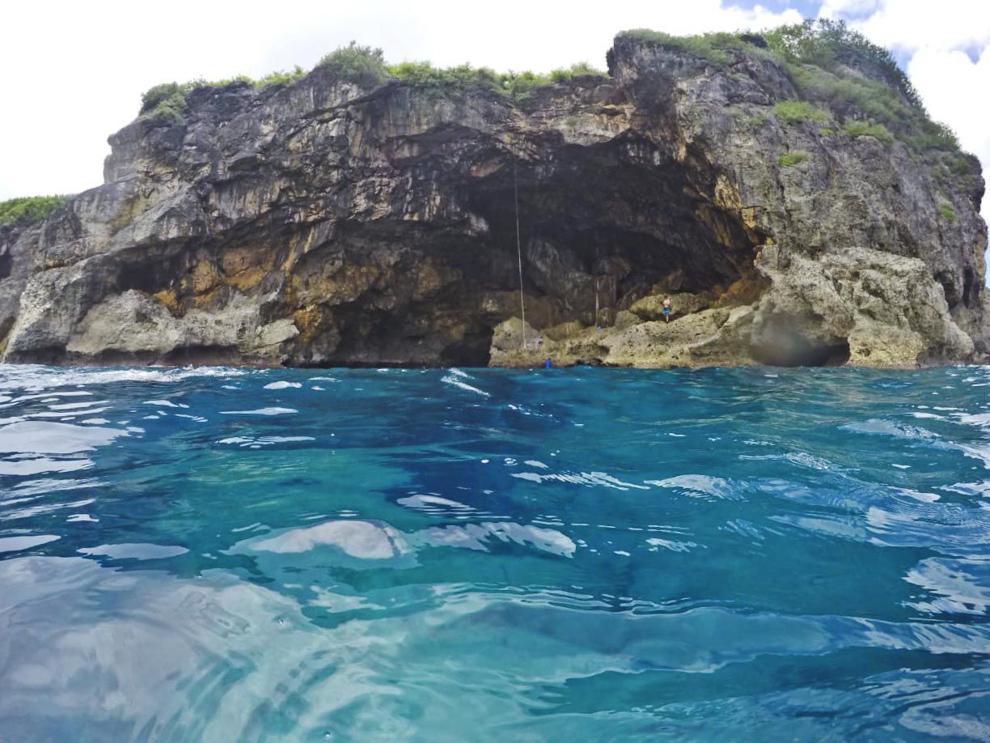 Before we begin
A few things to note:
Half of this short 20-minute hike will require you to swim in the open ocean, so you cannot bring electronics or other items you wish to keep dry unless they're waterproof or kept in waterproof containers.
As the hike requires a swim, you absolutely need to check weather conditions and tide charts before heading out.
You cannot do this hike in bad weather or with rough tides, and it's recommended that you only do the hike at low or negative tide, on clear and sunny days.
On a particularly bad day, the waters that, on a good day, calmly wade into the cavern, will crash relentlessly against the cave's rough rocks.
As far as the 10-minute swim through open ocean, it's recommended you bring a snorkel mask and fins. This is definitely not a hike for kids or pets.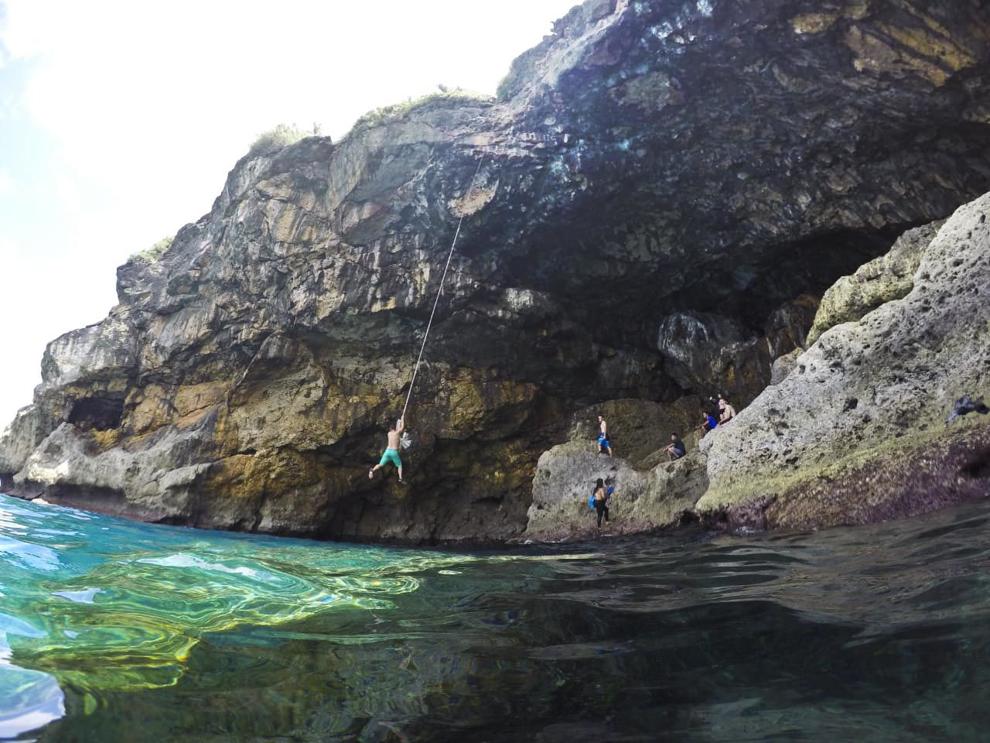 Let's get started
To start, leave the parking lot and skirt the nearby jungle toward the baseball field ahead. Turn right into the brief jungle junction, which will open up to widespread views of Old Wives Beach.
The rocky shoreline here is a protected nesting ground for sea turtles, a famed fishing spot for fish fanatics and a cool campsite for regular beachgoers.
Head north, to the right, to reach Tarzan Cave. Toward the end of the beach is where you'll begin wading into the shallow water as you trace the coastline out to sea.
In these shallow waters is where you'll find the first instance of an irresponsible past. According to a dive site briefing by Scuba Guam, the U.S. military turned the once trash-free seas nearby into a "dumping ground for war machinery, vehicles, and for a while, garbage."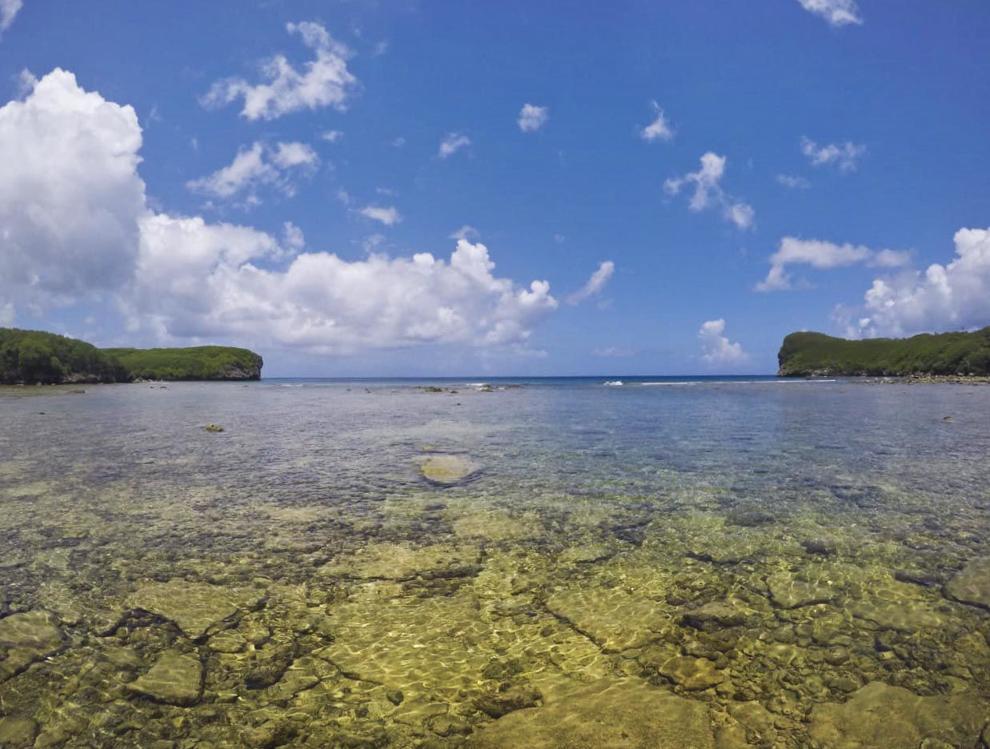 From the shoreline, into the open ocean's depths and even in Tarzan Cave, you can find the rusted remains of aged anchors, jeeps, wheels and landing craft, presumably left behind after World War II.
While it's a wonder the military did this, and there aren't too many resources out there providing details, we'll carry on with the natural beauty that remains.
About five to 10 minutes into your water wading, depending on the tide, prepare to put on your snorkel mask and fins to begin swimming out.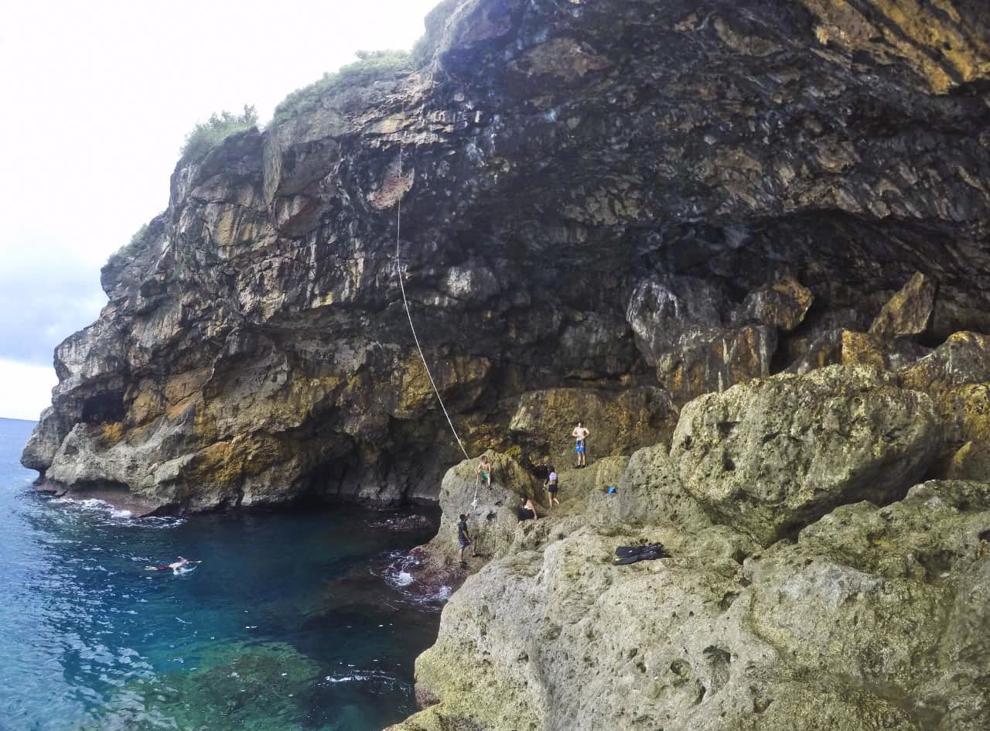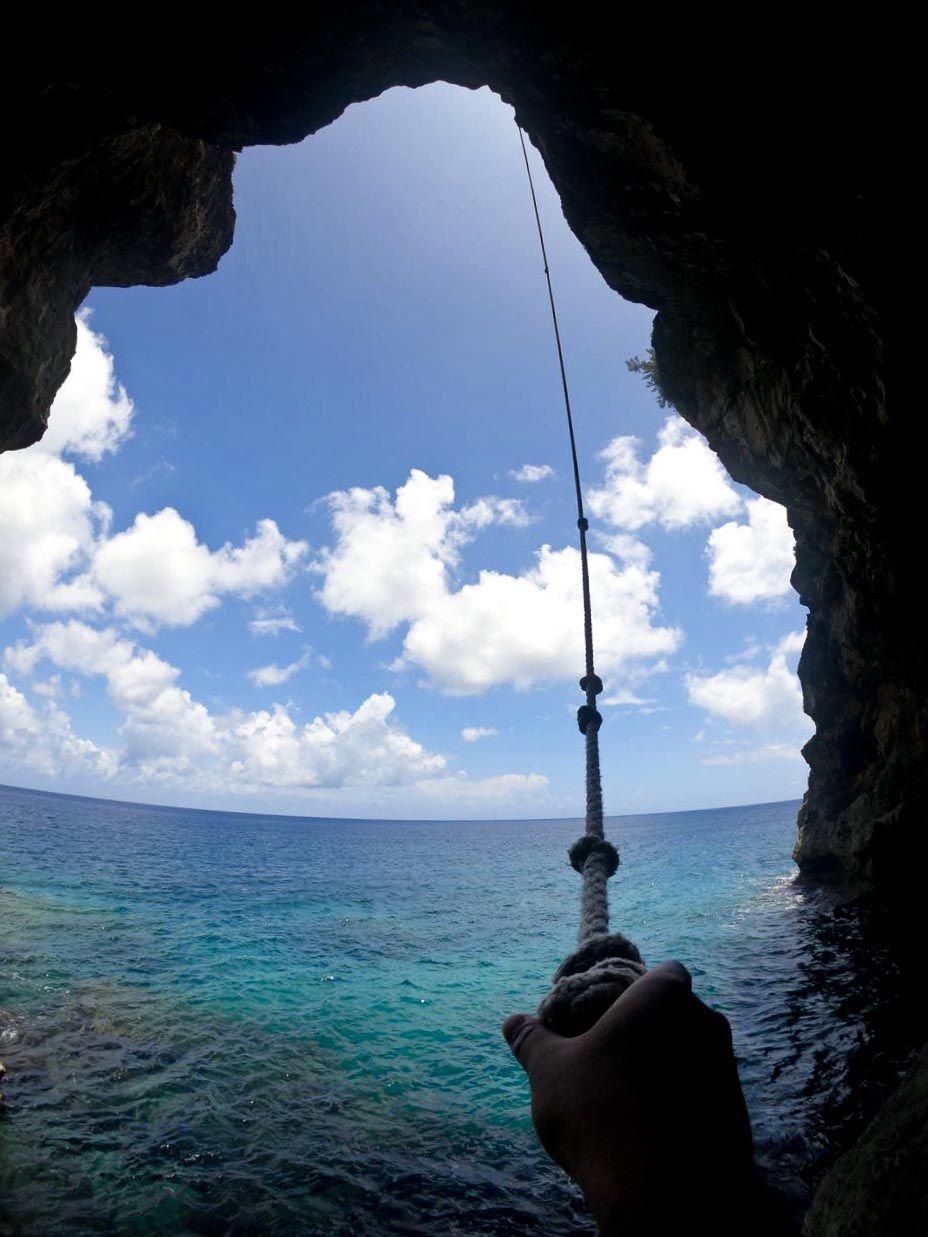 A colossal cave
Diving into the deep open ocean, past the reef, continue to swim north and skirt around the end of the cove.
In another five to 10 minutes, you can't miss the opening to colossal Tarzan Cave on your right.
Head farther into the cave to find a better entry point. Use the tide to your advantage as you crawl onto the cave platform. You made it!
Settle your stuff and carefully explore the cave for a little. The highs and lows provide great photo vantage points! You'll also see the ditched mechanical remains of another war wreck.
When you're ready, climb back down to the calm sea and grab the rope swing for a thrilling jump. You can launch from a few different spots in the cave, so align your leap with your comfort level, and look out for any rocks or other obstacles in your path.
With a couple of deep breaths and a successful strike zone cleared, cowabunga! Keep the good times swinging as much as your heart desires.
For another aquatic adventure available just outside the cave, grab your gear and dive back into the deep end. There aren't many colorful corals or underwater formations to see around the cave, but the ocean comes to life in a different way below the surface.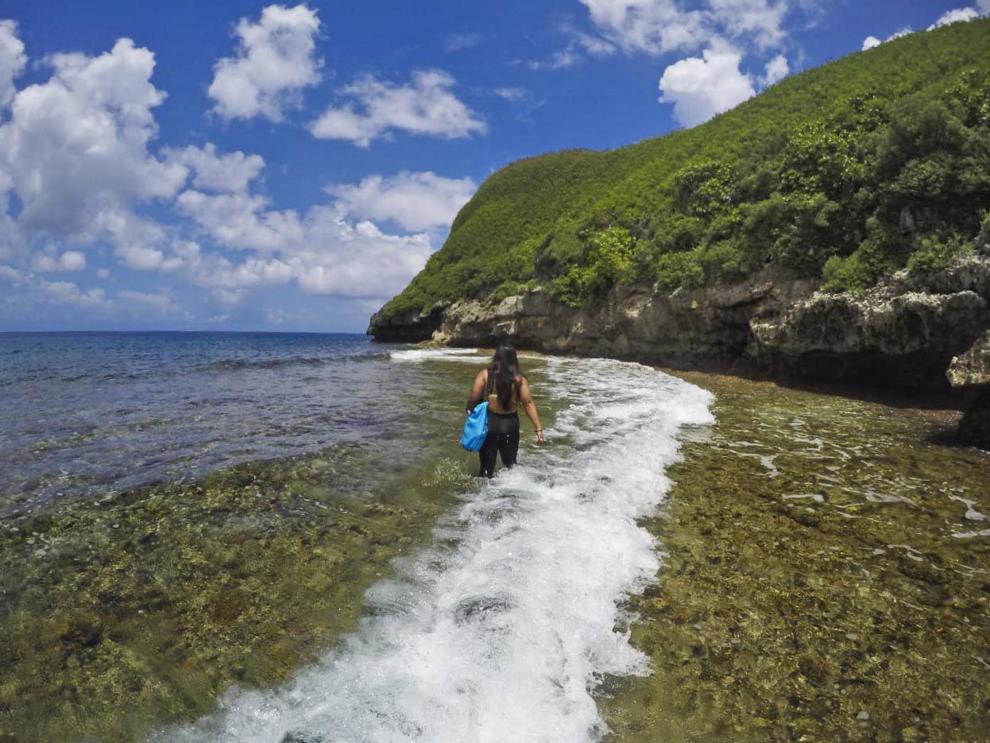 Shark's Pit, Turtle Rock
To the north of Old Wives Beach and Tarzan Cave lies Shark's Pit, a popular diving site and stomping ground for blacktip reef sharks. These grayish-brown sharks, signified by the black tips of their fins, are harmless and often hunted for their meat and fins.
To the south of Old Wives Beach and Tarzan Cave is Turtle Rock, another popular diving site and casual grazing ground for sea turtles, which are protected by law.
With these two stunning sea sites nearby, the waters around Tarzan Cave have become an underwater highway for these majestic sea creatures.
There's a very good chance, on any given day, you'll see sharks, turtles and even manta rays swimming beside you. And closer to Old Wives Beach, you can even find giant clamshells, starfish and exotic crab species. It's an underwater extravaganza!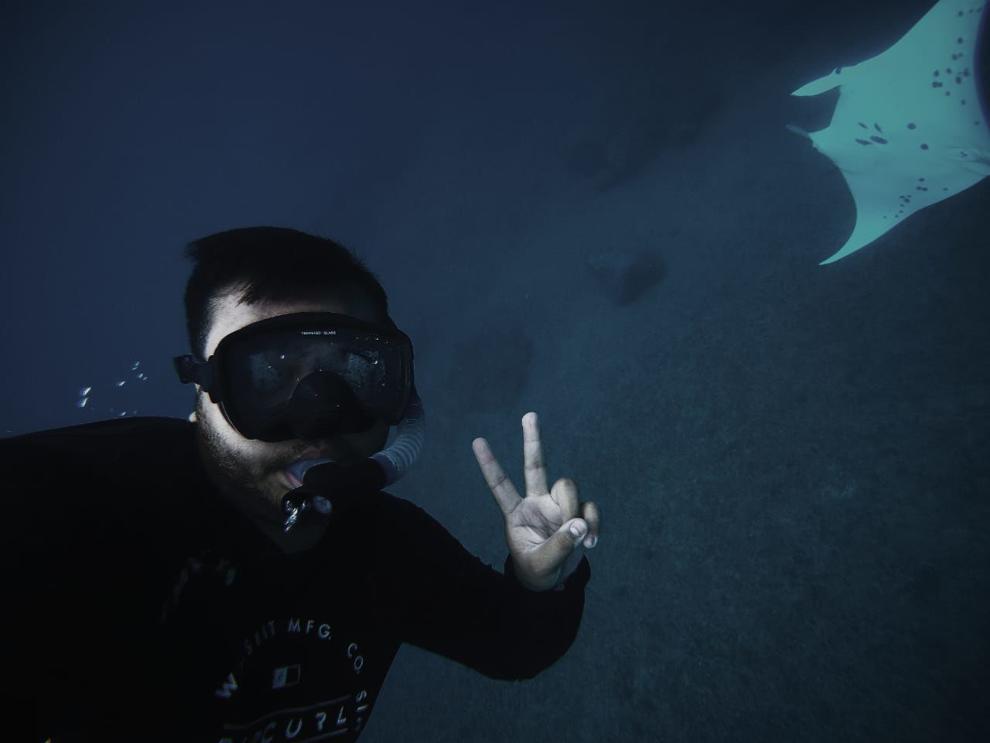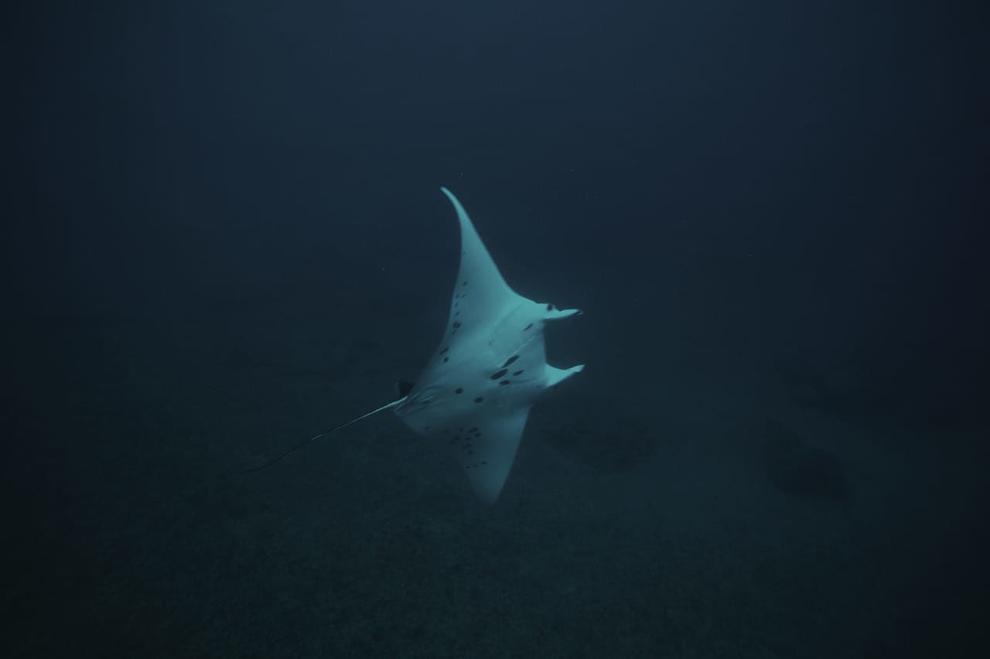 After you've leaped and lunged to your heart's content, and explored the sea's fascinating friends, retrace your swimming path and shoreline steps back to your vehicle.
Happy hiking!