This week's Spots on the Rock takes us to a summit that dominates Guam's southern reaches – Mt. Schroeder.
While there may not be any pristine waterfall, placid swimming hole or scenic coast to greet us at the end of this hike, the old expression about "enjoying the journey" and not just the destination rings true here.
Also known as Punto Christo by some, this particular peak towers over Merizo and offers stunning, unobstructed views of southern Agat, Cocos Island and the Geus River Valley. The Spanish name translates to Christ's Point.
The mountain is named after an early American naval governor of Guam, Capt. Seaton Schroeder, who was appointed to office in July 1900.
Compared to some of the more common mountain hikes in Guam – such as Mt. Jumullong Manglo or Mt. Lamlam – Mt. Schroeder is relatively short, distance-wise.
However, the trail makes up for this in its difficulty, meaning it's a short, but very steep trail. While gloves are always good to take on a hike, they are highly recommended for this trek, so you can grab whatever is nearby for a handhold as you make your way without fear of cutting yourself on neti (tall, perennial sword grass).
Long sleeves are also a boon here, as you will have to pass through a number of dense pockets of sword grass. The key to tackling this hike, or any trek you might find difficult, is to pack enough water and take it slow.
For most of the trail up Mt. Schroeder, there is ample canopy coverage (even if that canopy is comprised entirely of sword grass), but there is no shade to be found near or at the peak, so a hat is also strongly recommended.
While the difficulty of most trails increases if it's raining, the sheer path up Mt. Schroeder becomes even more difficult when wet. Climb at your own risk, tackling this hike is best during a dry spell.
Getting there
To get to the trailhead, head to Merizo and turn north onto Joseph A. Cruz Avenue, which is off Route 4 and right next to the Merizo Combento (old Spanish-style priest's house).
Drive uphill and pass the Merizo Martyrs Memorial Elementary School, baseball field and a water tank before turning left onto Chalan Dometro Quinene Meno.
Continue straight down the inner village highway and onto a dirt road up to the Trans World Radio property. Keep driving past the station until you reach the last tower on a hill. Park here.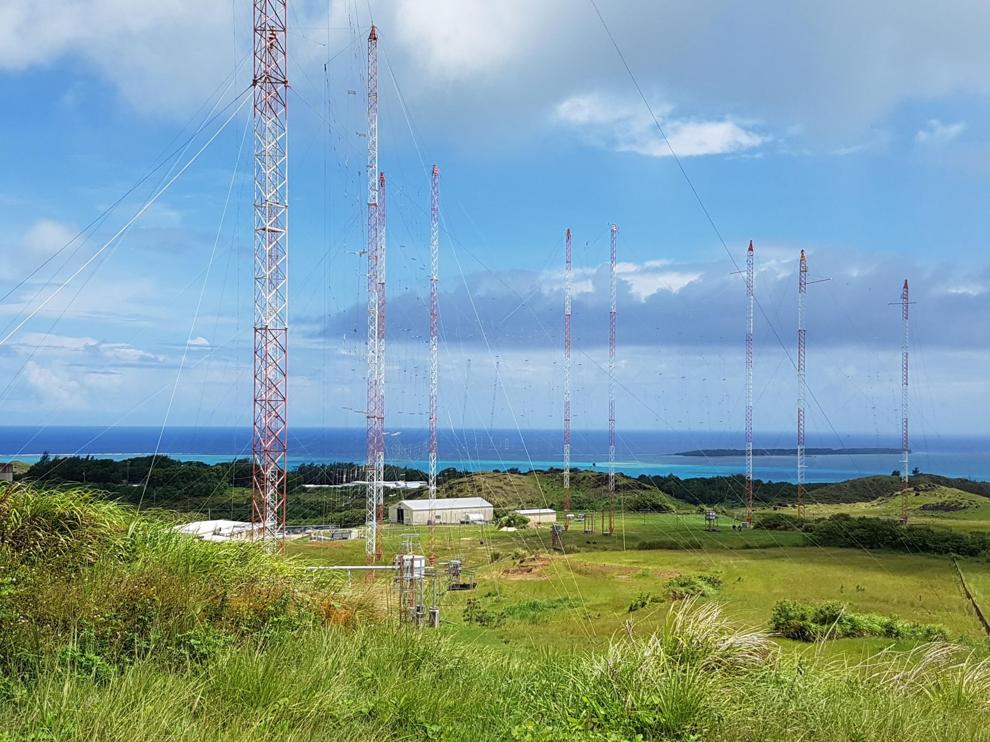 Unless you frequently drive through Merizo, you might not be familiar with the radio station's network of towers. The views from this vantage point offer a unique vista.
Facing the radio tower, to your right you will see Mt. Schroeder's sharp peak, thrusting straight into the sky. Before beginning the climb, take a moment to look around the area.
Roaming the rugged ridgeline
The large, industrial-looking network of radio towers dotting the rolling green hills of Merizo contrast sharply with the swaying neti, the shades of ocean blue beyond and idyllic Cocos Island in the distance.
Looking at Mt. Schroeder from its base, take note of the ridgeline you'll be climbing, which descends from the peak to your left.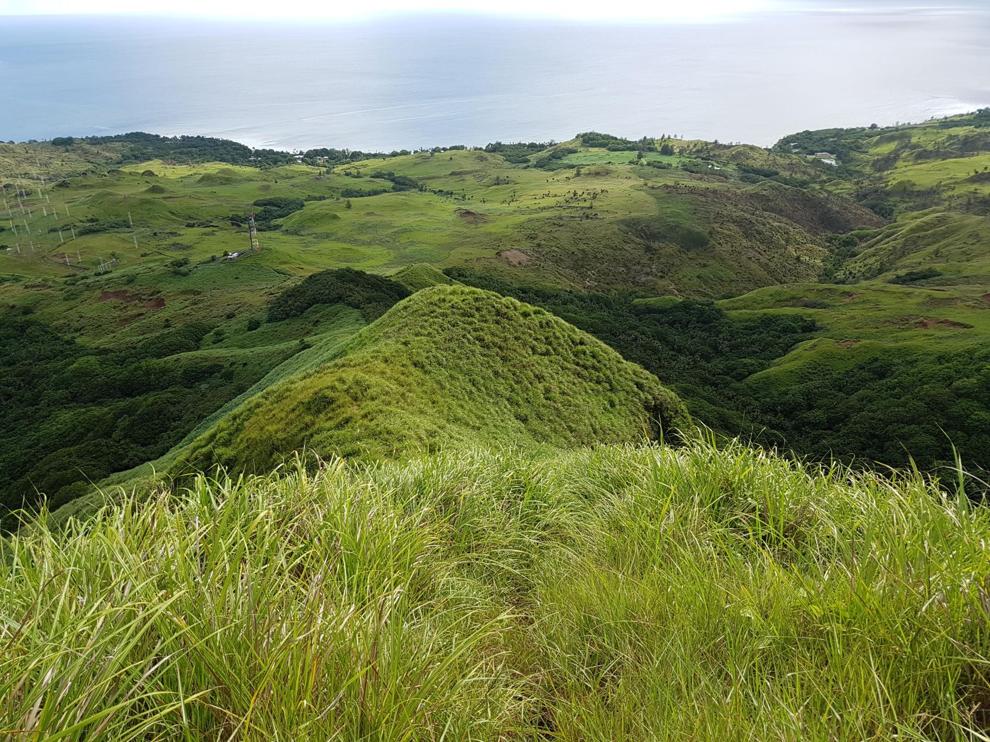 Once you're ready to make the climb, begin walking past the fenced-off tower to your left into a grassy field. Off-road ATV tracks can be misleading, so finding the start of the trail is probably the trickiest part of the entire hike.
It shouldn't be too long before you spot the dense thicket of tangan-tangan trees surrounded by sword grass. There are a couple of entry points here, so keep an eye out for what might look like a small hole or opening in the grass.
Push through and you should find yourself inside a thicket surrounded by tangan-tangan.
While you should be on the lookout for the variegated ribbons characteristic of many Guam's trails, use them only to assure yourself of the right path. Rather than looking for ribbons to follow, just keep in mind that you want to go up.
The hike is not terribly popular, so the trail tends to be faint and overgrown ... but it is there. The ridgeline ascends slowly at first and then becomes steeper as you progress.
At this point, the trail may weave to the right and left sometimes, but never descends too far off the ridgeline. At several points, you'll break through the overhanging canopy where you can breathe and take in the grand vista.
These reprieves are short and you'll invariably find yourself shuffling back into shady thickets of tangan-tangan, or even pushing through dense spots of neti.
Hovering between 'heaven' and 'hell'
Eventually, the peak will be in view and you'll gather those inner reserves to make one final push, just to be able to collapse at the summit – or maybe you're made of tougher stuff.
In any case, once you make it to the top, take in sweeping views from the summit of Punto Christo.

For future reference, keep in mind that Mt. Schroeder connects with the southern mountain range and is one of two major branches.
The other branch is the infamous Mt. Sasalaguan, whose trail terminates in neighboring Inarajan.
Stalwart souls with a good pairs of shoes, plenty of water and a thirst for adventure may continue this hike to the northeast, following the ridgeline as it connects to the rest of the southern mountain range.
From the top of Punto Christo, follow your line of sight down the mountain range where you might see a small speck far in the distance.
The speck is a lone ironwood tree, which marks the summit of Mt. Sasalaguan. The CHamoru name translates to "hell" – a stark contrast to Christ's Point.