Palm trees, ocean breeze, salty air, sun-kissed hair. ... Endless summer, take me there!
Without the four seasons you'd experience in the states, we here in Guam miss out on the fanciful foliage of fall and winter wonderlands filled with snow, but we'd be remiss not to count our blessings at the beach!
In Guam, we have access to some of the Pacific's most sought-after beaches for world travelers and tourists, 365 days a year.
People living in the far northern and southern parts of the world are begging to lie on beaches easily within reach to island residents. Don't forget, we live where millions of others vacation!
So, this holiday season, take advantage of the abundant beaches blanketed by soft, white sands and other seaside treasures that we're lucky to call a part of our home.
A long walk on the beach is romantic and easy, but how about upping the ante and going for a long hike on the beach?
Here are the Top 10 Beach Spots on the Rock, where most of the "hikes" are literally long walks on beautiful beaches that few have ever seen.
These unblemished beaches are beacons of nature's unspoiled beauty, and yours for the sightseeing!
Look up the hike's name at PostGuam.com for more photos, directions and more information.
Hila'an Beach
Stunning rock sculptures made by past hikers are seen scattered across the jungle entry to Hila'an Beach.
The area is the site of an ancient CHamoru settlement, and the air feels enchantingly so. Not too long into the hike are we rewarded with soft, sandy beaches and sights of the shimmering Philippine Sea.
The more interesting and distinguishable sights at Hila'an, however, protrude from the nearby, shallow waters in the form of peculiar rock plumes.
These limestone rock formations are picturesque and nice little nooks for beachgoers to chillax in.
To turn this simple beach trip into a hike, follow the coast north to Shark's Hole for supreme snorkeling and into the nearby jungle for Lost Pond.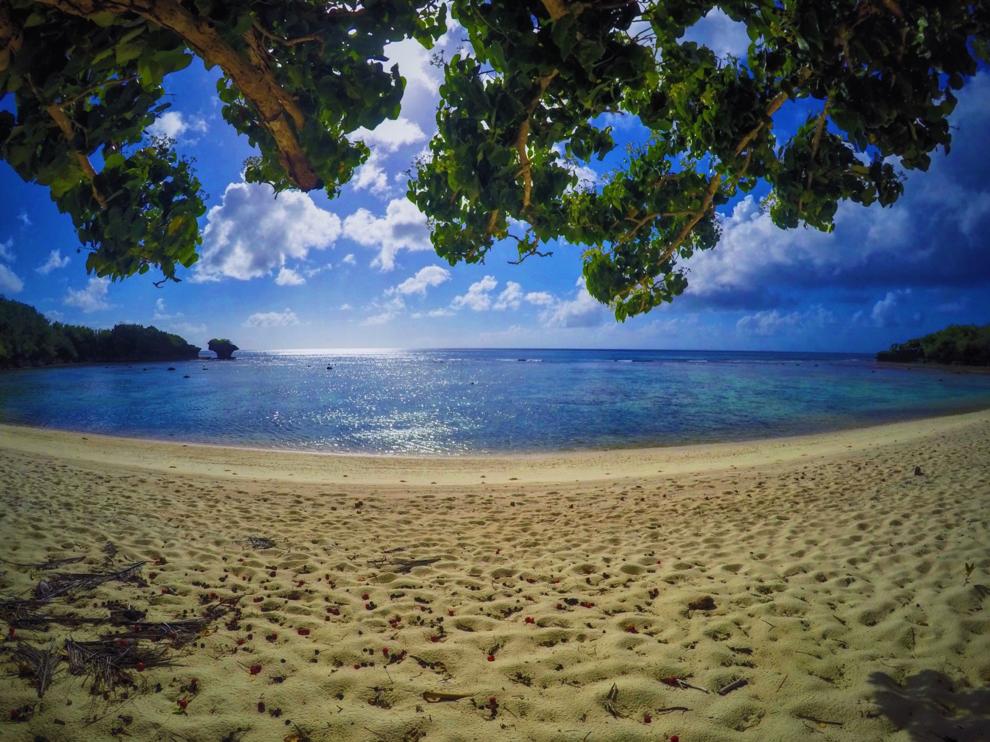 Haputo Beach
Another northwestern jewel, Haputo Beach is without a doubt the most beautiful beach on the island. No contest!
Hiking down a charming cliffline path, views of Haputo are breathtaking. You'll want to soak in the majestic beauty of the coastal area and rush down to enjoy it firsthand at the same time!
Designated as an ecological reserve in 1984, Haputo Beach covers about 252 acres of coral reef and limestone forest. It's one of the best local snorkeling sites, where you can see vibrant reef and sea life.
Also the site of an ancient CHamoru village, the jungle across from the beach is home to several of the island's most intact latte stones and scattered pottery shards.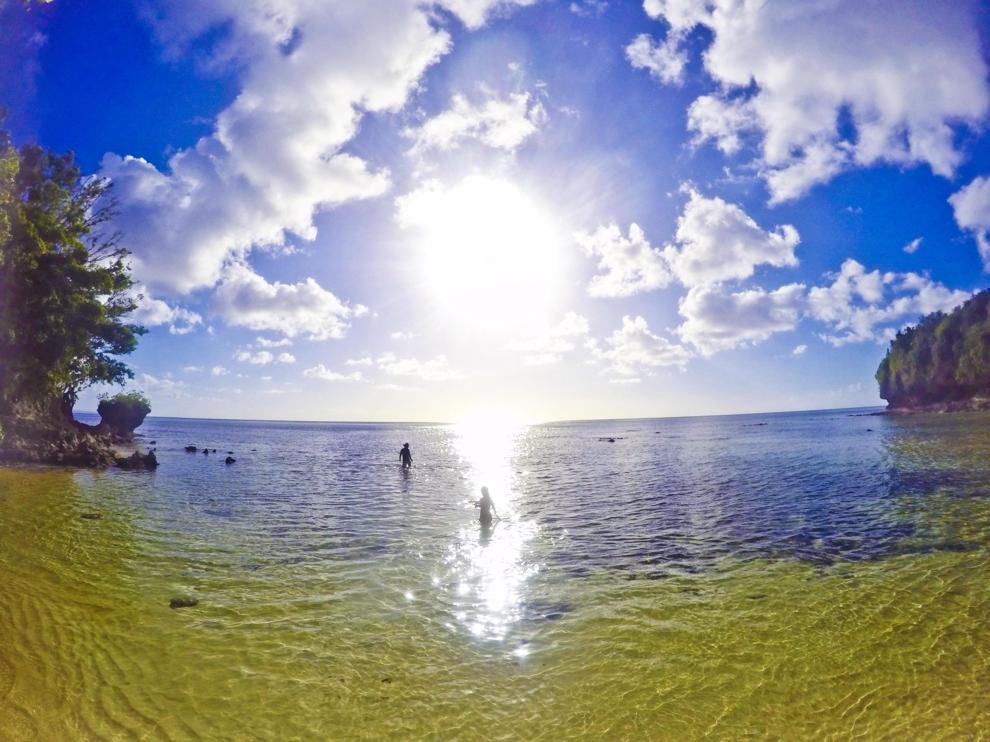 Double Reef Beach
Down the street from Haputo is Double Reef Beach, another unblemished beach worth the lengthy journey.
One of the farthest destinations, the adventure travels miles through limestone forest, down sloping hills, and over rocky coastline and sandy shores.
At the end, however, is one of the island's best snorkeling sites in a remote location, tucked away along the northwestern coast.
The beach, littered with peculiar pebbles and patches of soft sand, is notably overtaken by trees, which are great hosts for shade and hanging belongings.
The journey to Double Reef Beach is what's most memorable and worth the time invested, but the beach, as well, is something to add to your bucket list.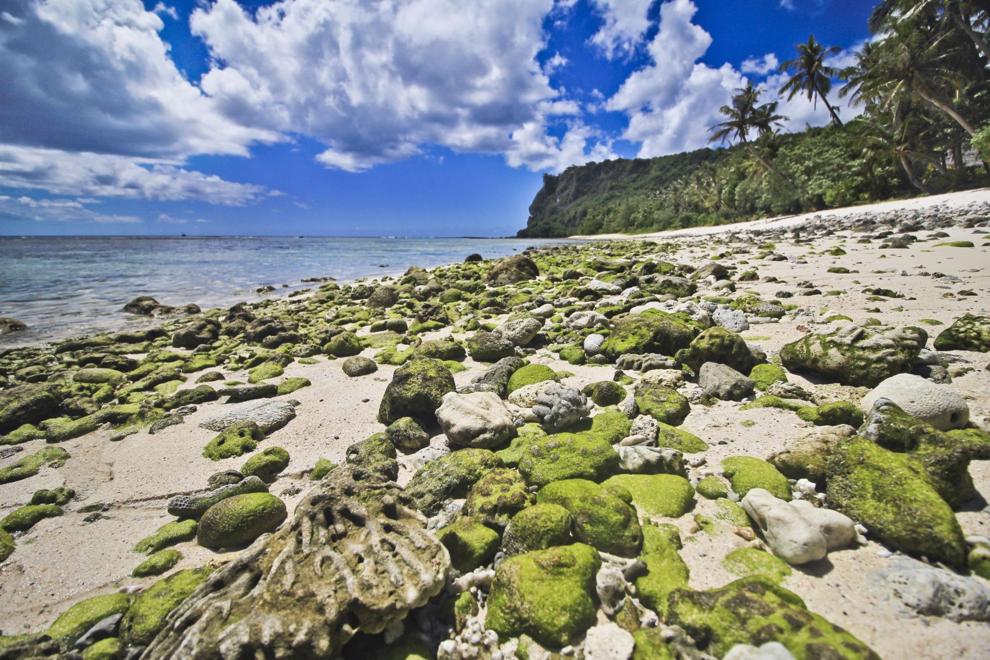 Gun Beach to Tanguisson Beach
Gun Beach is just one of the many hotspots in Tumon. Sure, it's a great beach with a good bar, and away from the more touristy side of the bustling village.
However, farther north of Gun Beach are places that truly transcend Tumon and offer more than meets the typical tourist's eye.
Passing a World War II monument and an indented, limestone shelf that has become a popular viewpoint, Fai Fai Beach is the first fantastic spot with ancient latte stones scattered in the nearby jungle and a spotless beach.
Farther down, hikers pass by castle-like cliffs that are home to Two Lovers Point, and cross over gigantic boulders that have a playground feel.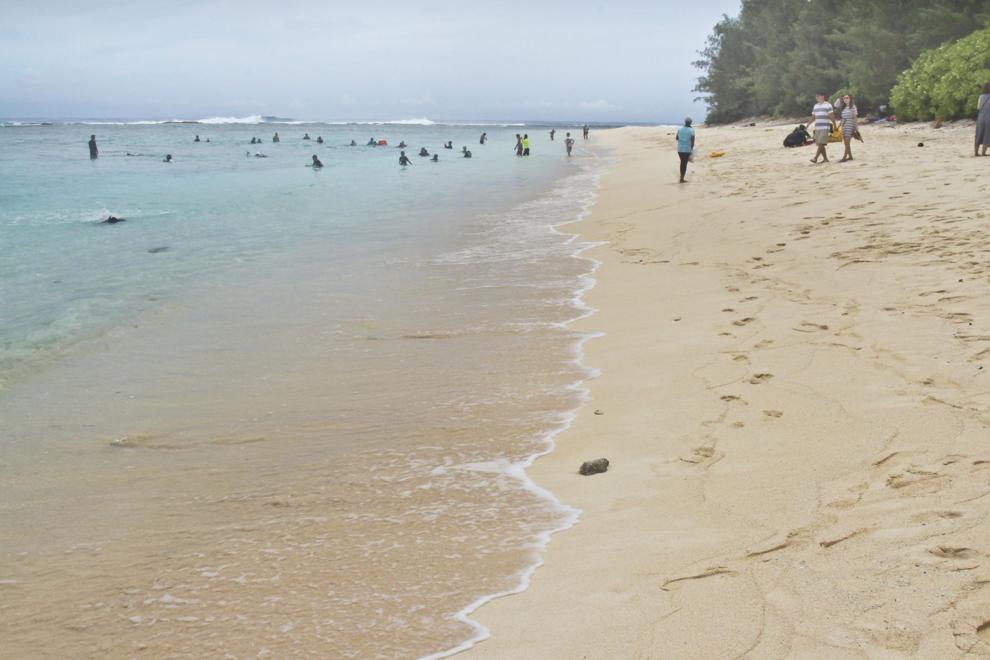 Ritidian Beach
Ritidian has come to be known as a true tropical island getaway on Guam. Besides the northern locale's white sandy beaches, the inherent charm of Ritidian lies in its history.
Also known as "Litekyan," Ritidian is an ancient area filled with tons of hidden treasures. A tour to the caves is a spiritual experience, and following the jungle trail is an adventure, too.
Hikers can learn more about the island's native flora and fauna at Ritidian's visitor center, or they can explore the refuge to get a firsthand feel of the history, as well.
No matter where you live, traveling to Ritidian is also an adventure in itself. Get ready for a road trip!

Sella and Cetti Bays
If you like long walks on the beach, you'll love the long coastal walk from scenic Sella Bay to Cetti Bay.
This hike is the hardest and longest Top Beach Spot, but for the experience entailed, it's worth every second and drop of sweat.
These two historic bays encompass Guam's Territorial Seashore Park, protecting the island's remote areas down south.
The area is also the site of ancient villages and holds a history of Spanish industry, seen prominently in the still-standing old Spanish bridge, which is symbolic of Sella Bay.
Traveling south to Cetti Bay completes an all-around hike with superior snorkeling sites and the luxury of traveling ancient lands that have, for the most part, remained untouched for centuries.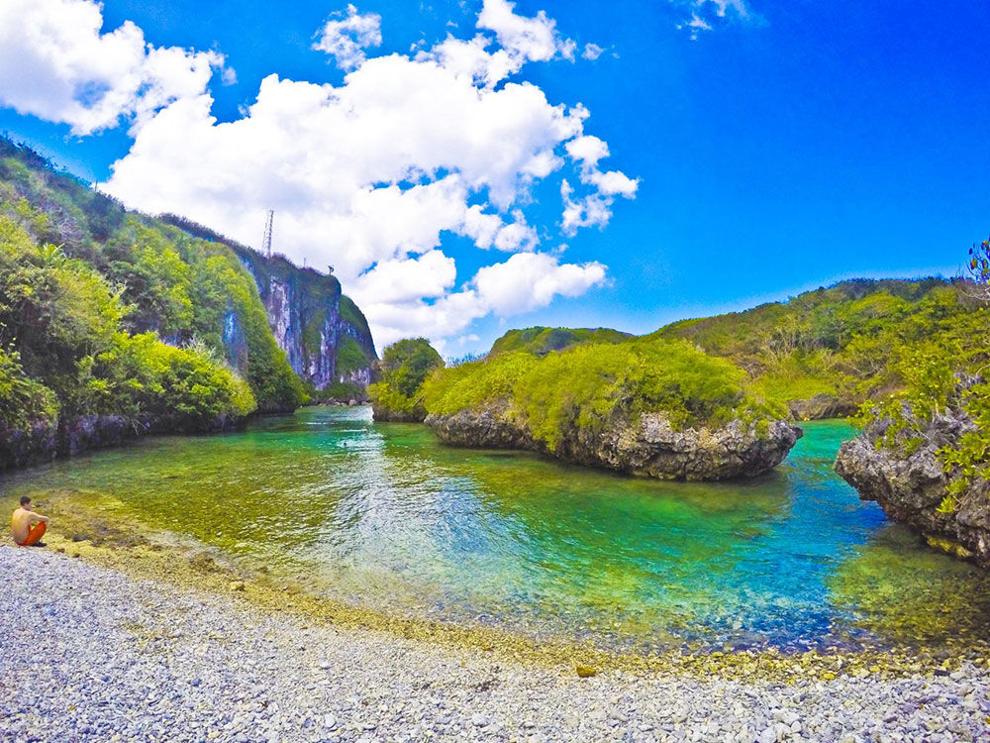 Spanish Steps
While there isn't much of a beach here, the Top Beach Spots wouldn't be complete without Spanish Steps.
A short climb down Orote Point's limestone cliffside leads to the steps – a pristine lagoon known as the island's premier destination for local snorkelers. It's a must-visit if you're an aquaholic.
Besides the grandiose scenery of Orote, which includes towering limestone cliffs, mushroom-shaped rocks and Spanish-era architecture, the steps offer entry into an underestimated underwater world.
Snorkel through a sea of anemones, home to a crazy variety of fish and other creatures. On a good day with calm waters, venture out past the "drop-off" into the blue open ocean.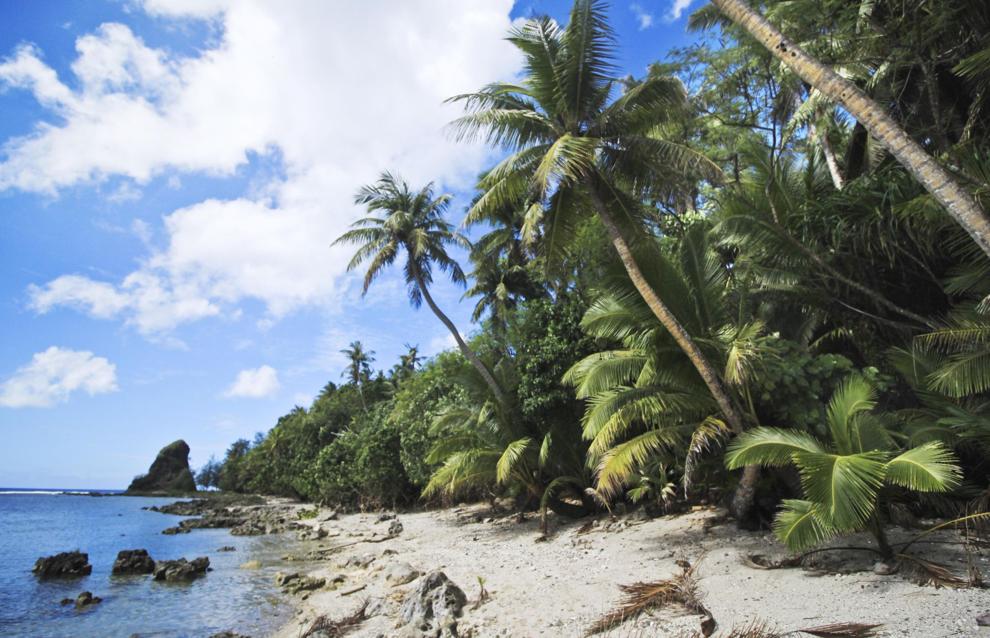 Fouha Bay
On an around-the-island excursion down south, Fouha Bay is a short hike into history with a blast of underwater fun and unspoiled beauty.
Fouha is another ancient village area that is also the site of the local legend of siblings Fu'una and Puntan, who, according to legend, created the universe and rested near the mouth of the bay.
Ancient pottery shards can be found scattered in the nearby jungles. You can also visit Fouha Rock near the end of the bay to get a glimpse of the southwestern coast as far as Facpi Point in Agat.
Comb the rocky coastline for any natural treasures and retreat back to Fouha Bay for a cool dip in cooler waters.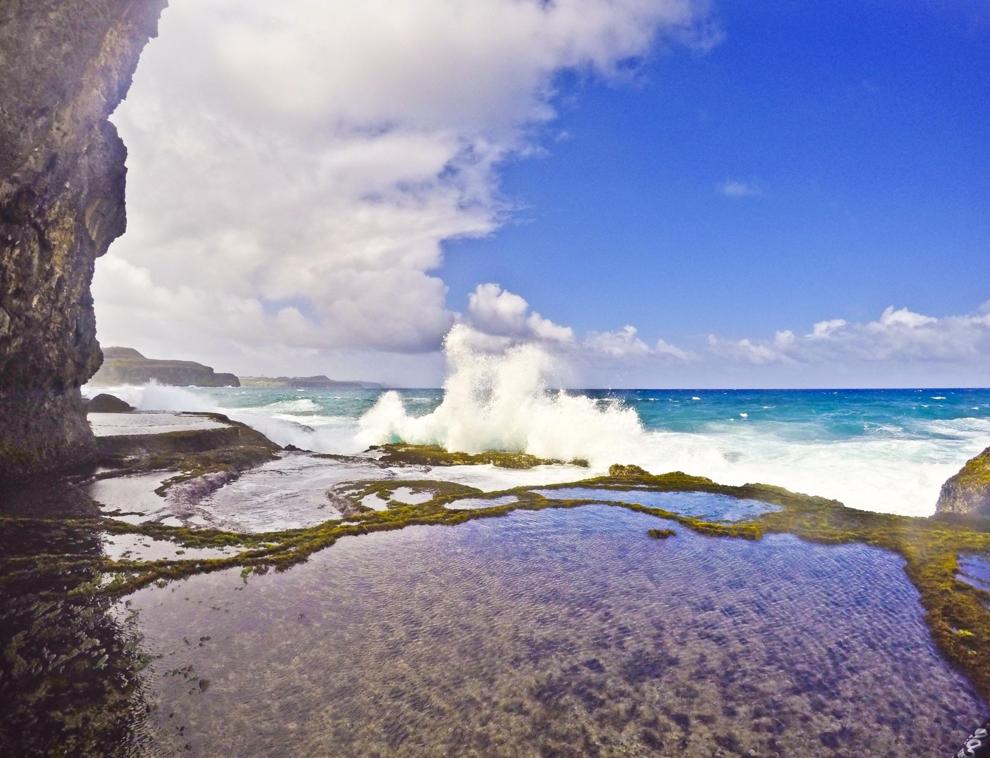 Ylig Bay to Taga'chang Beach
For a triple treat of water fun, this coastal hike heads to Yona for sights of rich reef life and unique snorkeling ventures.
Starting at Ylig Bay, this southeastern coastal walk might be a little boring compared to others, but it's eye-opening in some ways. You'll know what I'm talking about.
Midway, you'll reach Turtle Cove, a popular swimming spot for local families. The snorkeling is decent here, and there's even a great launch spot to jump in from the nose of the "turtle"!
Past the cove, the remote, rocky coast is dotted with a few spots of sand. The bigger sell, however, is exploring the outer edges of the reef during low tide.
Sometimes the tide is low enough to safely swim in miniature pools that feel like exploring an all-inclusive aquarium.
Ipan Beach
The Ipan Beach hike is one that keeps a little closer to civilization and has many optional stops for food and drinks along the way.
Starting near the Togcha Cemetery, it's a peaceful walk under a blanket of trees with the wind blowing at all times for the next 2 miles.
There are pretty frequent sightings of seabirds in the near-still waters nearby. The shallow waters aren't ideal for swimming, nor is the "beach" really a beach (more of a jogging path), but it's a nice slow introduction to the coastal cruise ahead.
You can take a break at Jeff's Pirates Cove for a snack at the end of this stretch or hike across the street near the public beach park to Ipan Mobil for some soft-serve ice cream.
There's plenty of white sandy beaches and snorkeling opportunities ahead, and optional places to break and swim if needed.