You don't need to look too far to see that Guam's rainy season is raging relentlessly. You wake up, it's dark and gray. You get off at 5? Still dark and gray.
With no concept of time and a depression outside your doorstep, it's easy to lull into a lazy haze.
If you can't go running outdoors due to the weather and don't feel like trudging through puddles to get to the gym, it's time to give up and simply get down and dirty. Go for an all-out mud-crazed hike!
During Guam's rainy season, the absolute best spots to check out are our waterfalls.
In the dry season, these flowing streams are but trickles of tiny drops. However, during the wet season, the island's waterfalls are a force to be reckoned with and a sight to see.
Compiled here are eight of our most noteworthy waterfalls to check out this rainy season. From the easy to the difficult, small to large, near and far, we've got a good variety!
Better yet, we've got all you need to get you outdoors for some splashing action. No excuses now.
Simply click the names of the waterfalls below for hike directions and more information:
One of the most accessible waterfalls on the island, Tony's Falls and Asan Falls is a double dose of water fun! If you're looking for a quick hike with little effort and a serene escape to surrender to, look no further! Tony's Falls comprises the first couple of 20-foot waterfalls along the central river valley trek. These two waterfalls are some of the smaller ones on the list, but the medium-sized freshwater pools at their base are as good as it gets for a chill cool-down. Further down the stream you'll find Asan Falls, a set of three small waterfalls, the largest one being about 25 feet. With the exception of the last waterfall, there are tiny pools here, but no jumping opportunities. Overall, the selling point of this adventure is a jungle river cruise past unique central valley waterfalls and superior swimming holes.
---
This list would be absolutely nothing without the infamous Sigua Falls. Of all the waterfalls compiled here, Sigua should top your bucket list. It's one of the island's largest waterfalls at about 75 feet tall and is a sight to see year round. At the falls, there are a few ledges, varying at about 10 to 30 feet each, where hikers can launch into the cool waters below. The encroaching greenery surrounding Sigua adds to the isolated,Tarzan/"Jungle Book"-esque feel. However, be warned! This jewel of the island is not easily traveled to. On a completely dry day, the trek to Sigua is daunting for even the doughtiest daredevils. A final challenge for determined hikers – a super steep, muddy descent – awaits, requiring bravery and acute senses in order to prevail. During the rainy season, all obstacles and trials increase in difficulty, but for the grand sight of fully flowing falls, the prize is worth the pain.
---
Although you won't find Jane underneath Tarzan Falls, you won't be disappointed to see a greater sight for sore eyes. Tarzan Falls is likely the only waterfall you're familiar with on this list. For its popularity and household-name status, Tarzan Falls claims its fame quite conclusively. The hike is an enjoyable, breezy downhill frolic through a forest, which turns into a steep, uphill nightmare on the way back. While it's cool to cool down against the falls, the pool here is 2 to 3 feet at its deepest. There's not much room for swimming, let alone jumping. However, the actual sight of the waterfall is the trek's true treasure. Especially during the rainy season, Tarzan Falls is simply breathtaking. The mesmerizing rush of the falls up close is a sight for sore eyes. The sound of the crashing water yields its own set of healing properties, too.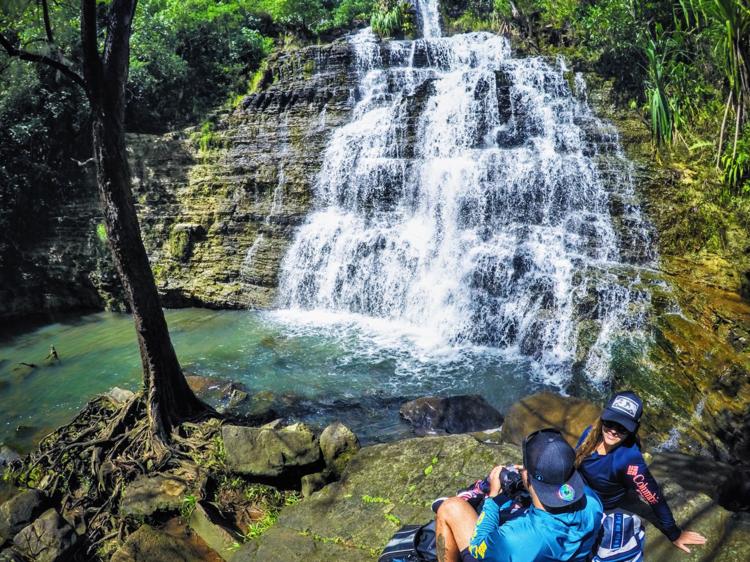 ---
If you're an athlete or active person looking to heighten your game to a whole other level, Cetti Falls is calling you. Of all the waterfalls listed here, Cetti is by far the most difficult, but also one with incomparable payoff. The gain? Seven unique waterfalls with bird's-eye views of the island's remote, undeveloped southwest coast. The loss? Probably 100 pounds and your sanity – at least for inactive, lazy hikers like me, that is. The trek requires hikers to climb directly up the seven waterfalls, which is a steep sacrifice for those with no upper-body strength. There are 90-degree climbs at times, but ropes and other hand- and footholds are always available. With determination, conquering Cetti Falls shouldn't be a problem. It's definitely a bucket-list hike for all Guam residents to accomplish sometime during their life.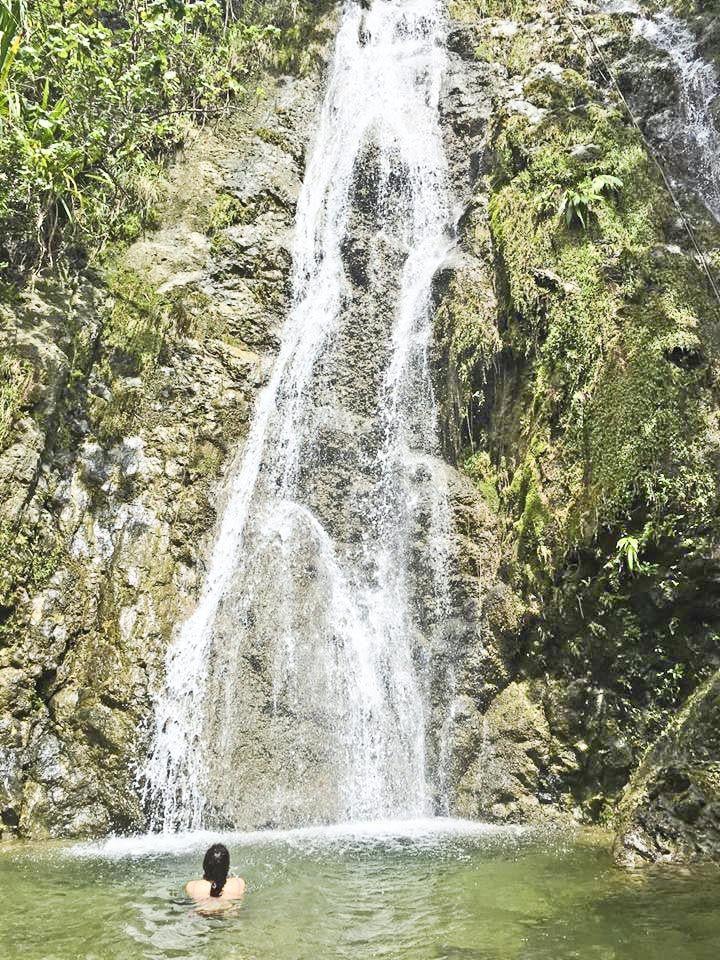 ---
Malojloj Falls and Waterfall Valley
A quick and easy hike to a valley filled with waterfalls? Need I say more? This is a trek any family member, including pets and children, can tackle! For Waterfall Valley, it's a quick 10-minute descent into the jungle valley. From there, it's a skip and a hop to a series of four unique waterfalls, all with their own charming characteristics. You have a couple with excellent swimming pools, one with a good shower downpour and even one with a hidden waterfall cave! Just up the street is Malojloj Falls, the largest of these southern waterfalls with its own splendor, too. There is the thrilling opportunity to jump from the waterfall from 25 feet above, as well as multiple miniature pools atop the falls filled with zipping guppies, shrimp and other peculiar creatures. For all that it sells, mark this hike as a must-do this wet season.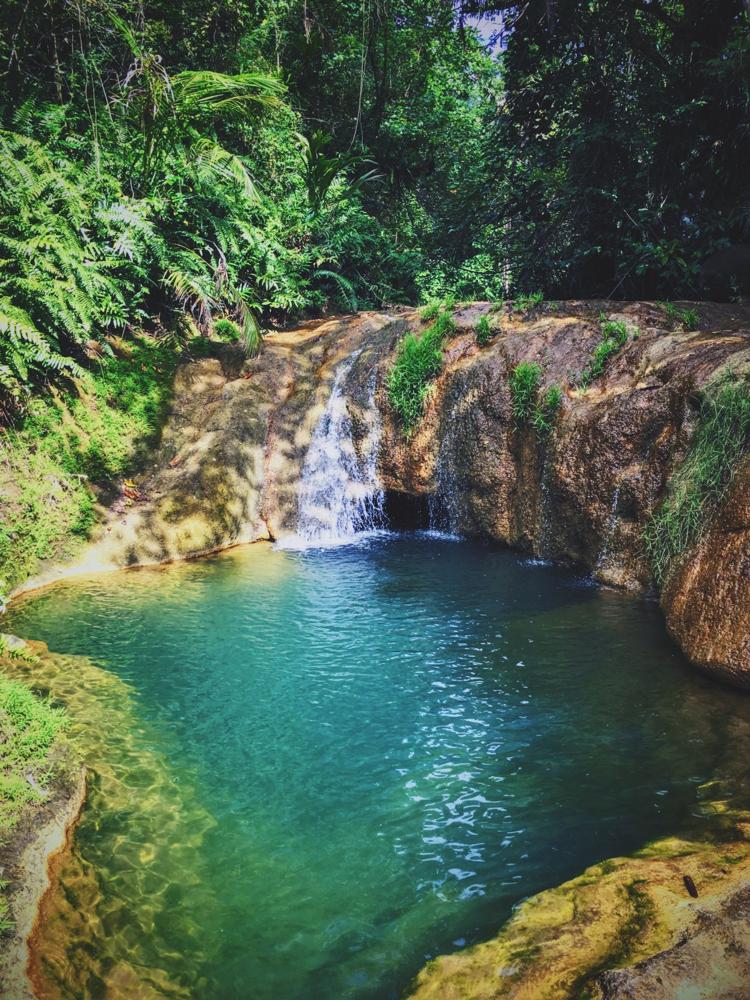 ---
The granddaddy of all waterfalls – Inarajan Falls. I confer that title because to get there, you have to trek up and down various sloping hills, travel across a desert (far and wide) and across a couple of slick and slippery, shallow rivers. By all means, this is an all-encompassing hike, not for the faint of heart, and all for your inner Indiana Jones. After finally reaching the destination, you're treated to views of a palm tree paradise, enriched by the scenic river system below. Using a rope, hikers descend beside the face of the rushing waterfall to reach its base. From there, it's a riveting recess in nature's playground! Treat your battle-worn back to a pounding massage underneath the rushing water. Explore the river system retreating into the dense jungle. Lay along the rocky bed for a quick nap and simultaneous tanning session. Sky's the limit!
---
Fintasa Falls and Laolao Falls
A double dose of water fun and awesome adventuring! This hike comprises two unique waterfalls with their own interesting features. To get to Fintasa Falls, we pass by a couple of neighborhood carabao and a few across slopes with hilltop views. Once at Fintasa, enjoy the fantastic shower of water below and take in the serenity of the dancing sword-grass fields across. For Laolao, we pass a banana tree grove to reach the top of the falls, which boasts a few miniature swimming holes. These personalized pools are mostly critter-free and are great for taking in the beauty of the bountiful junglescape before you. A few feet away is Laolao Falls, which flows over the hillside into a shallow pool. Lounge the day away in Inarajan's own natural resort and spa! No reservations required.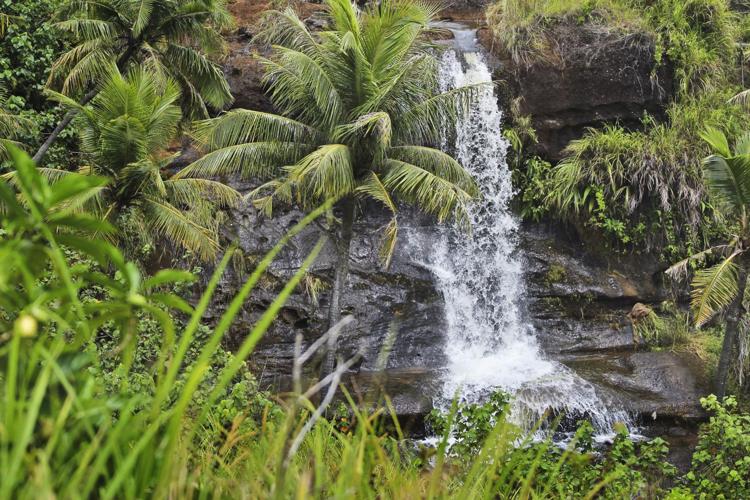 ---
Although there are many waterfalls lying hidden in the vast Nimitz Hill valley, San Carlos makes the list for its growing popularity and always-memorable journey. Traveling over ridgeline vistas and slippery jungle hillsides, the trek to San Carlos is one to take "despacito," or slowly. We travel between mountains and into a dense river valley with interesting sights and sounds all around. Upon reaching the falls, we get a glamorous view of San Carlos Falls from the top, cue your king-of-the-jungle moment. After reaching the base, the pool of the falls is a refreshing treat. Sadly, the tree with a rope swing attached has fallen down recently, but there are still thrilling launchpads all around the pool. Of all the waterfalls, San Carlos is especially great to check out during the rainy season for a genuine sight of its natural glory. Throughout the dry season, the waterfall trickles down to well, a trickle.