With most schools let out for summer, the question begging most kids and their families this season has probably been discussed at least once by now: What is there to do this summer?
Living on Guam, most might be taking a vacation off island, some will be attending summer camps or even working, and others will find themselves at the other end of a television or laptop screen, binging shows and movies on Netflix, wasting the next few months away.
If you're one of many who don't have the opportunity to get off the rock or attend any fun-filled camps, look no further for the answer to that miserable question. Check out some Spots on the Rock!
Listed are the Top 10 hiking destinations on the island of Guam, just waiting for the adventurous to climb their peaks, jump into their pools, gaze over their viewpoints and hang along their beaches.
All hikes listed have been covered here in the Guam Daily Post before and thus have whole features dedicated to them, complete with more photos, directions and maps.
All you need to do is decide what your next adventure is and either search the hike's name on the Guam Daily Post's website, www.postguam.com, or scan the QR code provided in the paper.
This summer, don't be that chump who says "There's nothing to do on Guam." With plenty of beaches, bays, coves, swim holes, waterfalls, caves, mountains, coastlines and more, there is a lot to see and much to do on this little rock.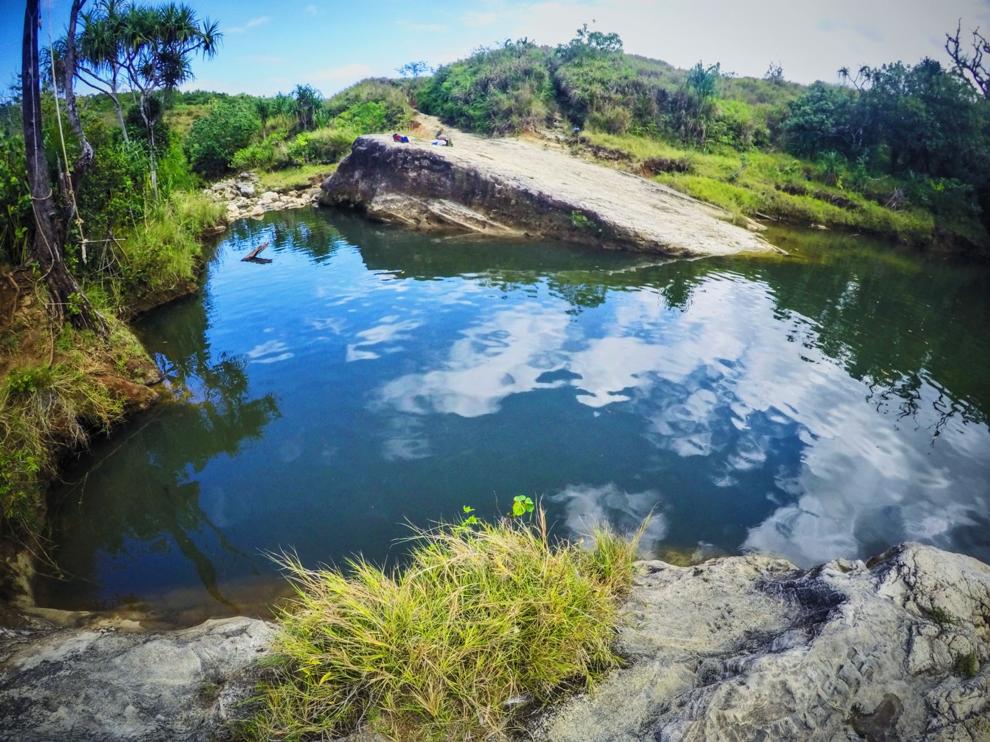 Kowabunga! This central valley swim hole is a personal favorite and ideally an all-around hike for families and friends, featuring a medium hike to a pristine river junction that's created the island's best swimming hole. Journeying over red dirt paths, open savanna and through a chilling river, Tarzan Swim Hole is an all-inclusive hike to accomplish anytime during summer. Cool off in any number of small freshwater pools or go for swim in the main swimming area. Better yet, take a plunge into the deep ends of the hole by jumping off a 10-to-15-foot rock ledge or by swinging off a rope like Tarzan himself!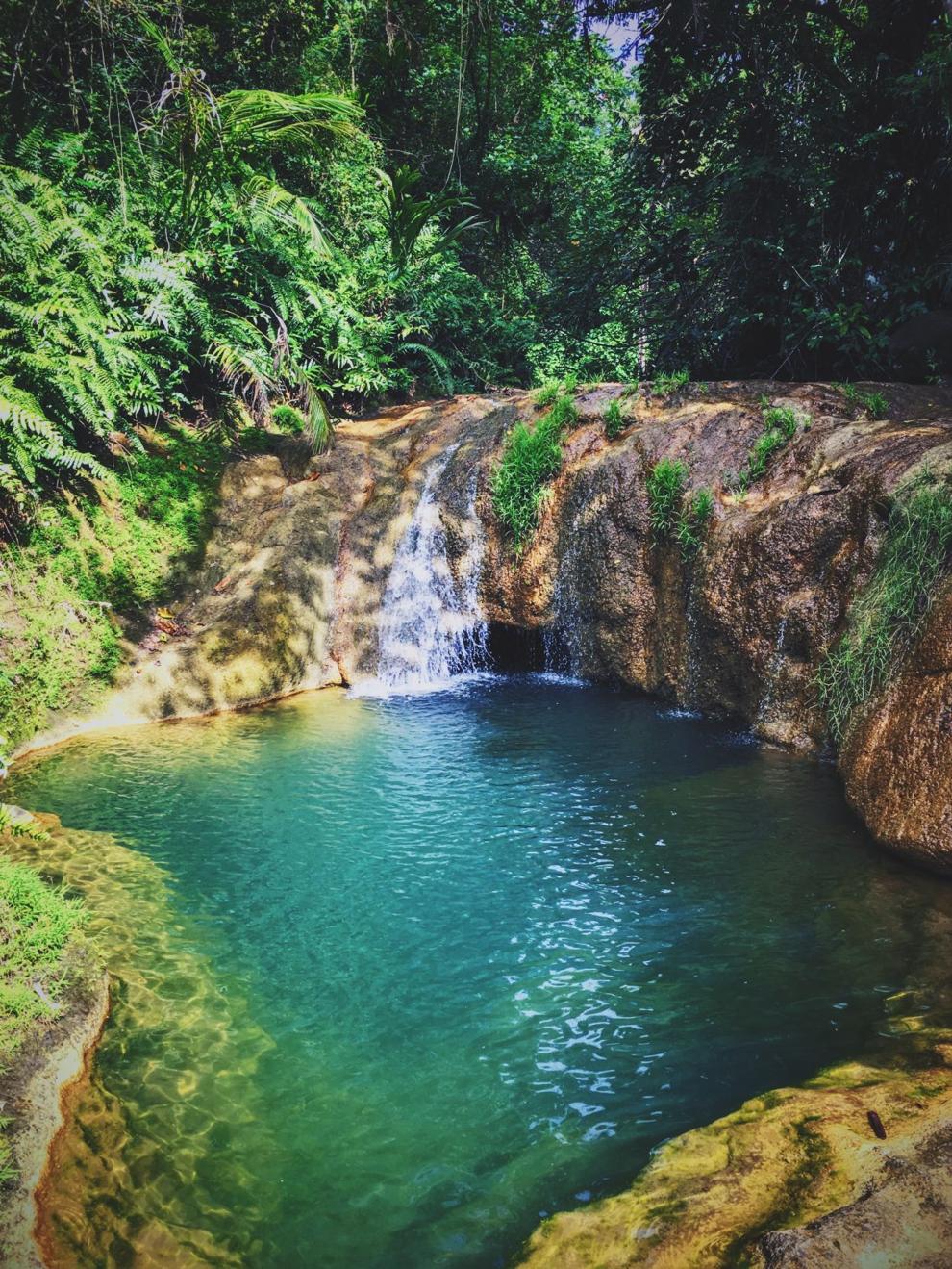 Malojloj Falls and Waterfall Valley
A valley of waterfalls? Need I say more? This hike is short and easy for the price of not one, not two, but five waterfalls! Located just off the main road in Malojloj, this valley has waterfalls in varying sizes and all under shade to escape a hot summer's day. Since it's Guam's dry season, it might be best to check this hike out after a good rain. However, if you can't wait, the largest waterfall still flows year-round to grant a cool shower experience and most of the pools are deep enough to swim in year-round, too.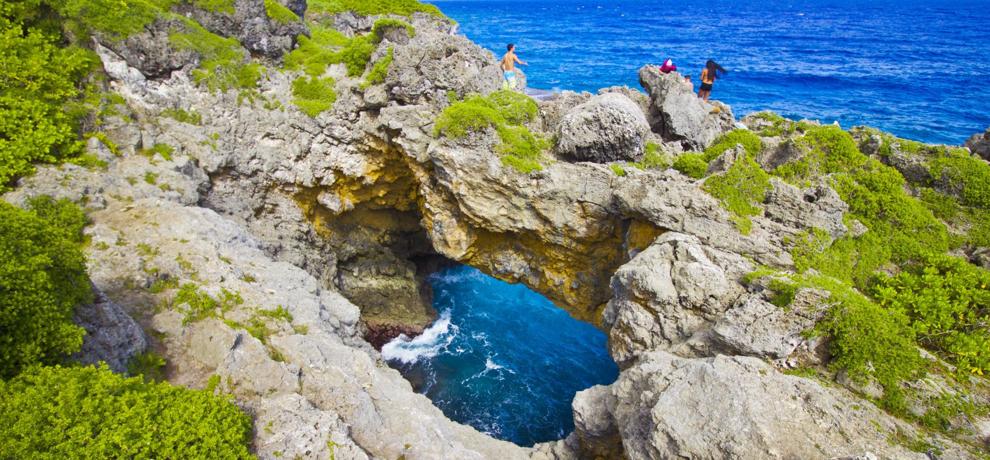 One of the more well-known hikes on the island, Pågat is an excellent summer hike that takes hikers to sites including a cave's freshwater pool, an ancient Chamorro village and the breathtaking Northeast limestone coast with views of the raging Pacific Ocean. Located just off the back road to Andersen, this hike is a little heftier than the others, but is more than worth the challenge to see a truly preserved, natural site. The Pagat Cave is pitch-black and will require artificial lighting, but is great for swimming and playing with the cave's echo. The ancient village of Pagat is extraordinarily still intact with dozens of latte stones and lusongs still lying around. The coastline here is unparalleled with the nearby ocean showcasing the whole spectrum of the color blue, as well as a unique rock arch and amazing photo ops!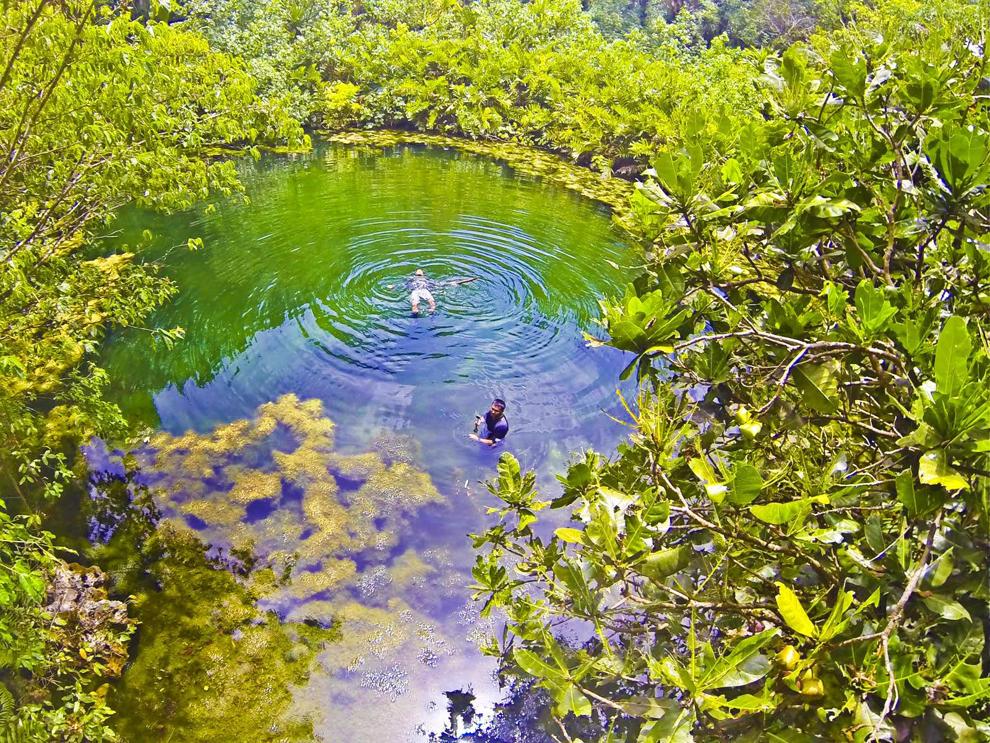 Hila'an Beach, Lost Pond and Shark's Cove
Let's see… a white sandy beach, a "lost" pond and some place called Shark's Cove? That just screams summer adventure! This hike, located past Tanguisson Beach in Dededo, is the essence of summer, taking adventurers miles over a pristine, isolated beach with sights of amazing limestone rock formations and an abundance of tiny beach critters just scurrying around (namely, duk duks). At the journey's end, try your luck at finding Lost Pond, a natural sinkhole beaming with the color green, great for swimming in the nearby jungle. If you're unable to find the pond, don't be ashamed, as most hikers do not either. It's not much of a loss to settle for Shark's Cove, just outside the entrance to Lost Pond, one of the island's best snorkeling and diving sites filled with brilliant sea life and corals.
Lower Sigua Falls and Tank Farm
If you're a more seasoned hiker or athlete looking to up the ante on your hiking ventures, look no further! Lower Sigua Falls and the infamous Tank Farm is a challenging hike that leads to abandoned World War II tanks and one of the island's largest waterfalls, located in another central valley just beyond LeoPalace. This trek takes hikers through it all – red dirt excursions, marshland muckiness, river crossings and slope after dreadful slope. So, what exactly are you going to be getting for all of that? Paradise! This waterfall is an organic resort of its own kind, towering over 75 feet and flowing year-round with a refreshing pool and the option to jump through the waterfall (like in the movies).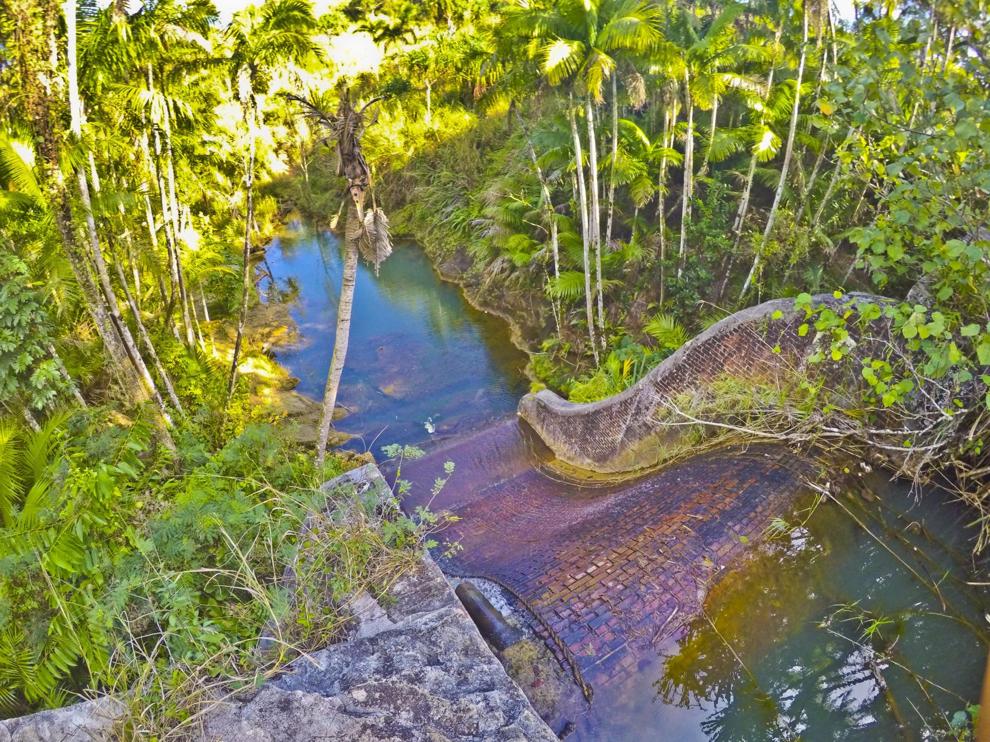 This quaint and quiet little water dam is over a hundred years old and boasts a unique, red brick wall with its water still feeding the central Lonfit River. Located in the Nimitz Hill valley, home to most of the island's hikes, this short and easy hike is one for the history buffs and those wondering what a huge, concrete structure sitting smack-dab in the middle of a jungle looks like. Along the river it feeds into, hikers will find a small and magical swimming hole that looks and feels like something out of Snow White or Pocahontas, nestled under a jungle canopy and between towering boulders.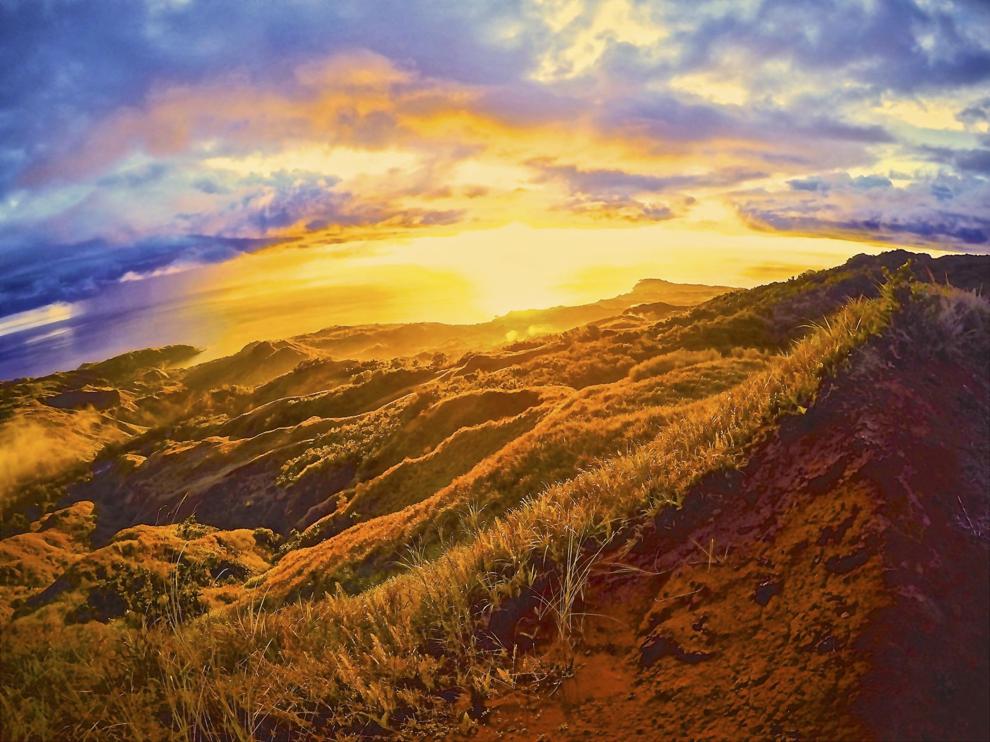 All right, so there's no water feature anywhere on this hike - unless it rains - but for climbing the island's second highest peak and the world's second highest from the very bottom up, you can only imagine the views you'll be rewarded with! At the same time, wouldn't it be neat to say you accomplished that feat, too? While climbing a mountain of that status sounds daunting, this is still categorized as a medium hike with minimal struggle. People of all ages and body types climb it once every year for Good Friday if that's any measure. Located in between Umatac and Agat, this mountain's peak grants views of the entire island and is an especially cathartic experience at sunset.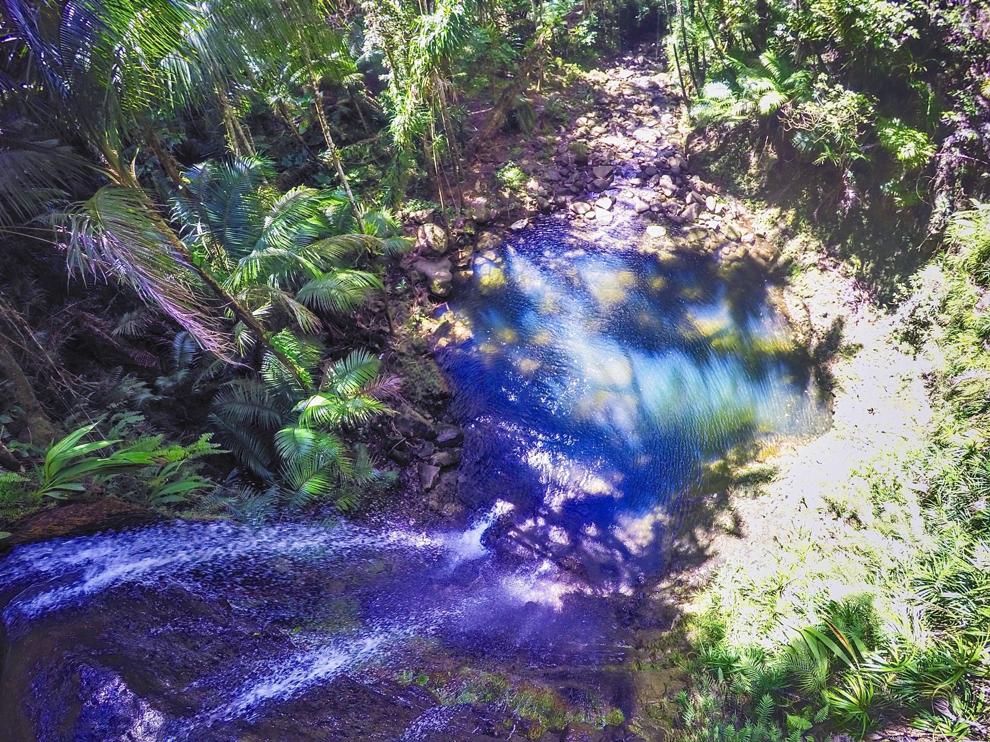 San Carlos Falls and Swim Hole
You've got to have some guts and no fear of heights to accomplish this great waterfall feat. Located in a palm grove in the center of the island's vast valley, San Carlos Falls takes a short journey over mostly leveled paths before hikers will be put to the test, having to traverse down and over three incredibly steep hillsides, which are also usually slick and slippery. With the aid of tree trunks and firm rope handles, the trek is challenging, but not impossible. Those looking to up their hiking game and discover one of the island's largest falls and an emerald-green swim hole can find their next feat here.

Another trek back in time, this hike leads to one of the most isolated parts of the island where an ancient Chamorro settlement once thrived and where Spanish colonists tried to industrialize. These two remote Southwestern bays are home to remnants of both the Chamorro and Spanish settlements, including a 17th-century bridge and ancient latte stones and hotnus. The area also boasts some of the most preserved coral reefs around the island, making for excellent diving and snorkeling sites. The journey down to these bays is equally wonderful, traveling over the Southwestern mountain range before arriving at the soft, sandy beaches.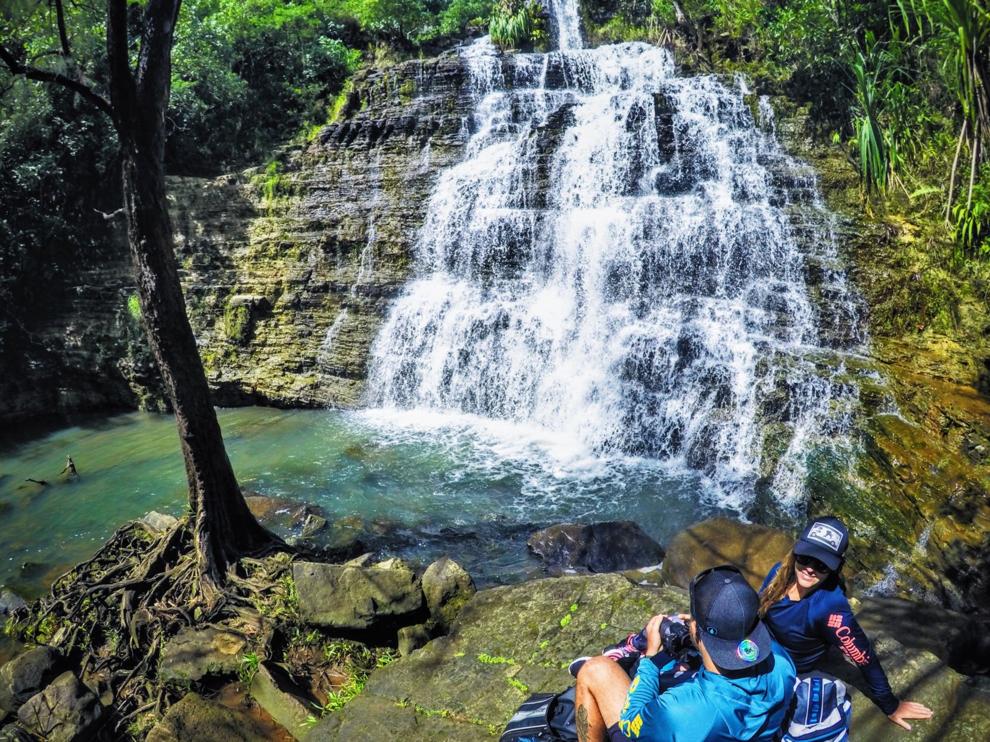 Probably the island's most recognizable hike, I would be remiss not to mention the popular Tarzan Falls. Characterized by its tiers of falls and cascading waters that feed the Ylig River, this waterfall is much more impressive during the rainy season or at least after a good rain, but is still worth exploring sometime this summer. Climb over the different levels of the falls for sights of the narrow valley below and cool off under small water spouts and pools around. While there isn't much room for swimming, this waterfall is great for lounging around and monkeying in the dry tiers above.