New year, new hiking goals!
How's that for an Instagram caption?
After looking back on the many magical hikes in 2018, I can only look toward 2019 with fresh eyes and excitement. Where will our travels take us next?
If you're looking for inspiration to settle on New Year's resolutions, look no further. Here, we bring back our Top 10 Spots on the Rock, featuring the top hiking destinations on island to cross off your list next year.
From a valley of waterfalls in the jungle depths of Inarajan to rocky cliffside climbs along the Mangilao coast and miles of white sandy beaches in Dededo, the variety of spots to visit are enough to get you outdoors each weekend.
All you have to do is pick a place and let the adventure unfold. If it's saltwater therapy you're seeking, there are cool coves, sunbaked beaches and beautiful bays from north to south.
For freshwater fanatics, majestic waterfalls, river walks and soothing swimming holes provide a slice of paradise away from popular places.
And if the water isn't whispering your name, proceed to Pågat's pristine freshwater cave or up to the island's highest peak – where the clouds kiss the Earth - atop Mount Lamlam.
Throw a dart at a Guam map. Pull crumpled-up paper balls with hike destinations written on them from a hat. "Eenie, meenie, miney, mo" it. Let's make 2019 a year filled with all the best adventures that can be found only on Guam.
For more detailed directions including maps and photos, click the names of the hikes.
Happy hiking!
---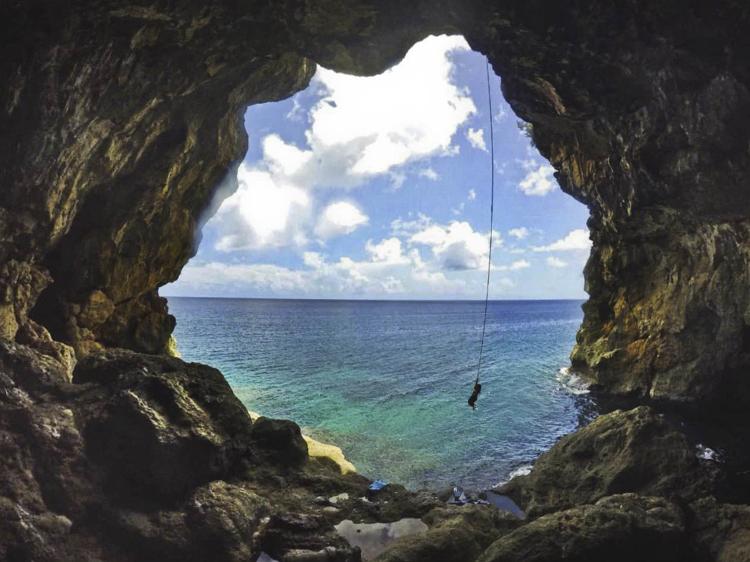 In a cool, seaside cavern found in southern Sumay lies our very own fountain of youth, where adventure is an endless opportunity, and free spirits dance across a deep-blue horizon. Locally known as Tarzan Cave, the hike ends at a large coastal cavern on Naval Base Guam. Snorkeling and diving are superior to several other spots in the waters near the cave. One of the island's hidden gems, the cave is mostly visited for its lengthy rope swing, which dangles about 75 feet from an overhanging cliff edge. After swinging, hikers can take a quick siesta in the shade while a cool breeze rolls in.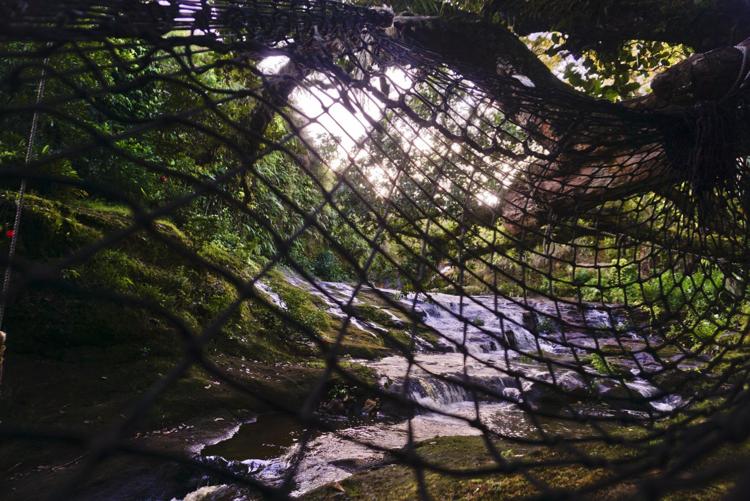 Running along the Tinago River in an isolated Inarajan jungle valley, this series of stunning waterfalls has been a hidden treasure enjoyed by a lucky few. The natural beauty of the verdant southern valley and pristine river runs straight to your heart. Peering through a tropical rooftop, clouds drifting and drawing you to sleep – it doesn't get any better than this! Head upstream at the destination to find a neat tree swing and the first level of waterfalls. Family friendly, and a great beginner's hike for pets and kids of all ages, anyone can explore this euphoric slice of paradise.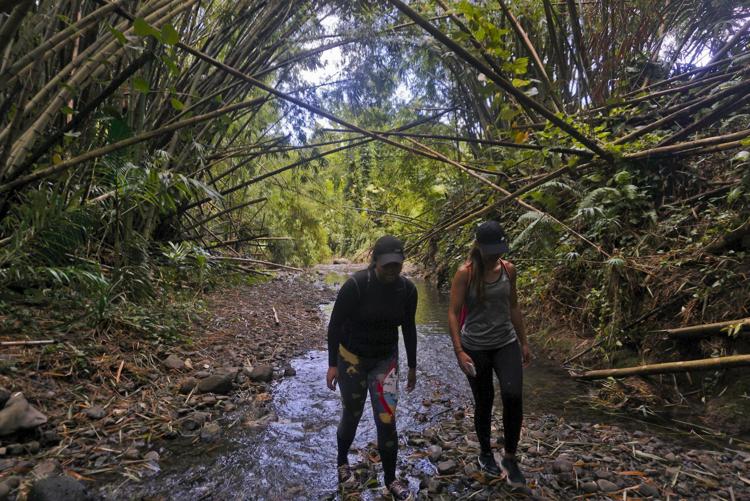 Along a riveting river valley in the heart of Merizo, gentle bamboo groves sway in tandem with a tranquil water trickle, which lends life to the surrounding serenity. The Geus River is one of the island's most accessible, and is an exciting exploration from start to finish. Besides a few small freshwater waterfalls and pools, the Geus gem is a couple of swimming holes upstream, home to a natural waterslide and tall ledges available for a thrilling plunge. While inland and away from seaside shores, the Geus River is a flash-flood zone, and rain can hamper the chance of safe hiking here.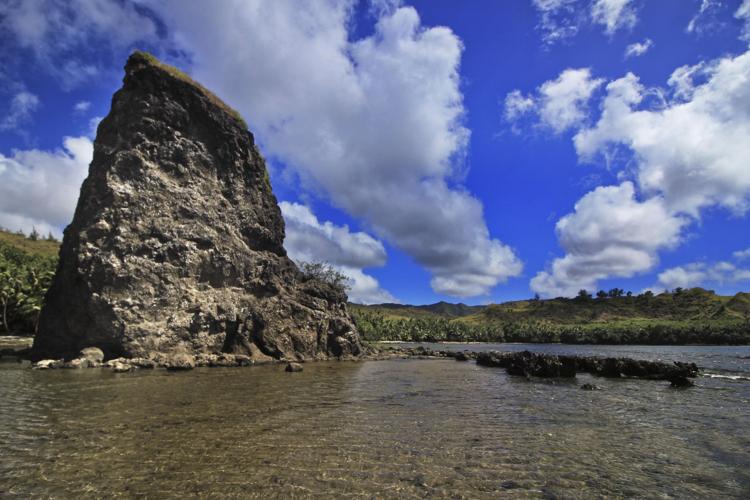 The hike to Fuha Bay and Fuha Rock is a sacred pilgrimage to ancient hallowed grounds that nurture our natural spirit and shed light on history. While the trek is short and relatively easy, the hike's sheer spirituality is worth the walk. According to Guampedia, Fuha contains an abundance of archaeological artifacts that indicate a vibrant ancient CHamoru settlement. The coastal area still contains a rich reef and lush greenery, and is where freshwater flows from the La Sa Fua River. Fuha's history flows back further than the Spanish – and even the CHamoru, for that matter.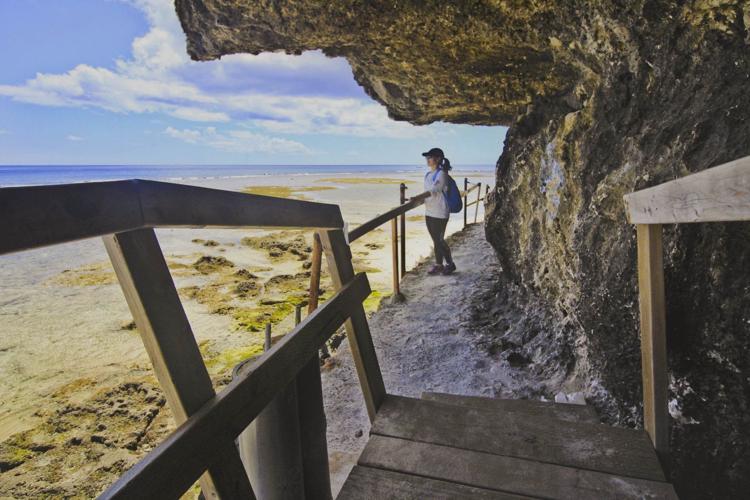 Saunter down soft, sandy seaside trails and sweep past pretty views of the island's wet northwest coast to see sites few others have. Cast away between Tumon's touristy Gun Beach and Dededo's Tanguisson Beach for a cute coastal cruise. As your toes dip in and out of the sand, peruse the remote shore for fascinating beach finds and wade through shallow, warm waters. Gaze speechless at towering castle-like cliffs that once served as a Spanish lookout, now the home of Two Lovers Point. See a World War II weapon rusting along the base of green, jungle-draped cliffs and an ancient CHamoru site preserving centuries-old latte stones.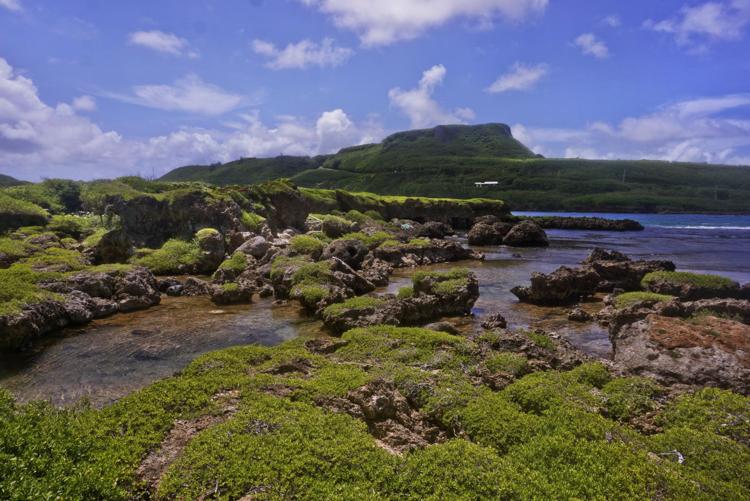 Talofofo Bay, Paicpouc Cove and Matåla Beach
Weathered into the craggy coastline of Talofofo Bay are tons of hidden treasures at every turn. While you'll have to wade through waters waist- to chest-deep at times, and there's many an opportunity to slip and slide, on a good day, this hike is a top spot to cross off your list. The trek along the coastline showcases a variety of small, seaside caves, some with saltwater pools by the oceanfront, and others inland, offering cool shade from the harsh sun. Beyond the bay lies Paicpouc Cove and Matåla Beach, where black and white sand beds welcome hikers to warm waters.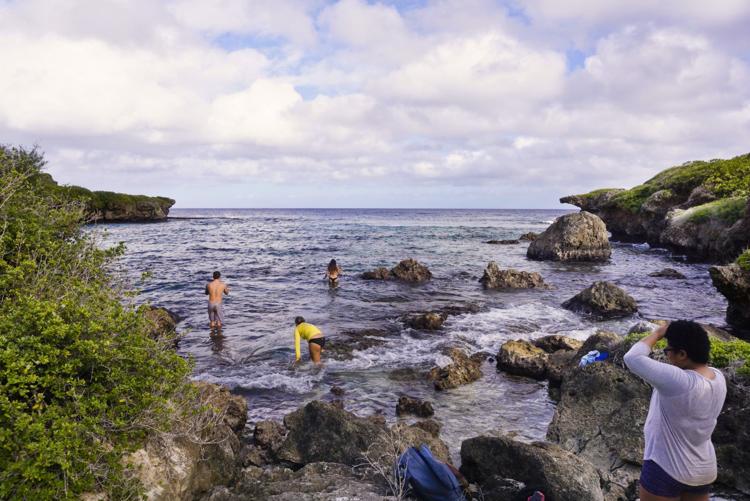 Carved into the island's captivating northeast coast, a cute little cove is as charming as they come. Let Fadi'an Cove consume you. One of the lesser-known hikes on Guam, the trek to Fadi'an Cove is tough and trying, but rewards the lionhearted with stellar views of an isolated island spot, and treats the tired to a scenic snorkeler's sojourn. Looking ahead, we're climbing down a super-steep cliffside path over loose dirt and trekking over limestone boulders through dense jungle to land at a rocky beach with possibly hazardous surf, but don't be discouraged!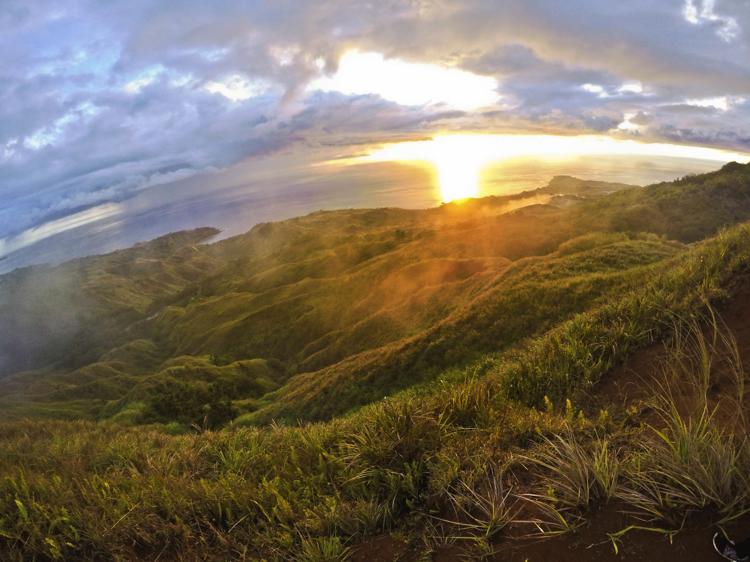 Mount Lamlam and Mount Jumullong Manglo
Trek along the island's southern mountain range, where Guam's two highest peaks on Mount Jumullong Manglo and Mount Lamlam lend a bird's-eye view of beautiful sunsets, jungle scenery and a shining blue sea on the horizon. Mount Jumullong Manglo, the island's second-highest peak, rises 1,283 feet from its base. It's just a few feet below the summit of Mount Lamlam, the highest peak on Guam at 1,332 feet, and is separated by just a half-mile on the southern mountain range. Visit both to see dozens of wooden crosses line one peak while a Guam or U.S. flag flies atop the other.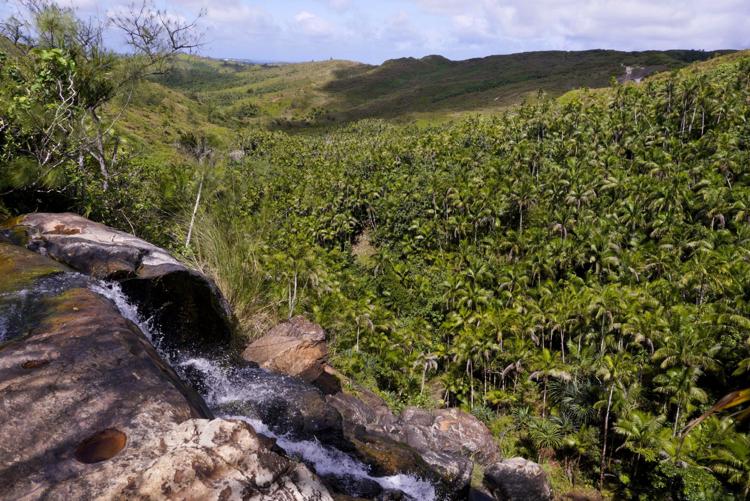 Atop the alluring hills of Mount Alutom, adventures as far as the eye can see await in the vast, vibrant jungles and mesmerizing clay mesas of central Guam. Trek to a tropical slice of paradise hidden in the humble foothills beyond Nimitz Hill by descending the rocky hillside with breathtaking views all around. Alutom Falls and Upper Sigua Falls, our two dreamy destinations, are a couple of wonderful waterfalls flowing along the Sigua River, feeding a lush, isolated island valley. The two waterfalls provide twice the adventure for kids at heart looking for their next outdoor playground.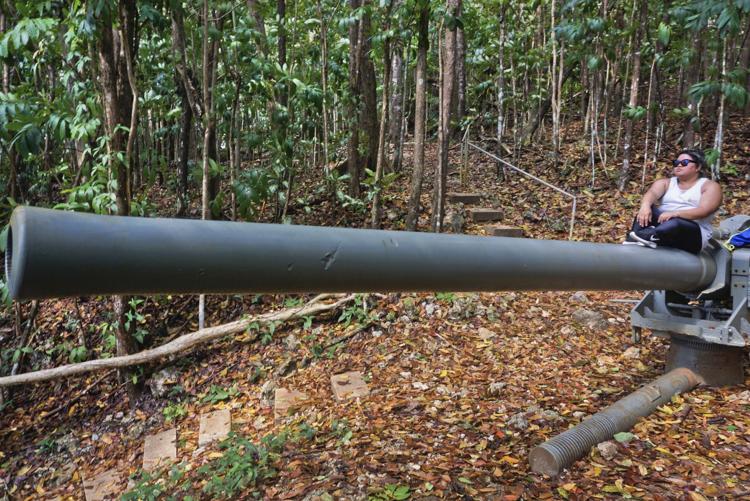 Asan Beach, Piti Guns and the Masso Reservoir
Battered bunkers secluded by a seaside hill, a trio of Japanese war guns haunting a mahogany forest and the perfect picnic spot serenely surrounded by nature and nothing else. What could make for a better weekend than a double dose of history and a shot of tranquility? Trek to three short Spots on the Rock: Asan Beach, Piti Guns and the Masso Reservoir. All three destinations are hardly hikes on their own, but since they're close to one another, it's well worth crossing them off your list through a trek back in time filled with exciting outdoor excursions.