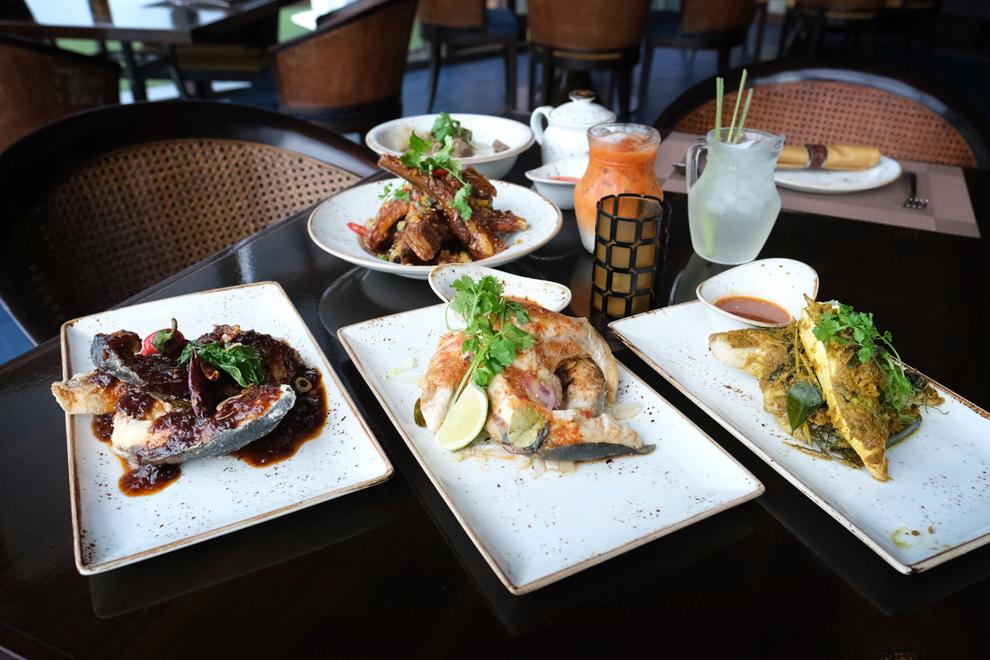 Residents who have already dined at Soi, the Thai restaurant inside the Dusit Thani Guam Resort, should already be accustomed with its familiar, yet elevated menu - where local ingredients and expert chefs take ubiquitous dishes like Pad Thai and curries to another level of quality and taste.
That same approach is being used on two delicious, luxury ingredients: Hamachi collar and A5 Wagyu beef, which have been added to Soi's menu.
"Hamachi is a popular fish on Guam. A lot of people love it," said Chalong Sakkapalangkul, the resort's executive sous chef. "The kama, or collar, is the best part for me."
While local diners usually see Japanese amberjack grilled on restaurant menus, at Soi the collar is served three different ways: baked, steamed and fried. What makes the cut sought-after - its delicate flavor yet meaty texture - complements the distinct flavors of each preparation.
The baked Hamachi is topped with a Northern Thailand curry. Warming spices like turmeric and galangal, lemongrass and basil are infused to every bite, making you wonder why collar curries aren't served in more restaurants.
The other two yellowtail offerings reflect dishes and flavors found in central Thailand, said Sakkapalangkul.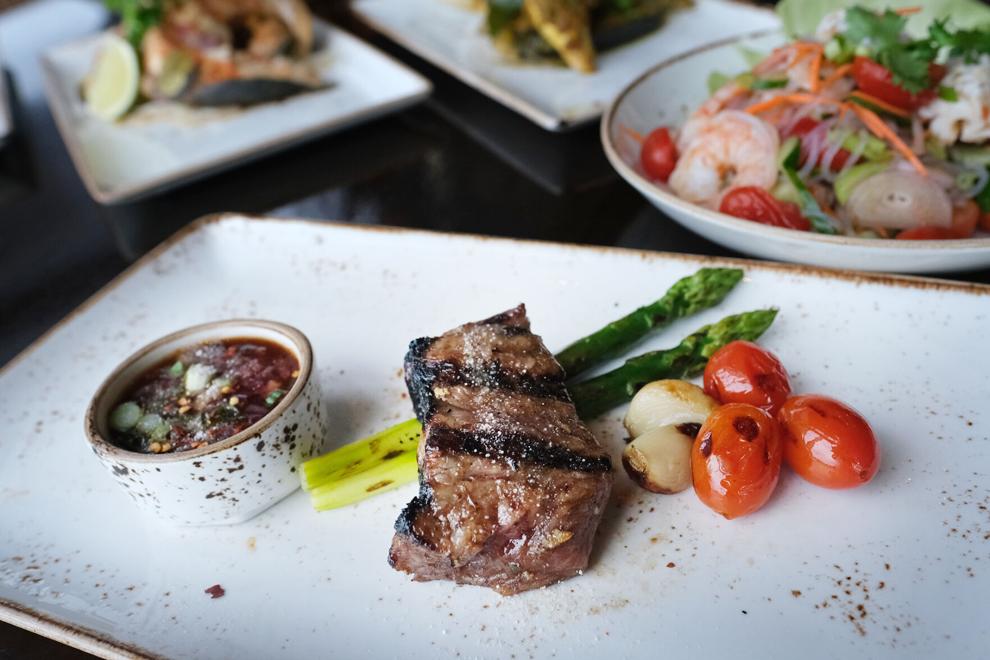 If you're looking for a more subtle approach, the steamed Hamachi is for you. The preparation keeps the fish at its most tender, and is paired with a lemon, chili, garlic sauce.
But restaurant staff unanimously said that local taste buds love the fried version. It's obvious to see why.
The dish boasts a crispy skin and a glaze akin to an Asian barbecue sauce. When paired with hot white rice, Guam residents will definitely enjoy the simmering heat behind the sweet, spicy and sticky sauce, which has strong notes of tamarind.
Whichever version you order, however, since The Guam Daily Post was able to taste all three kinds of Hamachi collar, the amount of meat will be generous and sturdy enough to stand up to the full-flavored sauces and glazes, and can be reheated without it turning into leathery leftovers.
In fact, taking the Hamachi home, which is likely considering the two-collar portions served, will allow foodies to pick out the prized meat from the fish's nooks and crannies with their fingers, and gnaw on skin and fins in the comfort of your own private dining room.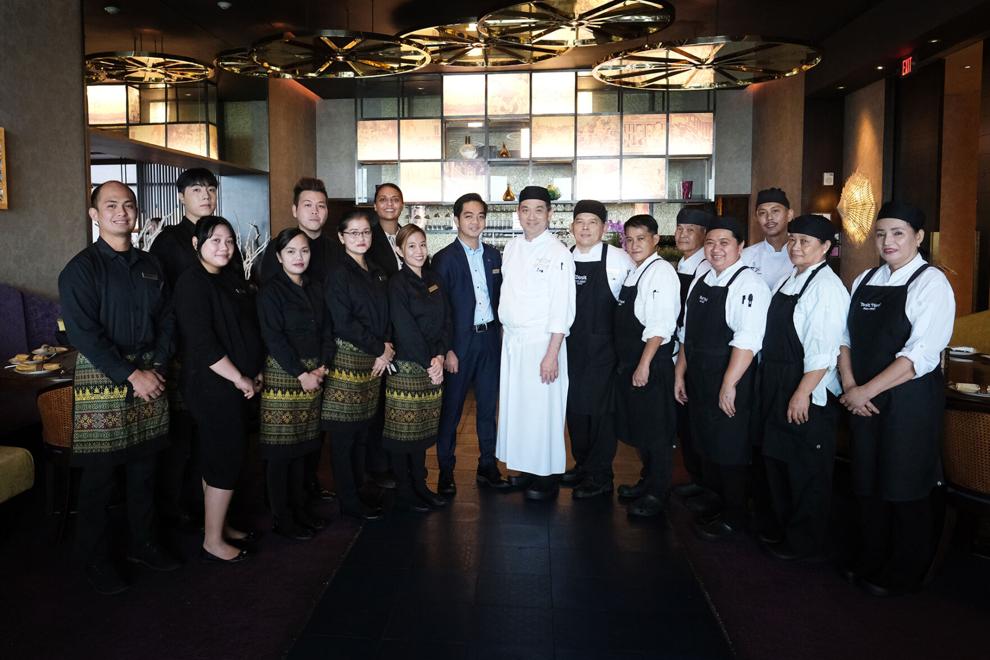 Thai twist on Wagyu
Another decadent addition to Soi's menu is an A5 Wagyu strip loin. Like the other offerings, diners can expect a Thai twist for this top-tier steak. While many are aware of Wagyu for its superb flavor and tenderness, the designator A5 lets steak-lovers know they're about to eat the best of the best.
"We have a lot of beef from Alfredo's Steakhouse," Sakkapalangkul told the Post, when asked about the thought process behind adding the gold-standard steak to Soi's menu. "The strip loin - we're serving the Thai version. We marinade it the Thai way and we serve it with a Thai sauce."
It's hard not to sound hyperbolic when describing just how tender, soft and succulent A5 Wagyu is compared to other steaks, but the texture of each brief bite will definitely dispel any hesitation about ordering the premium item.
Soi gives their strip loin a slightly sweet marinade that gives way to smoke and umami from taking the marbling Wagyu is famous for to the grill. The medium rare temperature means the steak is more than perfect on its own - but locals will instinctively dip their slices into the accompanying nam jim jaew: a condiment sauce popular in the northeastern part of Thailand.
Like Guam's fina'denne, it has the perfect combination of salty, sour and spicy - but Soi's version adds a layer of sweetness with tamarind juice whisked in with dried toasted chilis, shallots and green onions. The strip loin is served with a few roasted vegetables and whole garlic cloves, which diners (if we can make a suggestion) can add as another condiment by spreading it on top of the steak like butter.
The petite portion (3 oz. and 6 oz. strip loins are available) is big enough for two to share as a "treat yourself" appetizer.
Old favorites
But Sakkapalangkul and his team aren't abandoning their customers' favorites.
"Pad Thai and our pork salad are our top sellers. People come back for them," he said.
The pork salad was probably the spiciest thing served during the Post's menu sampling. Fresh lettuce, cucumbers and long beans serve as the canvas to ribbons of thinly sliced, tender pork and an aromatic blend of herbs, shallots and lemongrass.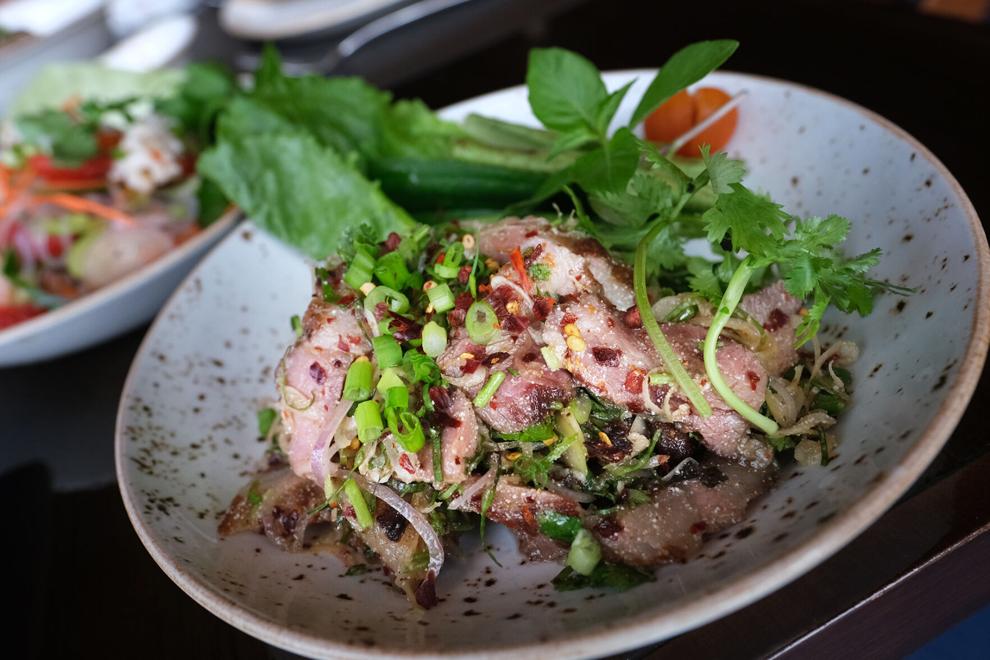 If you're looking for an appetizer that gives your palate a break from bold flavors, try the seafood salad, which has tender pieces of shrimp, squid and mussels mixed in with rice noodles, cilantro and a fish sauce dressing.
Soi's braised beef noodle soup comes with mushrooms, lettuce and bean sprouts. Its deep-flavored broth is poured table side - ensuring noodles aren't soggy and extra spoonfuls of the liquid gold can be added to your bowl and your bowl only.
The broth, like many East Asian recipes, is deeply complex with notes of spices like cardamom, aromatic with cilantro stems, and a distinct finish of palm sugar. It's also served alongside a red chili vinegar to cut through the fat and give the soup that extra level of complexity when you want it.
But diners shouldn't overlook Soi's stir-fried sweet and sour pork ribs - a satisfying combination of Grandma's spareribs in tomato sauce, the marinated and deep-fried ribs common at Vietnamese and Thai restaurants, and the ever-present sweet and sour pork.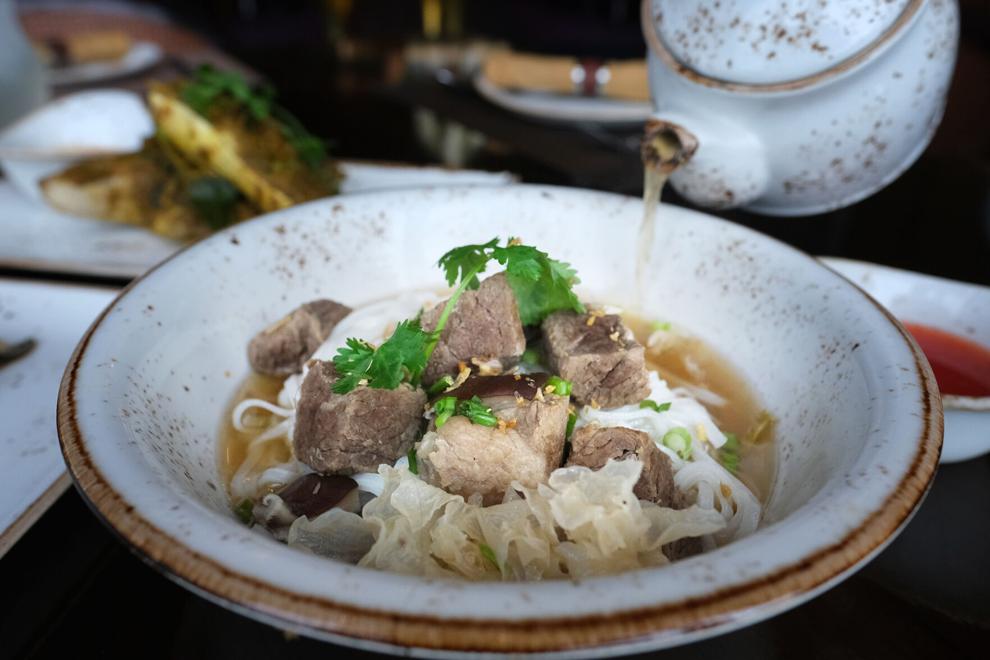 No matter what you order, however, diners can expect a fresh, local element to be on the plate. Long beans and other produce, herbs like basil and even more exotic ingredients like galangal are sourced on island, according to Sakkapalangkul.
"We partner with locals" to avoid having to import the necessary parts to cook up the the complex dishes, he said. "We work hard to support Guam's farmers and our Thai community."